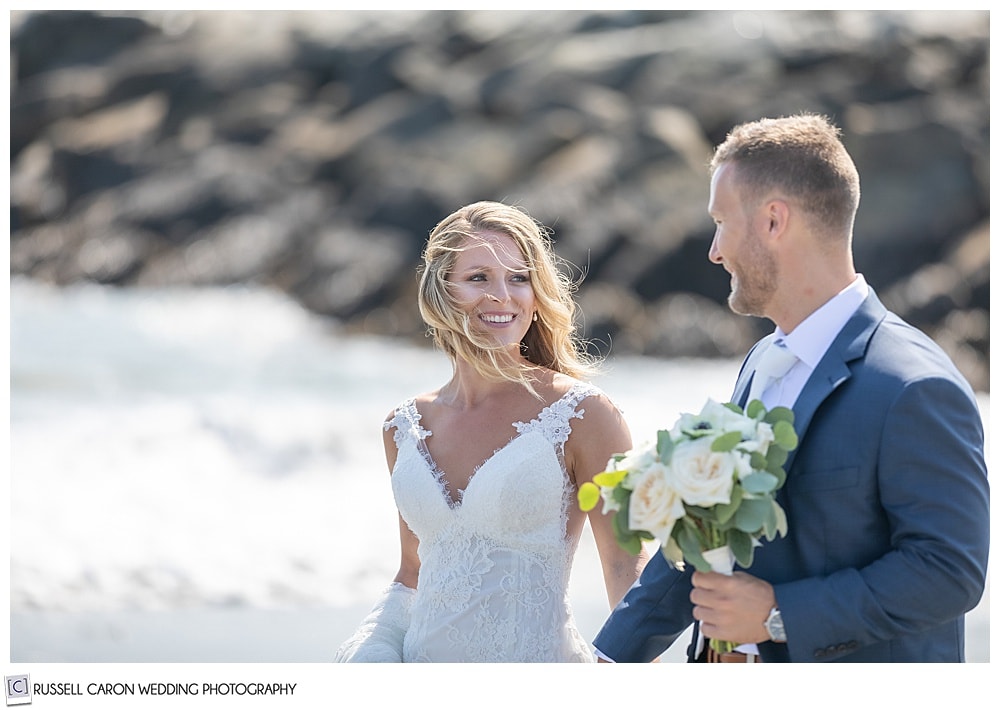 We have Liz's #8 of her top 19 of 2019, and it's with Megan as a beautiful, carefree bride!
There's just something about Megan and Mike. They were so easy to work with, they didn't stress about anything, and we had so much fun together! Combine that with a wedding at the Nonantum Resort, one of our very favorite Maine wedding venues! It was a recipe for a fantastic day!
After Megan and Mike's first look, which was super cute (!), we took them to the Kennebunkport Breakwater, and Colony Beach. We find the light is always so good at this location, it never lets us down!
It was a gorgeous day, Megan looked absolutely stunning in her Pnina Tornai dress, and Mike looked so handsome! I just love this photo! Megan and Mike were just walking along the beach, they were about to have their ceremony on the banks of the Kennebunk River. There was a breeze blowing, Megan's hair blowing in the wind…and, oh, the way Megan looks at Mike is so full of love. That's why it's my #8 photo of 2019!
See Megan and Mikes' beautiful tented Nonantum Resort wedding at: Tented Nonantum Resort Wedding
Venue: Nonantum Resort
Photographers: Russell Caron Wedding Photography, photographs by Russell Caron and Liz Caron
Officiant: Daniel Forte
Floral Designer: Fleurant
DJ: Fred Pappalardo DJs
Hair and Makeup Artists: Uptown Curl
Wedding dress boutique: Kleinfeld Bridal
Wedding dress designer: Pnina Tornai
Ceremony and Cocktail Music: Sam Chase
Donuts: The Holy Donut
Tent: Sperry Tents
Photo Booth: Maine New Hampshire Photo Booth
Please comment on the blog post if you enjoyed Liz's carefree bride image! And please share!! Thank you 🙂 Come back every day, until we reach #1 on December 31!
Maine wedding photographers, Russell and Liz Caron, are romantics at heart who love photographing people in love. Are you getting married? No matter where your wedding is located, we'd love to travel there and take breathtaking wedding photos. Just like we did at this tented Nonantum Resort wedding! For more information contact us right away!