Portland Maine Wedding Photographer
Linsey and Zach had the wedding of their dreams, Saturday, August 2, 2014 in Portland, Maine.  They started their day with a first look on a carpet of rose petals; then on to bridal party photos at Spring Point Light in South Portland; a wonderful ceremony at the Church of the Immaculate Conception; a ride on the schooner Bagheera; and finally culminating with a reception on the outdoor deck at DiMillo's on the Water!  What a fabulous day!  Being a Portland Maine wedding photographer on a day such as this, makes us extremely grateful to clients such as Linsey and Zach and their families!
Linsey gave us several opportunities to capture her portrait, and this first image is one of our favorites.
Linsey & Zach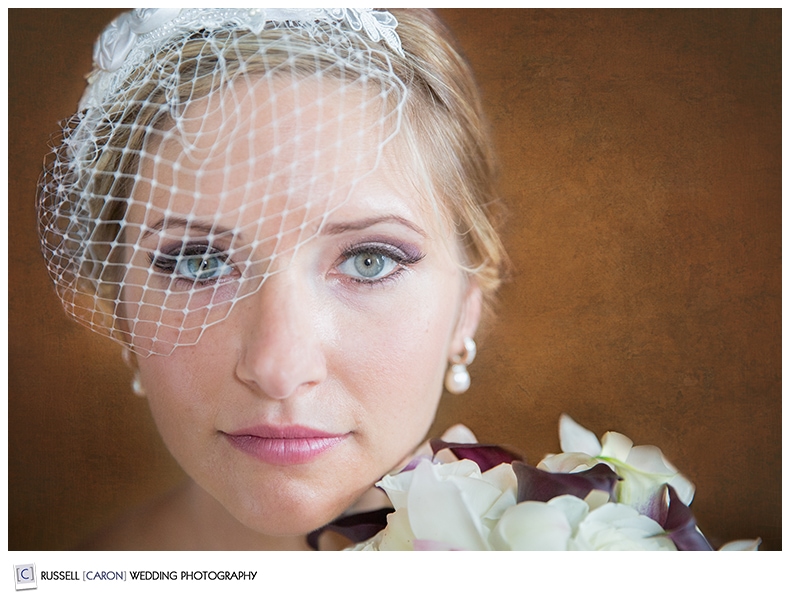 Here the couple takes a quiet stroll just before their wedding near Willard Beach in South Portland, Maine.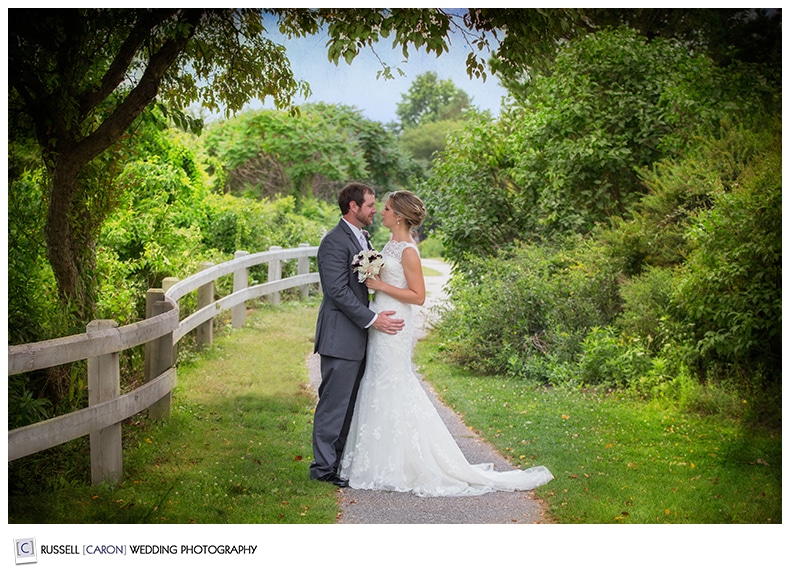 Fast forward to the point in the day Linsey and Zach made brief stop inside the Casco Bay Lines new terminal for a quick kiss before walking to the reception.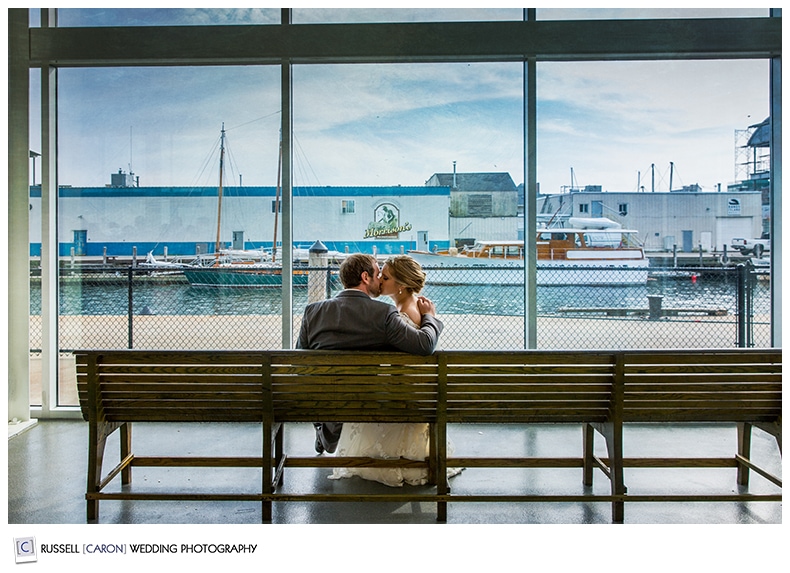 The rest of our samples follow in order of the time taken during the day.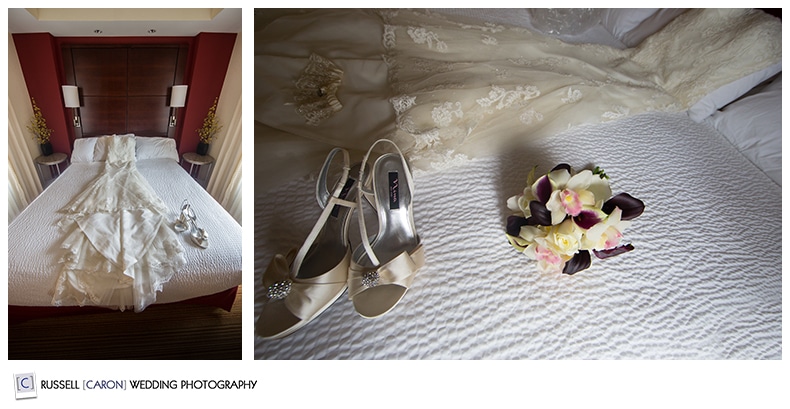 The men were nearby to the girls, most being based at the classic Regency Hotel in the Old Port.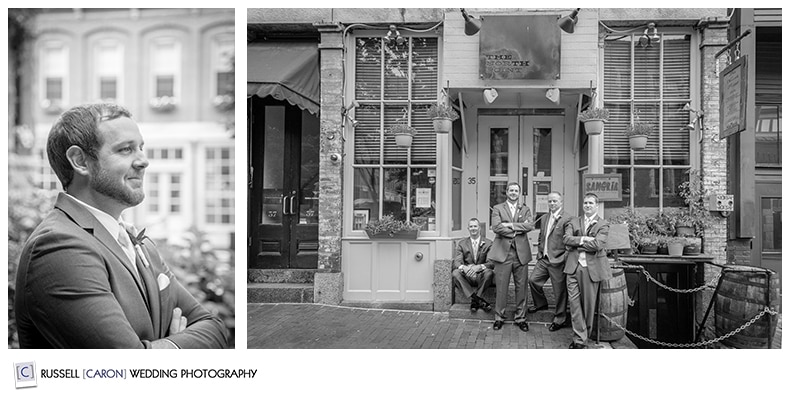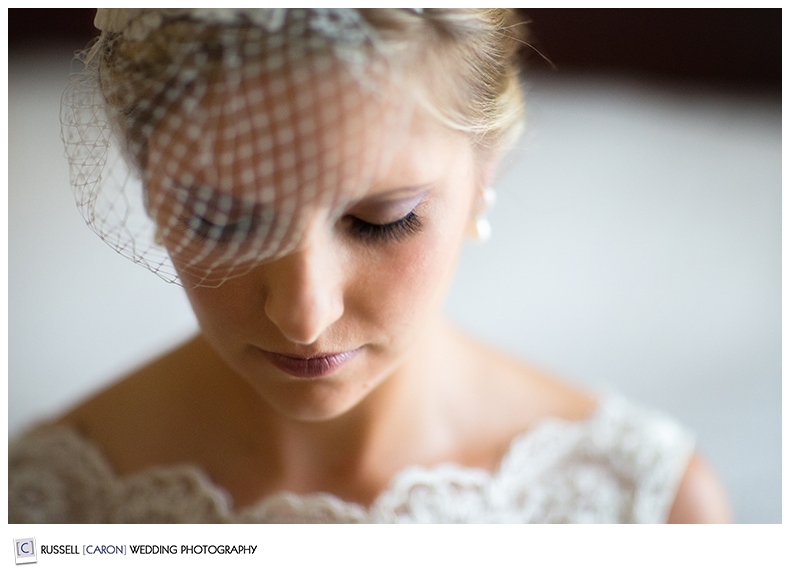 Look carefully at this wide shot of the Residence Inn side entrance.  That's Linsey and Zach perched at adjoining streets, staged for their first look.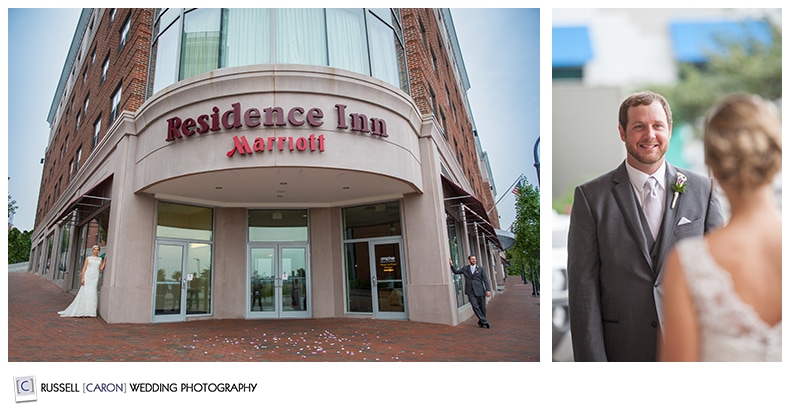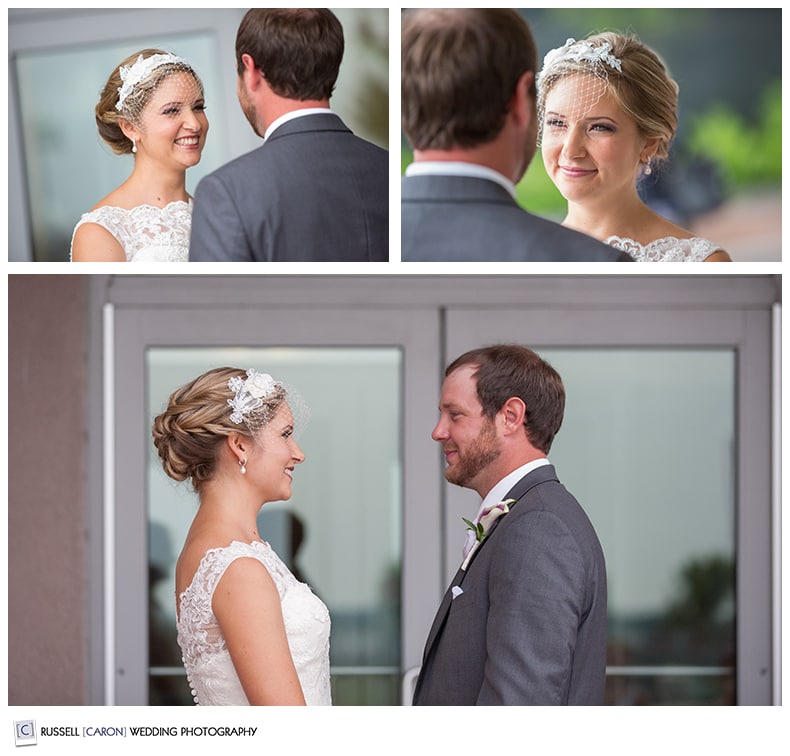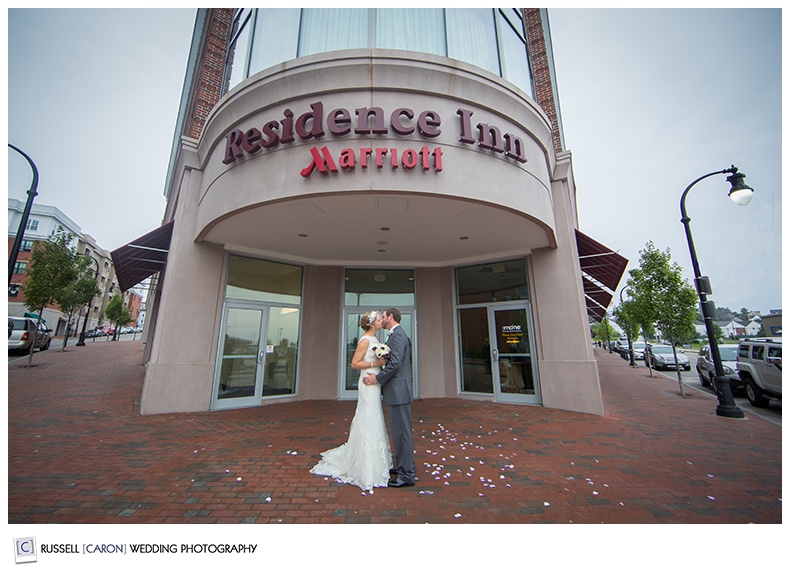 A stop in South Portland at Fort Preble and Spring Point Light, resulted in some classic bridal party photos. (below, 8 panels)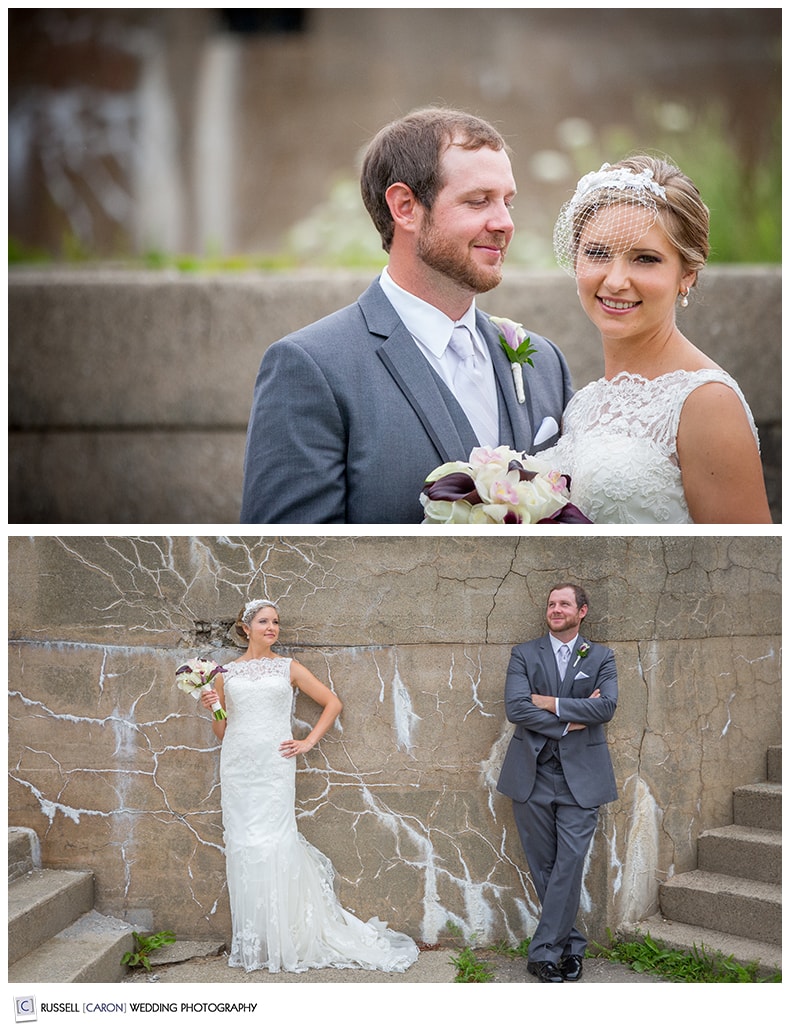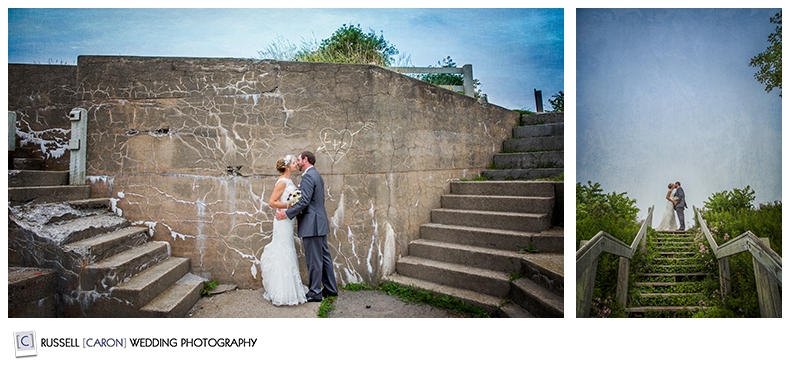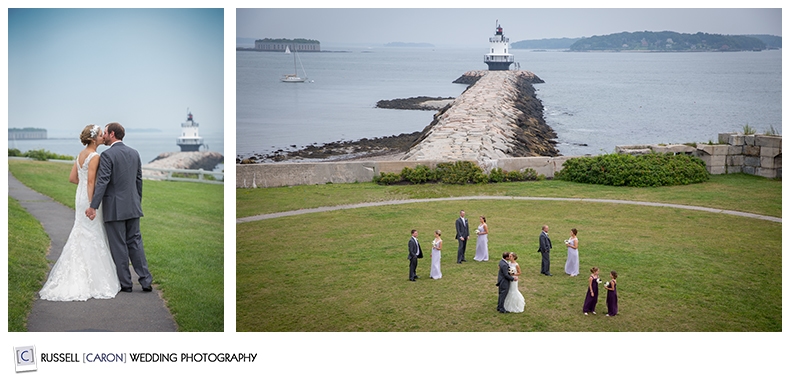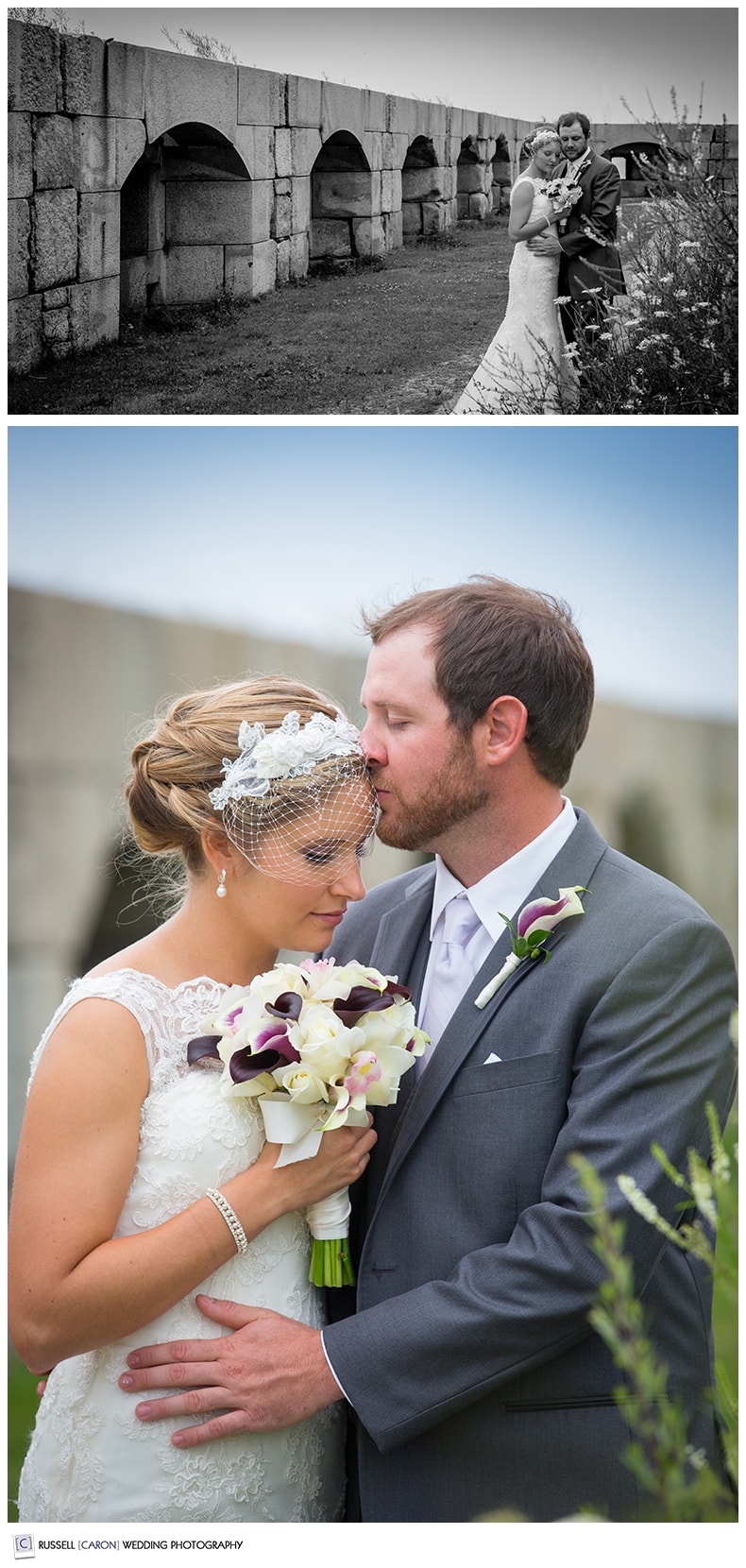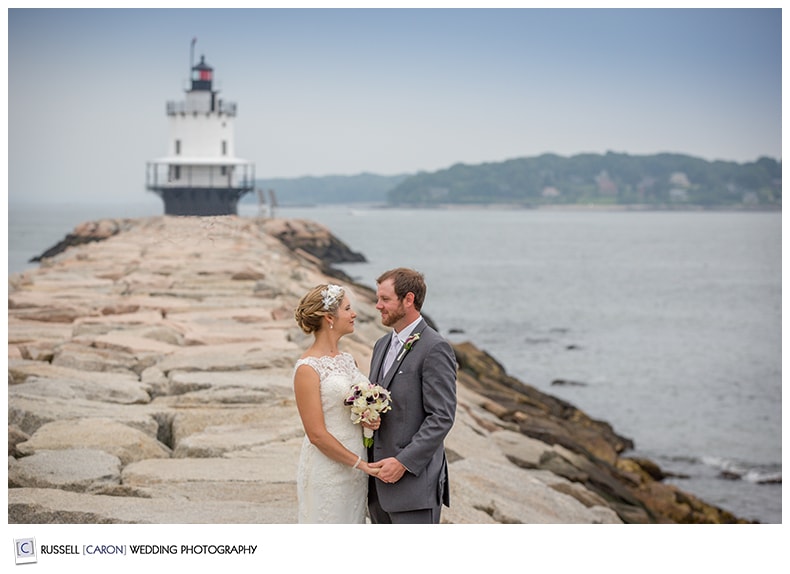 The bridal party including junior bridesmaids traveled with the bride and groom for the morning photo session.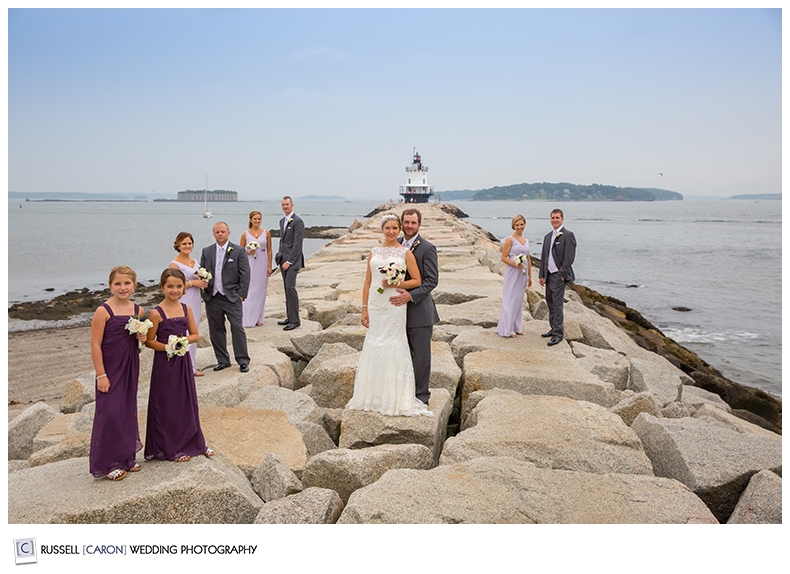 More from the Williard Beach area.  We love how you can see the remains of Fort Preble in the background!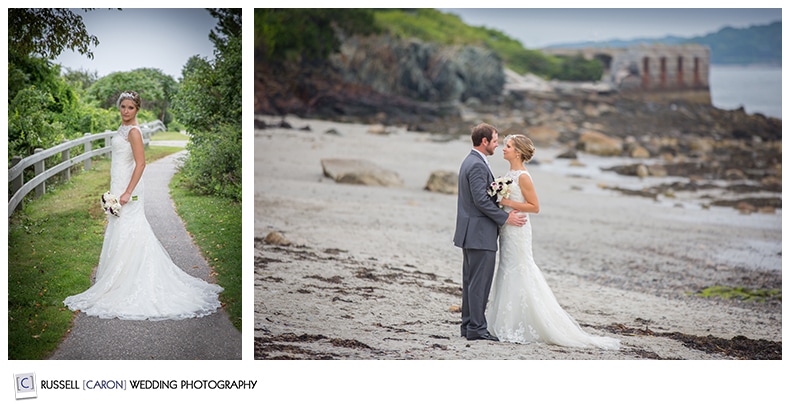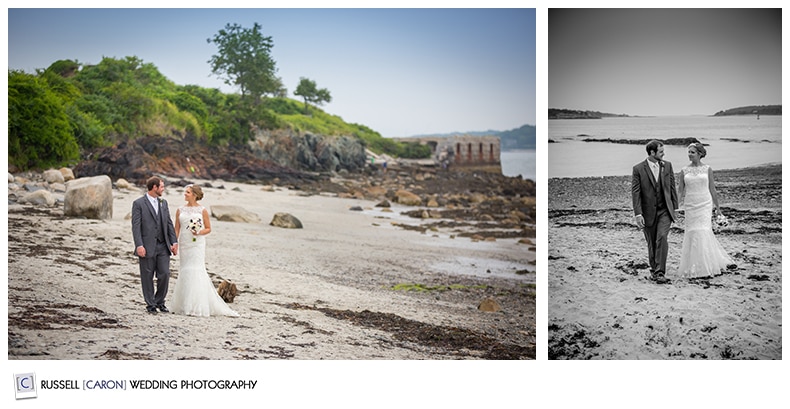 We love wedding ceremonies at Portland, Maine's, Church of the Immaculate Conception, not only for the classic Catholic ceremony, but for the beautiful light in this gorgeous cathedral!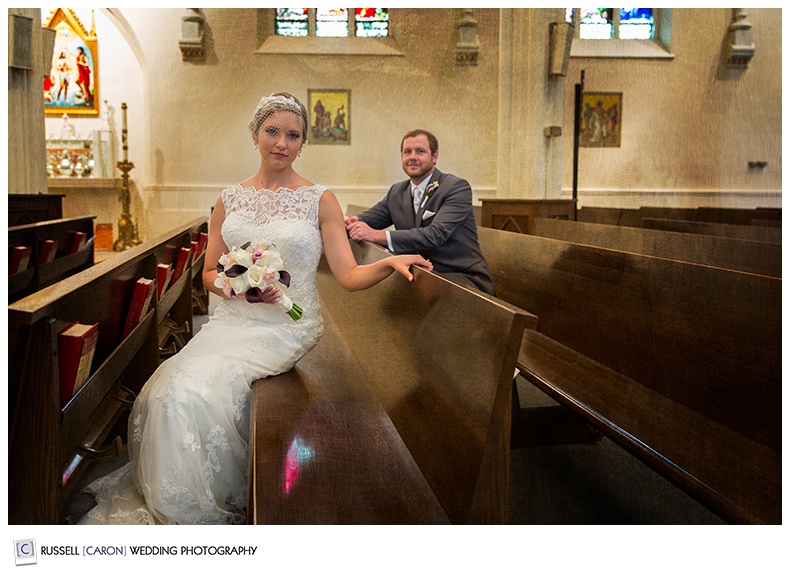 How lucky were we, having this photogenic couple inside an empty church almost a whole hour ahead of the guests arriving?!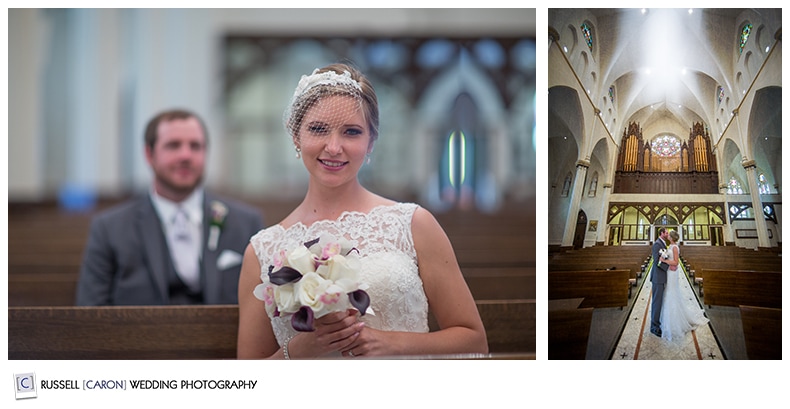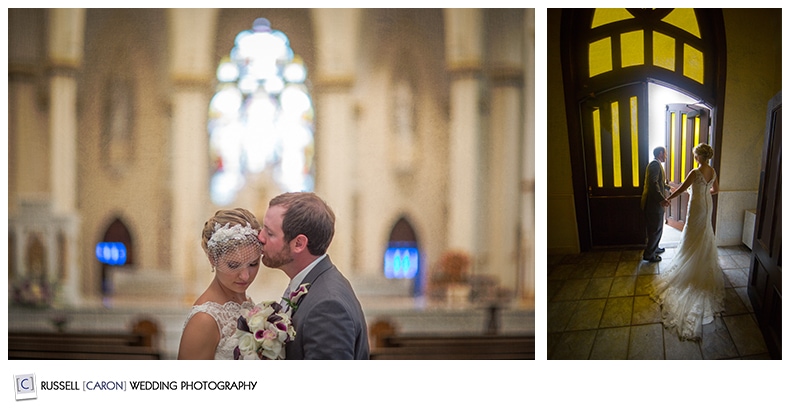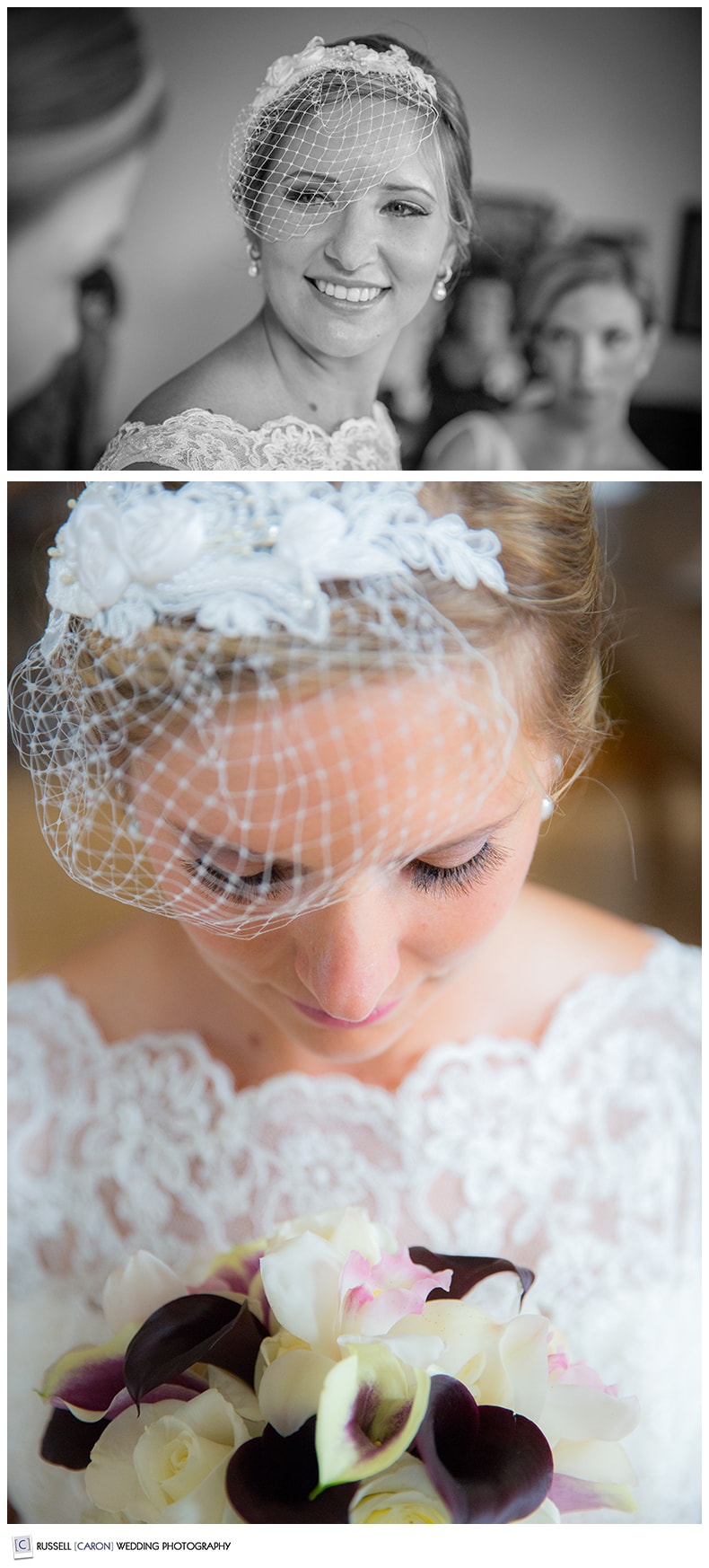 How precious when a ring bearer takes his job very seriously and does their job just right!  Below right Linsey stands ready to walk the aisle with her dad, right on time at 1:00PM sharp!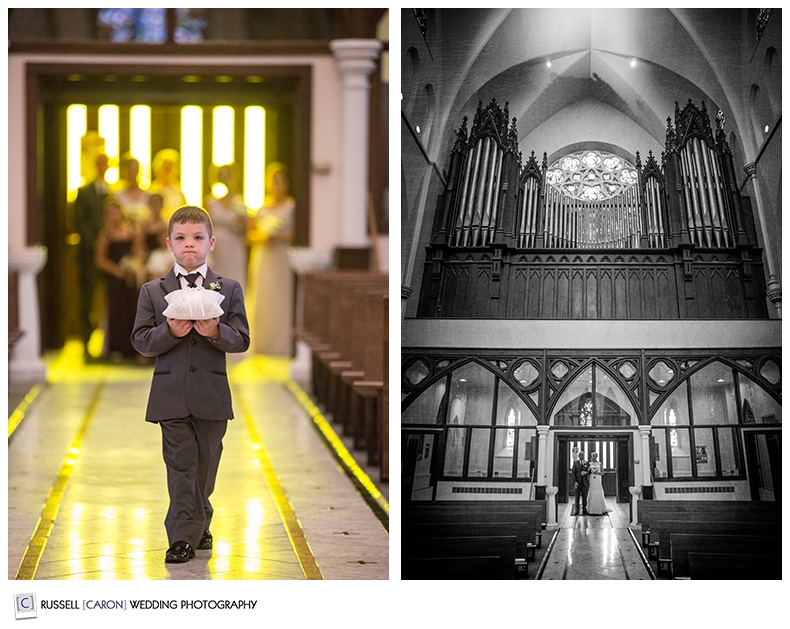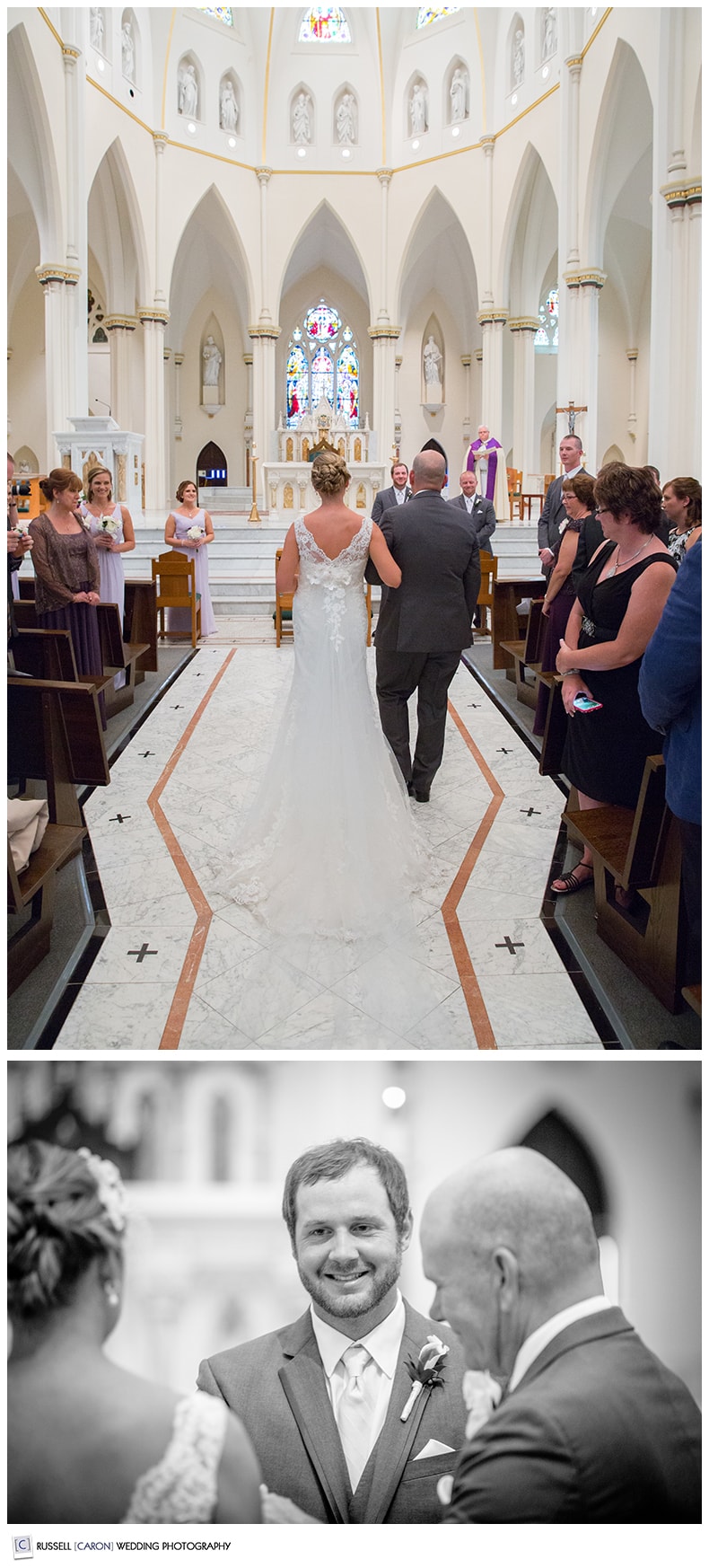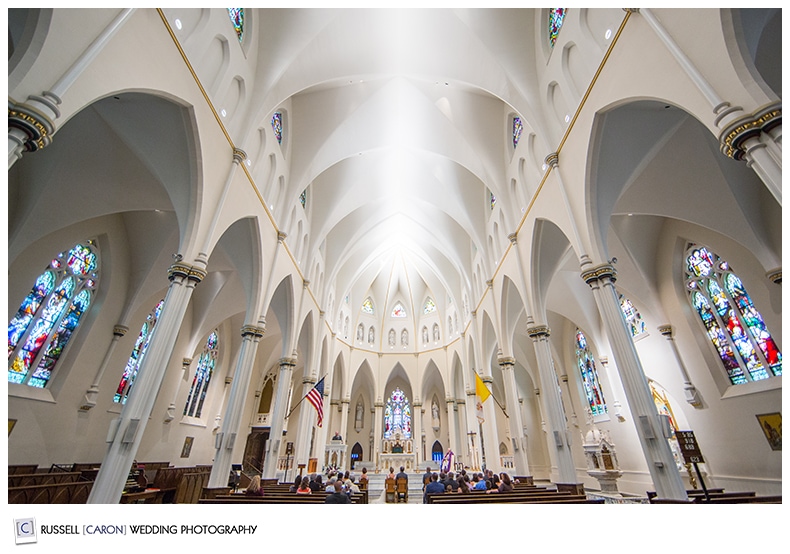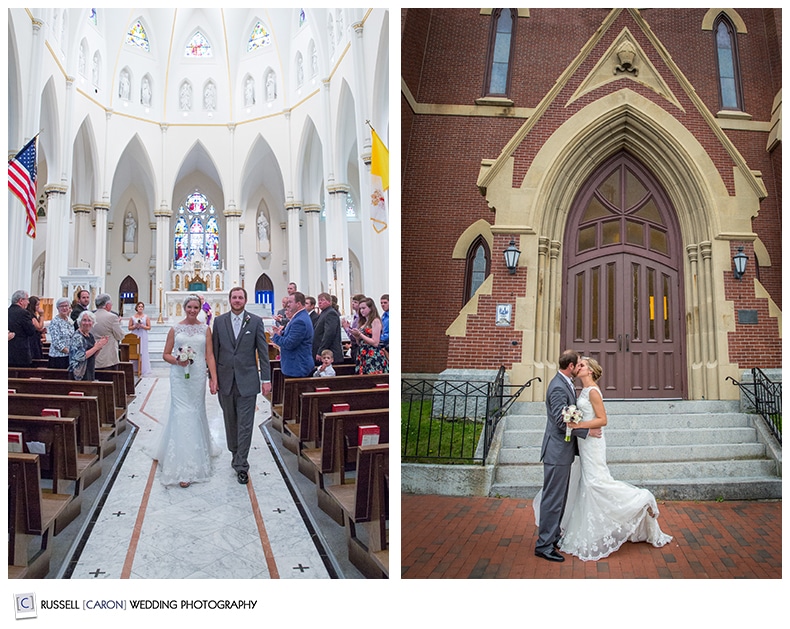 Linsey planned a fun bubble exit! So fun!!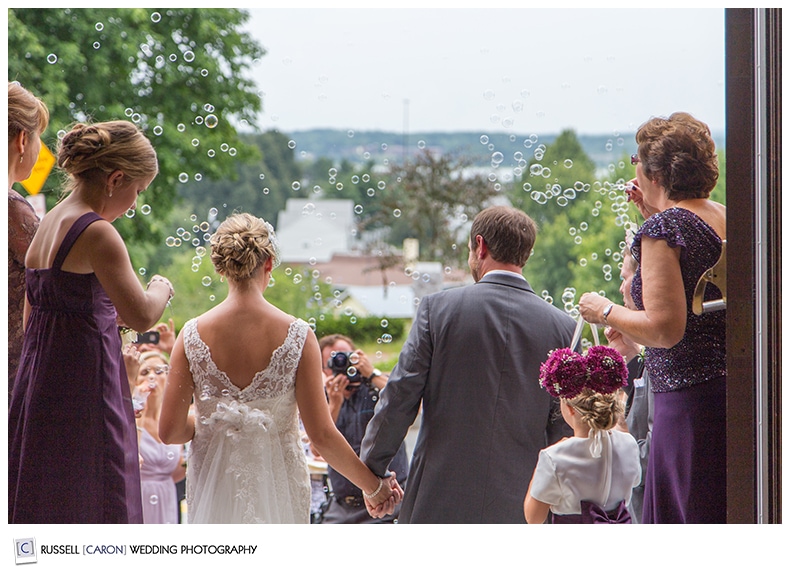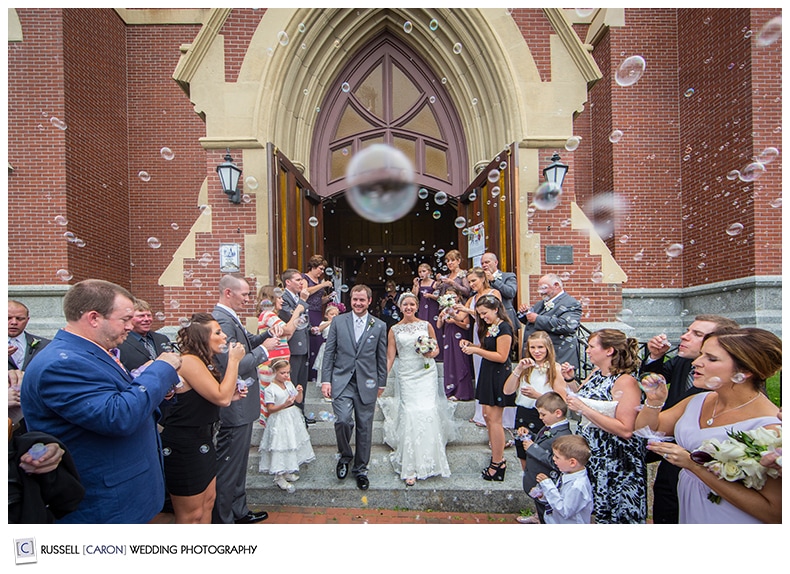 Below (2 panels) what a fun idea for Linsey and Zach's Kansas and Tennessee guests, a ride on the Schooner Bagheera by the Portland Schooner Company!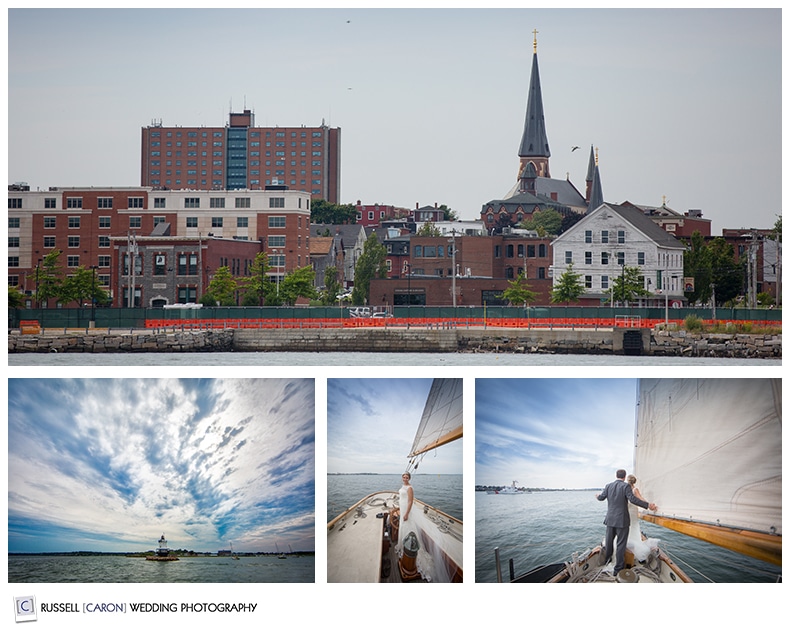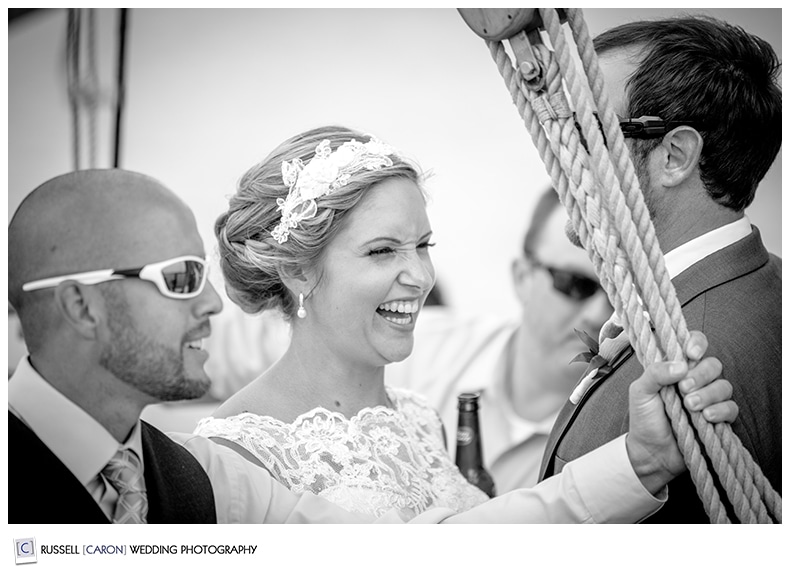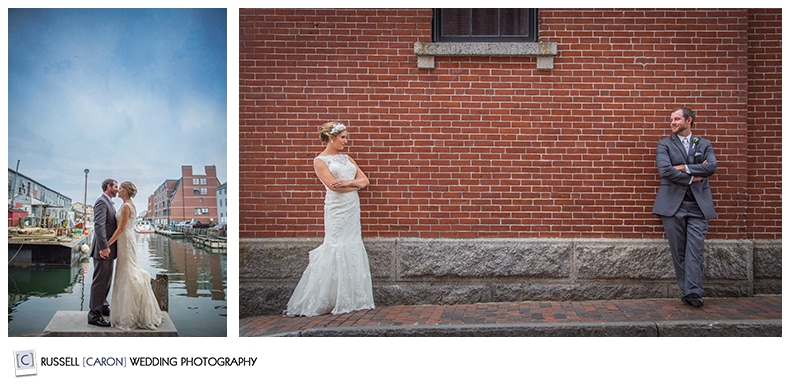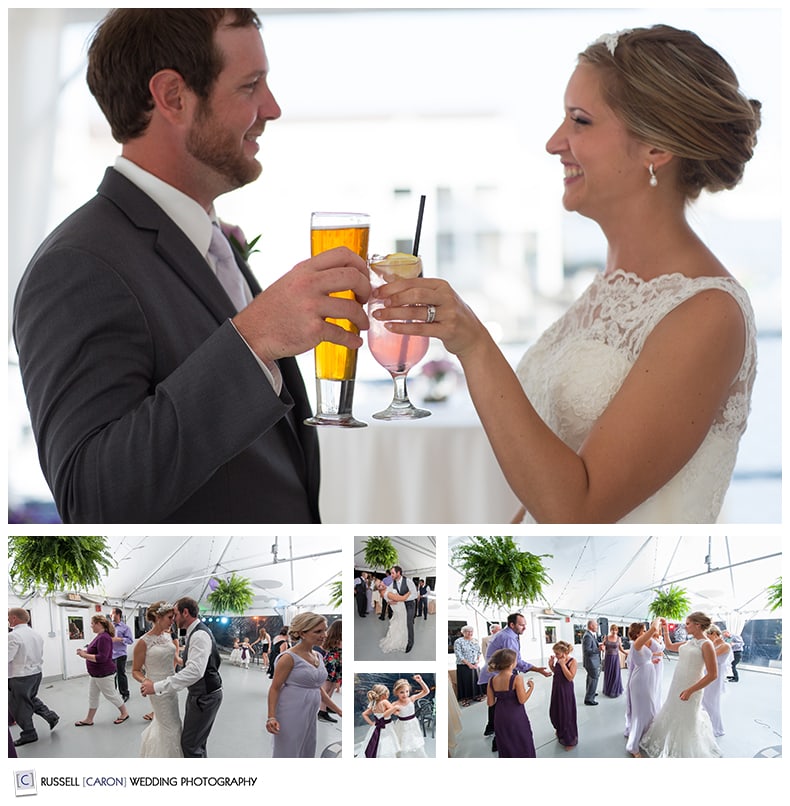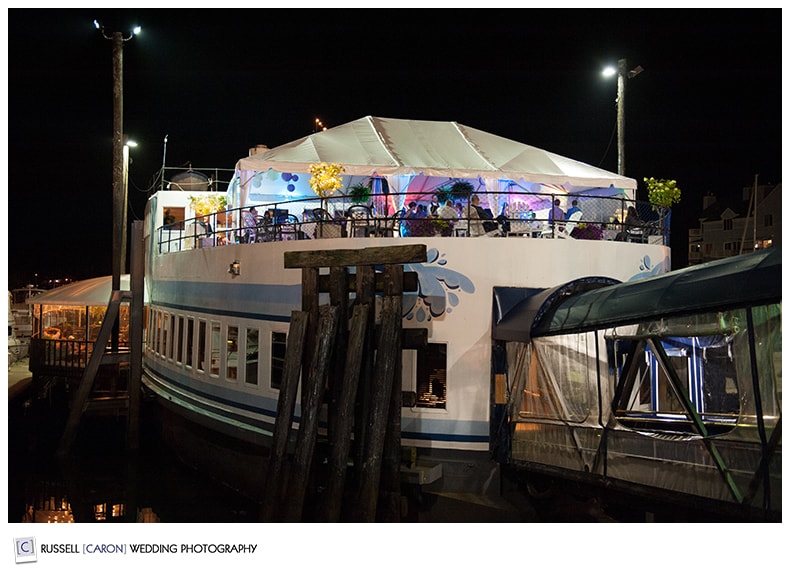 Thank you to these wonderful vendor partners:
Steve DiMillo and the staff at DiMillo's on the Water are as hospitable and friendly as you'll find anywhere!  For fine seafood favorites, DiMillo's is the place to go!
Entertainment was expertly presented by Dave Dionne of Dionne Entertainment.  It's always a pleasure to work with Dave!  Dave knows how to keep the events at the reception flowing smoothly, and plays the best music to keep everyone on the dance floor, making for a really great party!
One of the prettiest cakes we've seen this year by the European Bakery in Falmouth.  We were told that it was one of the best cakes that Linsey and her mom had ever tasted, and so, of course, we had to try it!  The layer of strawberries and cream cheese in the filling made for quite a memorable cake, we agreed!
Portland Maine wedding photographer, Russell Caron Wedding Photography, puts the fun into wedding photography for Maine wedding couples.  Feel the love as this dynamic pair effortlessly capture each of your cherished memories, producing natural poses and unparalleled art for your special day.  For more information, please contact us right away!