Wedding Photographers in Maine
Chris and Cali drove from Wisconsin to Point Lookout Resort in Northport, Maine, for their wedding, along with their two St. Bernards, Stella and Captain!  The couple has visited Maine a few times in the past two years, and fell in love with the state.  For just about all of their guests, it was their first time in Maine, and what a treat they received; they were at one of Maine's most stunning venue locations and the weather was just about perfect.   Let's look at the day with some of our favorite photos.  This first one is at the barn overlooking Penobscot Bay across from Point Lookout.  We love where the sun was, just over the peak of the barn roof, and the effect our ultra-wide angle lens made for this iconic scene.  As wedding photographers in Maine, these are the types of photos that we love to produce for our wedding couples.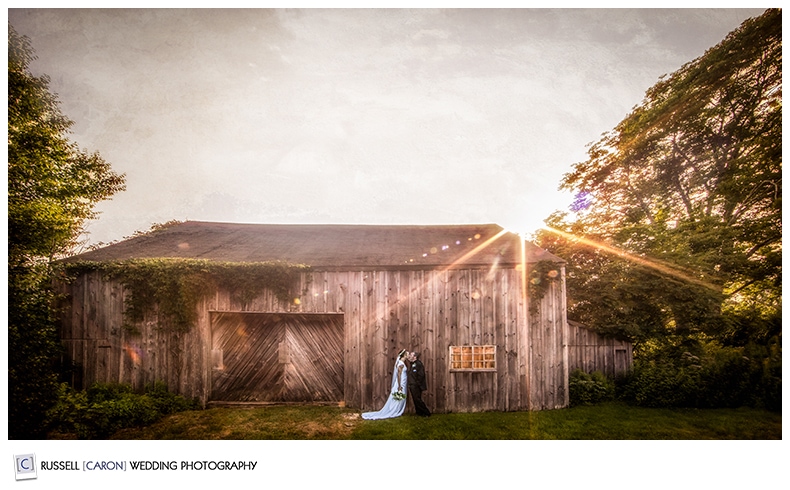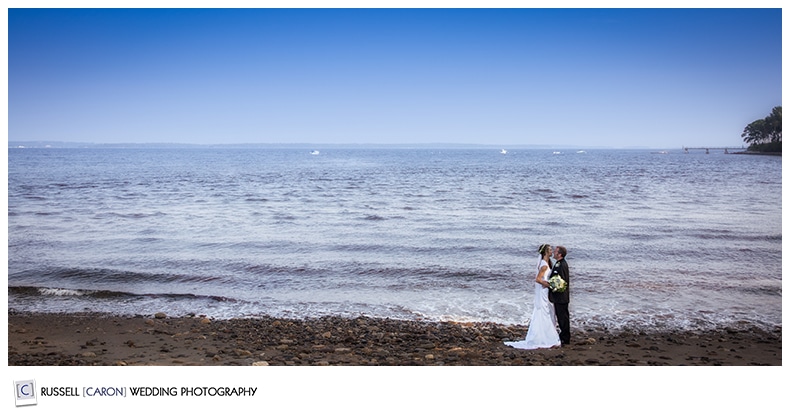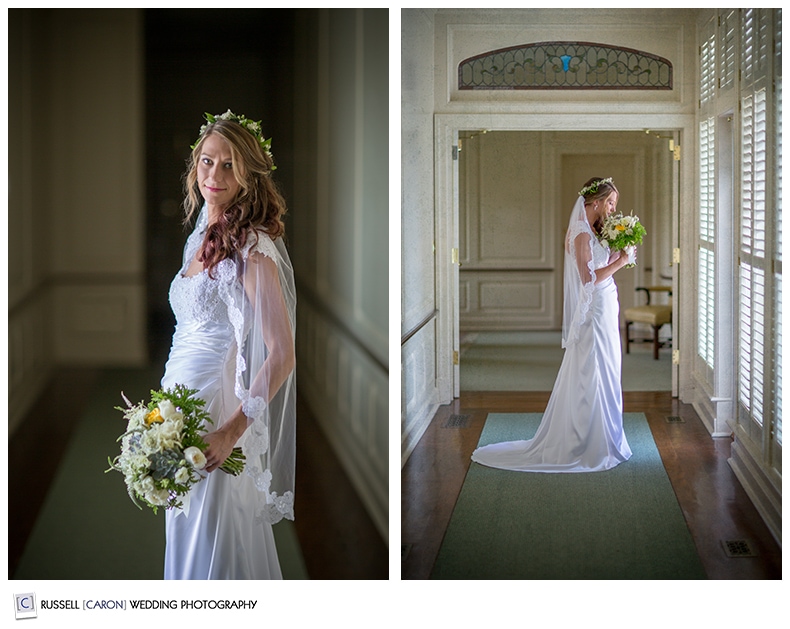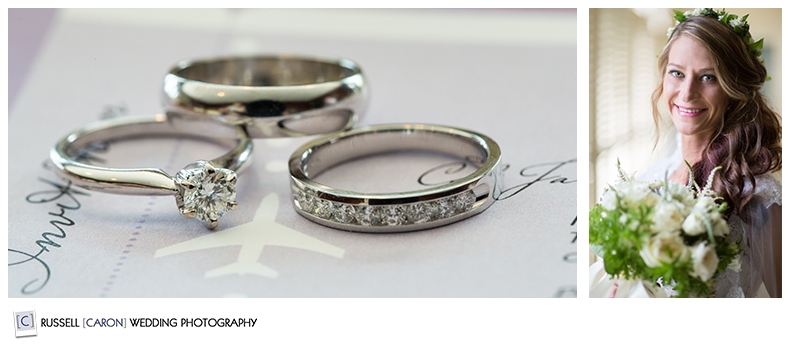 The dress awaits the pride in the room adjoining the bridal prep suite at the expansive Point Lookout Resort facility.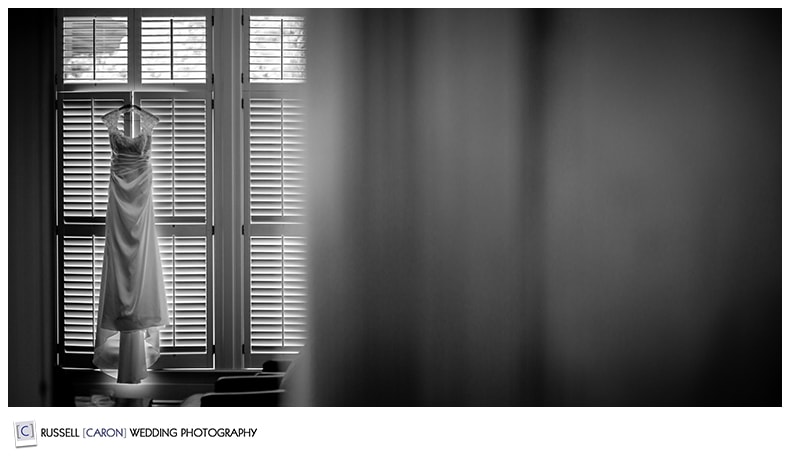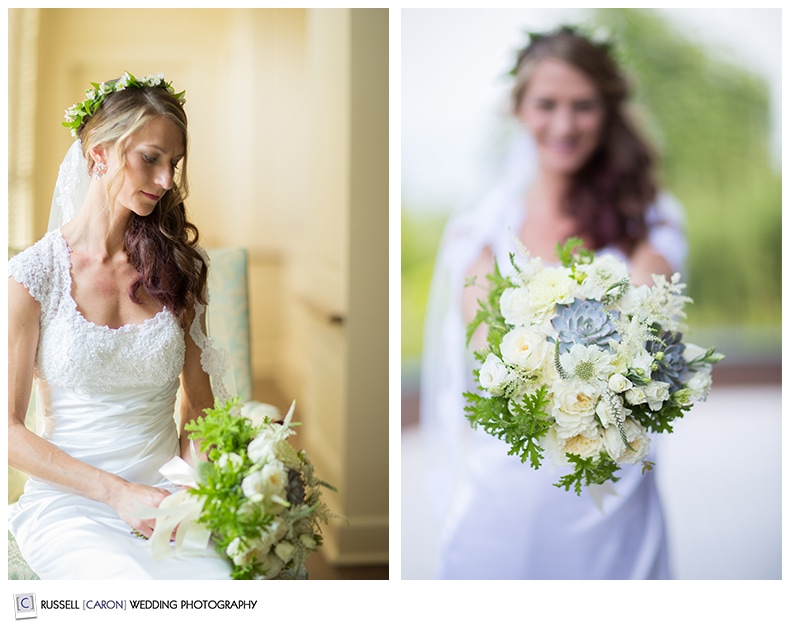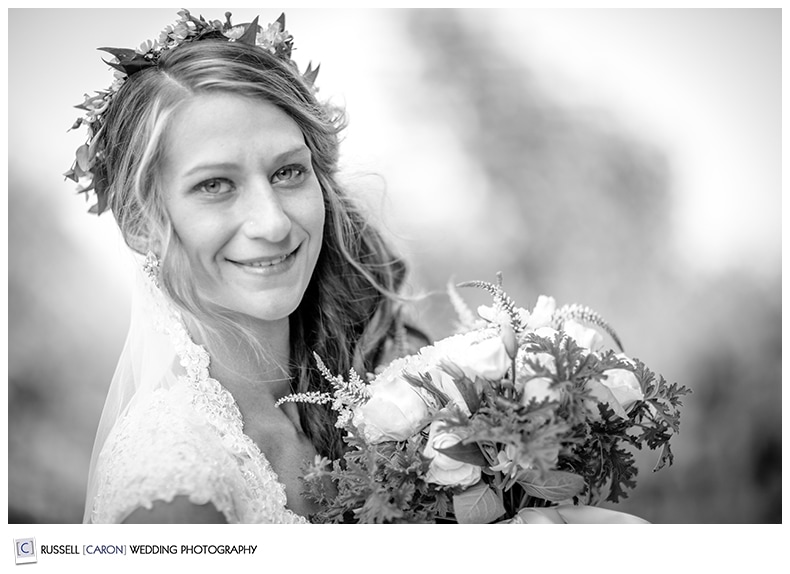 Captain and Stella enter with Chris.  Their dogs are very important to them, not surprisingly, and traveled with the couple from home to be integrated into the ceremony.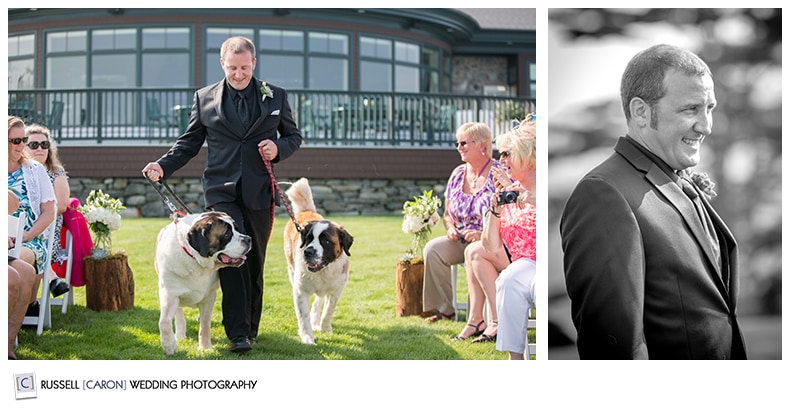 Cali's dad walking her up the outdoor aisle.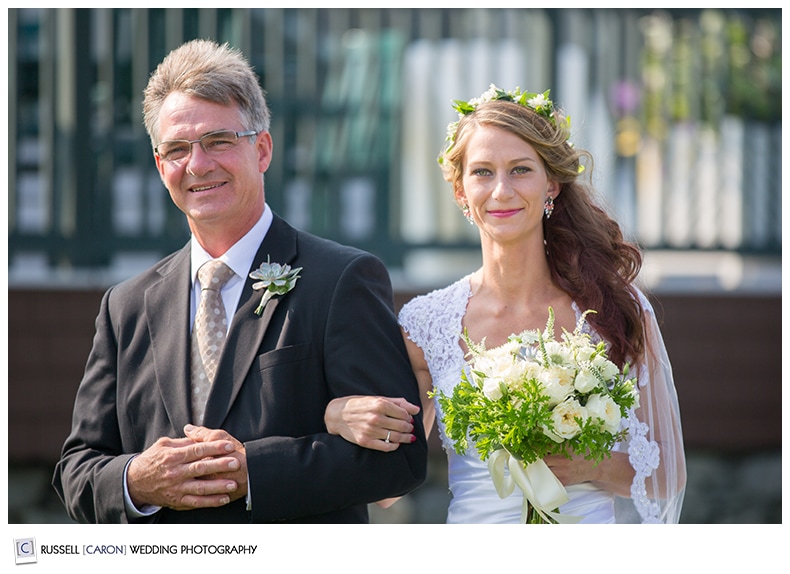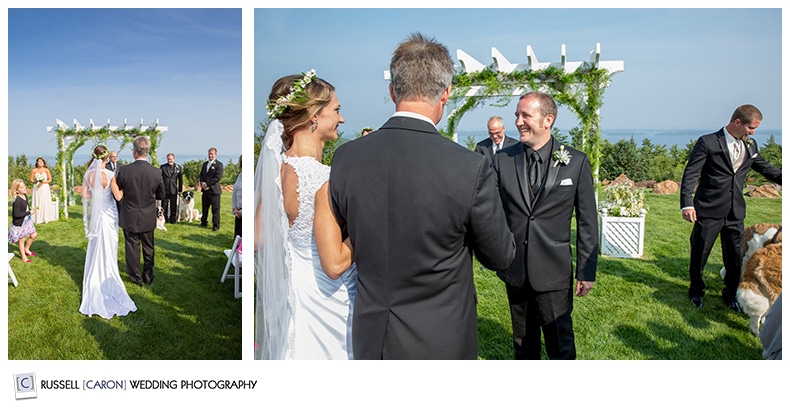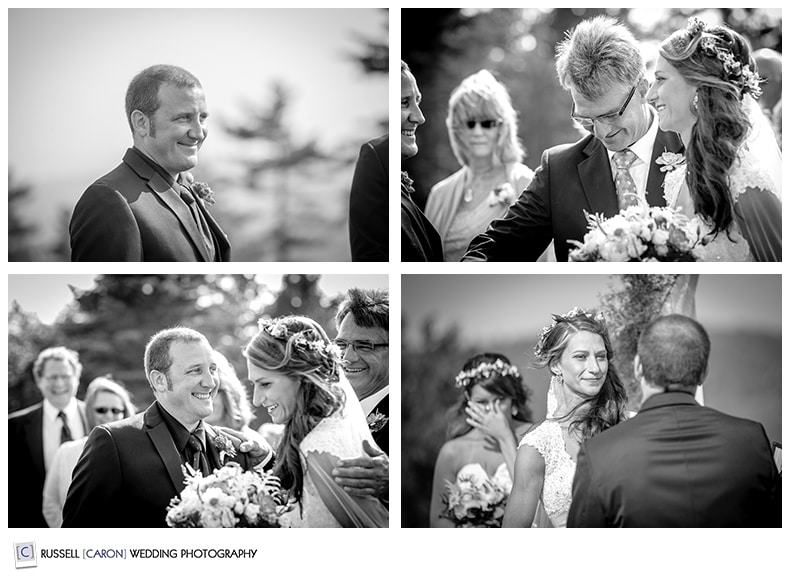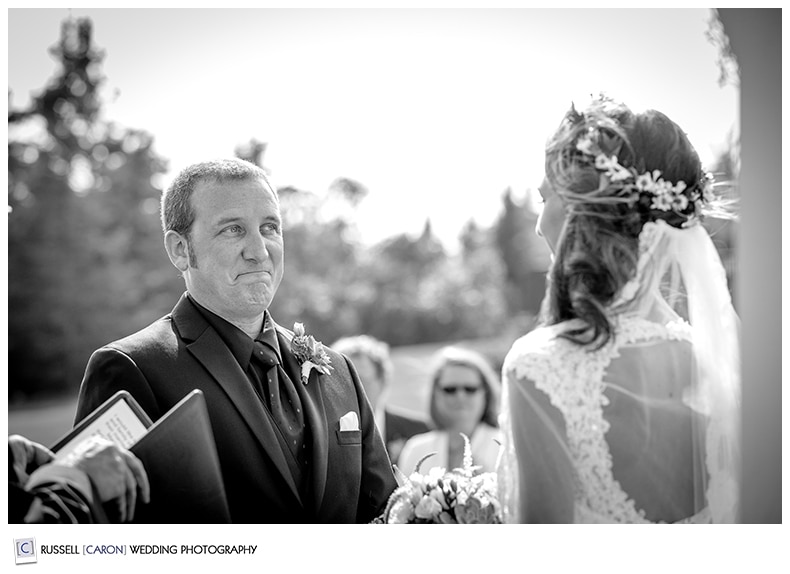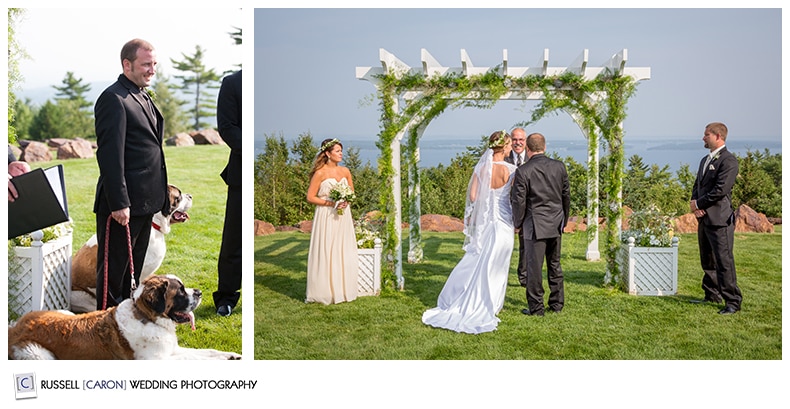 What a vista the summit of Point Lookout affords its guests!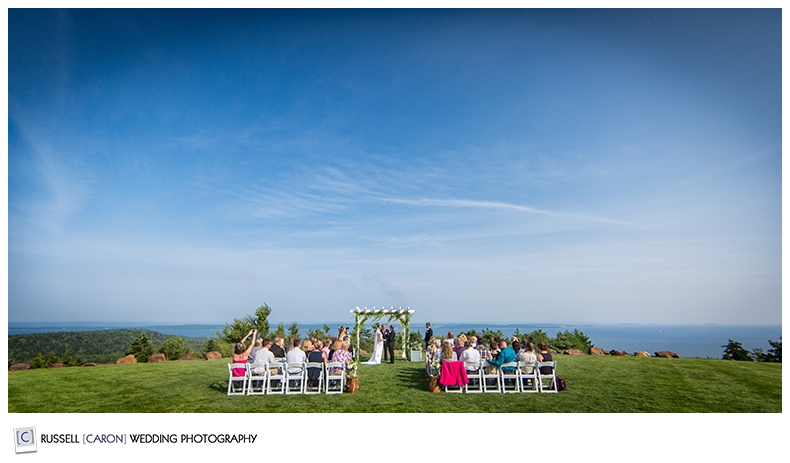 First kiss!!!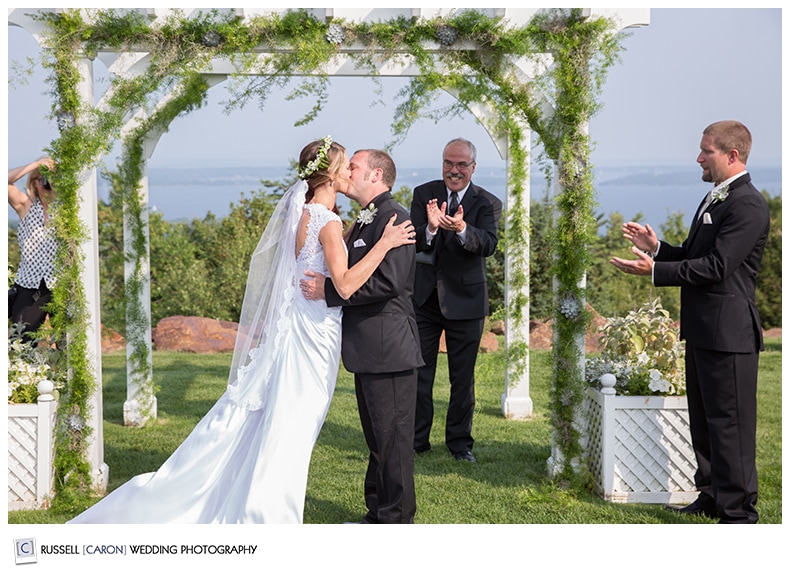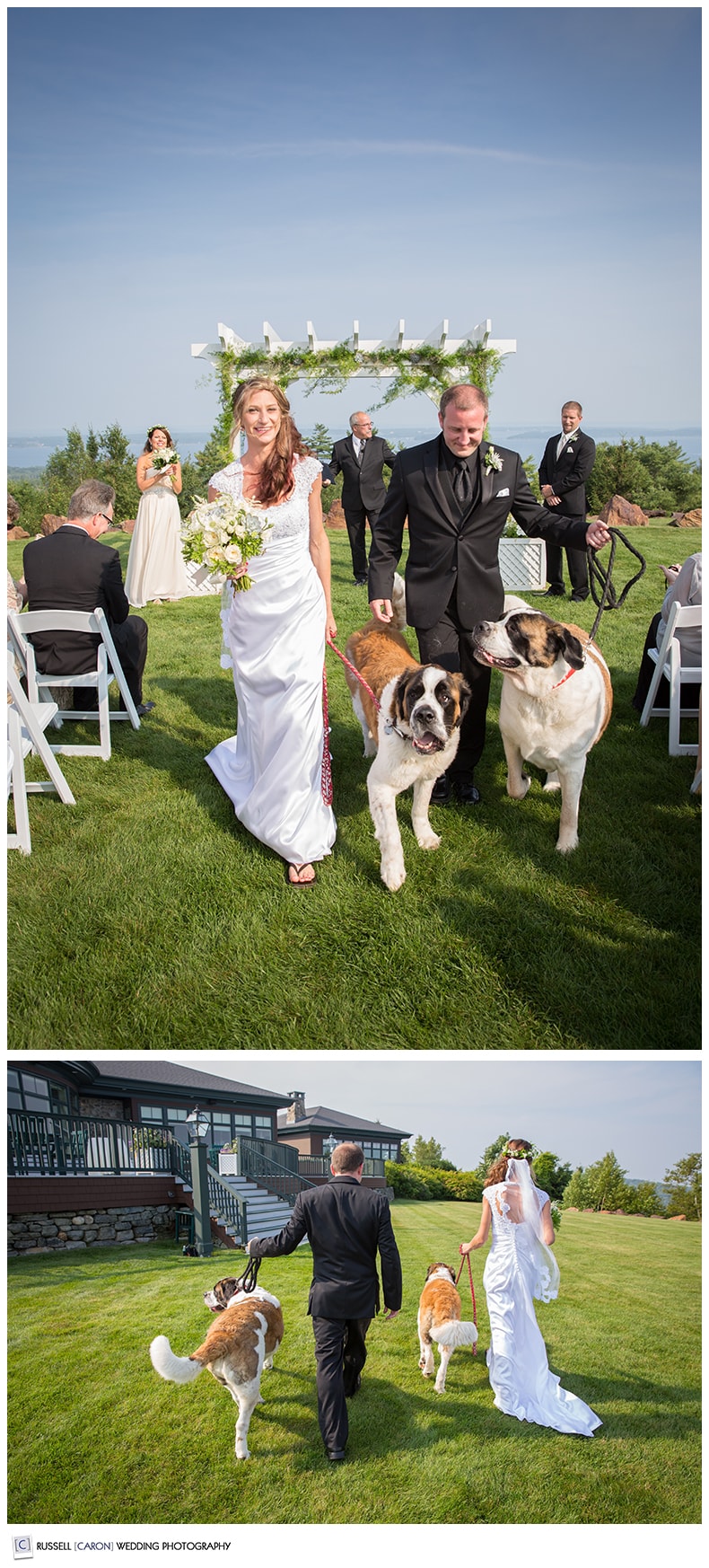 A little lint roller action was in order; Stella and Captain left their share of fur on Chris' all-black suit (which looked very sharp, by the way!)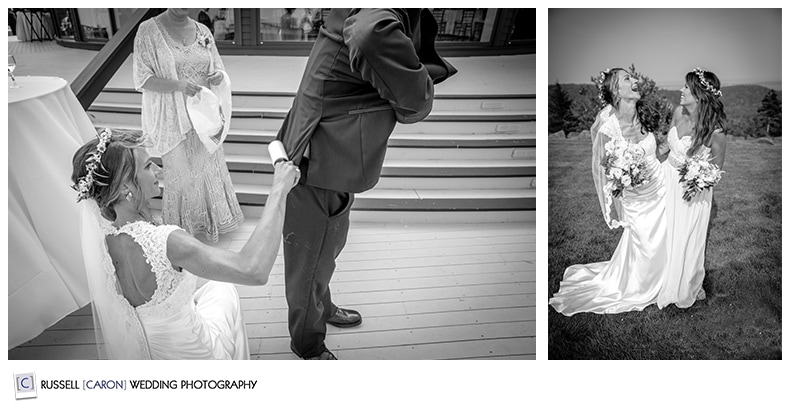 We love this spot near the venue.  A photo taken here of a bride and groom a few years ago even ended up on the cover of a Maine wedding magazine!  There is always soft and gentle afternoon light along this cove and shoreline.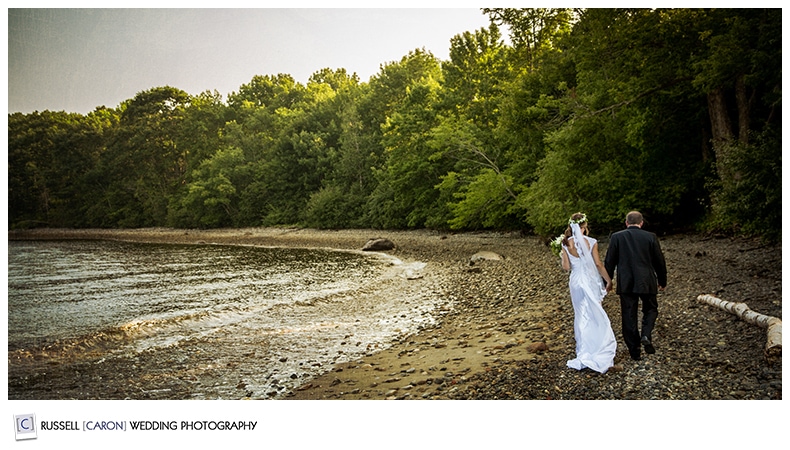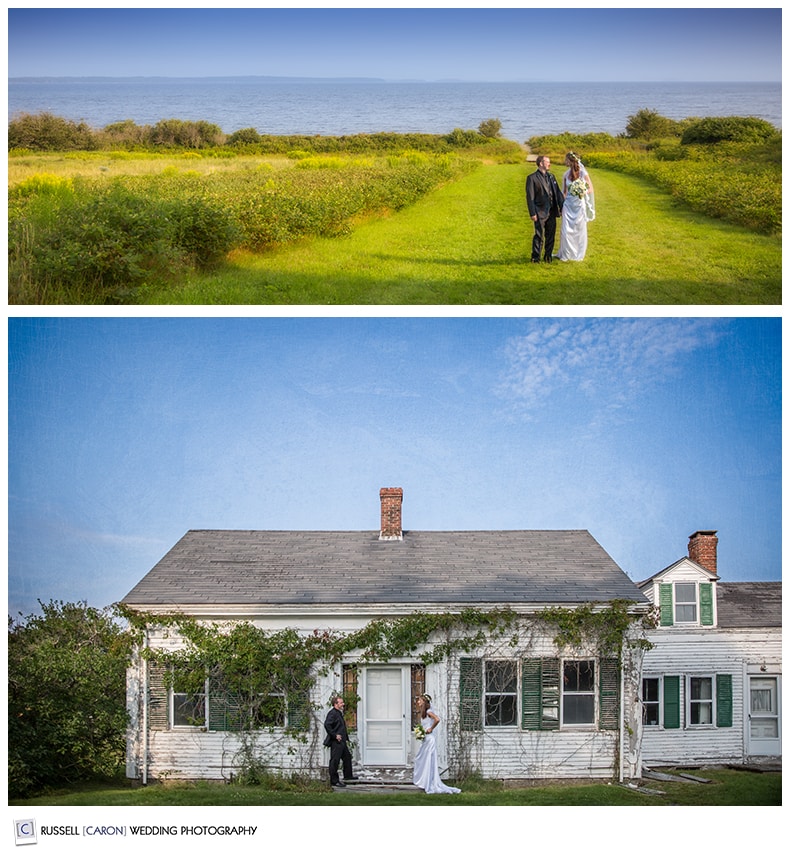 Cali loved the vines on this farmhouse.  We did too!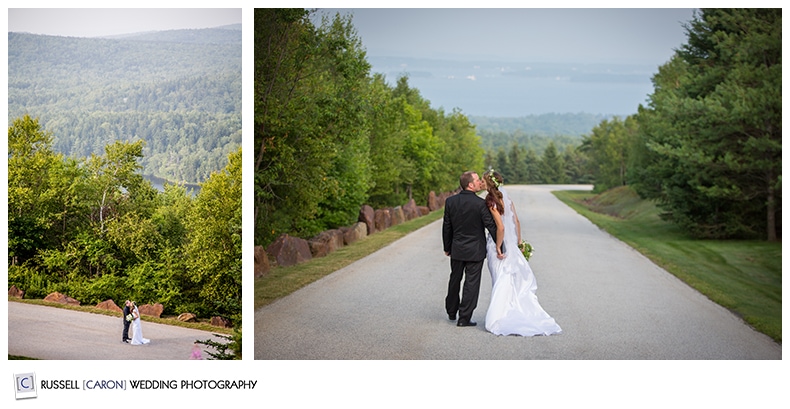 The summit road to the top of the mountain at Point Lookout provides breathtaking views!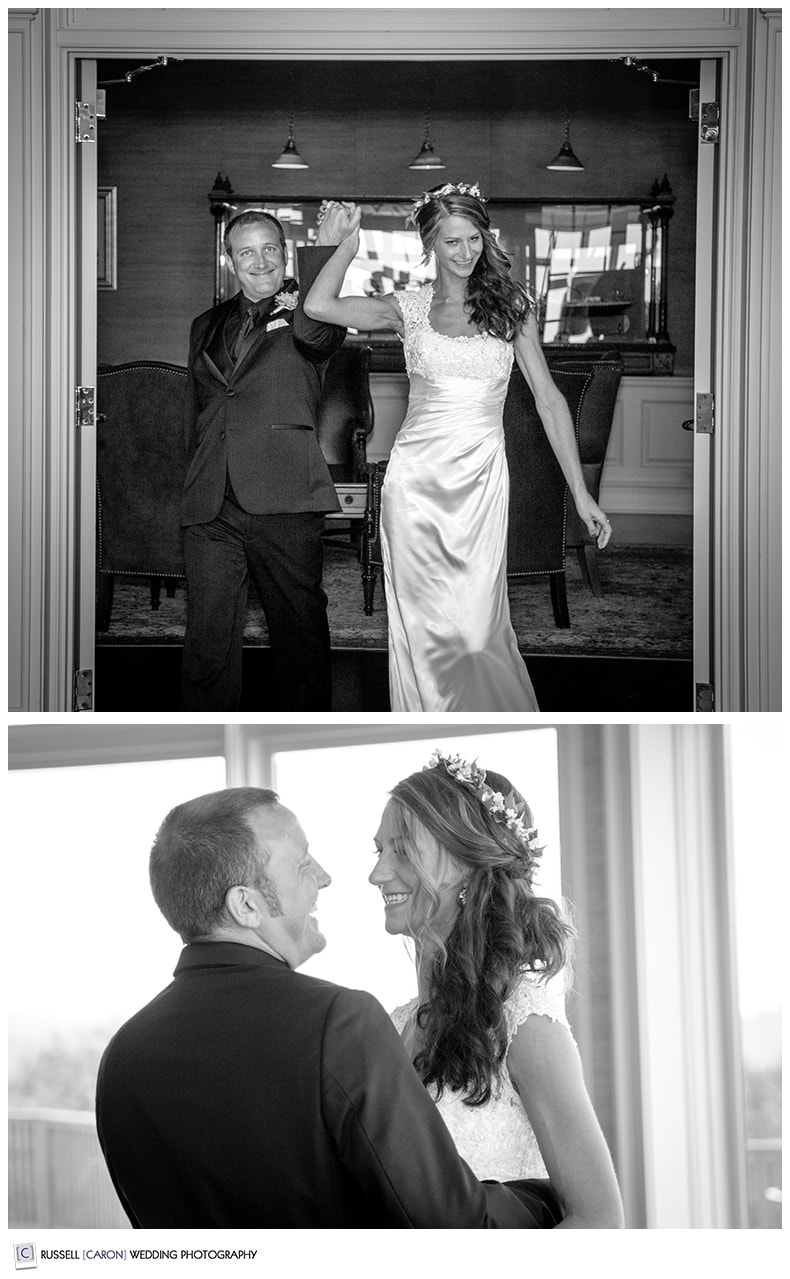 Above and below, first dance was full of emotion!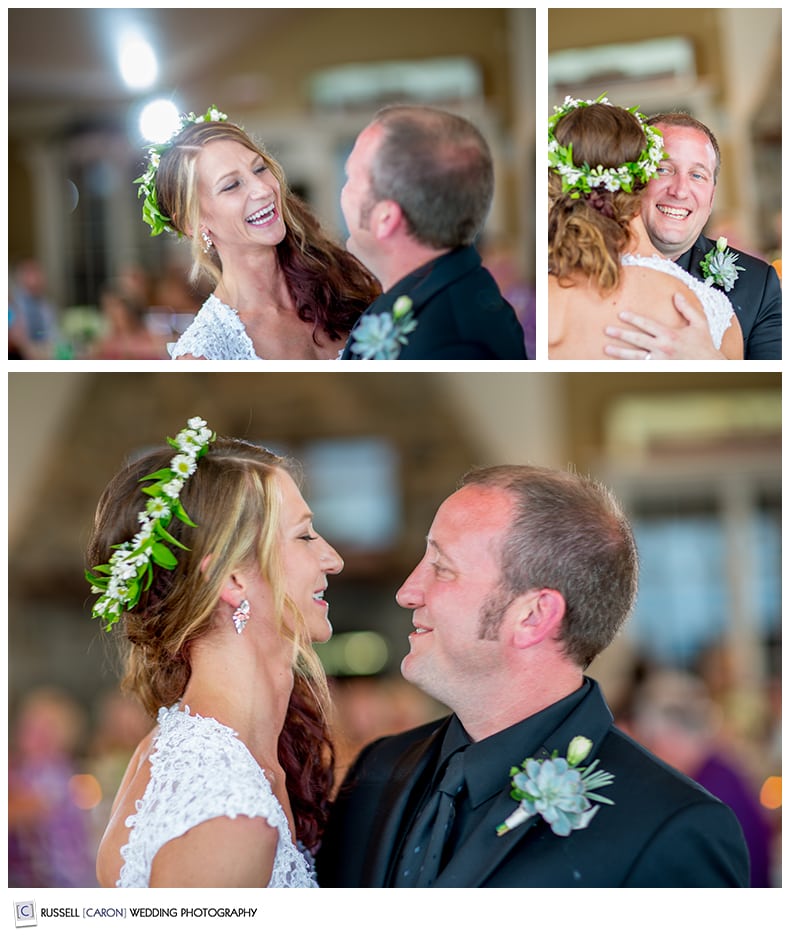 And, Cali's dance with her dad was as sweet and touching as we've ever seen (below).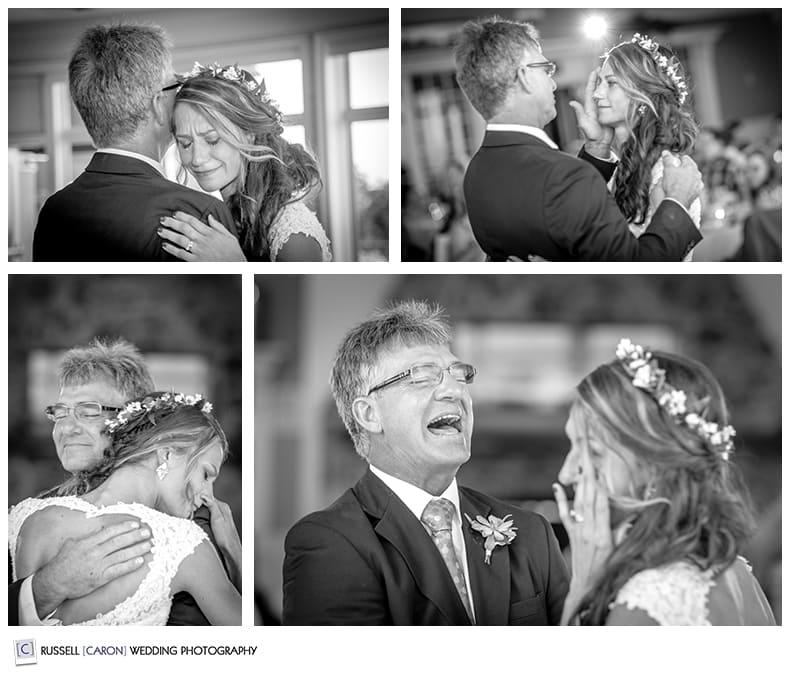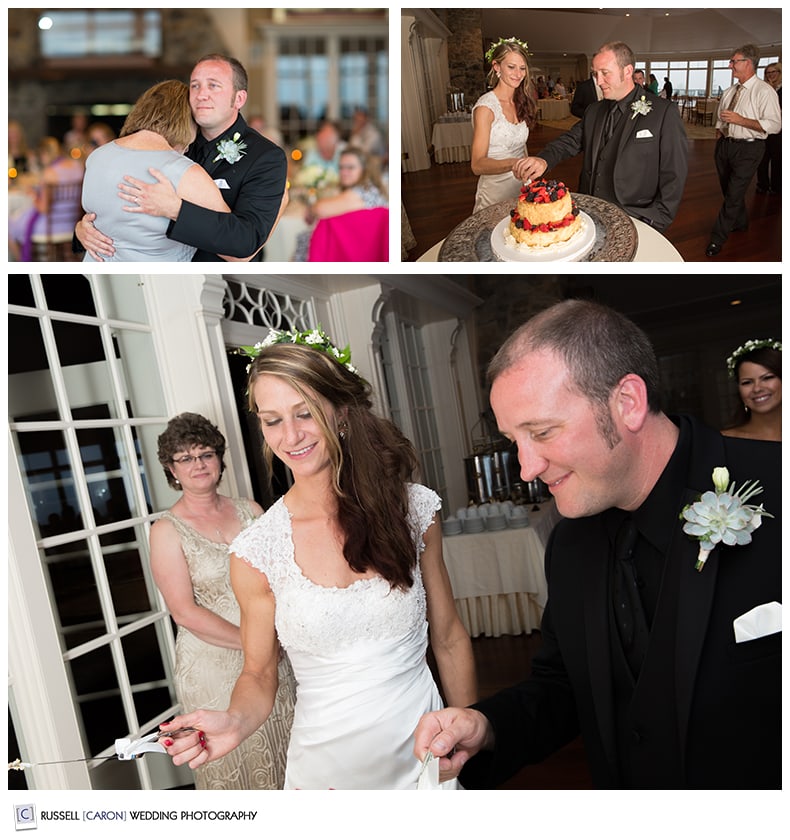 A nice and tidy group size means we can easily get everyone in place for a group shot of all the guests…and here they give a rousing cheer to the newlyweds.  What a great day this was for all!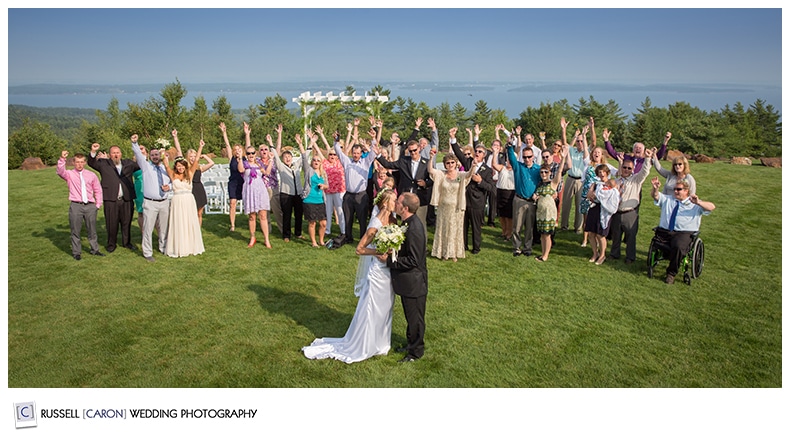 Entertainment was by Joe Dione of Dionne Entertainment.  Joe keeps things moving with hits from all eras and all genres!
Florals were done by Coco Hiltebeitel of Coco Design Company.  Coco did an amazing job with the bouquets, tables, and the arbor!  The designs were fresh and fun.
Last, but by no means least, Lisa Tapken of Point Lookout has been such a joy to work with!  This was our third wedding this month with Lisa.  Each time she has been so easy going, accommodating, professional, helpful and attentive.  All this and fun to boot!
Russell Caron wedding photography, wedding photographers in Maine, would love to be part of your special day, just as we were for Cali and Chris.  We will travel to any location you can think of, domestic or international, whether it be at a resort here in Maine, or the Caribbean, or a villa in the south of France.  For more information, please contact us right away!