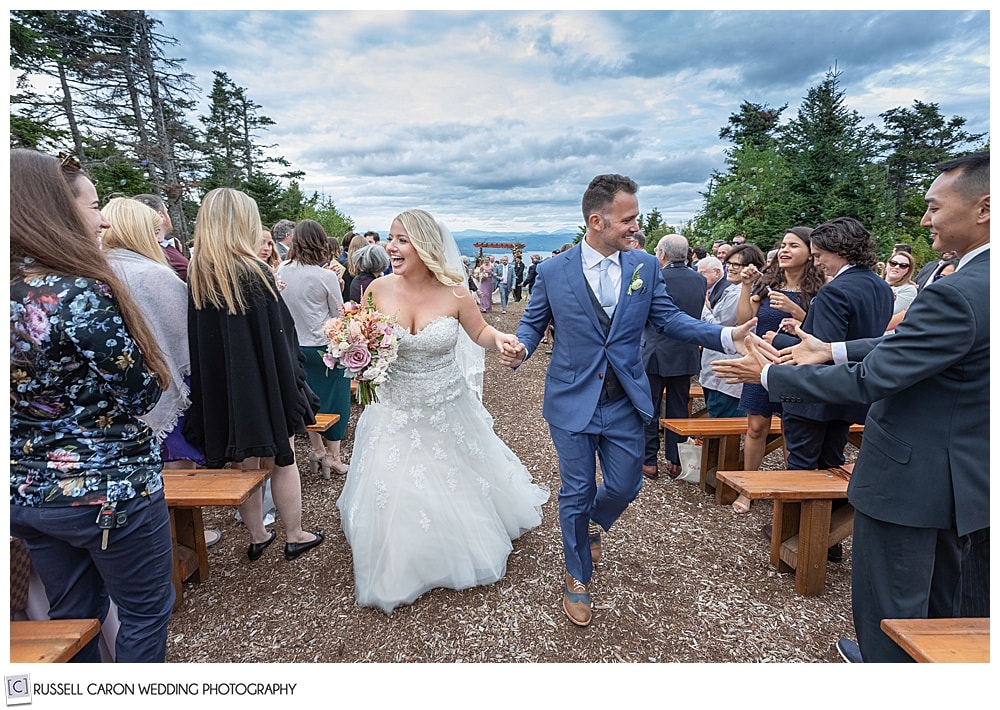 Overjoyed Wedding Recessional image! On the last day of every year we reach #1 of our Countdown of the Year's Top Wedding Images. In honor of 2019, this year Liz and I each selected our top 19 images.
For me, a #1 wedding image has to embody everything about the couple, their day, the feel, the environment, their personalities, love, and emotion. It has to be a photo that, out of upward of sometimes as many as 1,000 finished images from a wedding, sums everything up in one shot, in that 1/500th of a second that the photo freezes in time. (A similar image was our #1 choice last year, too!)

Here are Emily and Jake, recessing from their Mouth Sunapee, New Hampshire wedding at the summit. Oh my word – all the feels for this couple, their families, friends, the wedding, the location, every single thing.
This image shows the radiant joy of these two. The laughs and joy they have here were much the entire 30 minutes of a wonderfully scripted ceremony by Elizabeth Levy. Laughs. More laughs. Tears of joy, tears of love.

We photograph weddings all the time, so in theory are somewhat hardened against emotion. Oh no, that was so not the case here.
I'm proud to present this as my #1 wedding image, my #1 fraction of a second of the nearly 150,000 images I took at weddings in 2019.
May 2020 bring the joy I had during 2019. It's a tall order, and somehow, though it always manages to come through.
See Emily and Jake's wedding story here: Joyful Mount Sunapee Wedding
Venue: Mount Sunapee
Photographers: Russell Caron Wedding Photography, photographs by Russell Caron and Jill Brady
Planner: Jennifer Matthews at Memorable Events
Officiant: Elizabeth Levy
Floral Designer: Alioops Flowers
DJ: DJ Shamar
Hair and Makeup Artists: Angel Touch Studio
Wedding dress designer: Pronovias
Wedding dress boutique: La Sposa
Men's Wear: Hive and Colony
Cupcakes: Wicked Sweet Cakes and Treats
Paper suite: Minted
Please comment on the blog post if you enjoyed Russ' #1 overjoyed wedding recessional image! And please share!! Thank you 🙂
Russell and Liz Caron, are romantics at heart who love photographing people in love. Are you getting married? No matter where your wedding is located, we'd love to travel there and take breathtaking wedding photos. Just like we did at Emily and Jake's joyful Mount Sunapee Wedding! For more information contact us right away!