Pineland Farms Wedding | Maine Wedding Photographers
Emily and Todd's Pineland Farms wedding, Sunday, September 6, 2015, was lovely in every aspect! A devoted couple (who's so obvious to us as one of those perfect matches!), loving family and friends, a gorgeous venue, and a beautiful day —it all came together for an unmatched wedding day celebration! Our favorite images from the day are below; we hope you enjoy them as much as we do!
Below, Emily and Todd in a dreamy woodland photo.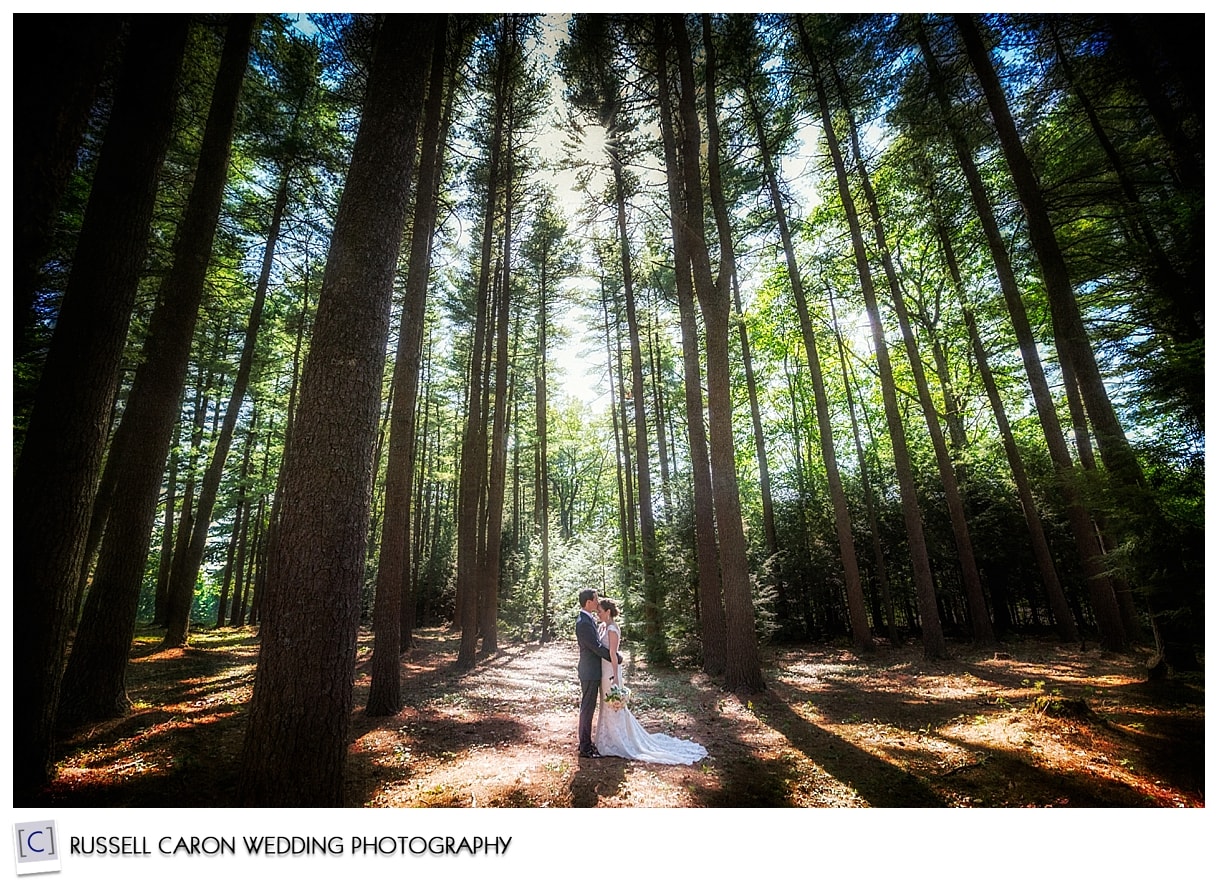 At the start of the day: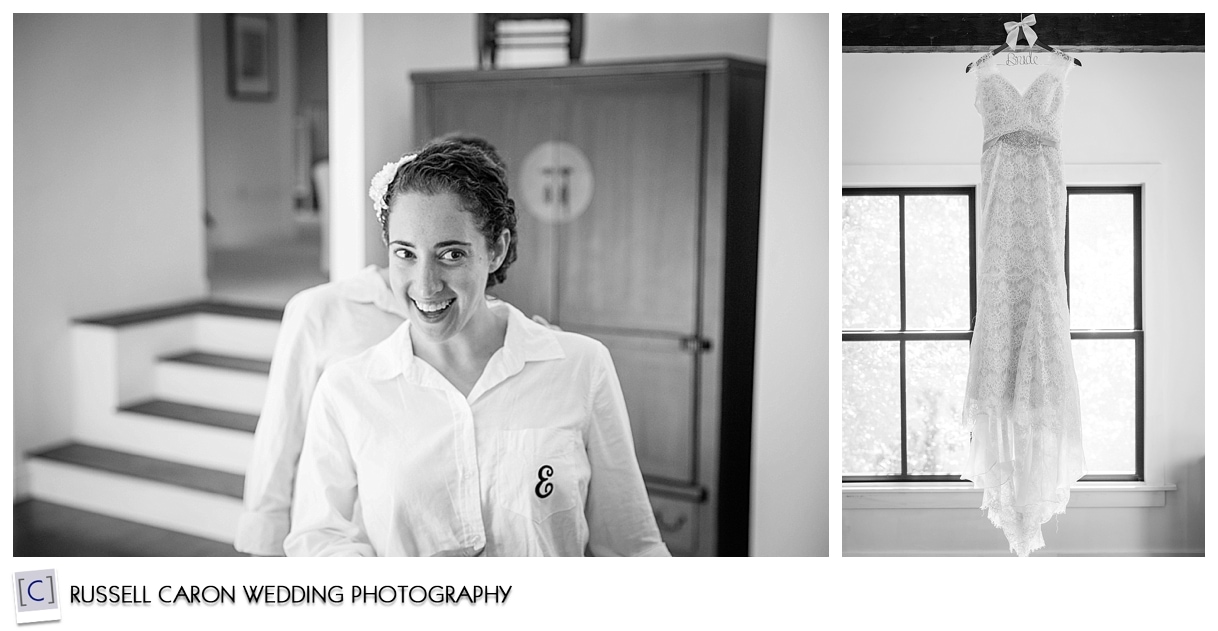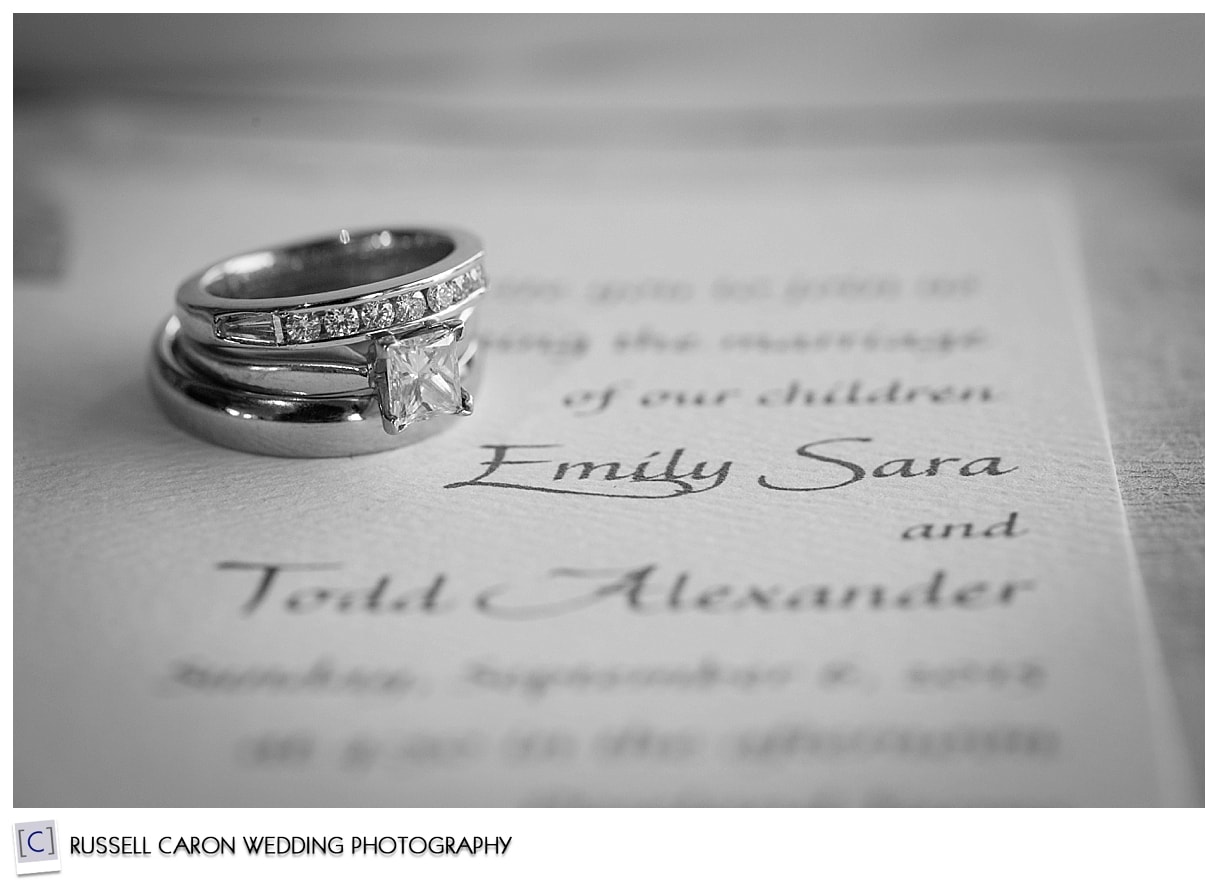 Emily having fun with her bridesmaids before getting dressed for the ceremony, above and below.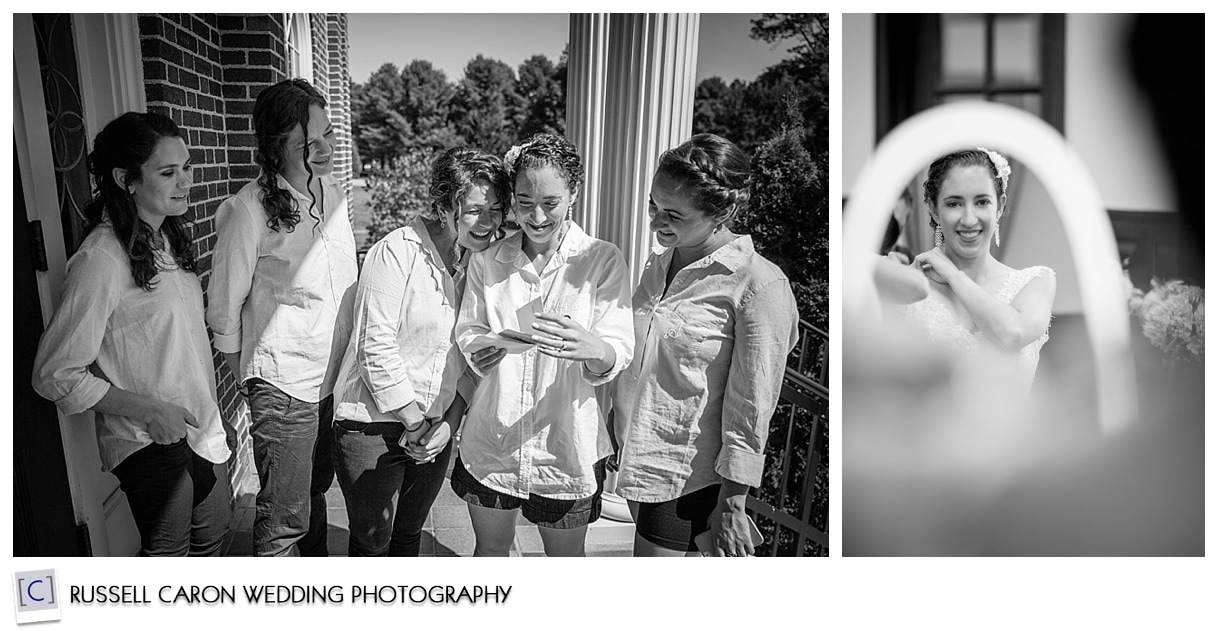 Above left, pretty white shoes and bridal bouquet. Above right, and below, Emily gets help from her sister and Maid of Honor, Alyssa.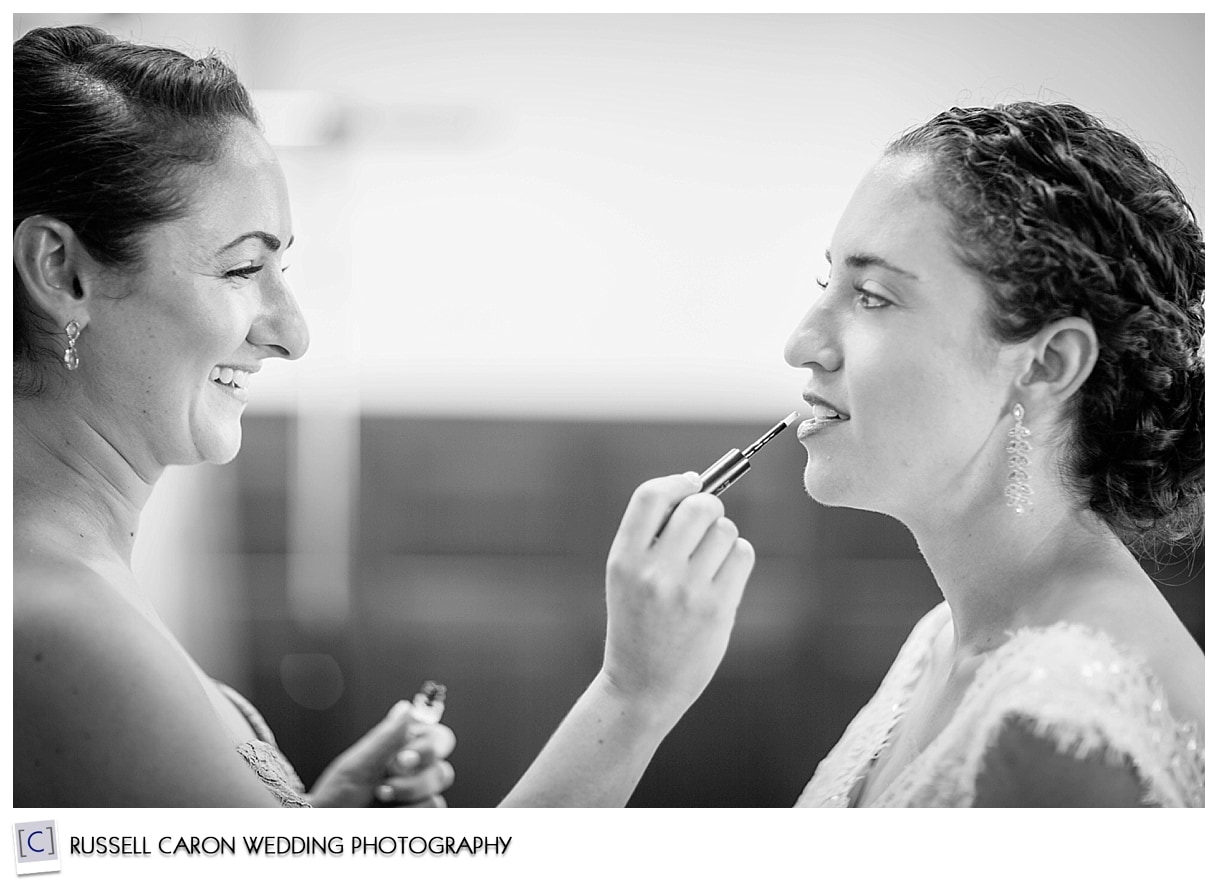 Beautiful bridal portraits of Emily, below.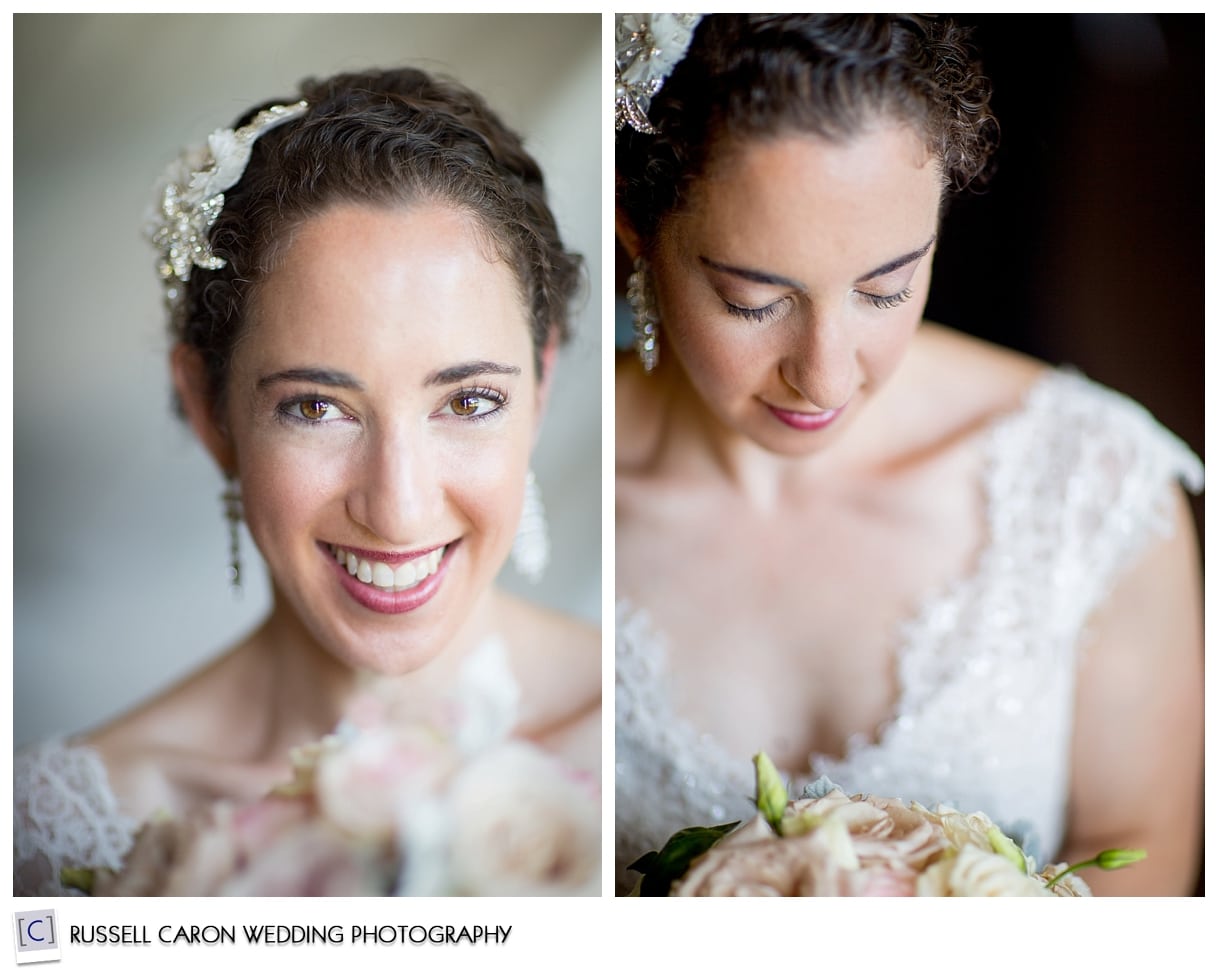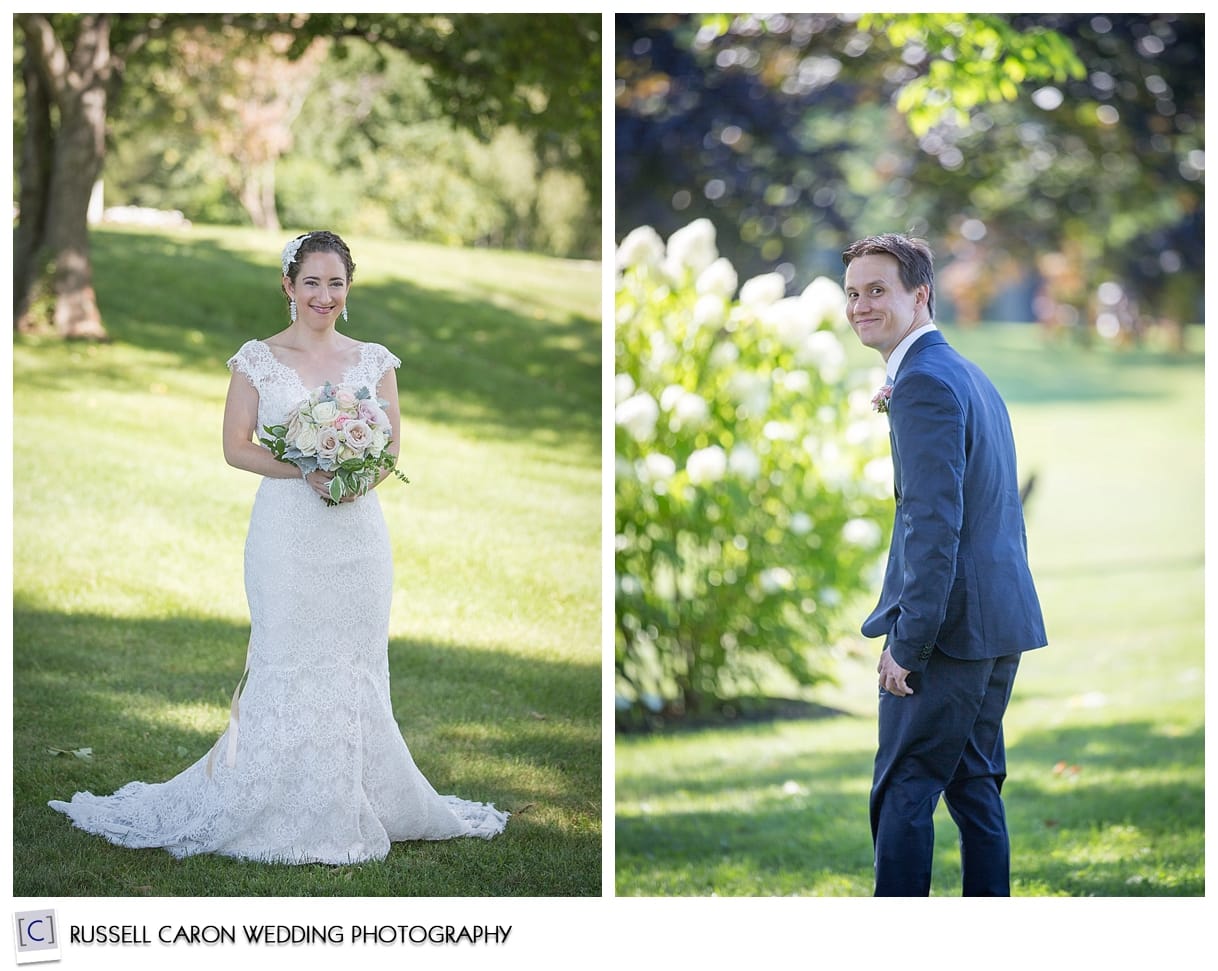 There is something so endearing about this couple! It must be the way they look at each other. Above, and below four panels, Emily and Todd during their first look. We love the story the first look tells. First looks, when a bride and groom choose to see each other before the wedding, are very popular, for all the right reasons. Couples love them because they get a few precious moments before the emotion of the ceremony. We love them because of the beautiful way these photos integrate into the story of the wedding day.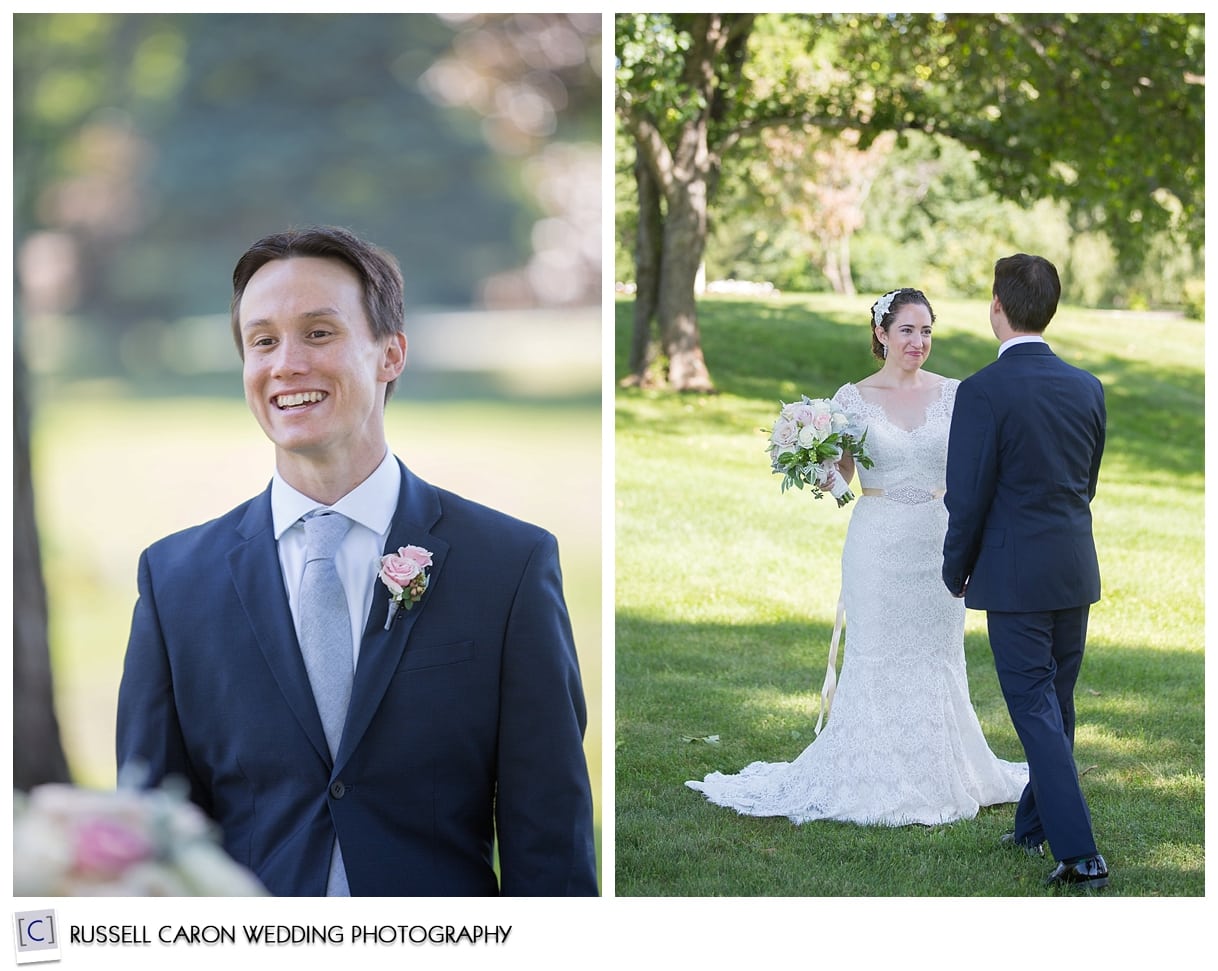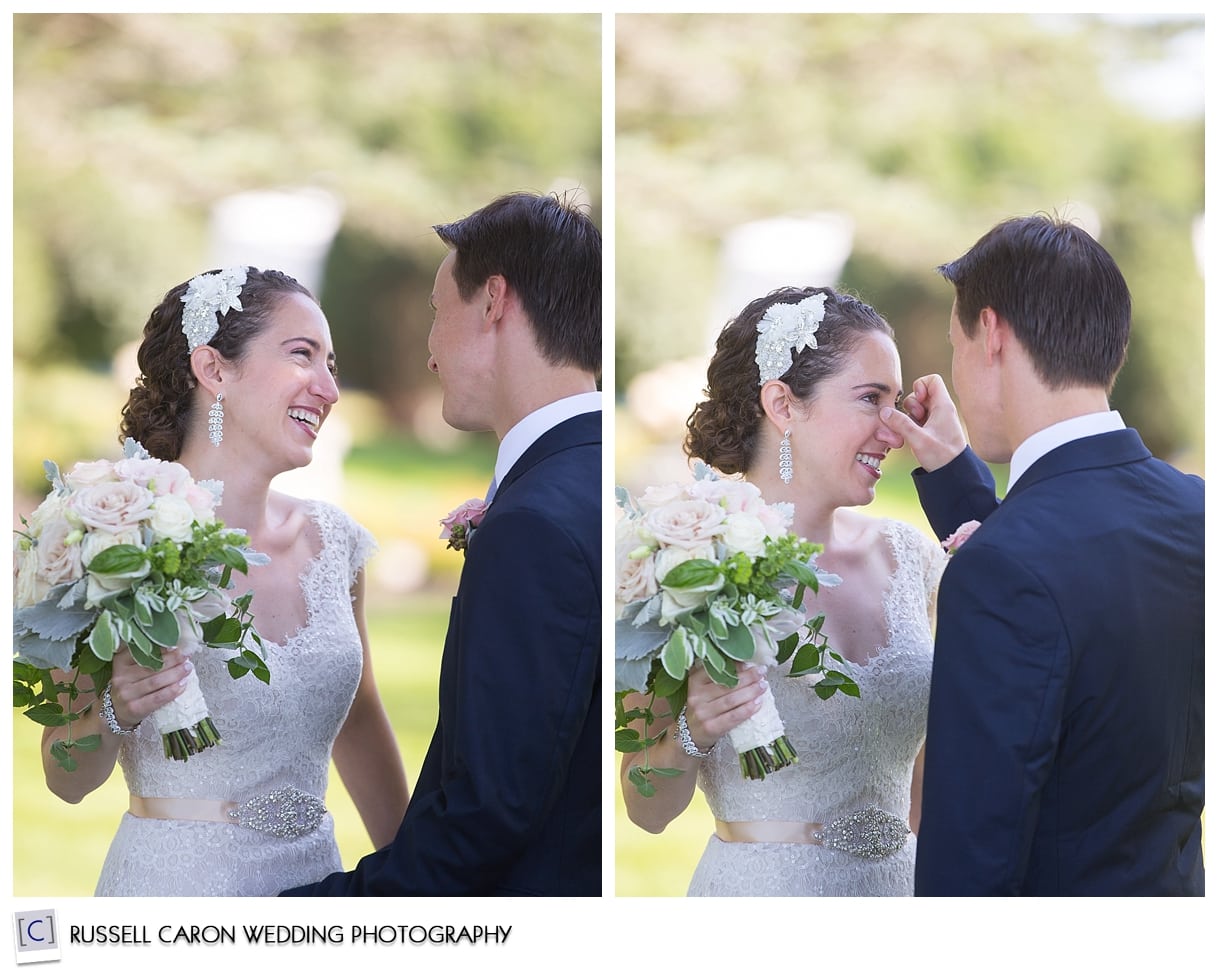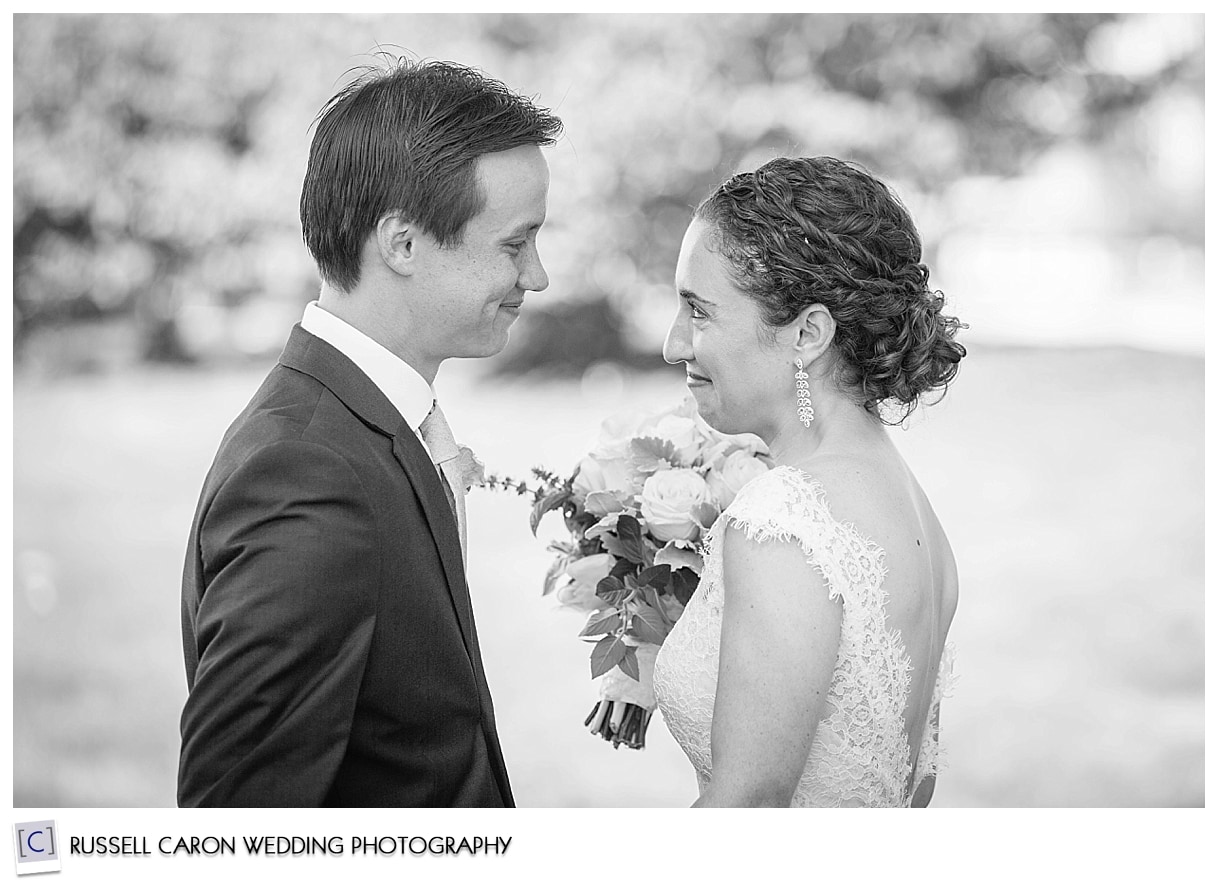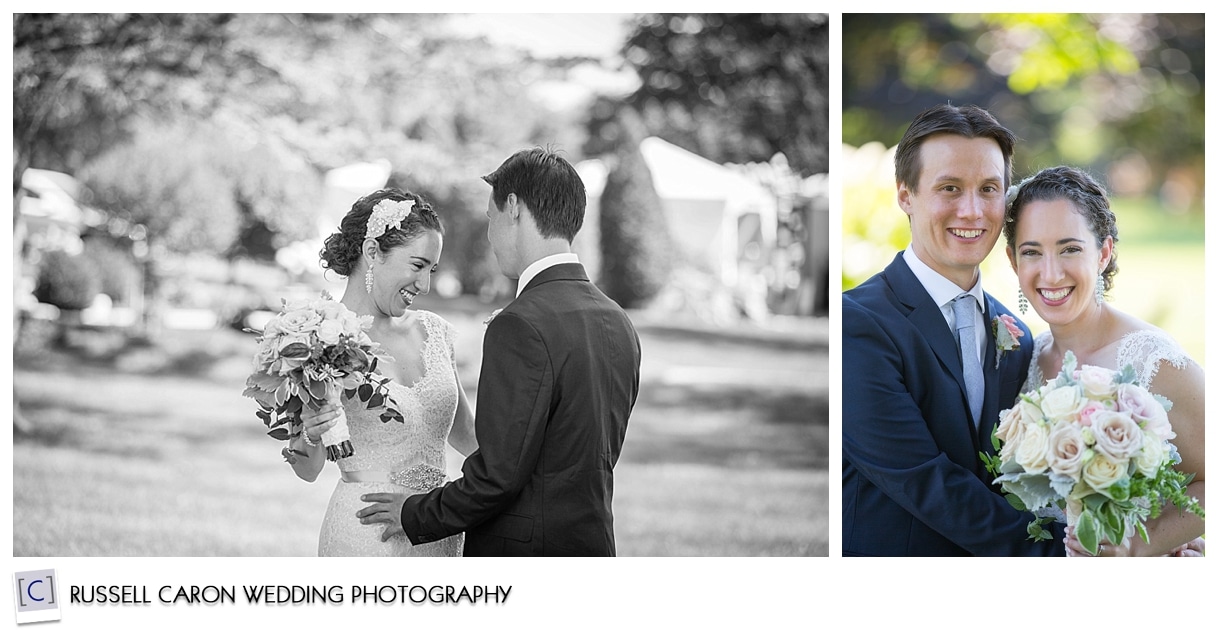 Could there be a more perfect first-look story than these?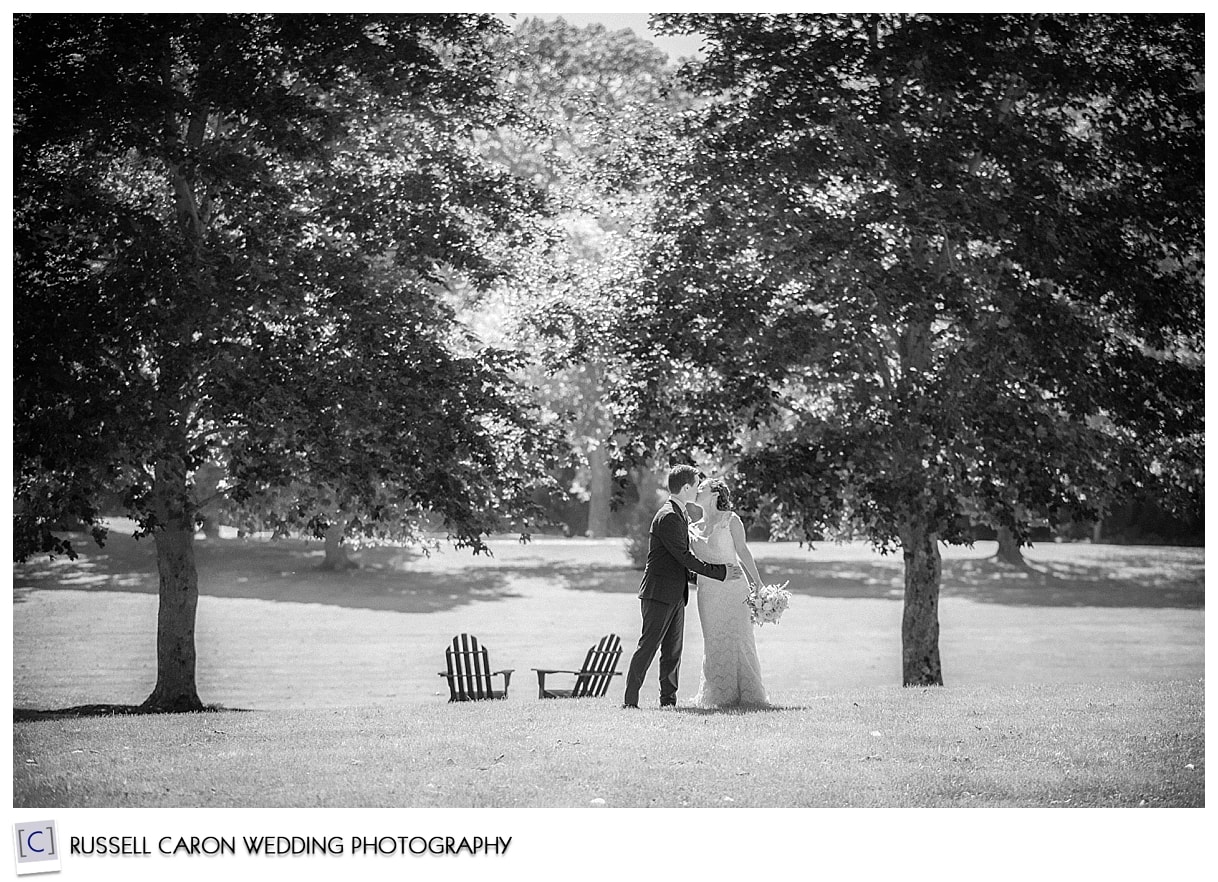 We were fortunate that Emily and Todd granted us time to take them in and around the Pineland Farms campus for some artistic photos, above and below three panels.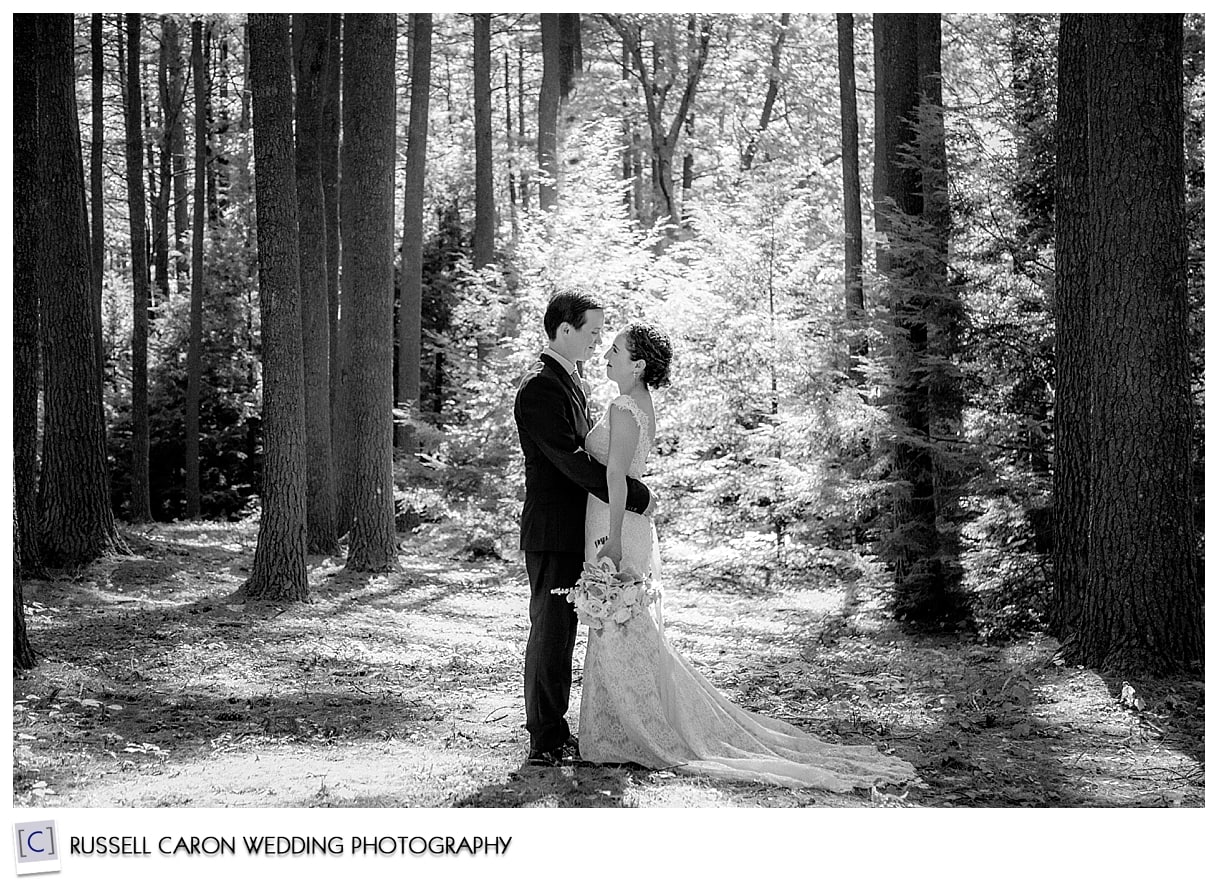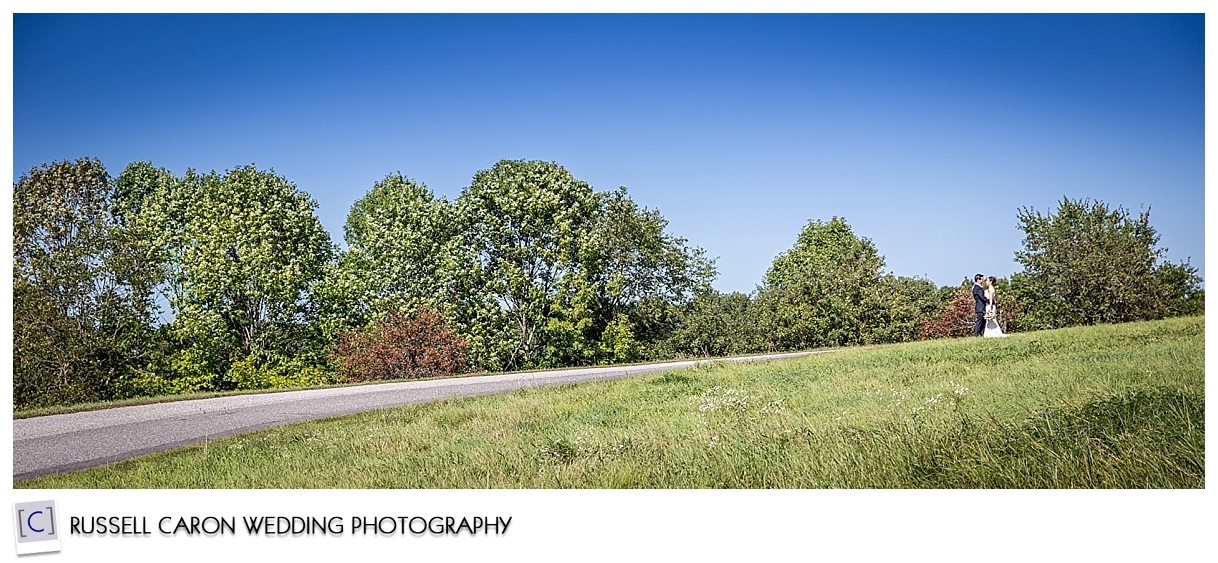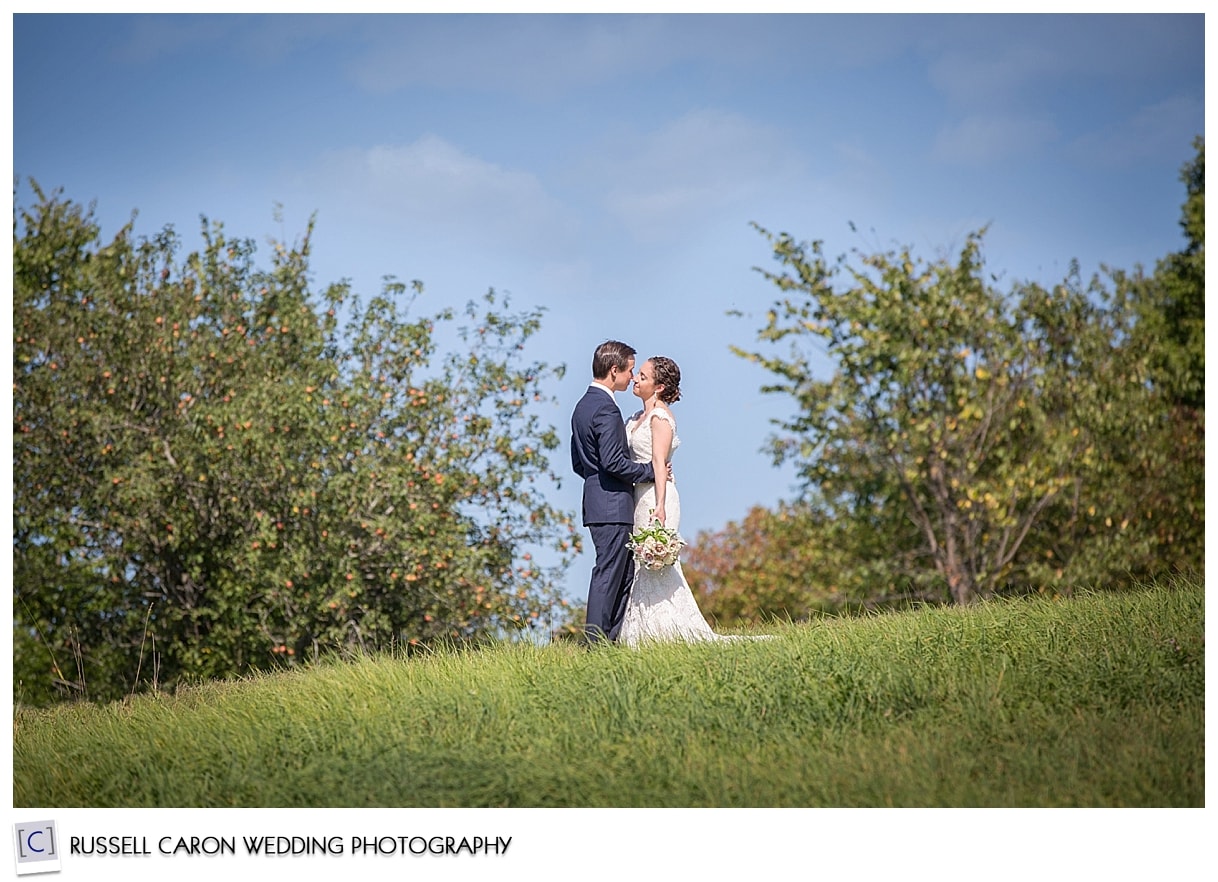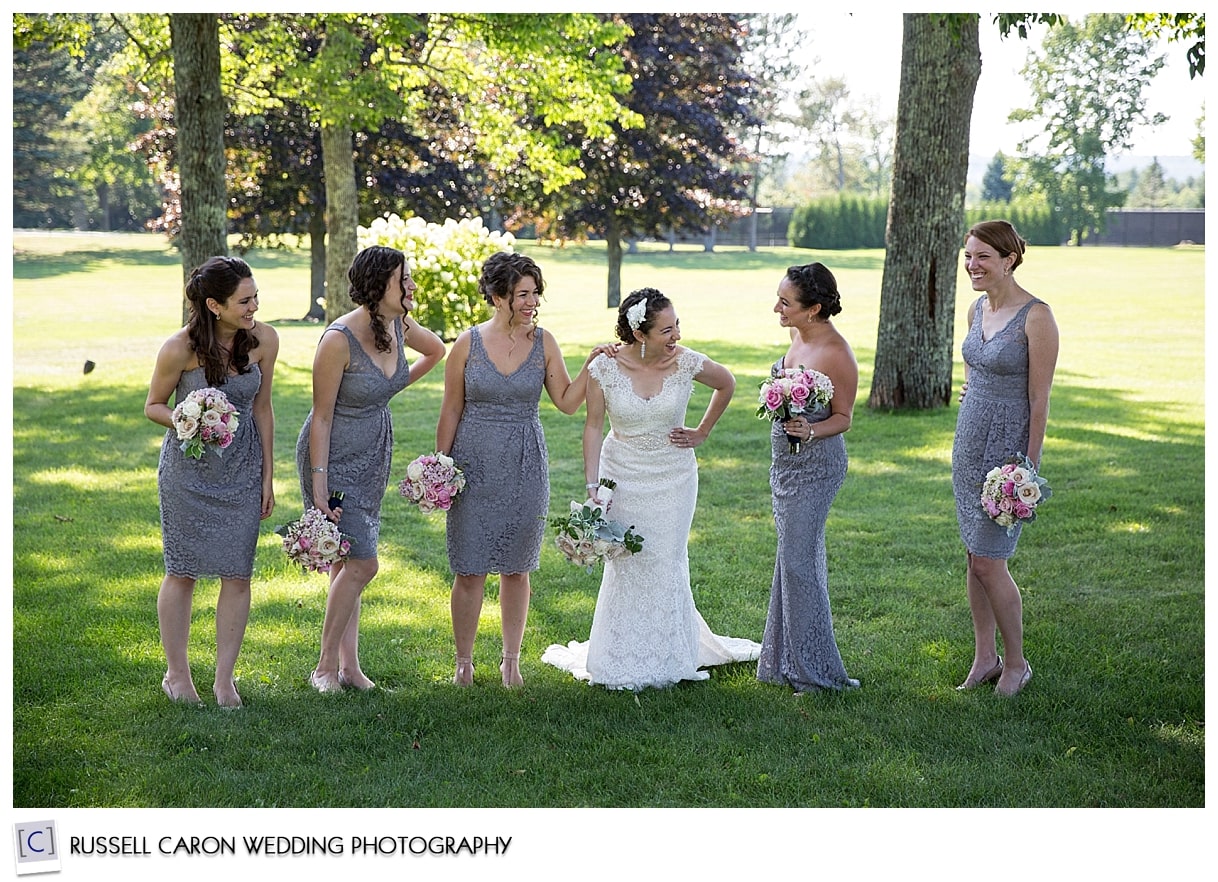 Emily and her bridesmaids having some fun before the ceremony begins, above and below two panels.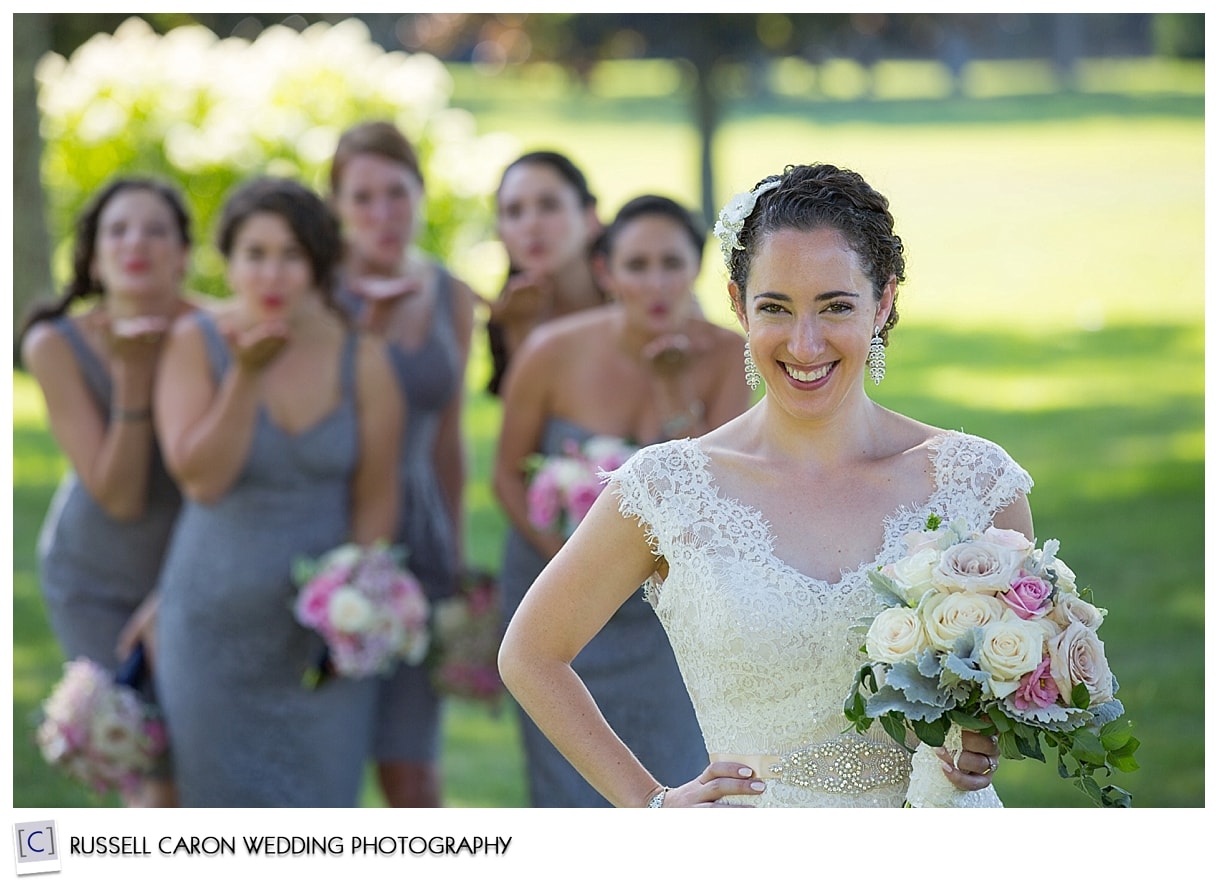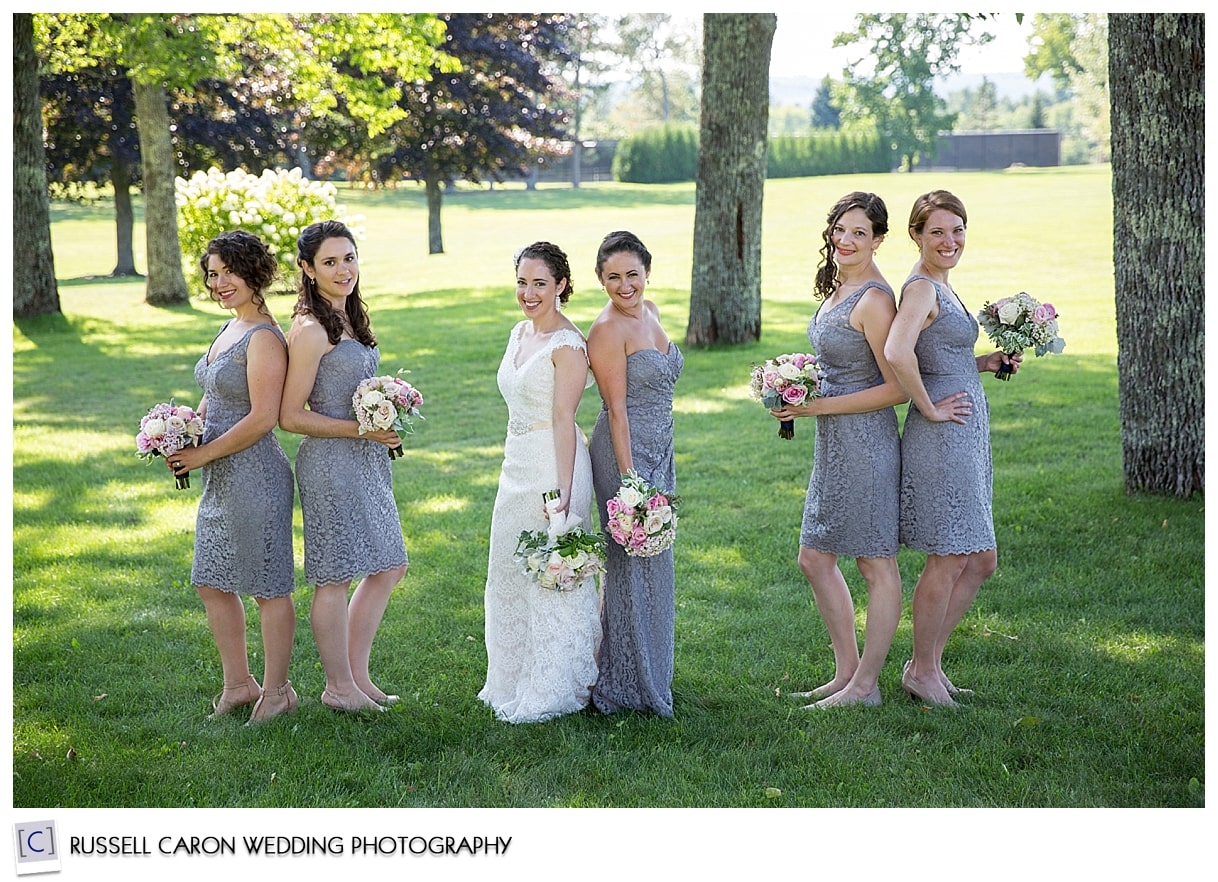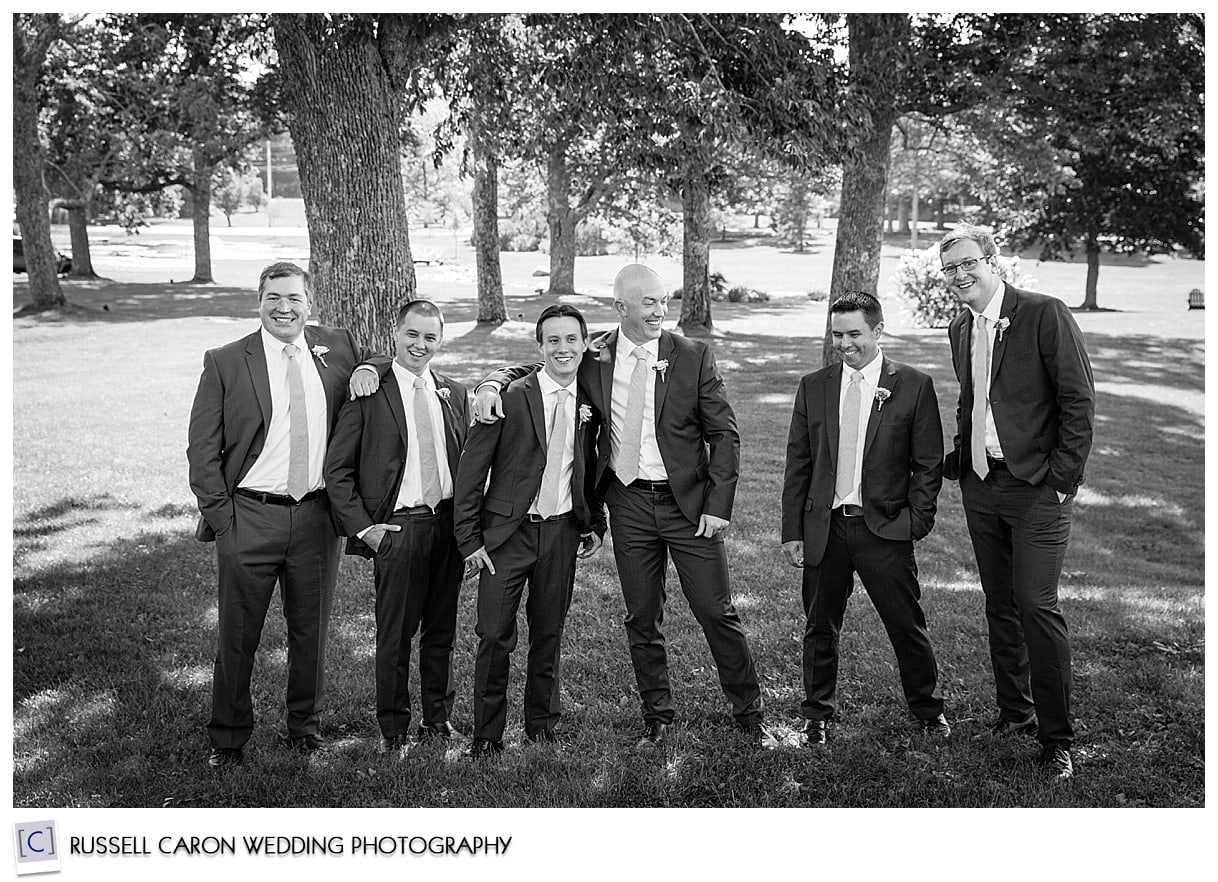 Todd and the groomsmen relaxing before the ceremony, above. Below, showing off their Kermit-the-Frog socks!

The whole bridal party together, below.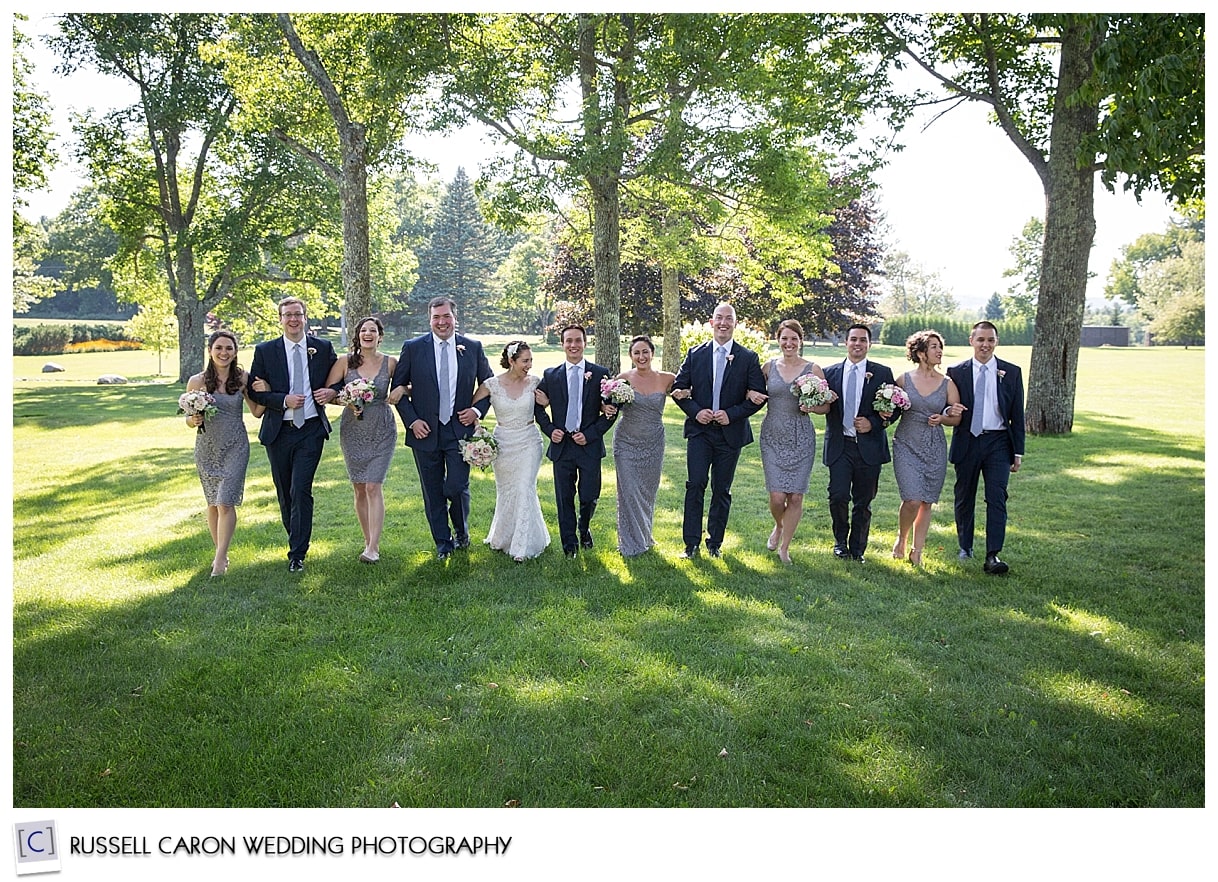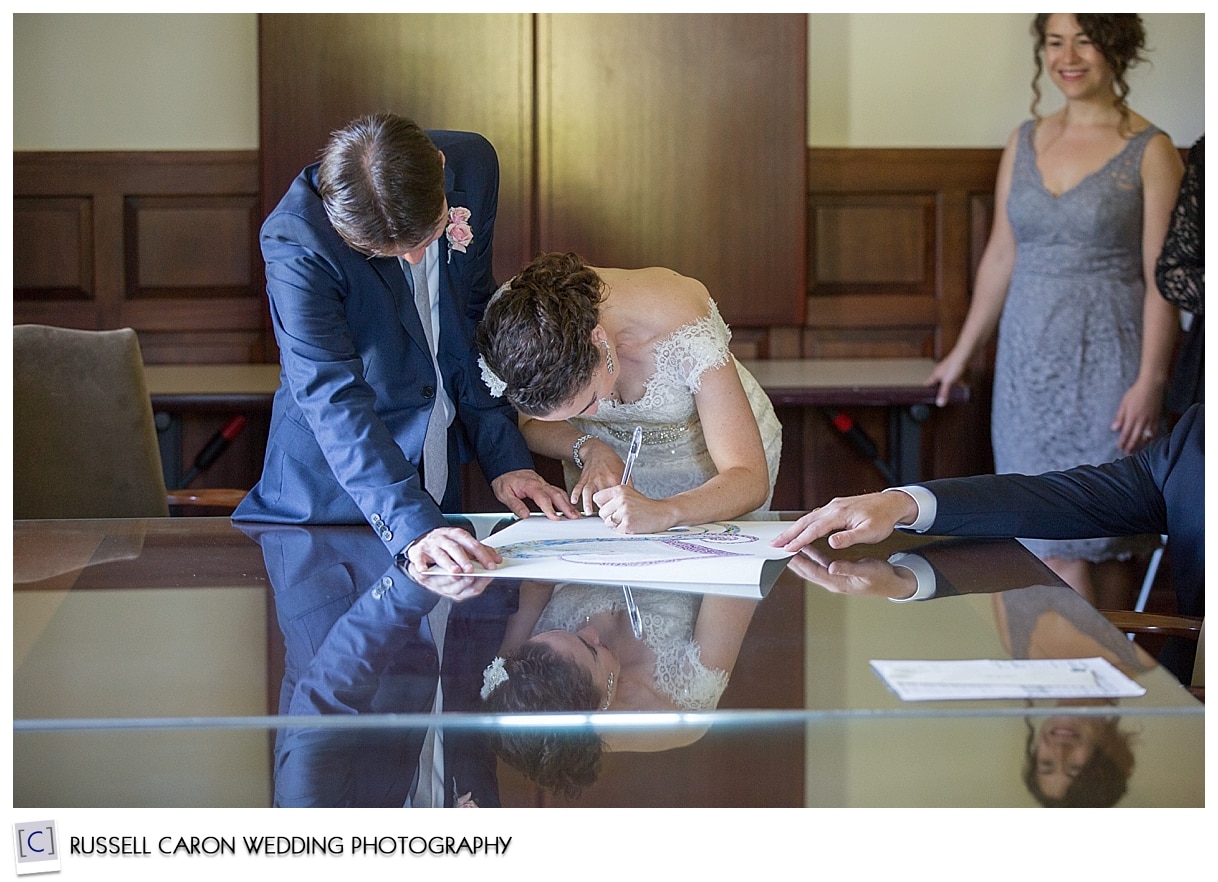 The signing of the Katubah, above, is usually a solemn affair. Sometimes, below, a bit of humor keeps it from getting too stuffy.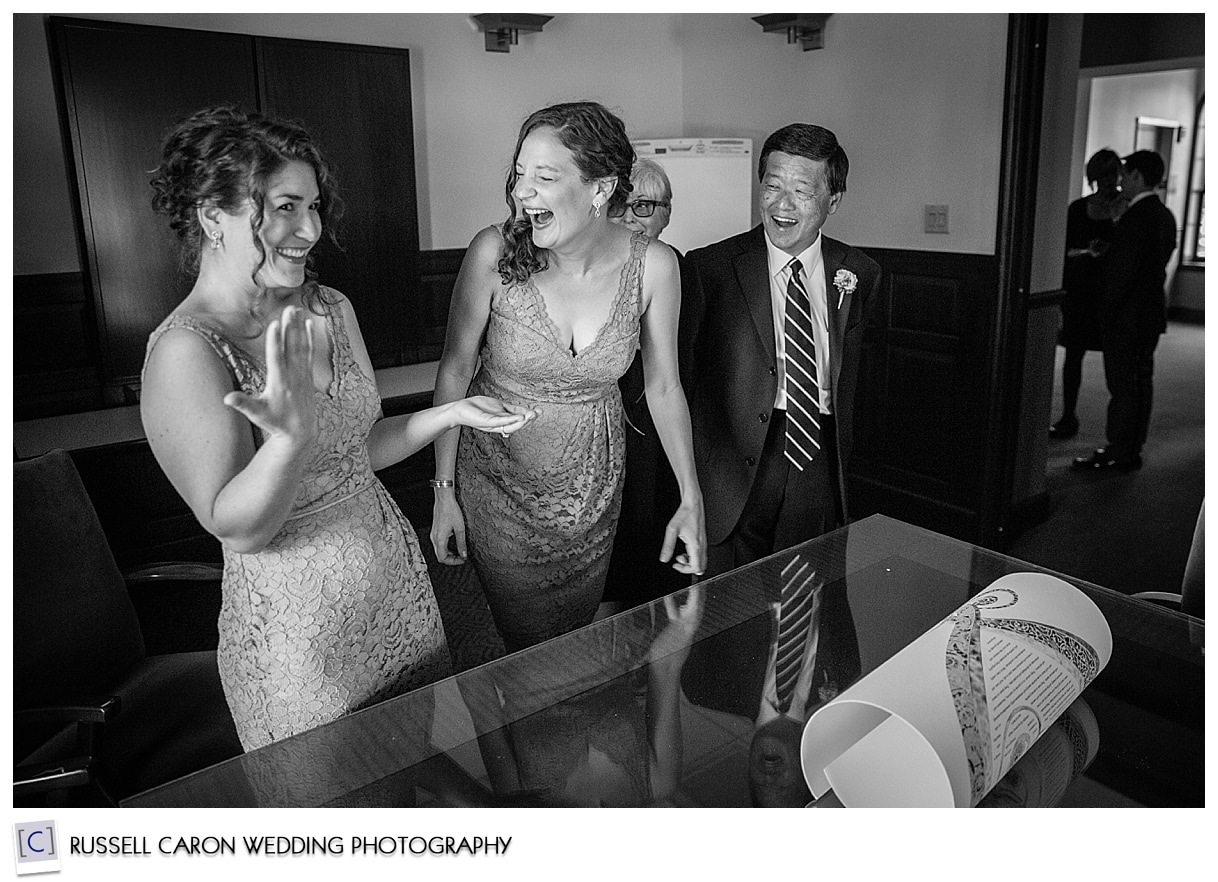 Below, guests awaiting the beginning of the ceremony on a warm September day.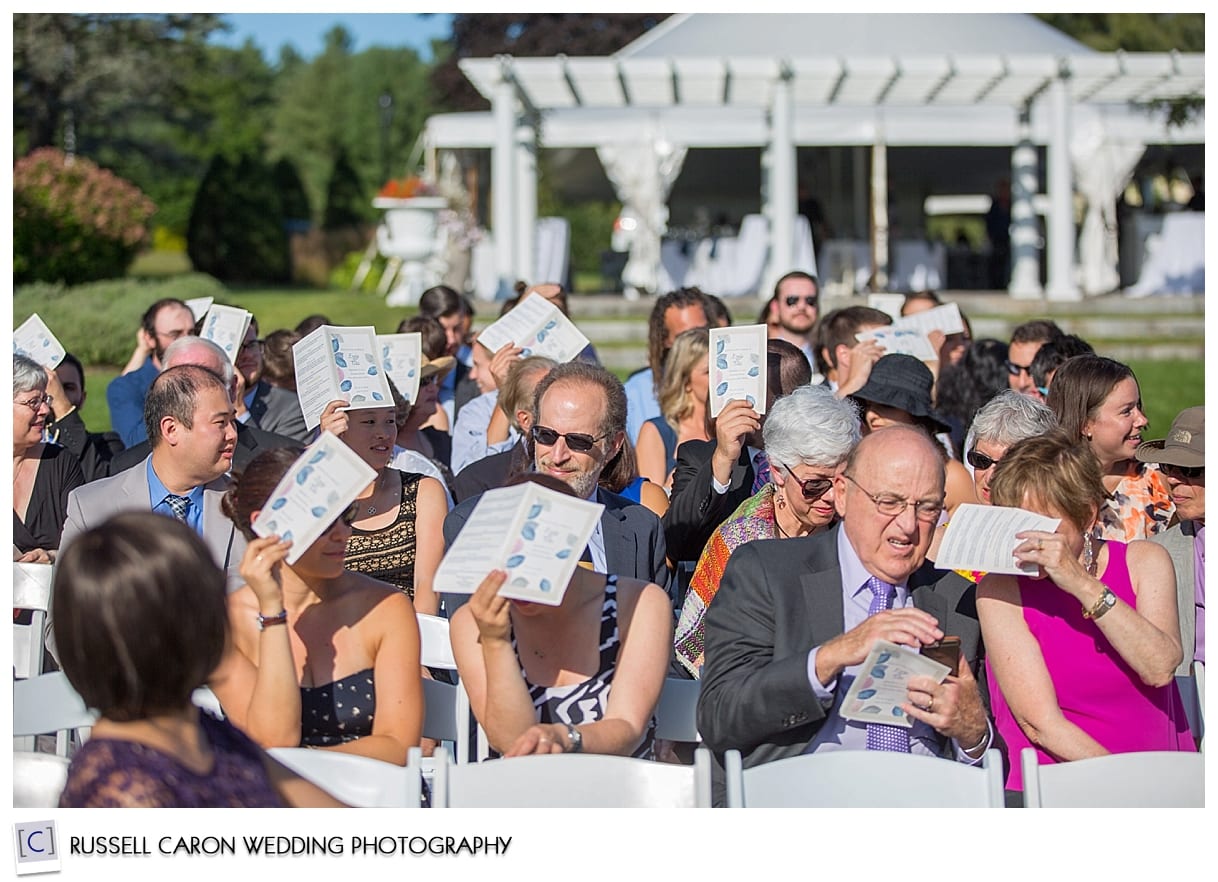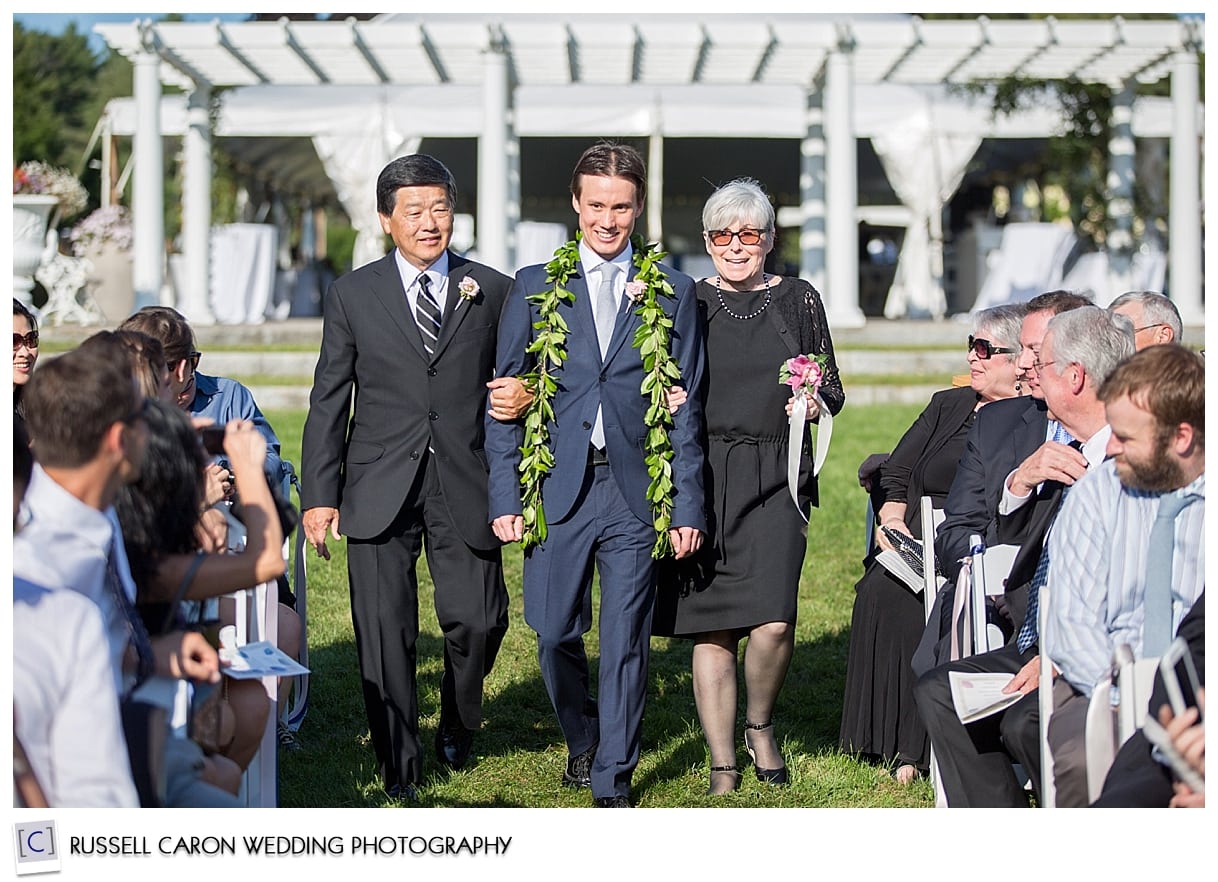 Todd walks down the aisle with his parents, above. Below, The flower girls and ring bearer, drop flower petals in the aisle.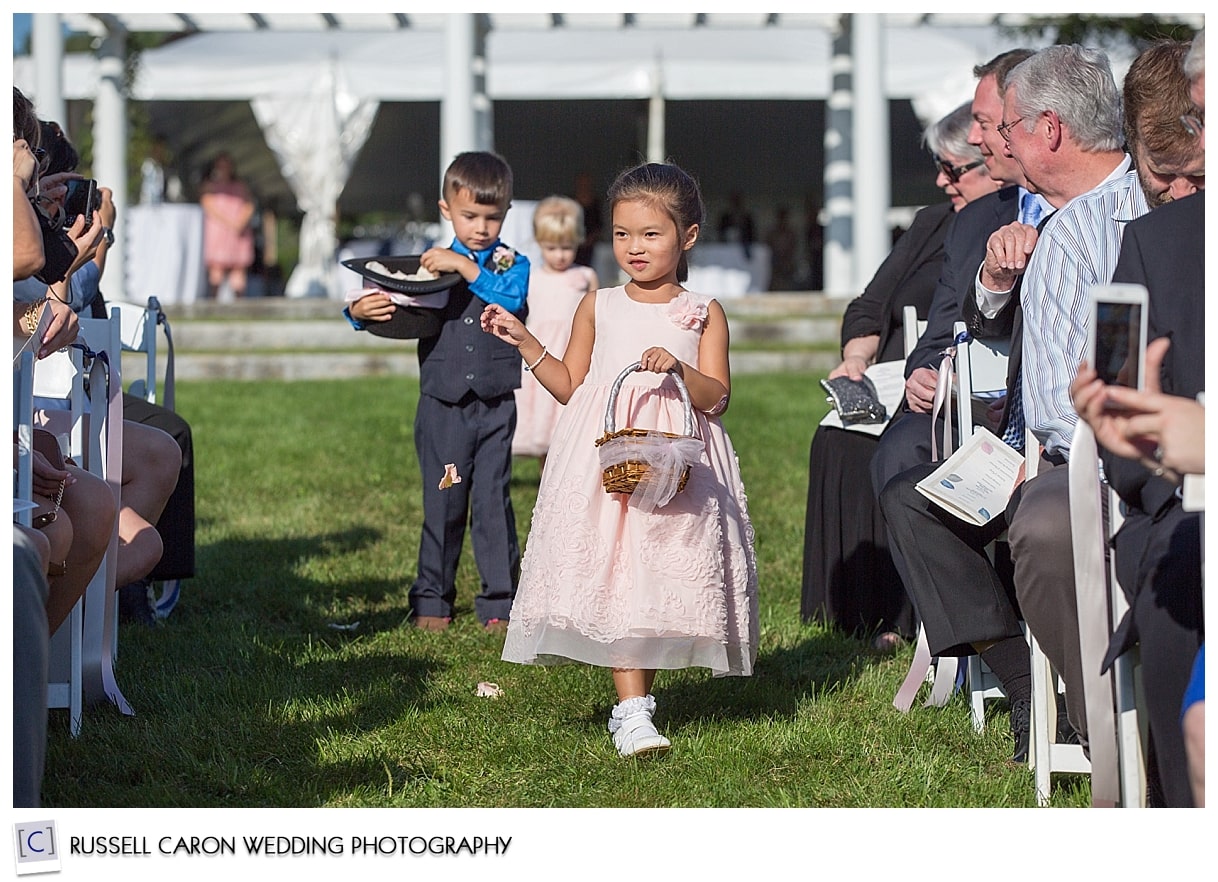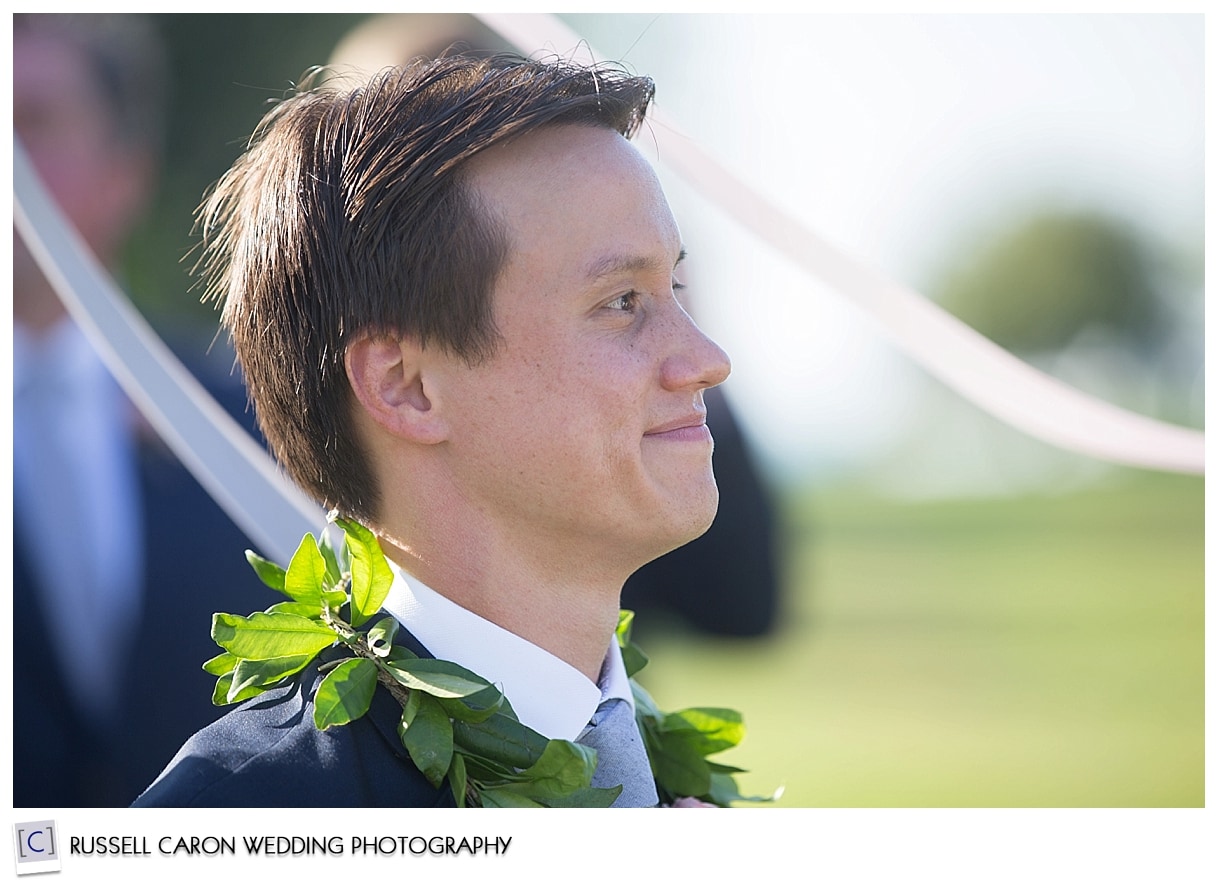 Above, Todd standing at the Chuppah, waiting for Emily. Below, Emily walking down the aisle with her parents.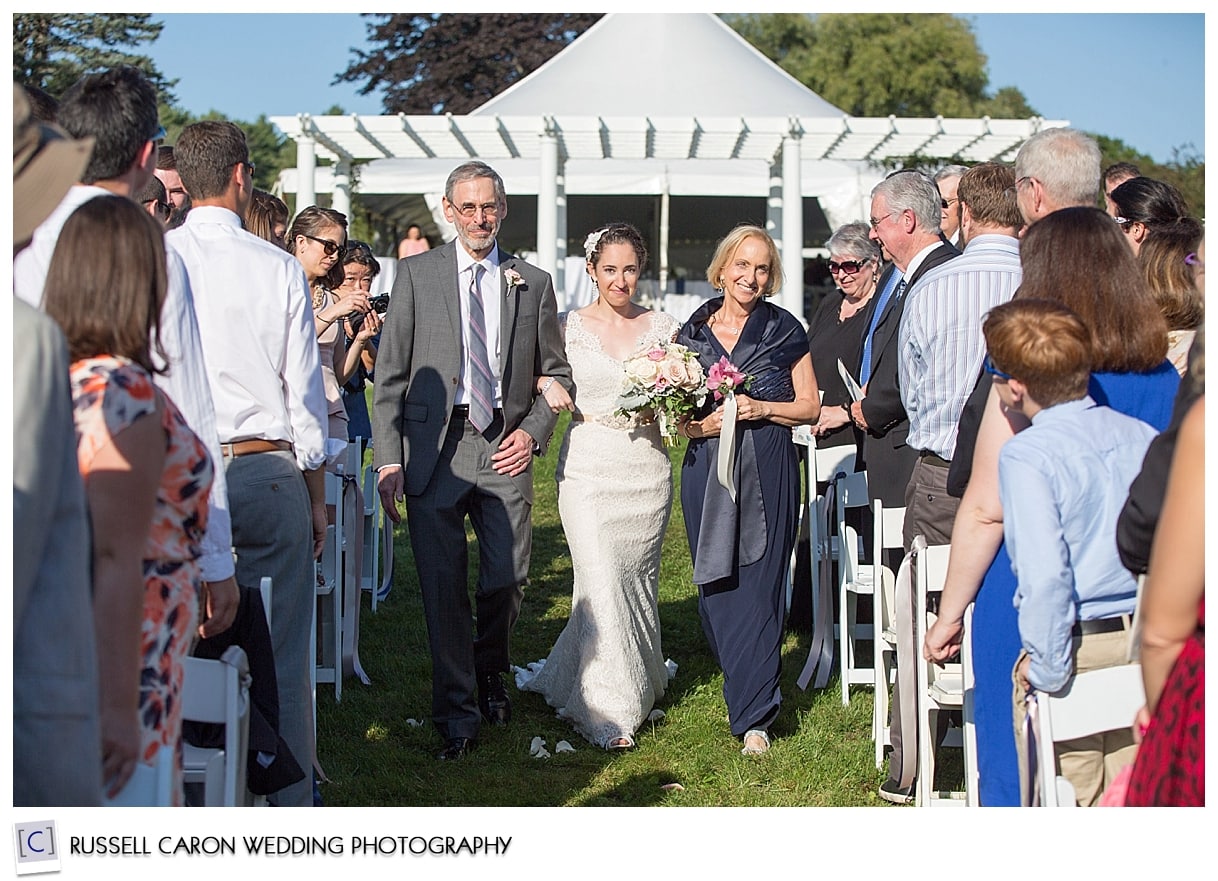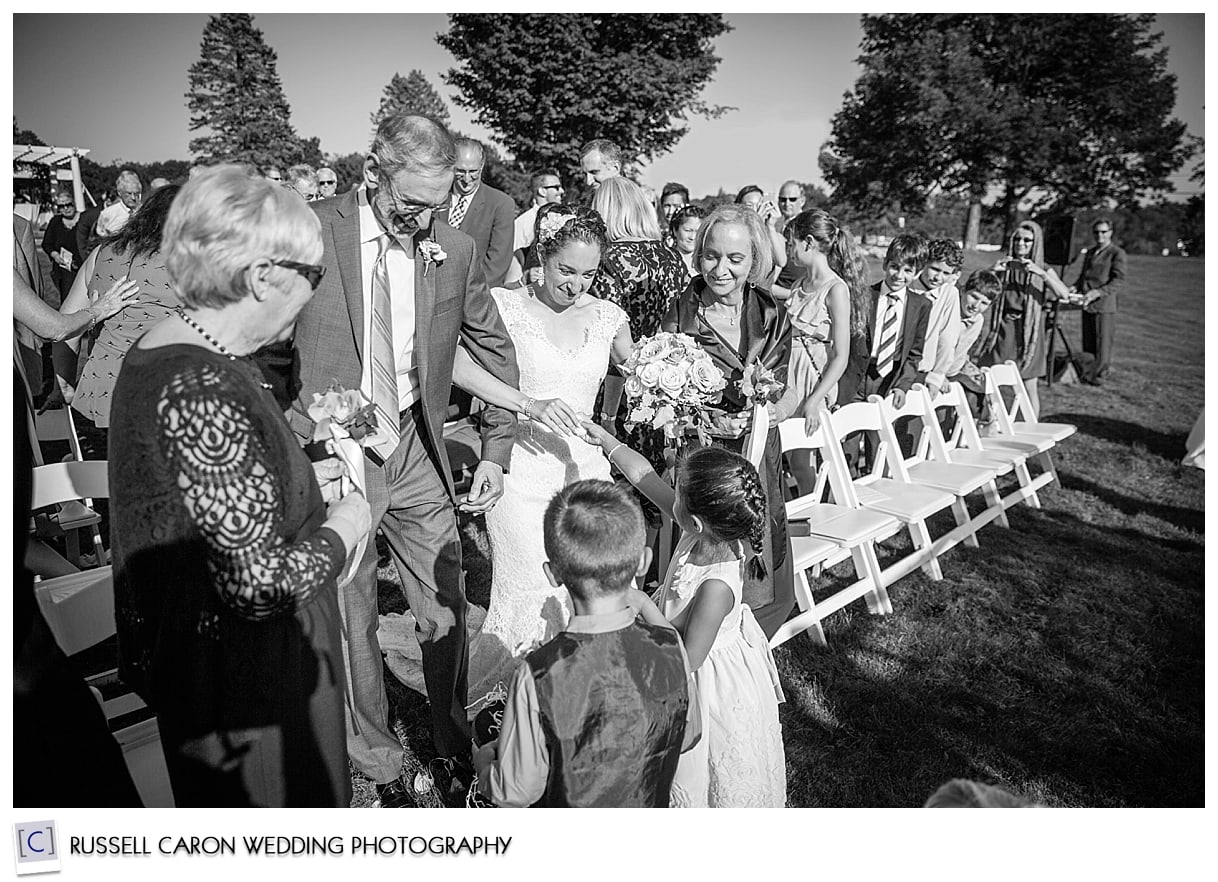 Emily and Todd during their ceremony, above and below three panels.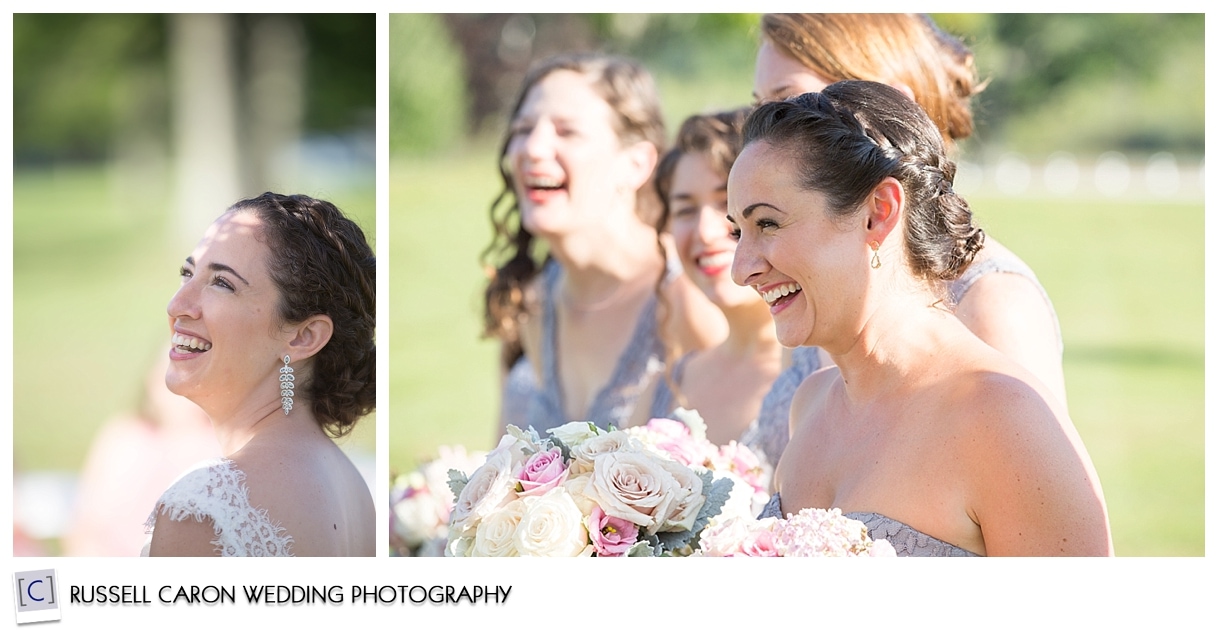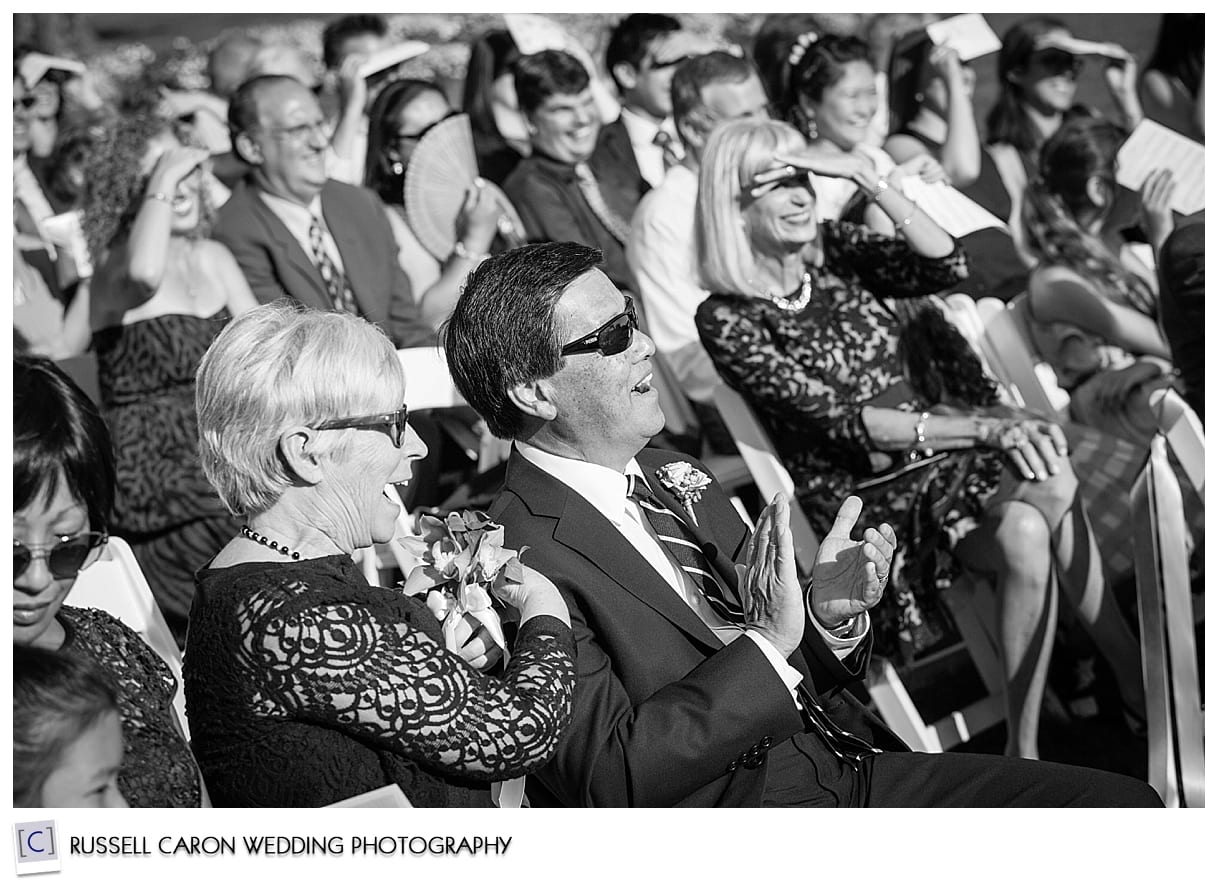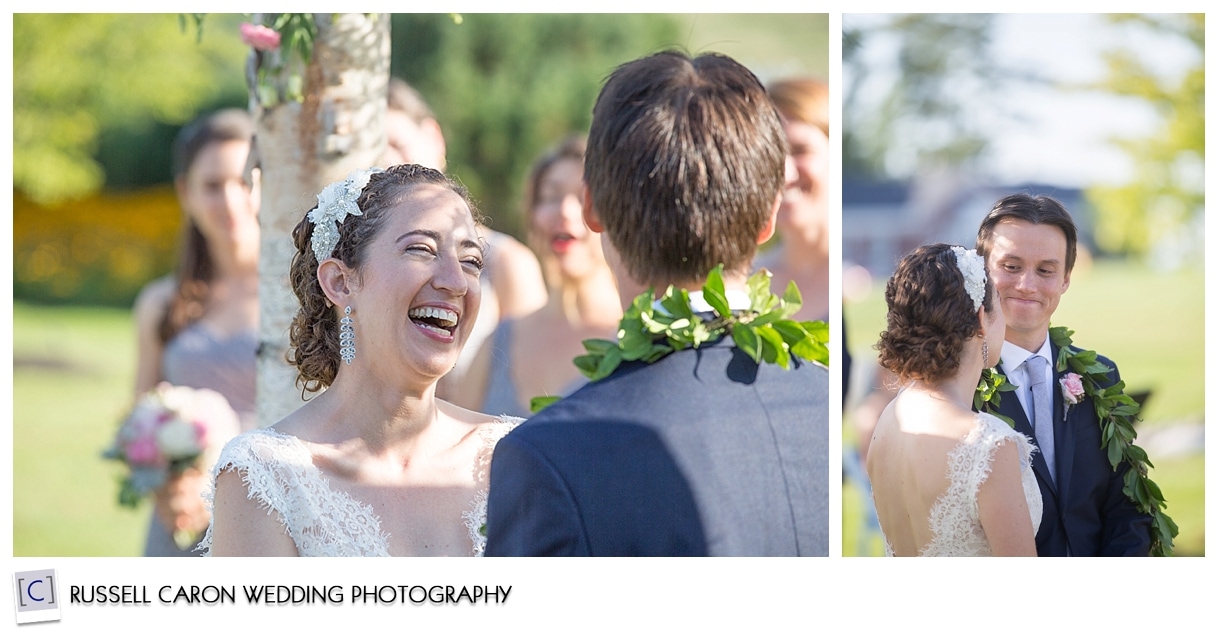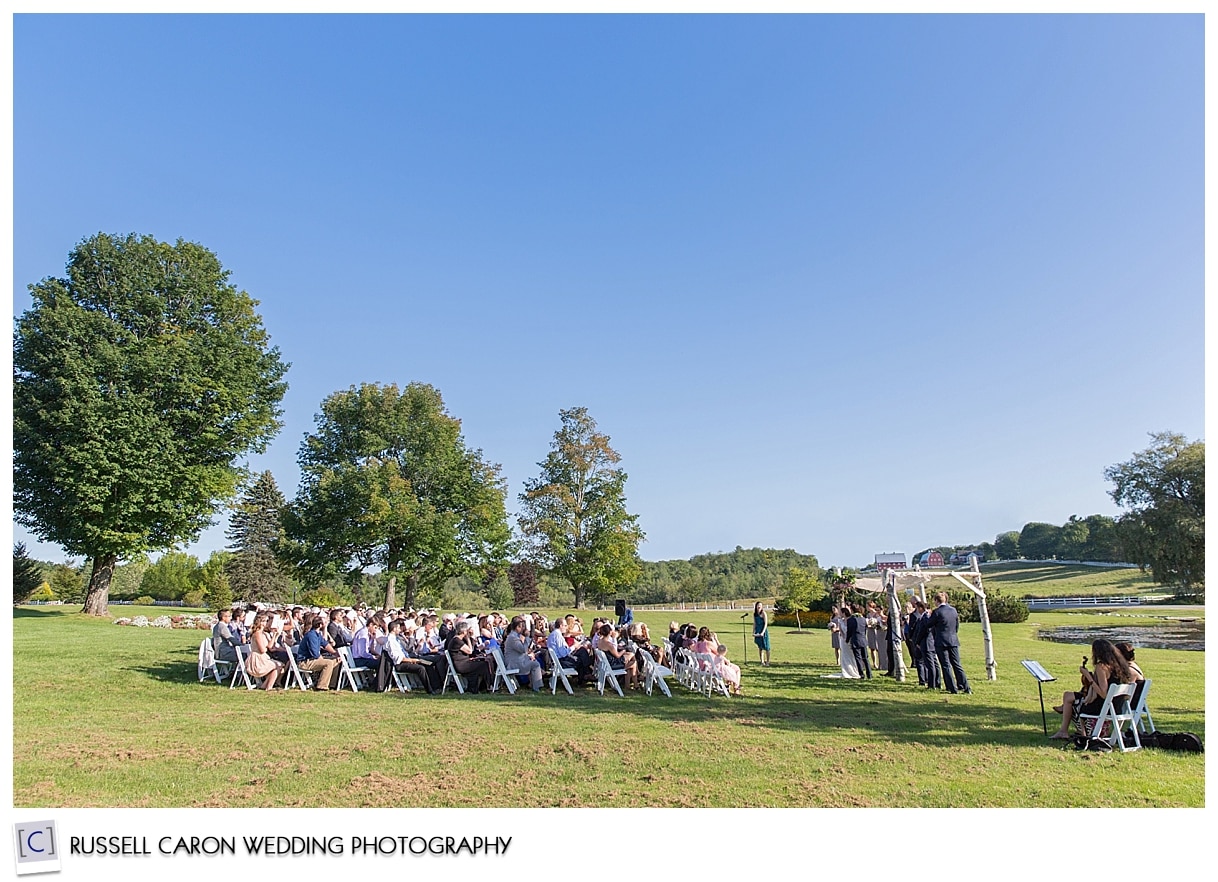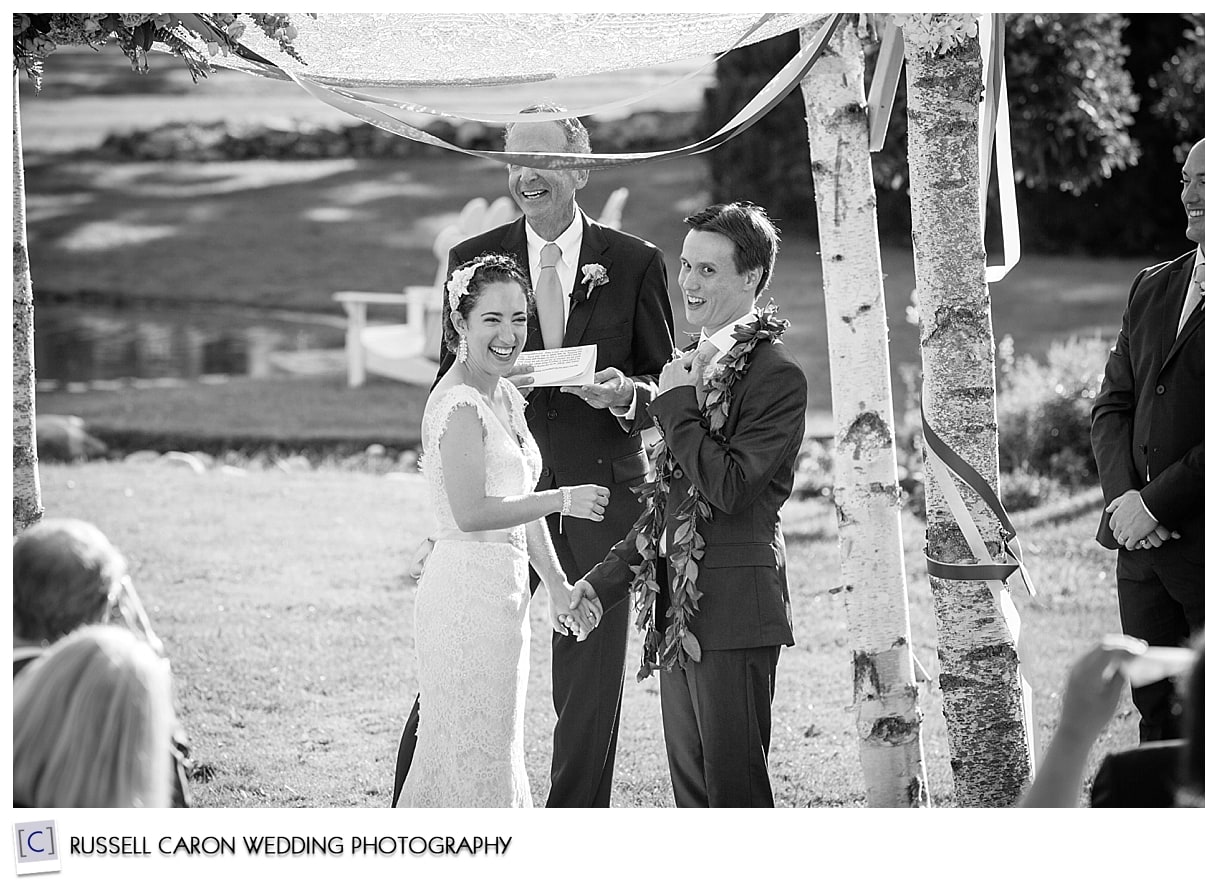 Todd reaches into his pocket for his phone, above and below, to read his vows to Emily, to the laugh of the guests. He's an IT guy!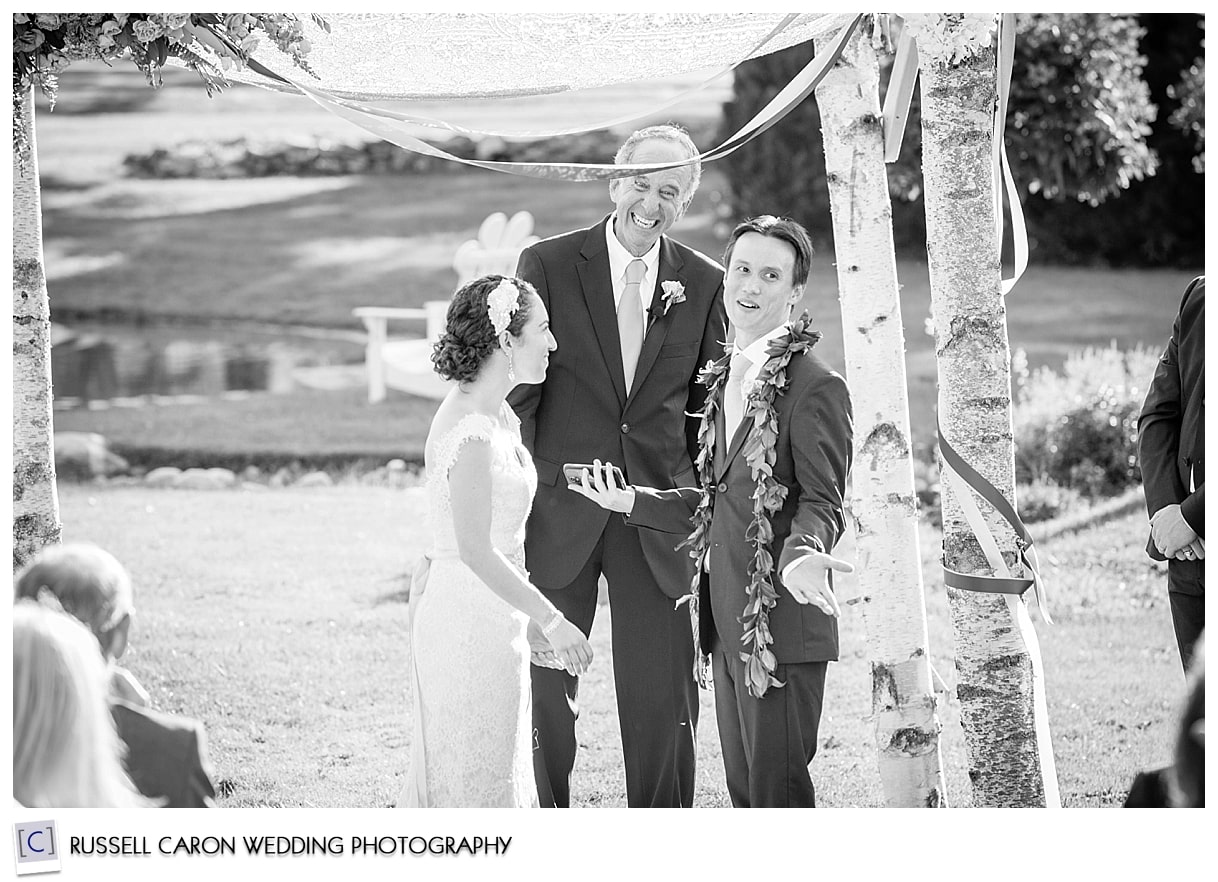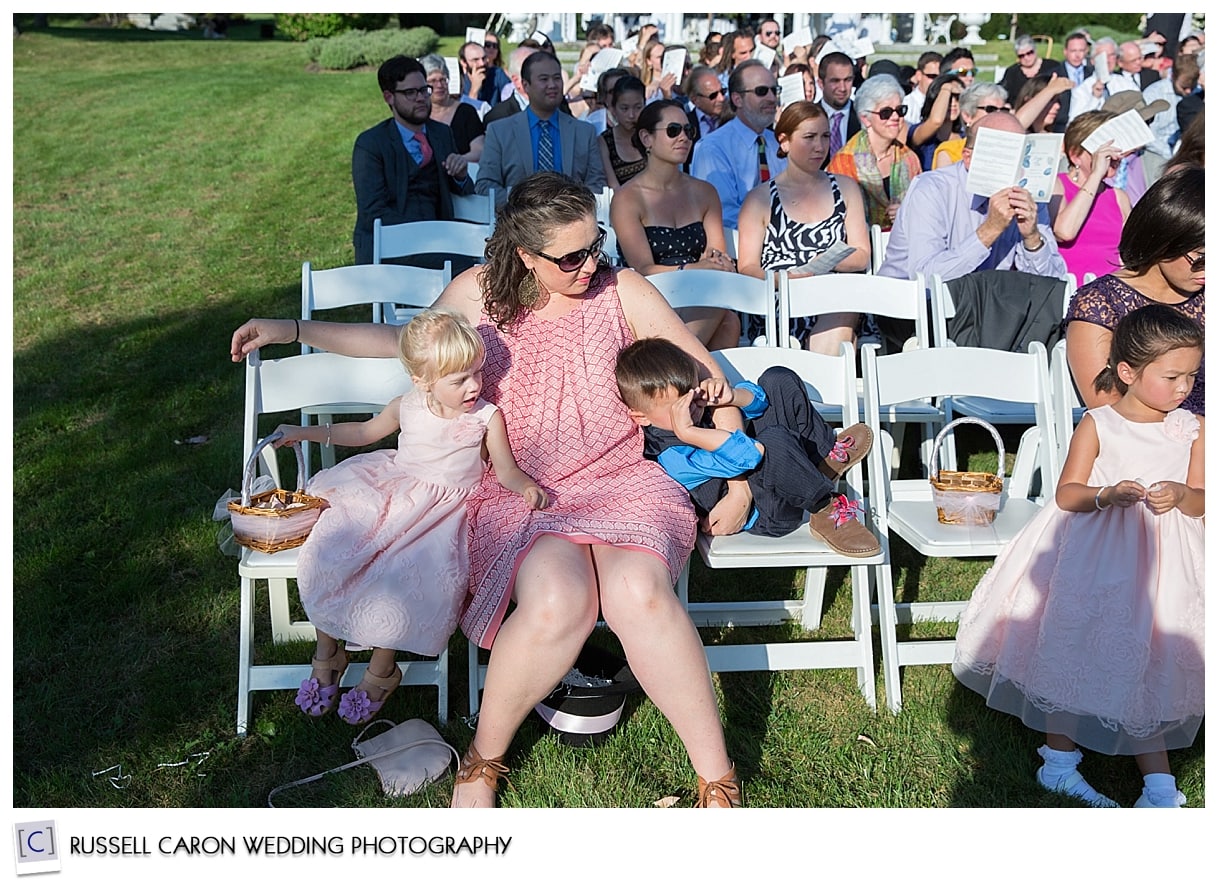 The exchange of rings, below.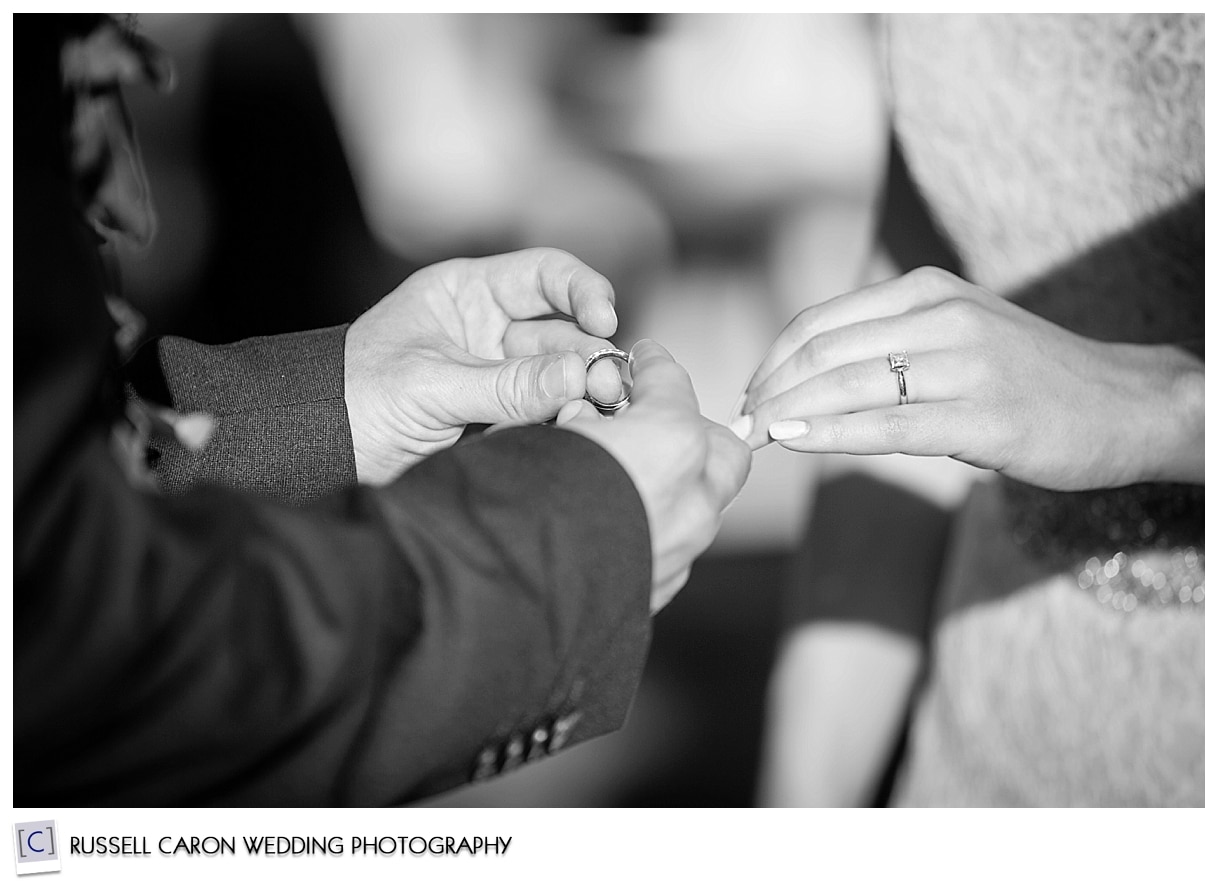 Emily's uncle Paul was the officiant, and he did a wonderful job, below. We enjoy it when there is a family member or good friend of the family who performs the ceremony (and does a great job at it!). They often have a good story or two to share, such was the case here, along with gentle humor!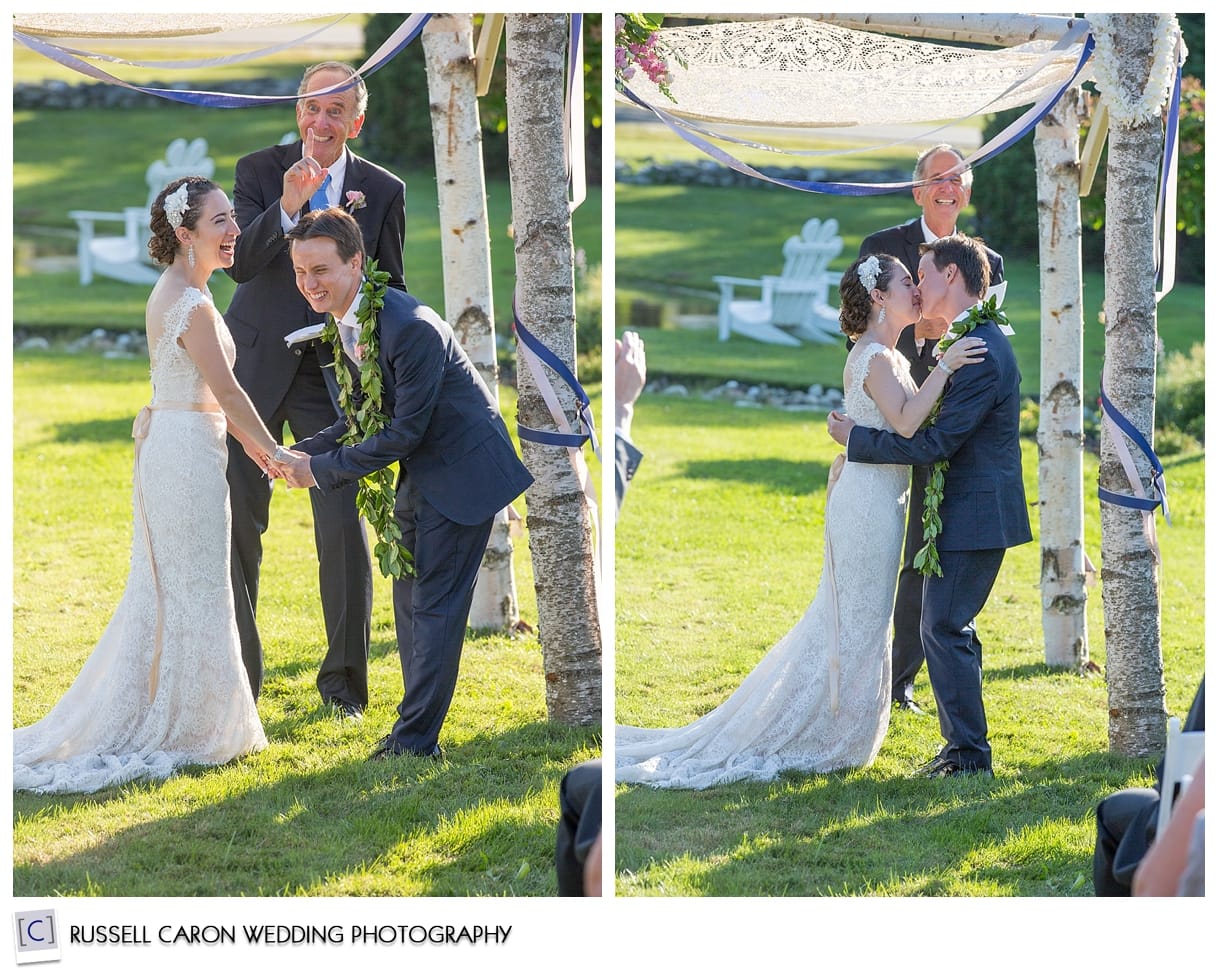 Cocktail hour and reception food and details, below.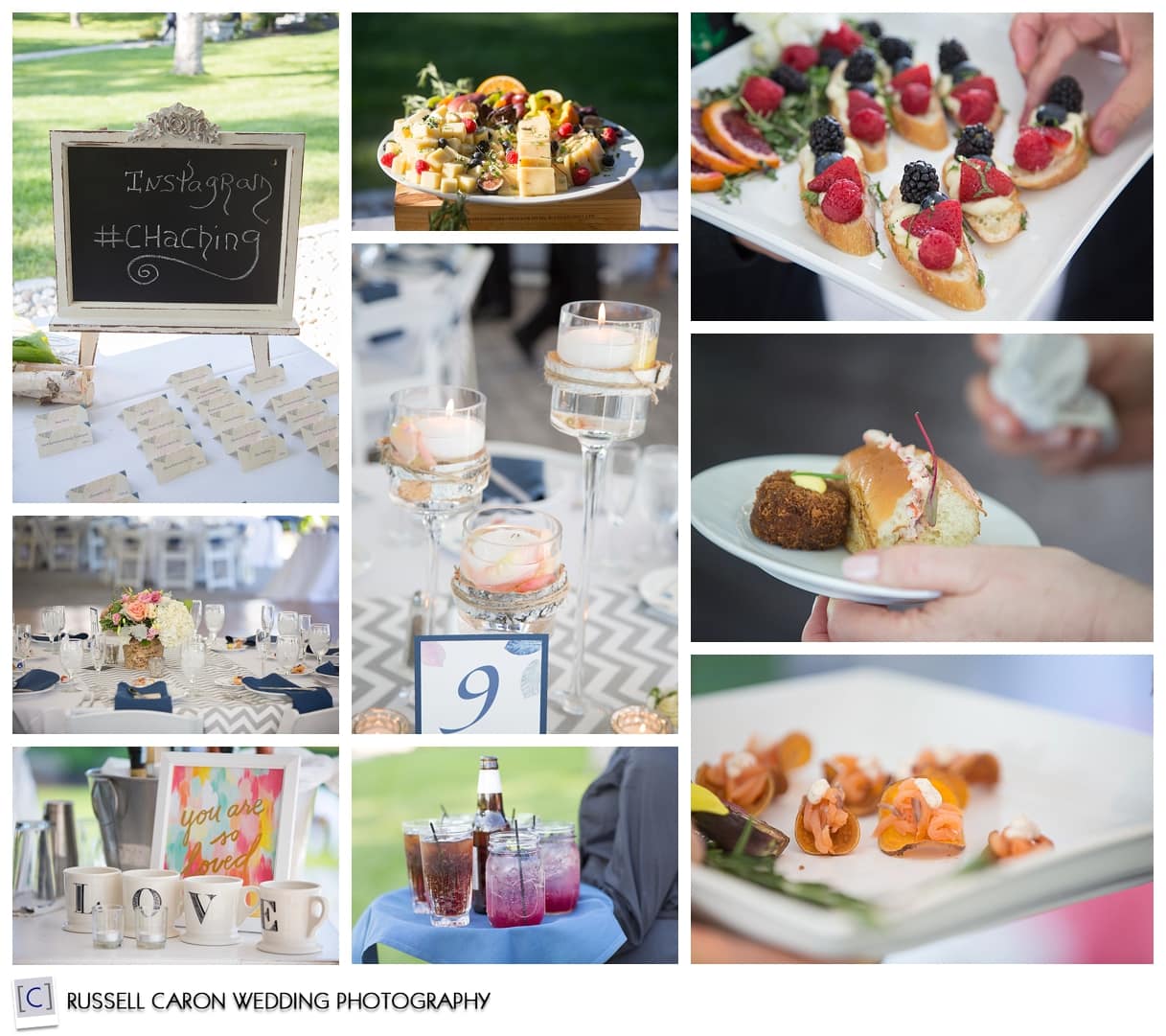 A couple of tired littles during the reception, below.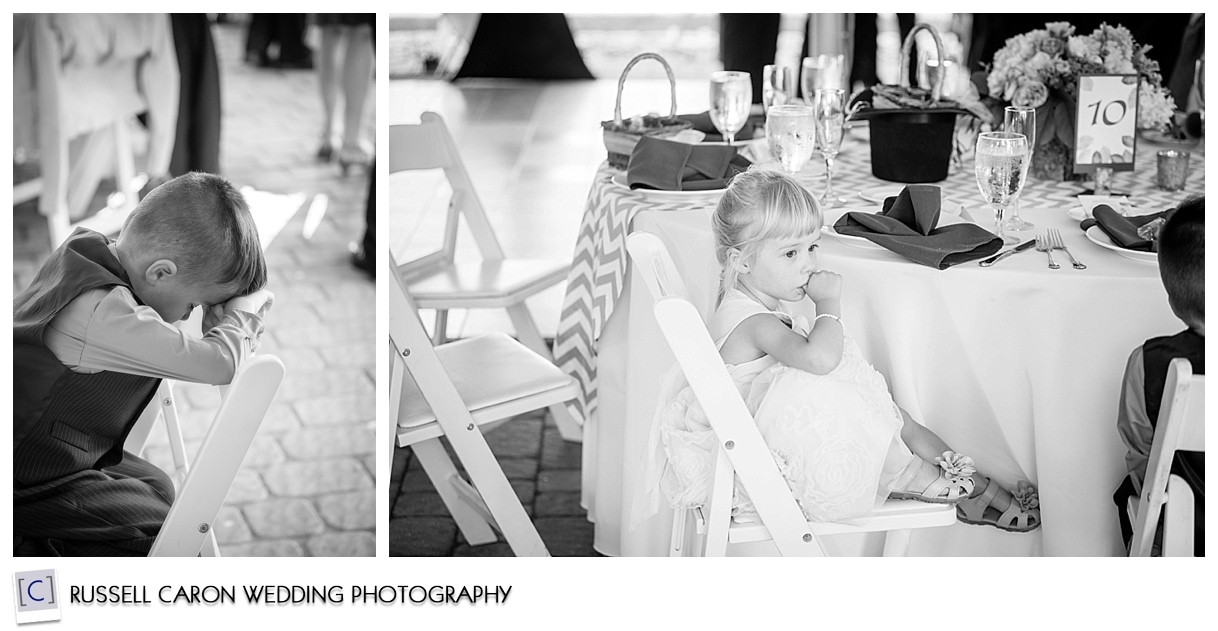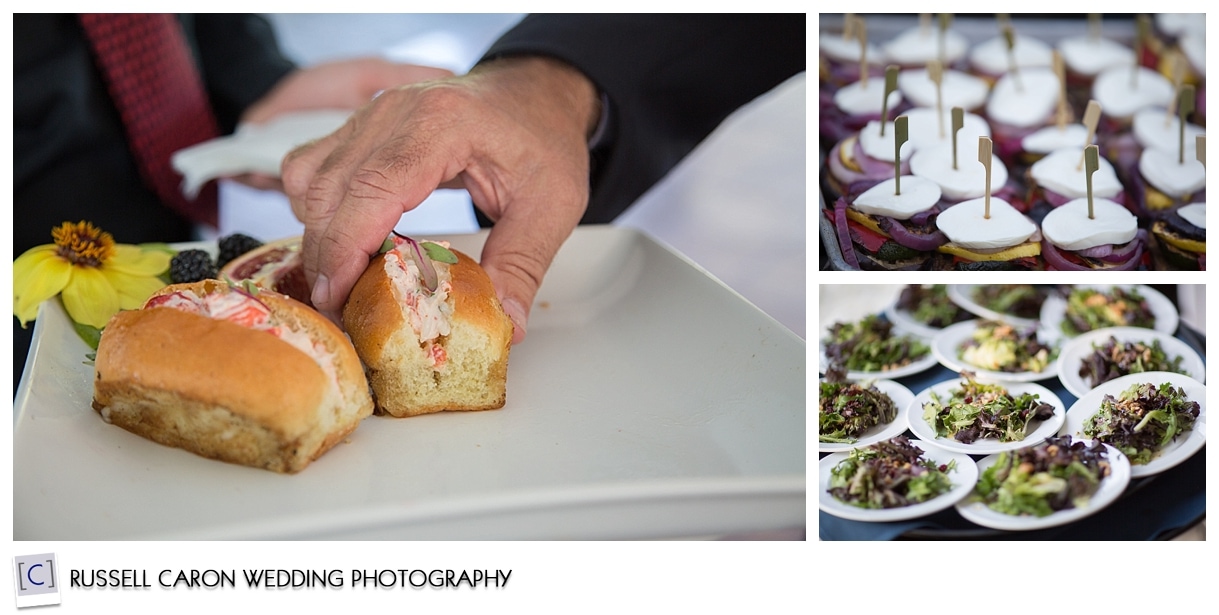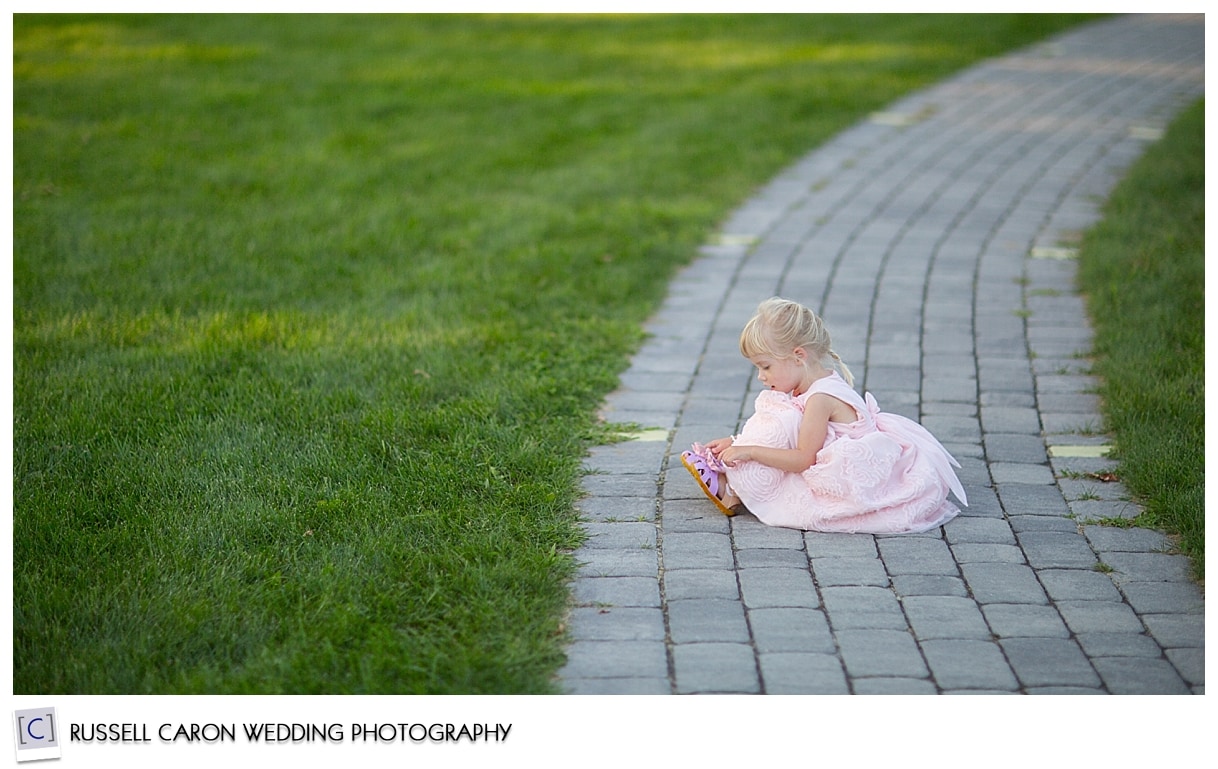 The little flower girl enjoying a moment of solitude amidst lots of nearby activity, above, and dancing alone, below.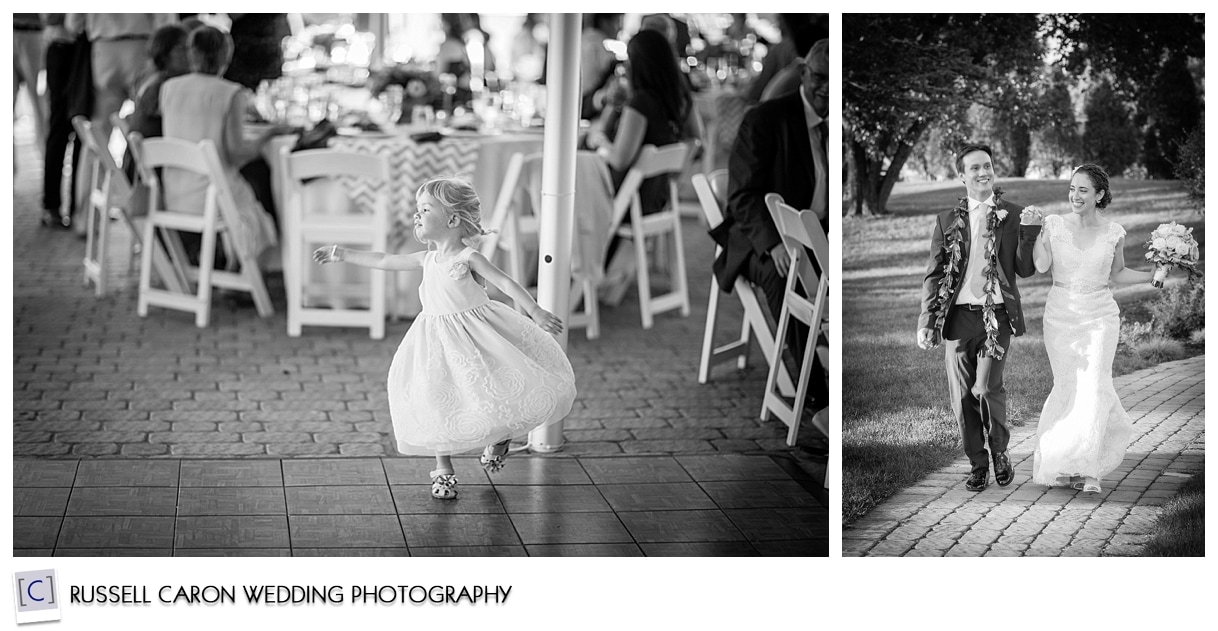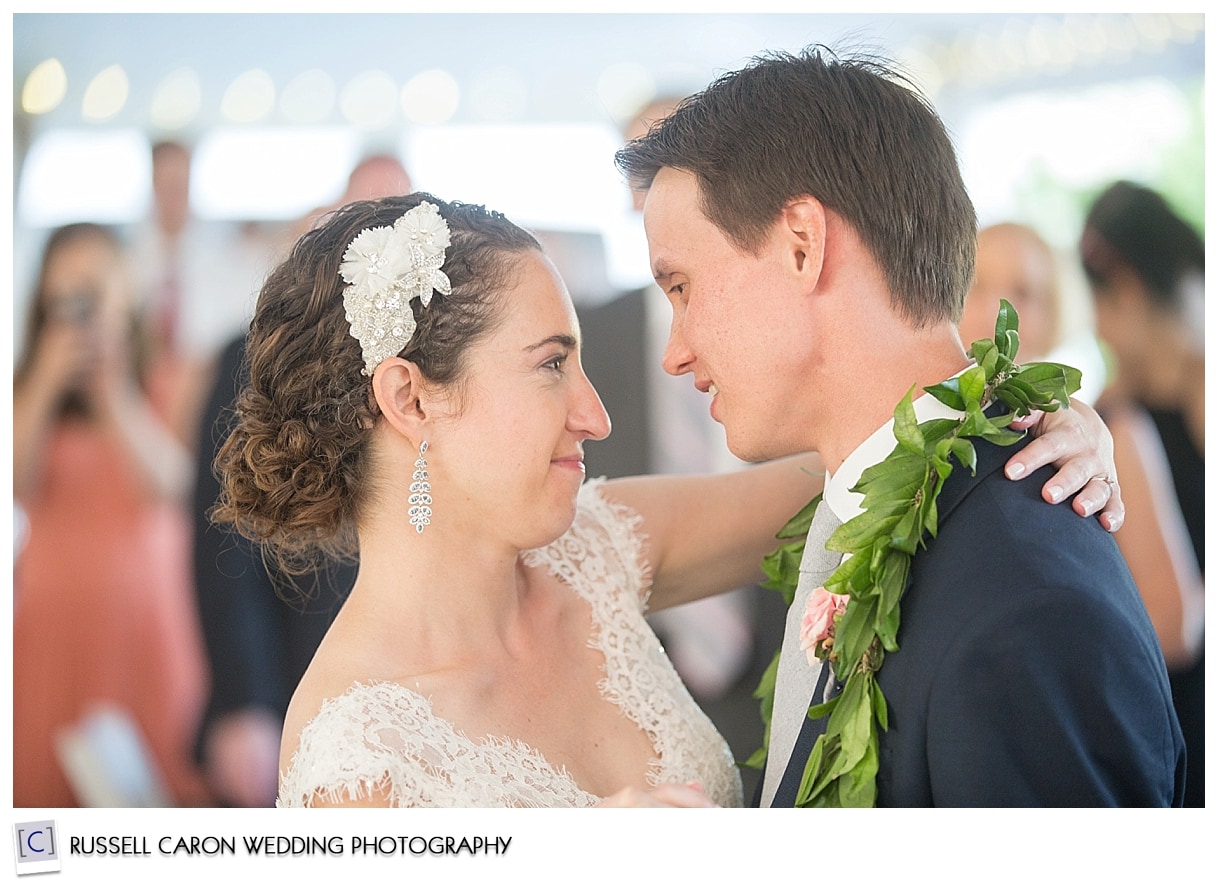 First dance photos, above, and below two panels.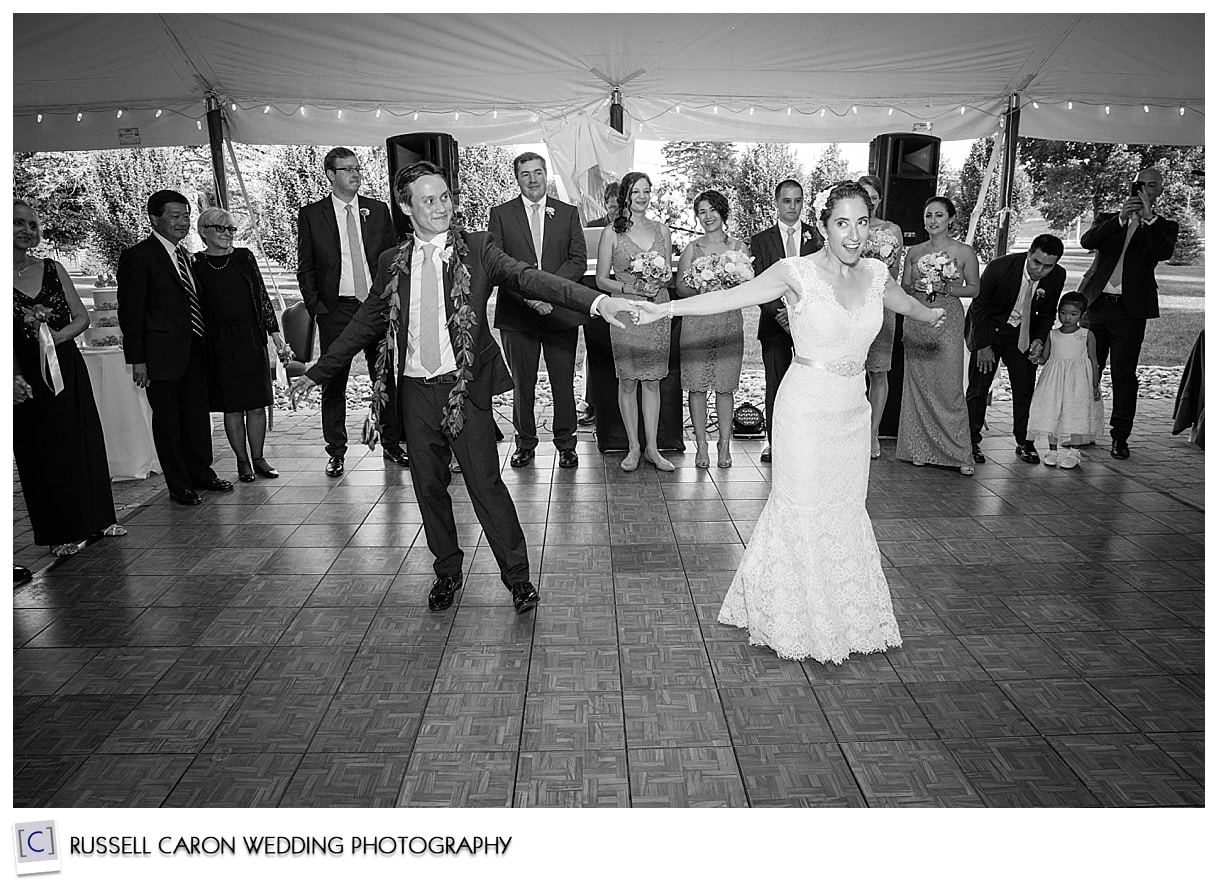 Below, a toast to the bride and groom from Emily's parents.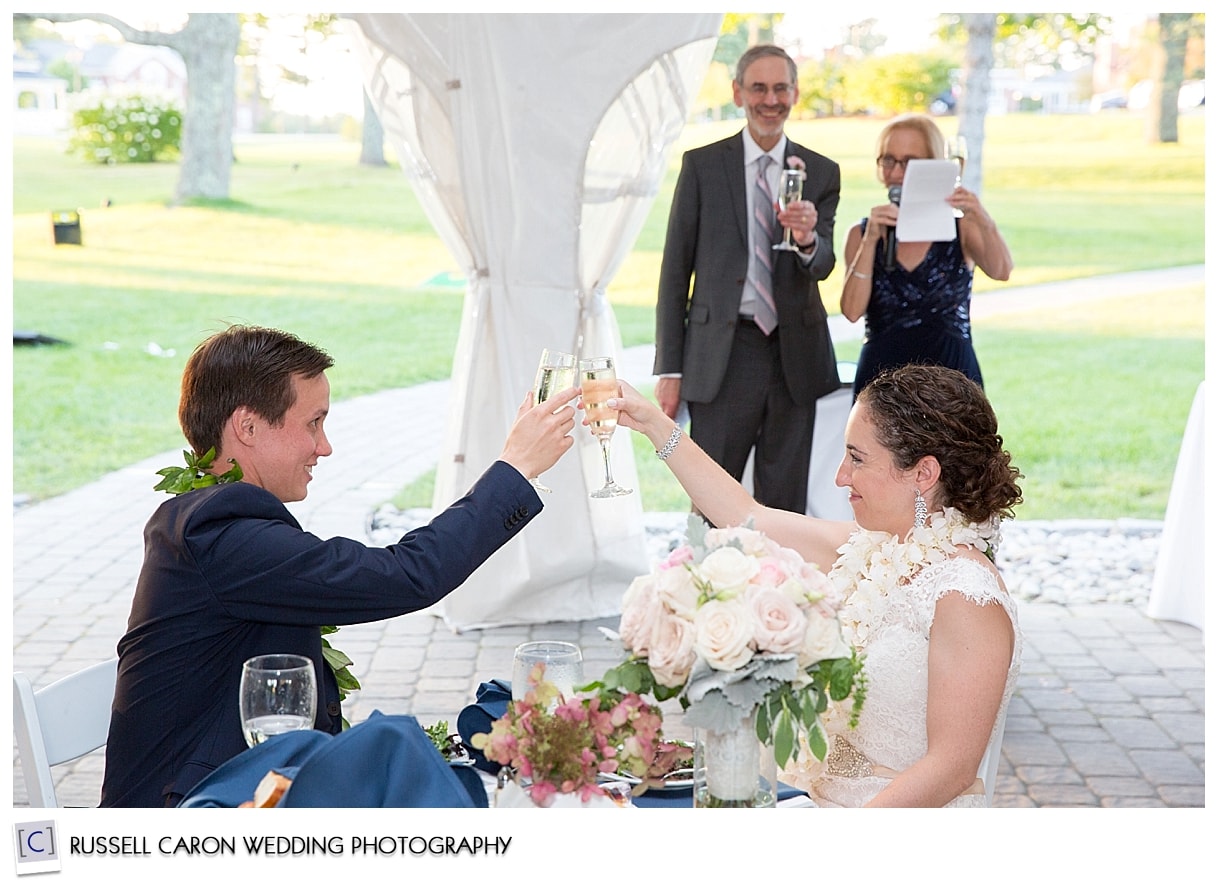 Beautiful parent dances, above. There were many toasts, and much laughter, below.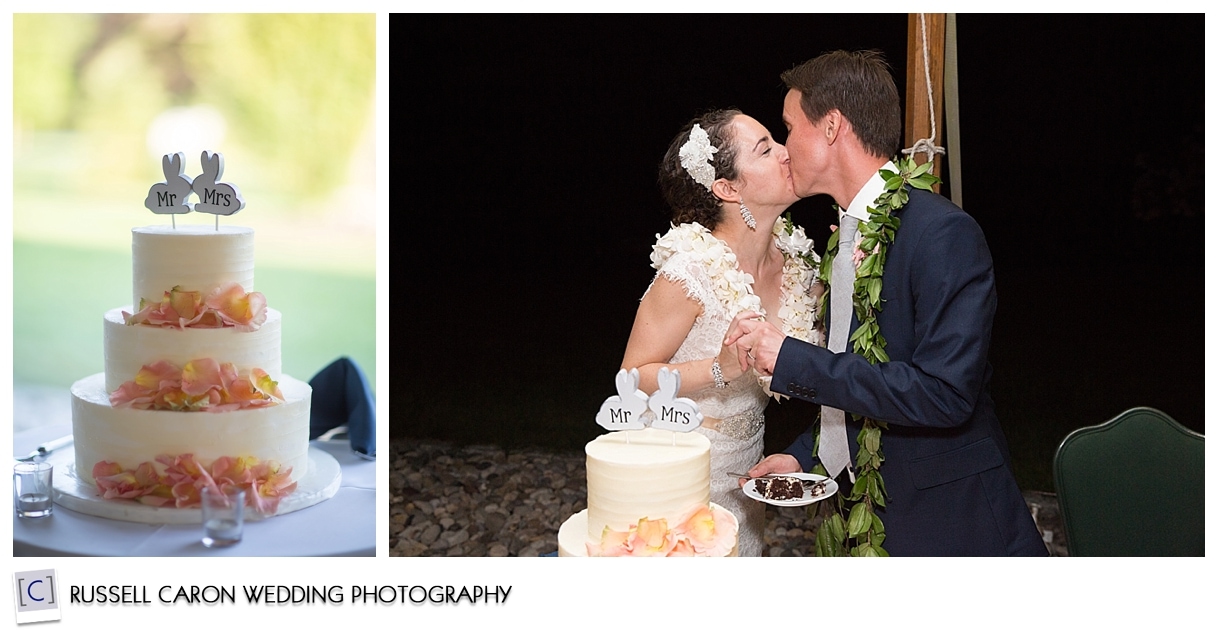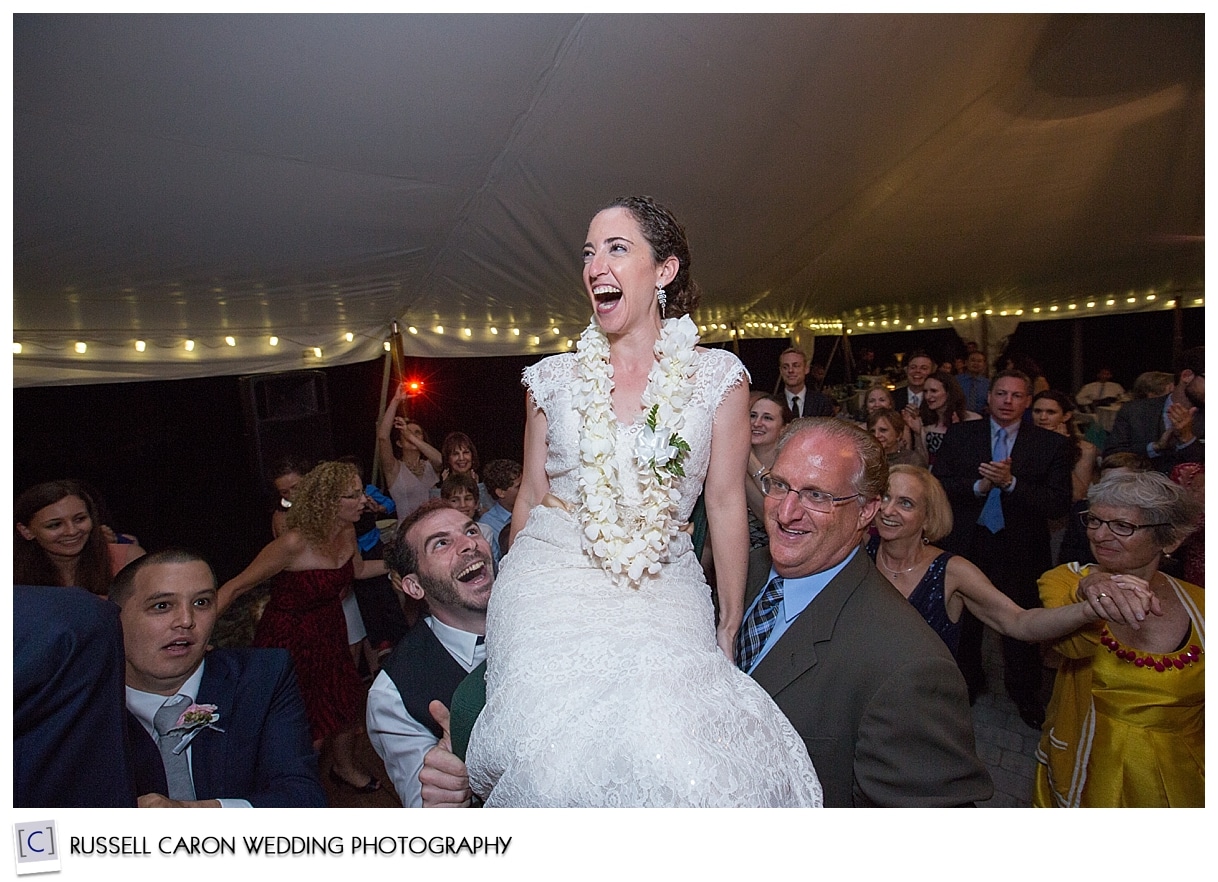 The Hora, above, and below left, is always lots of fun!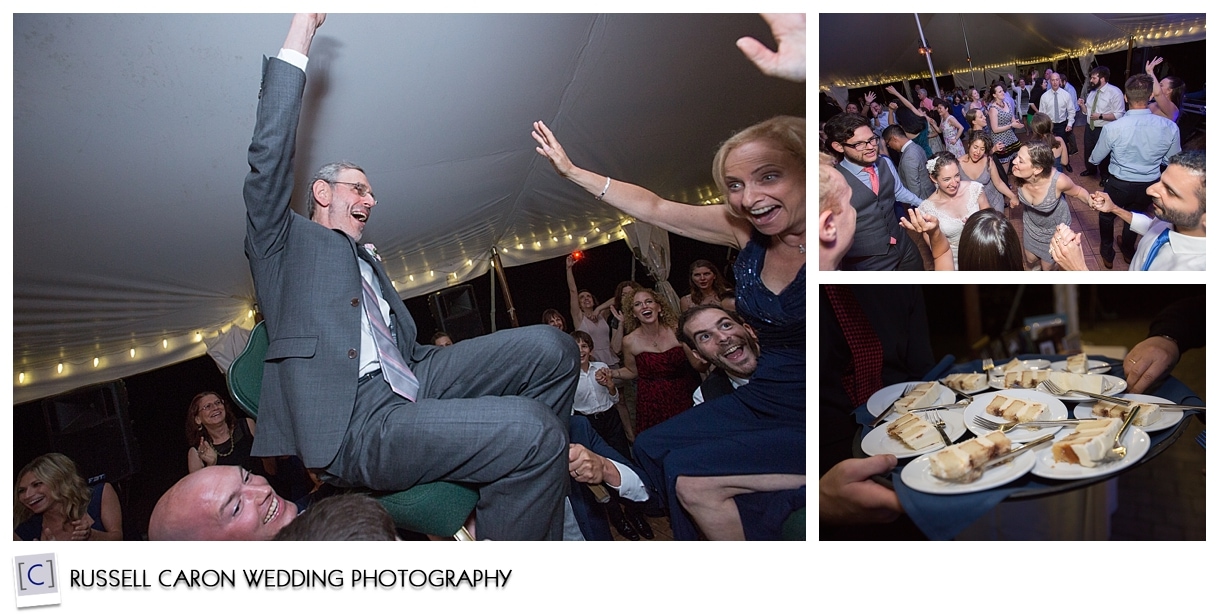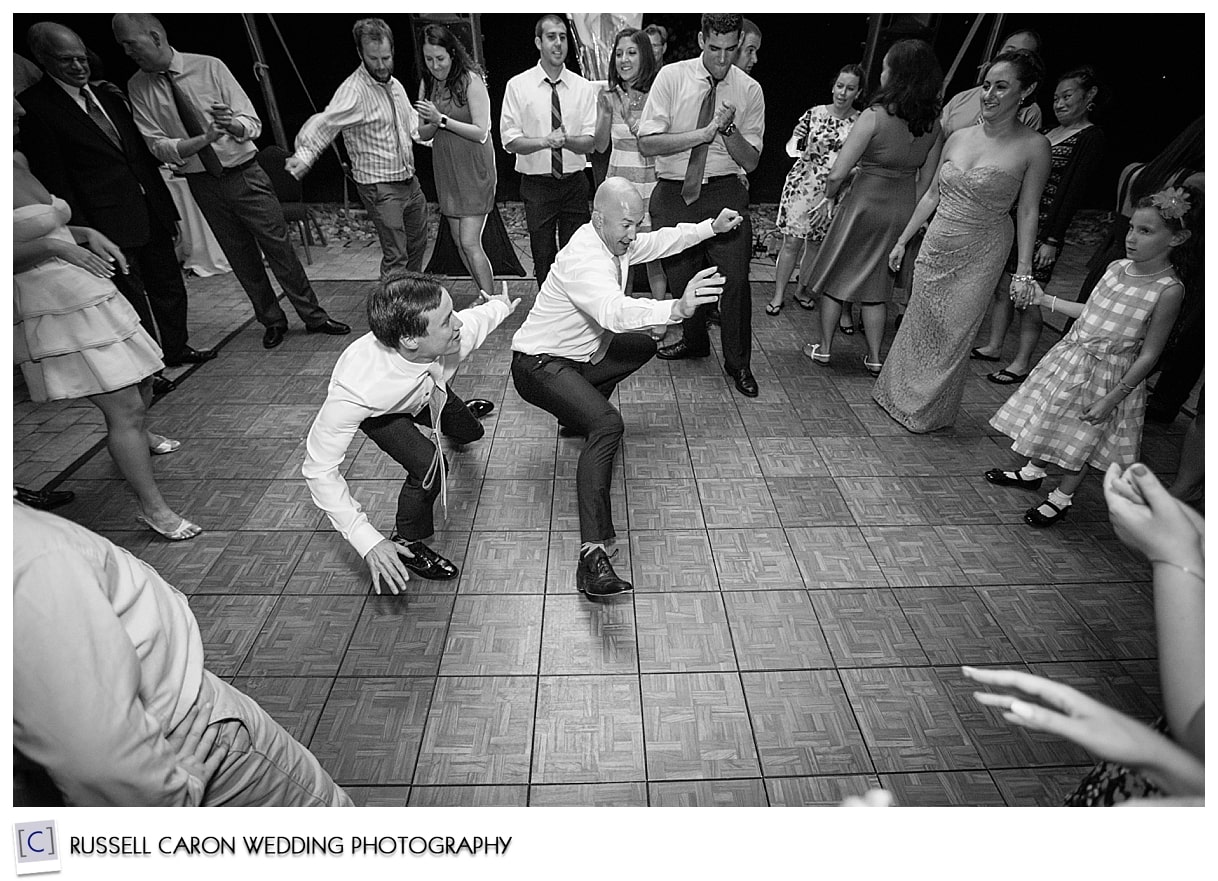 As the reception gets into full swing, the dancing brings everyone to the dance floor, above and below.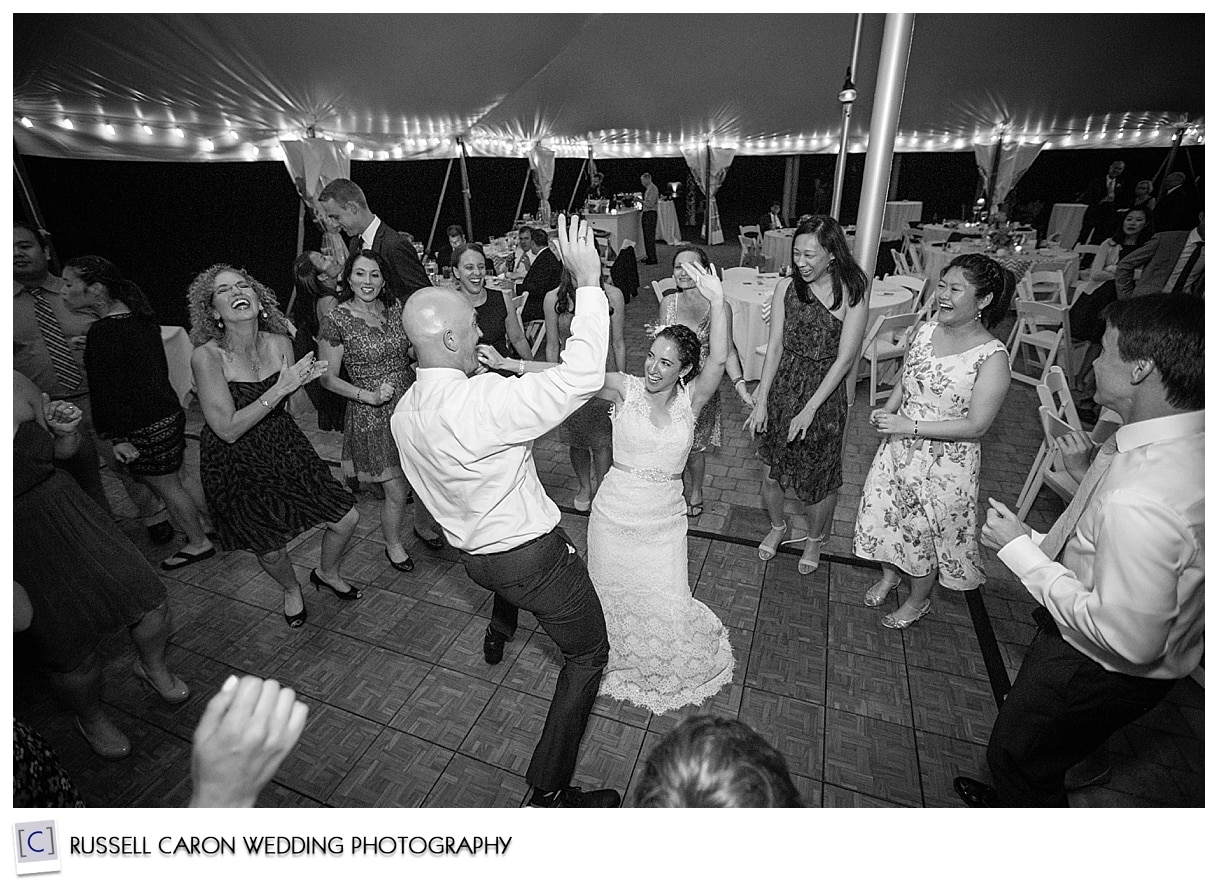 The Pineland Farms wedding tent at dusk, below.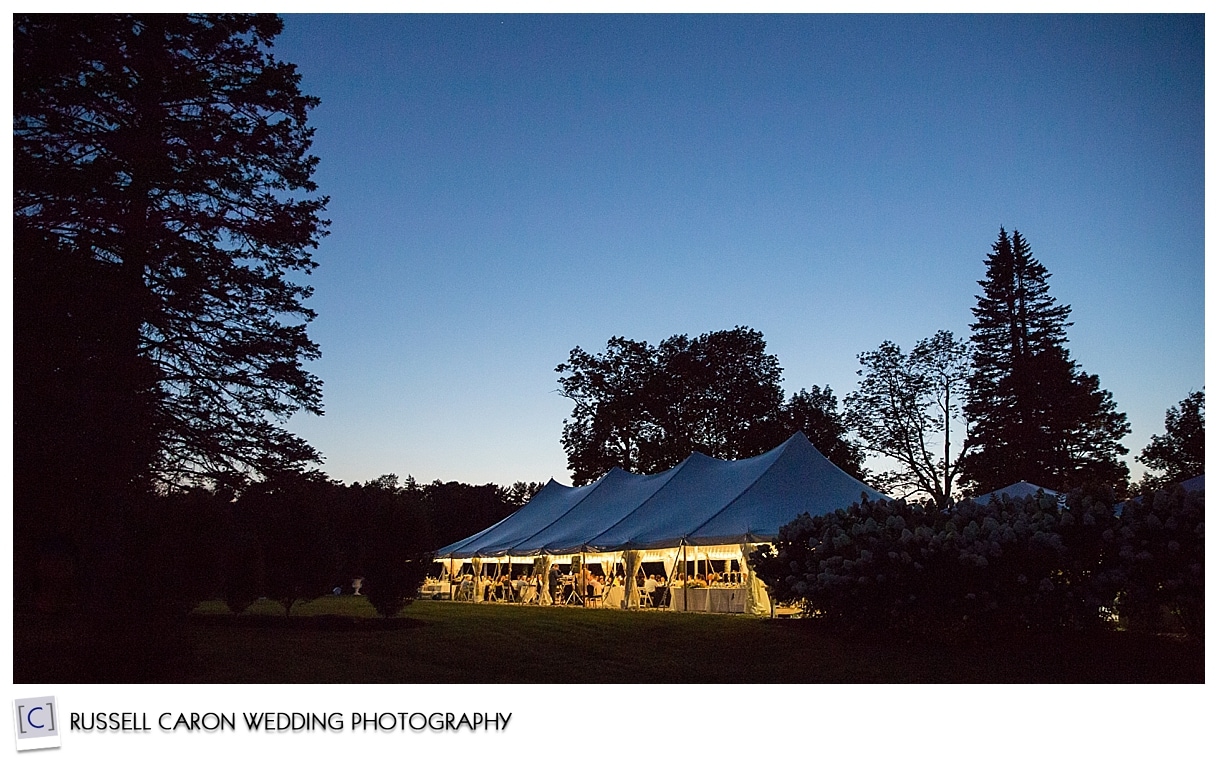 We love comments!! Please leave a comment to let us know if you enjoyed Emily and Todd's Pineland Farms wedding. Thank you!
Maine wedding photographers Russell Caron Wedding Photography put the fun into wedding photography for Maine wedding couples. Feel the love as this dynamic pair effortlessly capture each of your cherished moments, producing natural poses and unparalleled art for your wedding day. Russell Caron Wedding Photography will photograph weddings at any destination you can think of, whether it be a Pineland Farms wedding, or a Caribbean resort. For more information, please contact us right away!
Venue: Pineland Farms
Photographer: Russell Caron Wedding Photography, photographs by Russell Caron and Liz Caron
Ceremony Music: Stretta Ensembles
DJ: DJ Greg Powers
Florist: Laurie Andrews Design
Hair: J Kelley Salon
Makeup: Nikki Neal Makeup Artistry
Catering: The Black Tie Company
Cake: The Black Tie Company