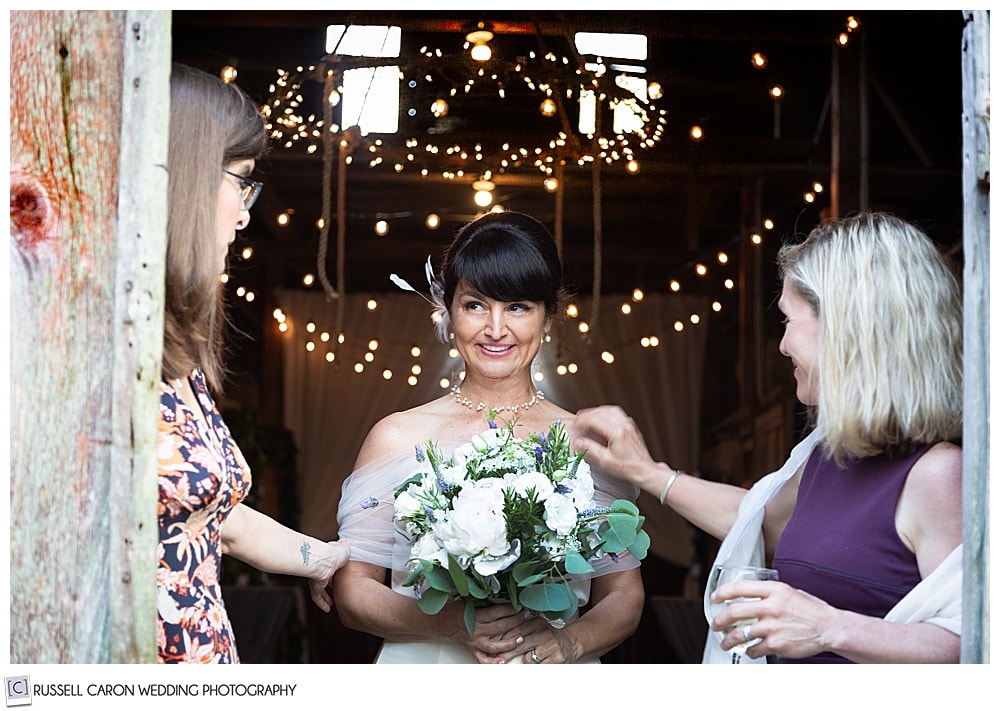 We're at #2 of Liz's top 19 of 2019, with this pensive bride photo!
This was Ericka and Roger's super sweet and intimate Cape Neddick wedding. To reach the ceremony site, and to keep out of sight of Roger, Ericka walked through the barn where the reception was being held with two of her closest friends. Ericka paused at the barn door exit. At this point it was just moments away from time to walk down the aisle. As she was about to leave the barn, she made eye contact with one of them while the ladies were encouraging her. That's when I grabbed this exposure.
The look on her face says it all. All the emotion that she was feeling suddenly began to consume her. She was excited to meet Roger at the top of the aisle, where they would recite their vows.
It's a precious moment in time on a much-anticipated, very special day for Ericka and Roger, everyone who knows them, and for me and Russ as their photographers!
See Ericka and Roger's full wedding here: Intimate Cape Neddick Wedding
Venue: Private Residence
Photographers: Russell Caron Wedding Photography, photographs by Russell Caron and Liz Caron
Catering Company: Destination Catering
Officiant: Lenny Sharon
Lighting: Maine Event Design & Decor
Floral Designer: Calluna Flowers
Pre-Ceremony / Ceremony Musicians: Beam & Fink
DJ: Greg Powers
Hair and Makeup Artist: Chhoeun Kim Thiv
Wedding dress: Badgley Mischka
Wedding dress boutique: Andrea's Bridal
Please comment on this blog post if you enjoyed Liz's #2 pensive bride photo! And please share!! Thank you 🙂 Come back every day, until we reach #1 on December 31!
Cape Neddick Maine wedding photographers, Russell and Liz Caron, are romantics at heart who love photographing people in love. Are you getting married? No matter where your wedding is located, we'd love to travel there and take breathtaking wedding photos. For more information contact us right away!