Maine Engagement Photography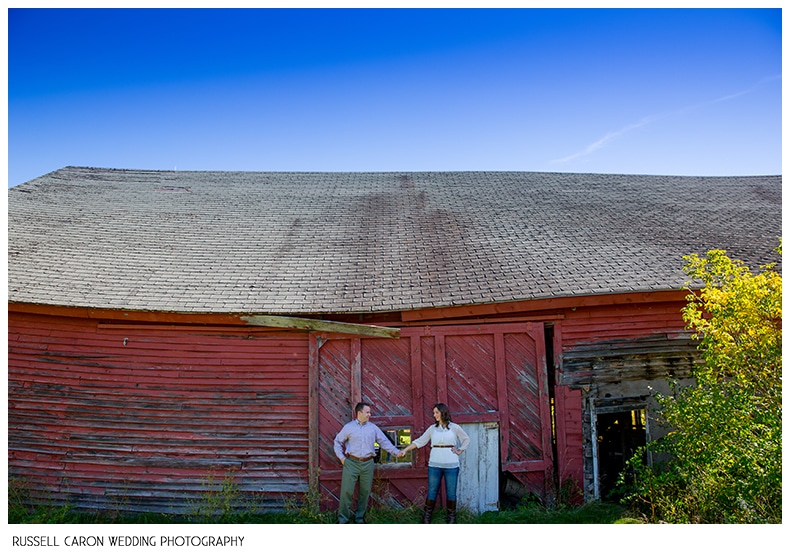 Patty and Tommy chose a fantastic early fall day for their Maine engagement photography session. They drove to Maine (where Tommy's family still lives) from their home state of New Hampshire.  We had just the week before located a perfect old barn (and obtained the owners permission to photograph there) to fulfill their dream of having some of their engagement images in that kind of setting, and the blue skies and already-vivid foliage cooperated nicely.  As York Maine wedding photographers we often have to work around bright sunshine, and we find ways to capitalize our photographs accordingly.  Patty and Tommy's wedding at Linekin Bay Inn in Boothbay, Maine, on the day of this session, was exactly one year plus one day out, giving them a good sense of light, temperature, and weather possibilities.   For Liz and I as their photographers, this couple photographed so easily, with so much of their sweet personalities showing through without any effort, we are eagerly anticipating their wedding a year from now.  This engagement session, like all, pays such dividends in not only the awesome photographs, but arguably even more importantly in the realm of building rapport, comfort, ease, fun, and mostly just having a chance to really chat and know our couples better.  That is why we include a free engagement session with all our wedding photography sessions now.  Enjoy the rest of our previews!
It may in theory have been a "posed" moment but indeed Patty and Tommy made this sequence on their own, just by being themselves. 

Artists of Maine engagement photography, Russell Caron Photography, puts the fun into engagement and wedding photography for Maine wedding couples. Feel the love as this dynamic pair effortlessly capture each of your cherished moments, producing natural poses and unparalleled art for your special day. For more information, please

contact us

right away!