Bittersweet Farm | Maine Wedding Photography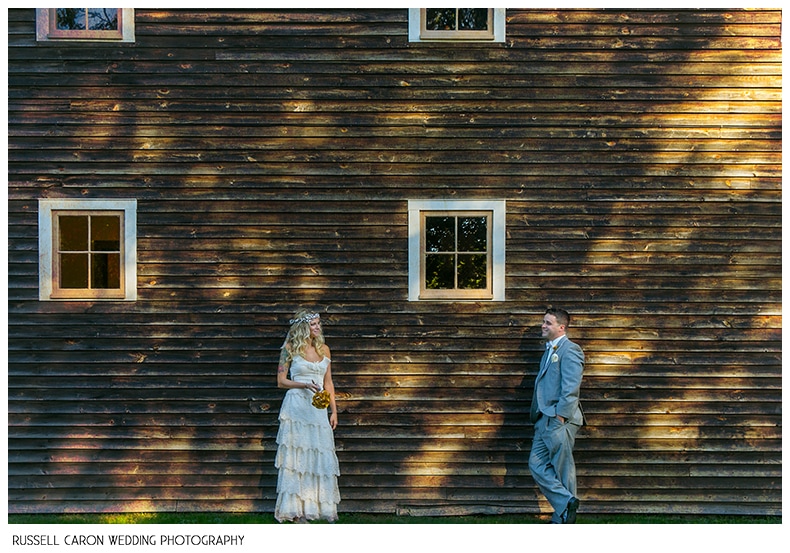 Caitlin and Ryan's wedding ceremony at Westport, Massachusetts' Bittersweet Farm was held on a beautiful early autumn Sunday afternoon with near-perfect weather on September 29, 2013.  With a large wedding party consisting of family and friends, Caitlin and Ryan were surrounded by the people that mean the most to them.  We took advantage of the nice light provided to us.  As Maine wedding photographers, we love venues that resemble those we have in Maine, and this one fits the bill very nicely. 

We loved Caitlin's free spirit and uniqueness.  Her and Ryan's wedding was non-traditional in several ways, yet as charming and touching as any.

It has been a long while since a vintage film-based SLR camera made an appearance by a guest (or me for that matter!) at a wedding.  I loved seeing it, and the owner was especially proud of the quality images it makes.  Caitlin's bouquet were DIY and fit the day just perfectly.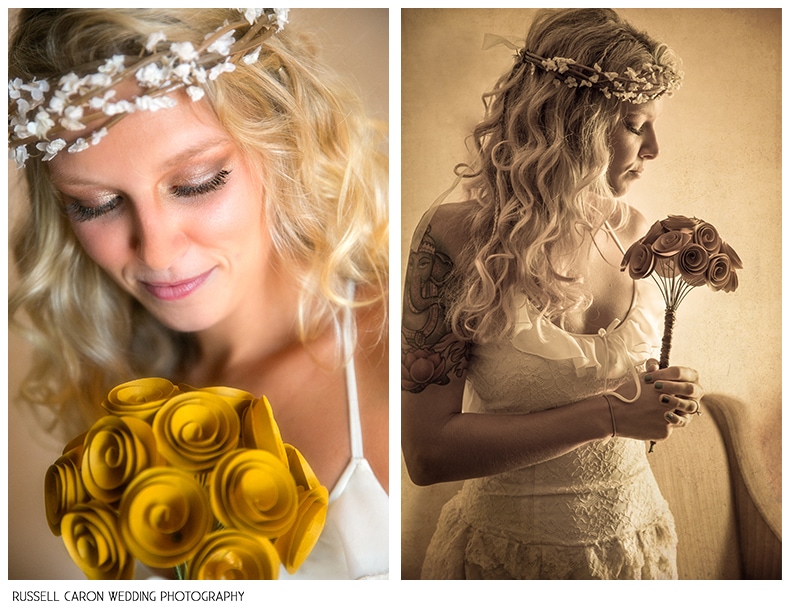 Caitlin chose a vintage look and vintage-themed wedding, and it fit her just perfectly.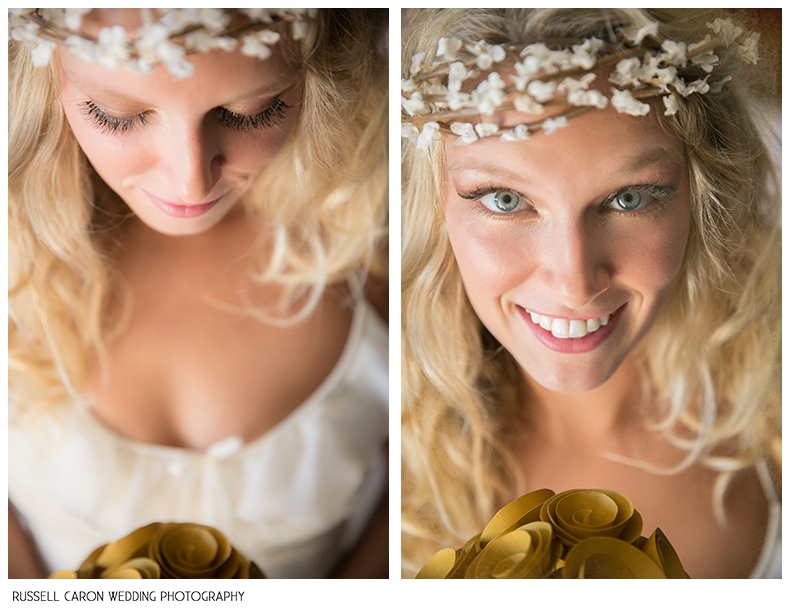 Caitlin's natural light portraits reveal her own natural beauty.  And, she was really great to work with, too.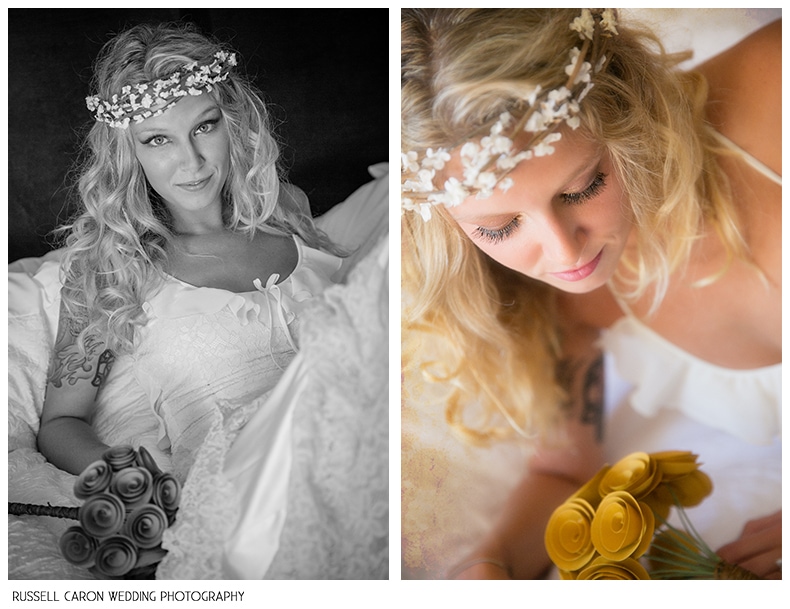 More pre-wedding portraiture.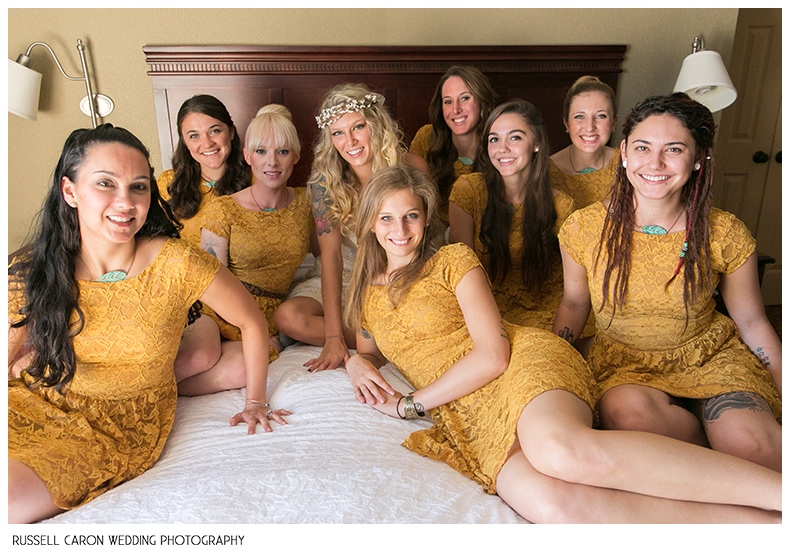 What an entourage!  Caitlin's bridesmaids each brought their own bright and bubbly personalities and talents to the wedding!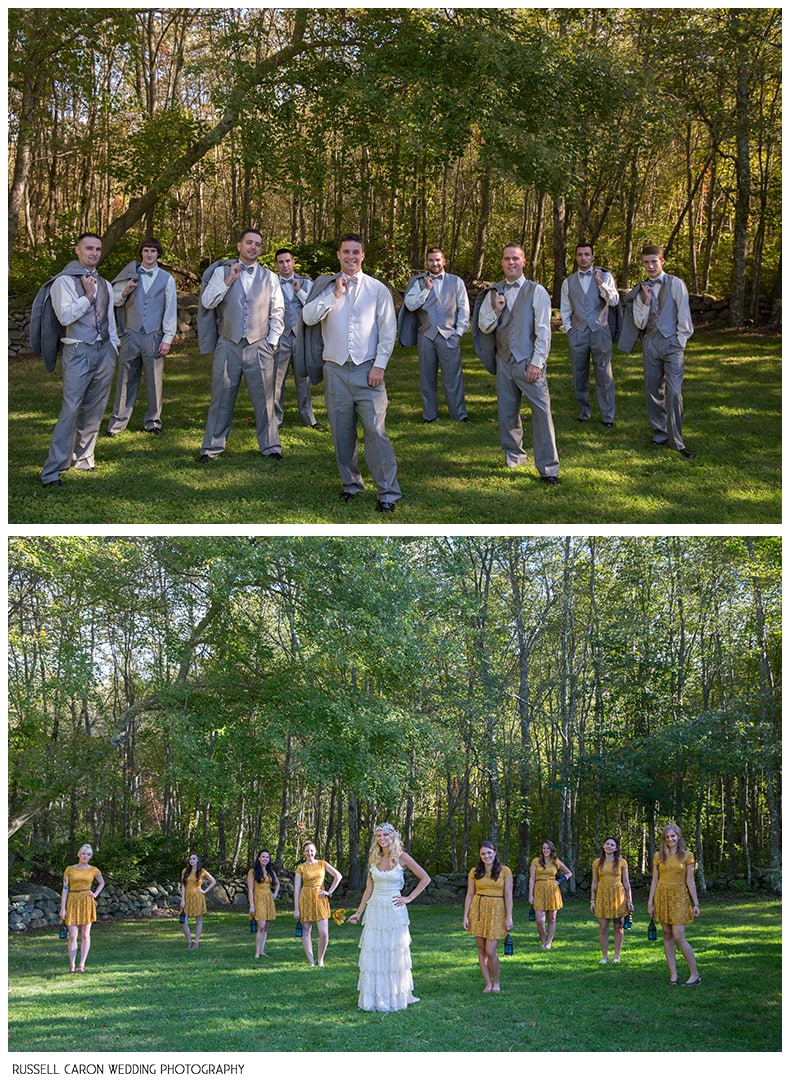 The eight men and the eight ladies.  A great group!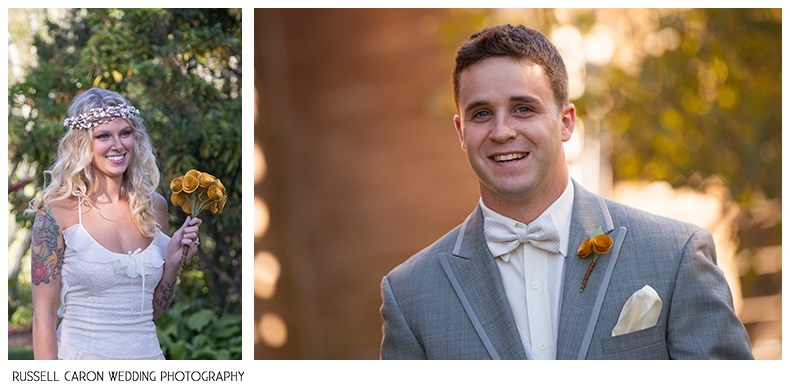 The first look!Different poses, different light.  Maine Wedding Photographer Russell Caron with assistant photographer Liz Harris captured Caitlin and Ryan's and Caitlin's portraits at the Bittersweet Farm wedding.A large wedding party like this is always fun to photograph in this classic "walking toward" shot.  Glowing late afternoon light, as we find wherever we can, is one of our favorite as wedding photographers.  Quiet moments after the first look and before the wedding ceremony of Caitlin and Ryan.We primarily do Maine wedding photography, and loved photographing at Bittersweet Farm in Westport, MA.  Here Caitlin and Ryan pose in a grove with nice backlighting, and at right Caitlin and her dad process to the wedding ceremony as Ryan awaits.Caitlin's brother was unable to attend the wedding due to an unchangeable school commitment; she spoke to him by phone a few minutes before her wedding.  Speaking of phones, here a guest reaches into the main aisle for a shot of the wedding ceremony as we photographed her screen.Caitlin and Ryan's first kiss; and their joyful recessional.Fall-themed details abound.Bittersweet Farm features modern amenities and conveniences and yet retains the rustic feel of the old barn it actually is.The upper level mezzanine surrounding the main level of the barn at Bittersweet Farm provides a great vantage point for events such as the bouquet toss.

Bittersweet Farm wedding photographers, Russell Caron Photography, puts the fun into wedding photography for Maine wedding couples. Feel the love as this dynamic pair effortlessly capture each of your cherished moments, producing natural poses and unparalleled art for your special day. For more information, please

contact us

right away!