NYC Proposal and Engagement
The NYC Proposal!
Saturday, December 19, 2015; 6:15PM, Under the Rockefeller Center Christmas Tree, New York City, NY.
Mat took Jessica, her parents (and secretly his parents, too) to New York City. It was a weekend filled with sightseeing activities, and a visit to the top of the Freedom Tower. A few purported special law enforcement events, were also on tap. Saturday evening arrived for what Jessica *thought* was one of these special events. An amazing NYPD escort carved a path through a crowd of thousands at Rockefeller Plaza. And brought them to the very base of one of the most iconic Christmas trees anywhere.
What Jessica thought was going to be a family photo turned out to be so much more. As Mat dropped to one knee, Jessica was quick to realize what was happening. And we were there, too! In a carefully orchestrated and well-planned scheme that gave us our own escort by the NYPD. We were at the perfect spot while just out of Jessica's sight. What happened next was a wonderful NYC proposal, and is best told by the next few panels of photos, taken by Liz and Russ Caron.
The reality of the moment unfolds with this sequence of images: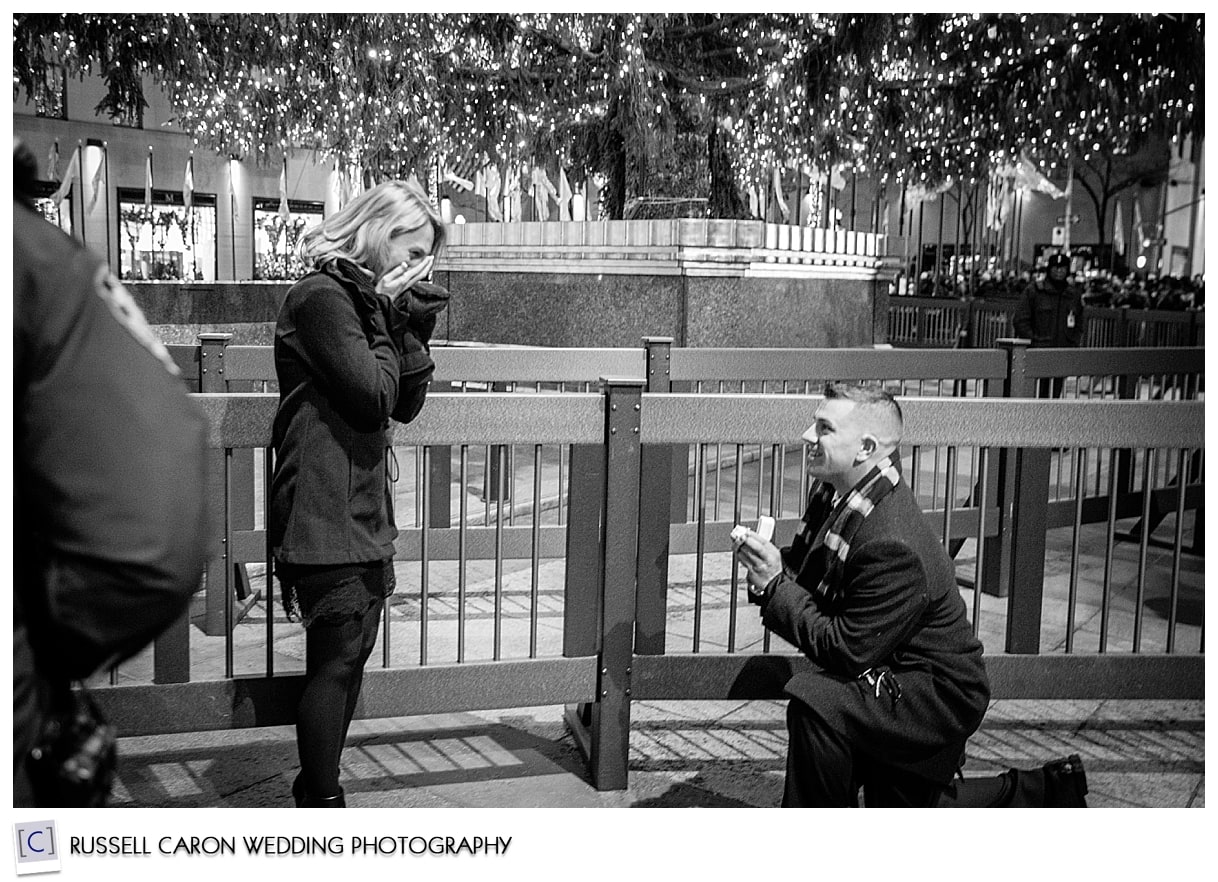 An iconic moment, an iconic pose, an iconic location, and a most iconic reaction!

Jess met Mat right there at his bent knee (and said YES!!!).

The below photo by Liz is perhaps my (Russ') favorite of the entire NYC proposal. It captures all the emotion and feel of the moment, taken over Mat's out-of-focus shoulder.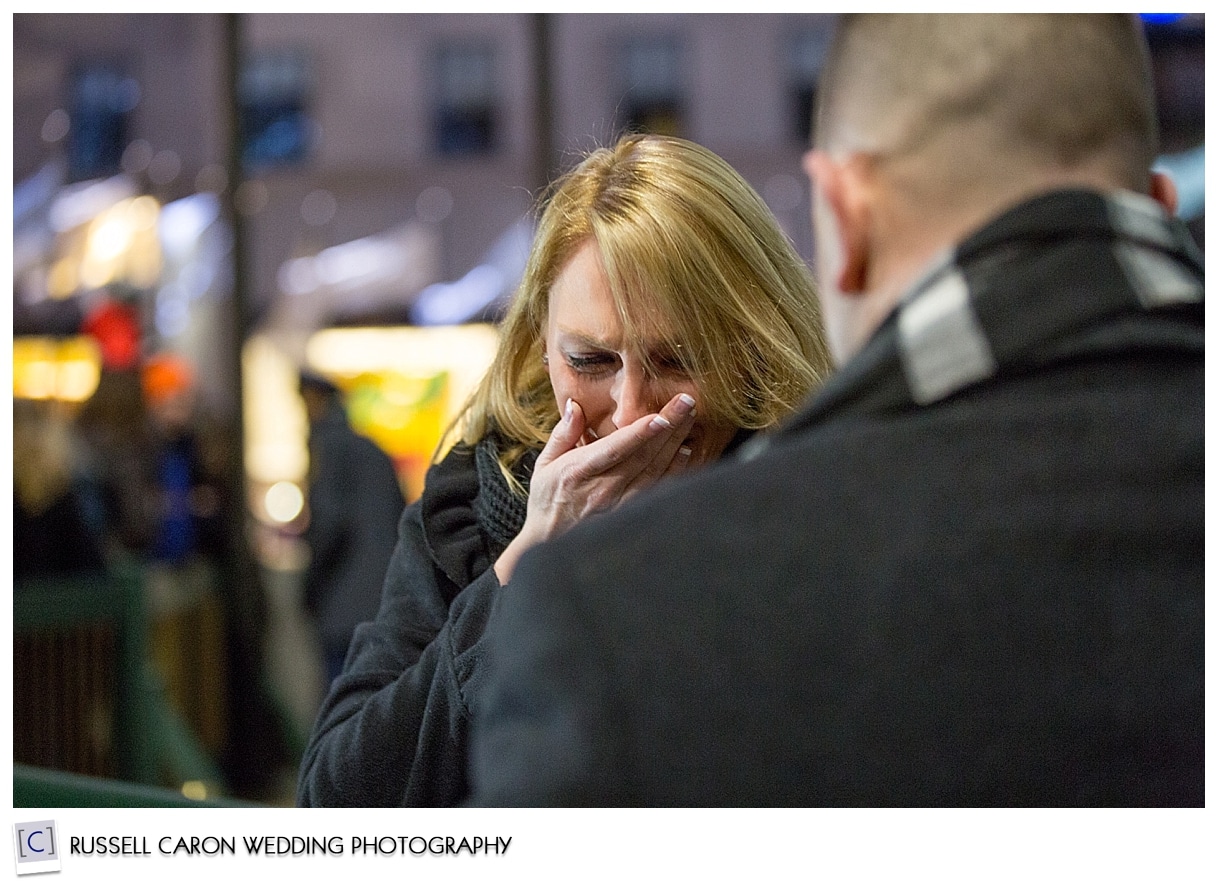 And speaking of capturing the feel of the moment, the above photos may have left the impression that there weren't that many people around. However, that's because of that path the NYPD made for us to get to the designated spot. While just a few of the officers involved are shown, below. Along with thousands of others on the last weekend before Christmas, to see the tree illuminated in all its splendor.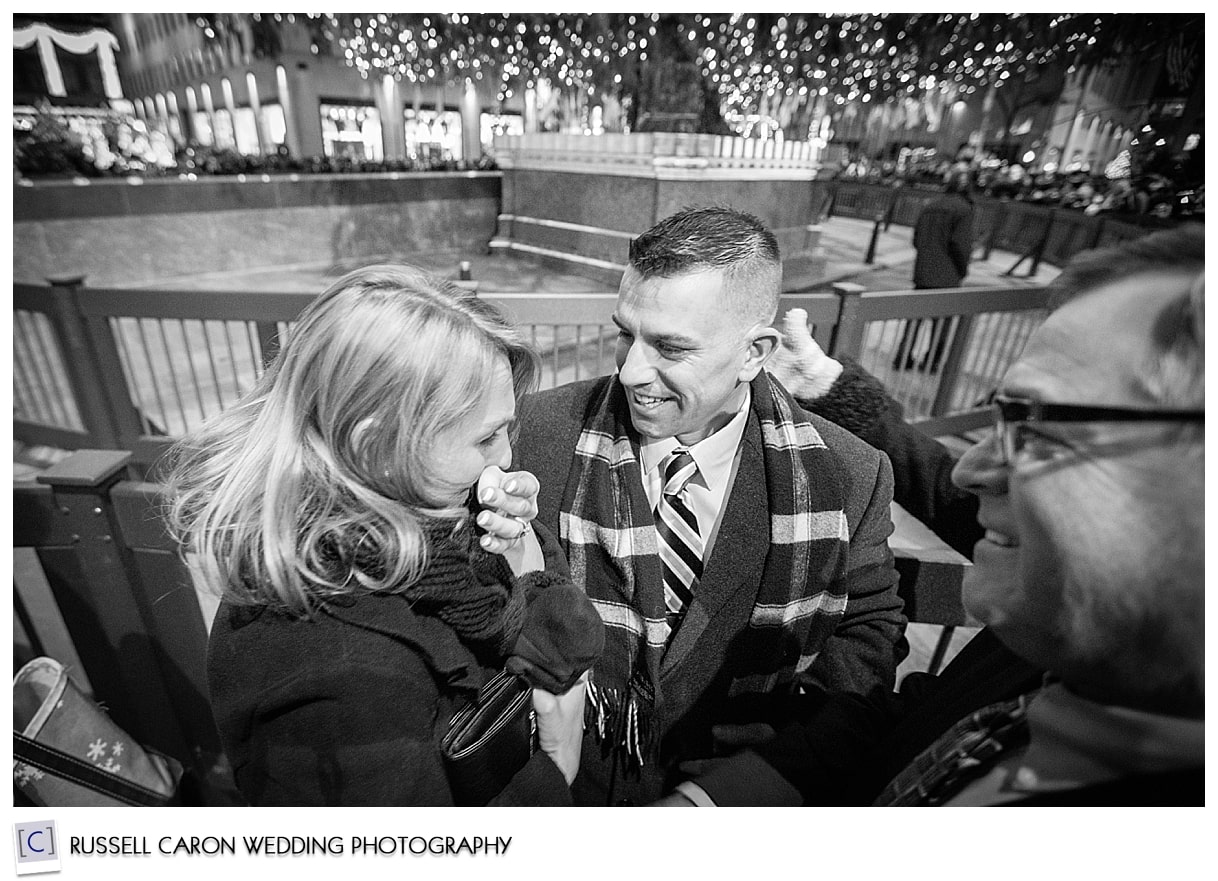 The ring! And a huge and emotional hug between Jess and her mom, below.

Jess Facetimes sister Jennifer, back in Maine, while mom Pam gives peeks of the spectacular ring!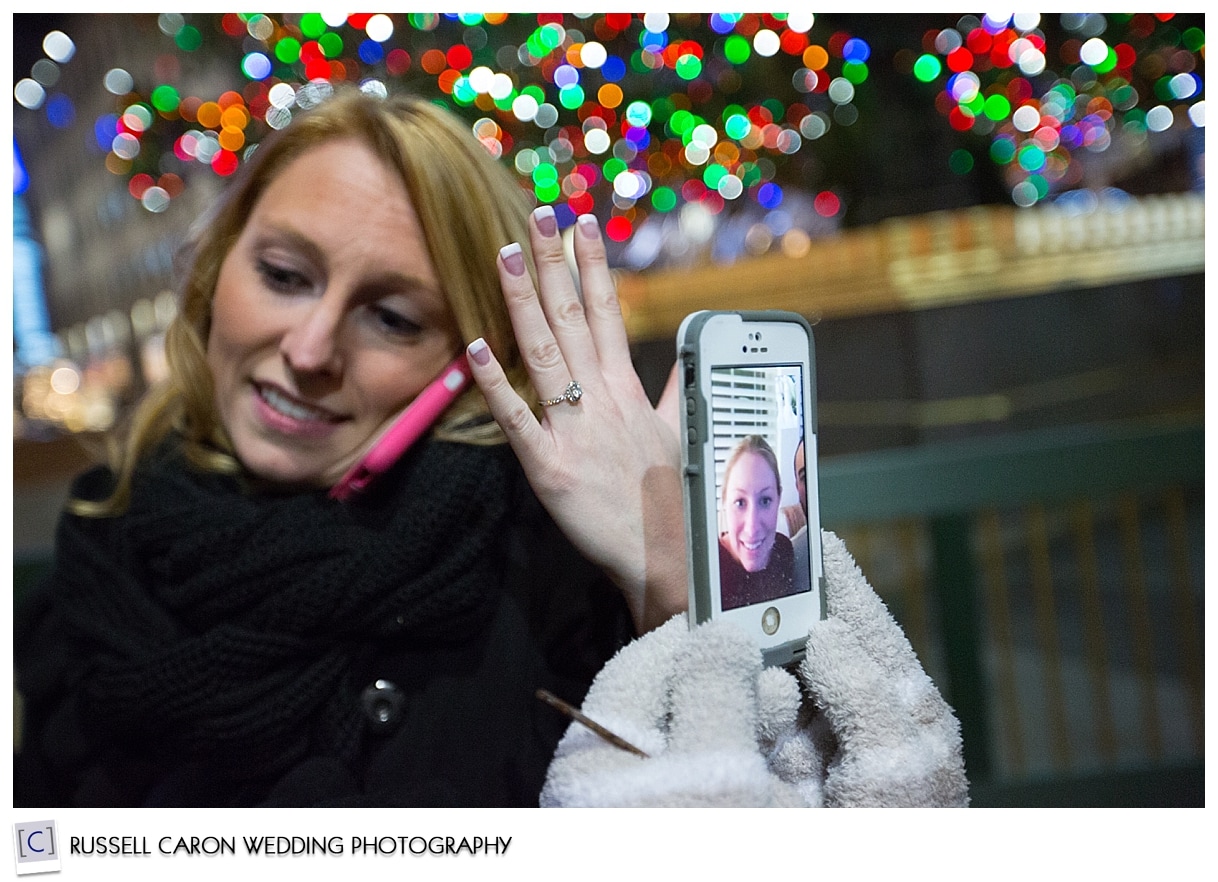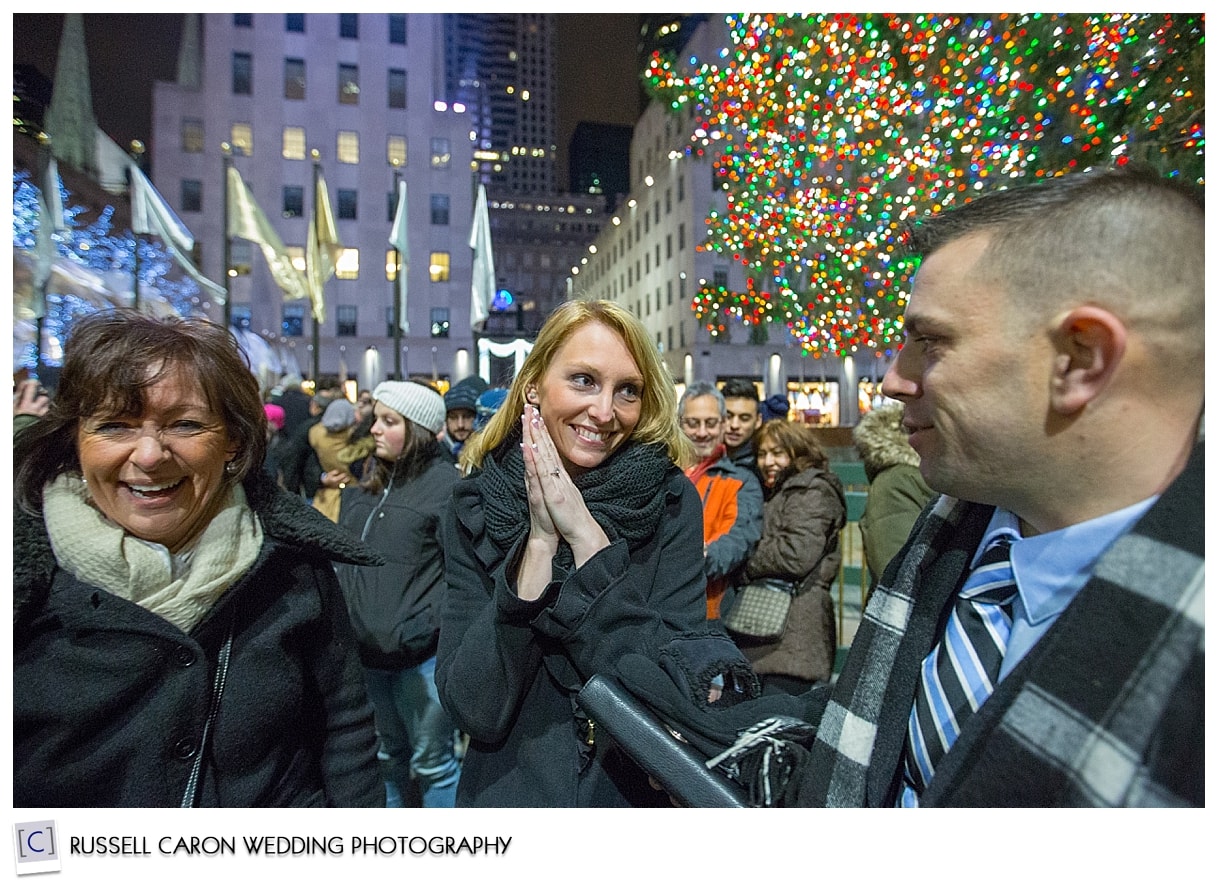 The Engagement Session
December 20, 2015: Times Square and Central Park South
The image below is the one that we loved just about the most from the engagement session. Jess and Mat are so relaxed with each other it shines through the photos. Even more than the beautiful morning sun beginning to envelop Central Park. Matt is a police officer in Maine, and his dress uniform was sharp and perfect for the moments that followed.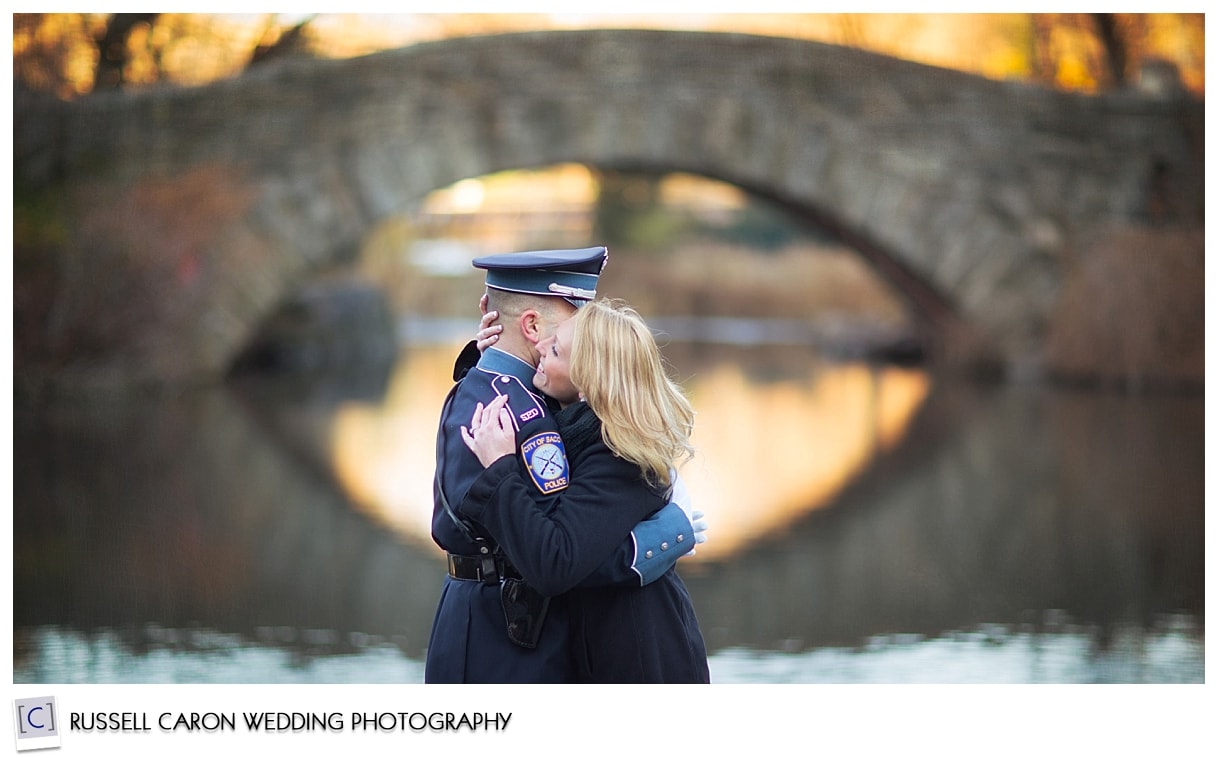 Our engagement session had actually begun in a nearly-empty Times Square, below, just before 8AM. Revlon runs a live camera that is displayed on the massive billboard-sized marquee above. We think this is as classic as any New York City engagement session can be, and we just love it practically as much as the golden light in the park above. Yes, the heart was really there; it's part of the Revlon ad display! It was seasonally chilly out but Jess and Mat were happy to do whatever we asked, and our time together that morning went by in a blink as we had an absolute blast with these two during their entire session!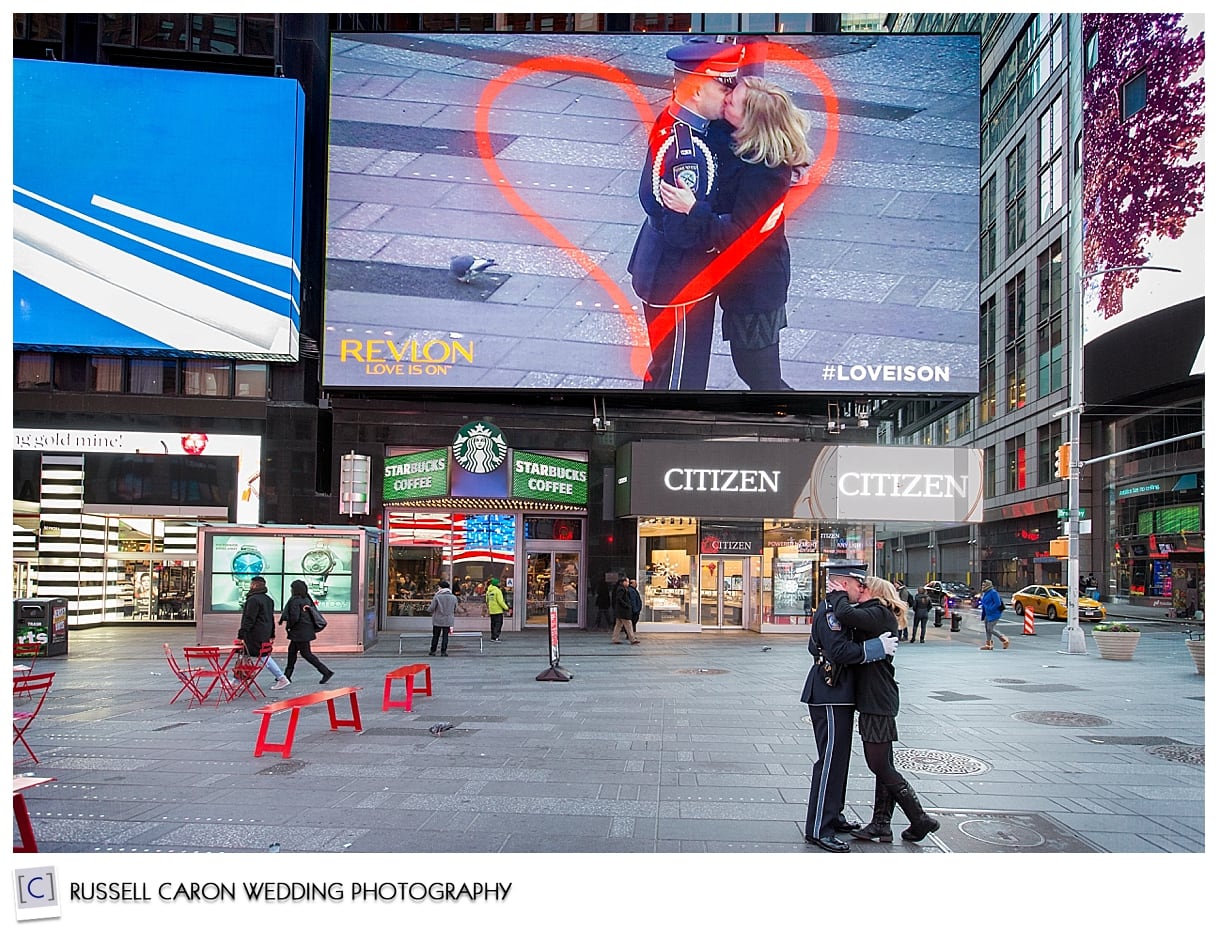 A replication of the classic "sailor dipping the girl" shot in Times Square, below, and in front of the brightly colored M&Ms store.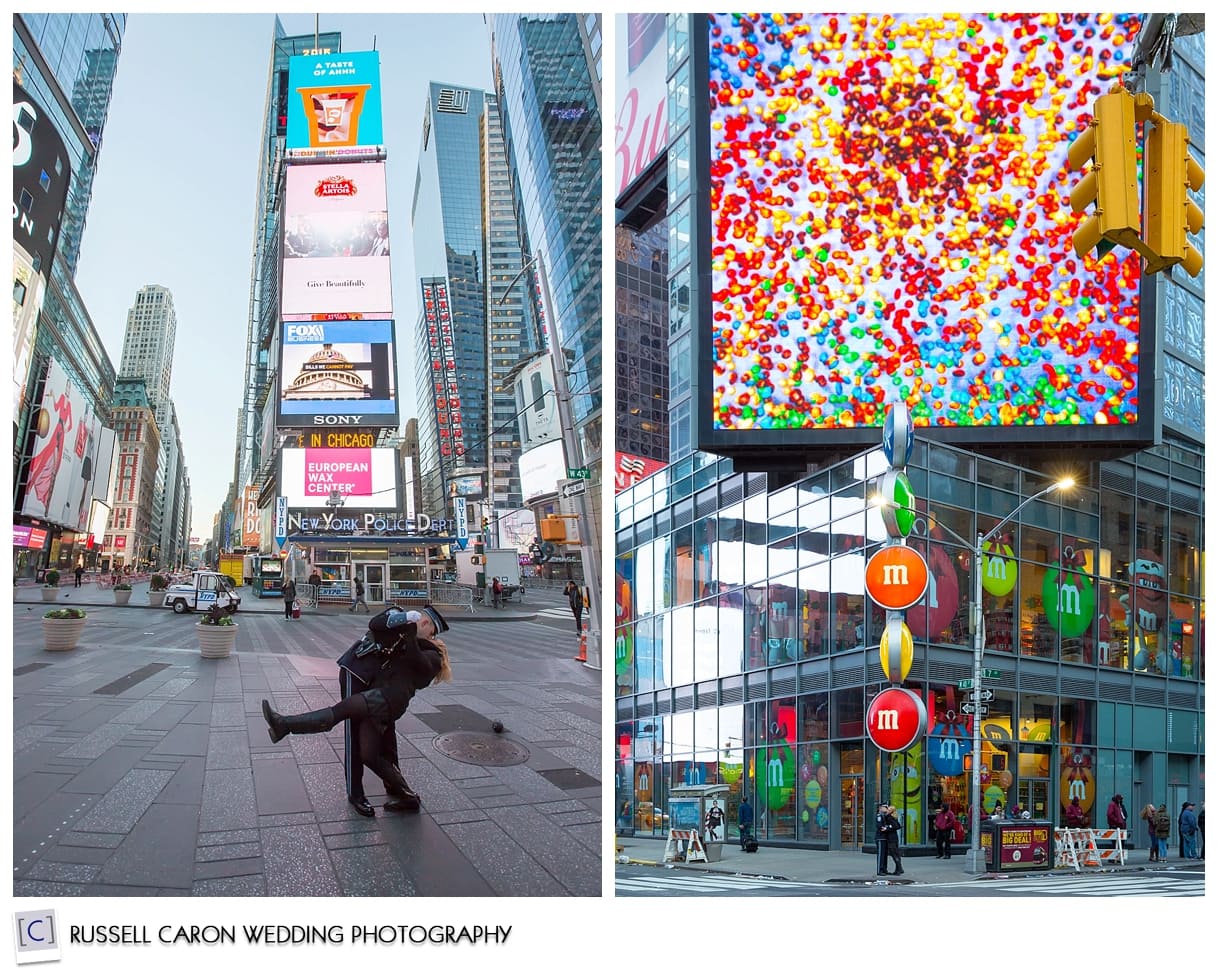 We love this totally natural and unposed moment as we were preparing to leave Times Square.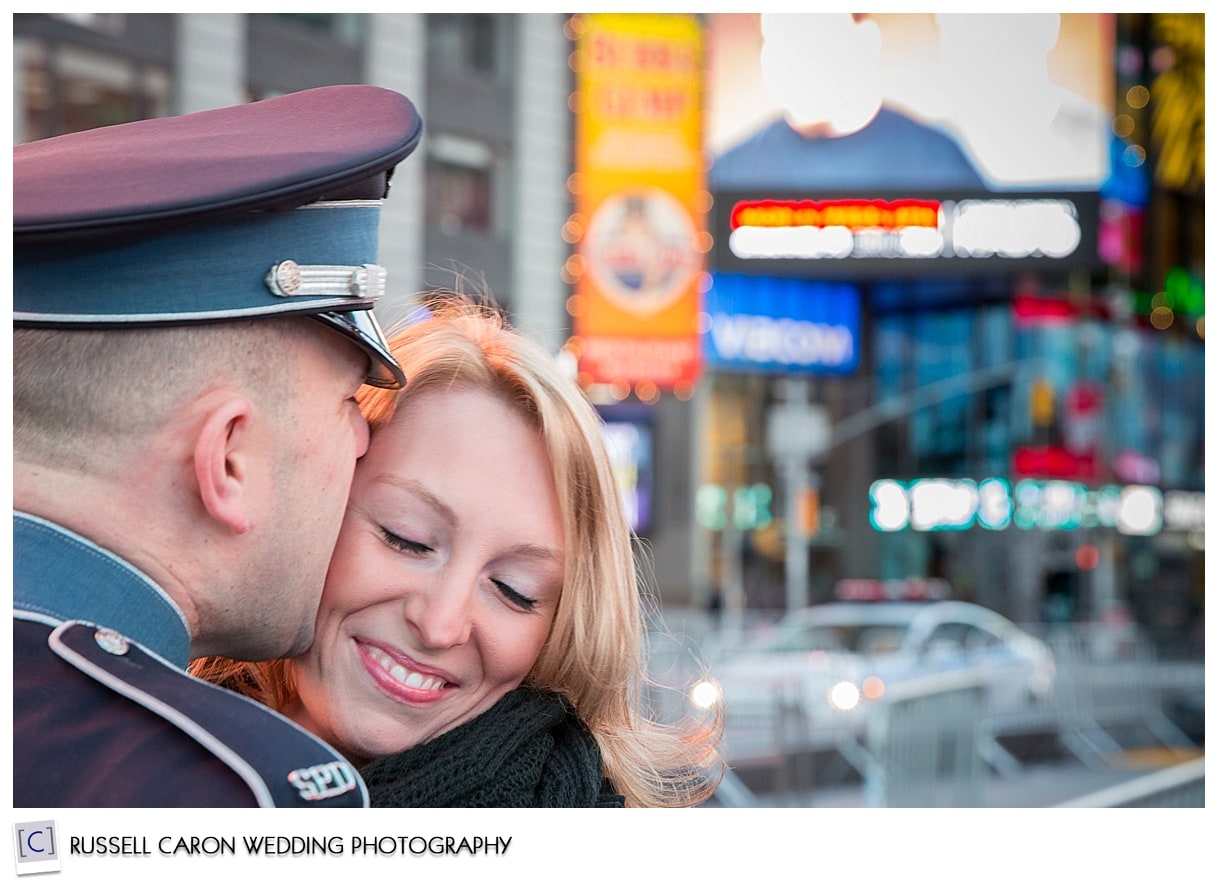 A quick cab ride and we're in South Central Park, as much of a NYC icon as there is!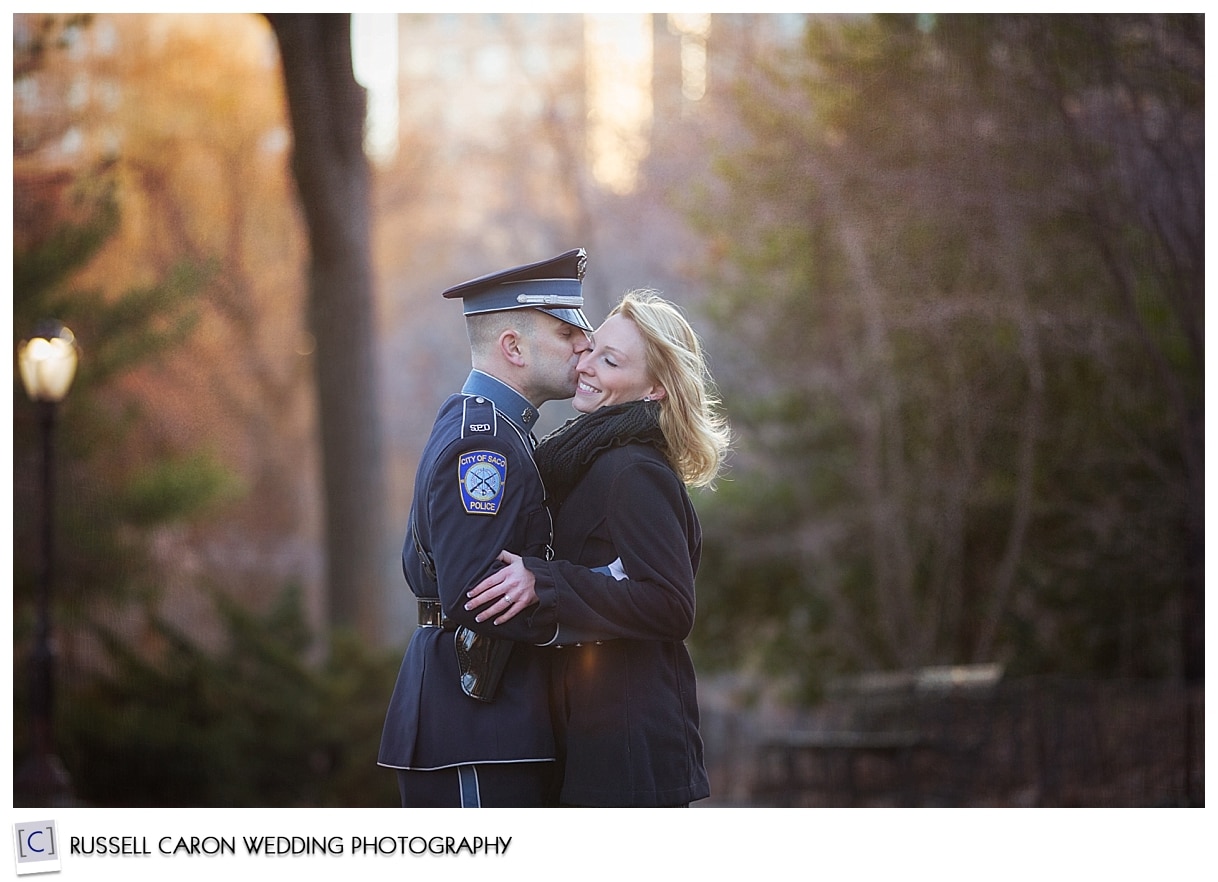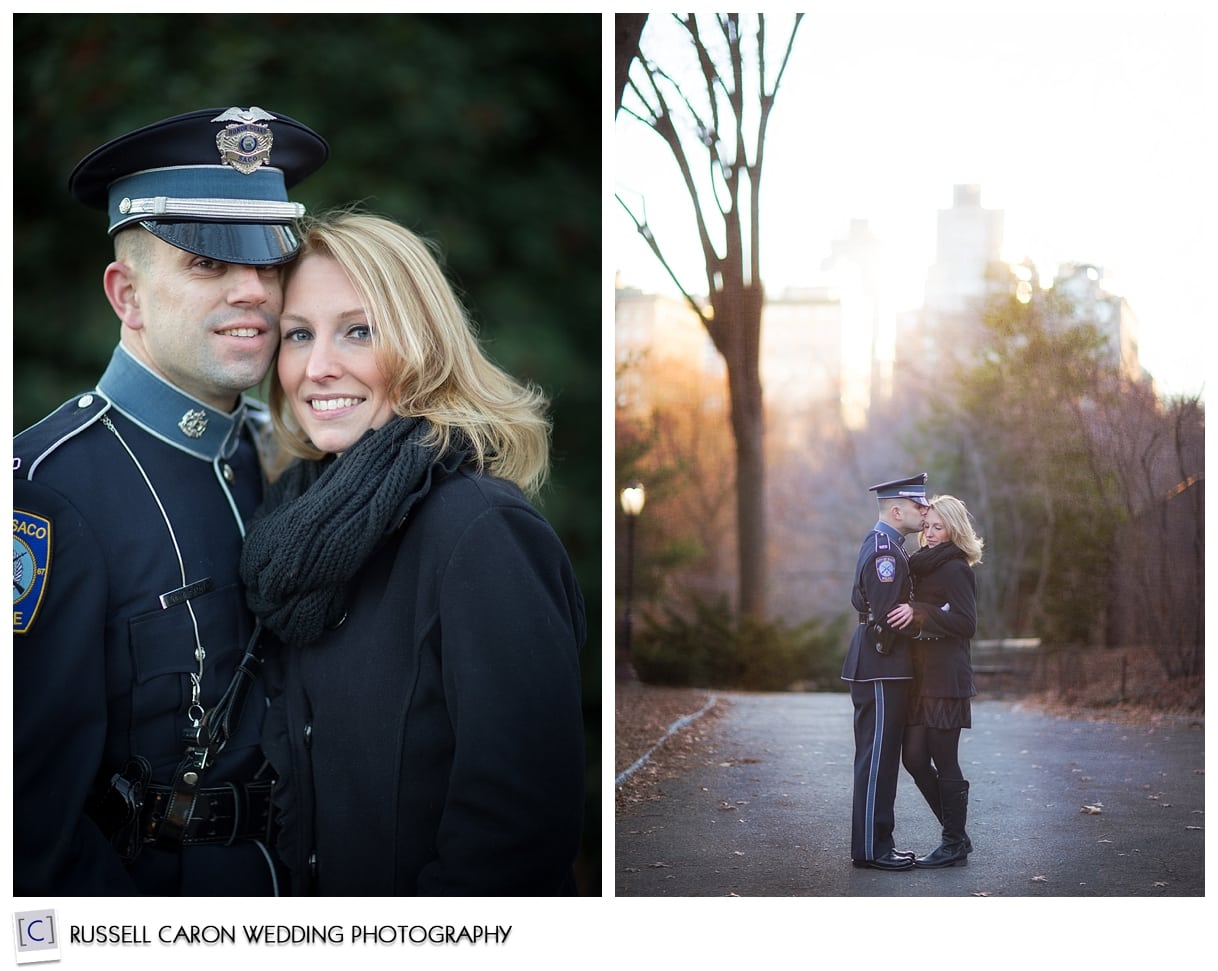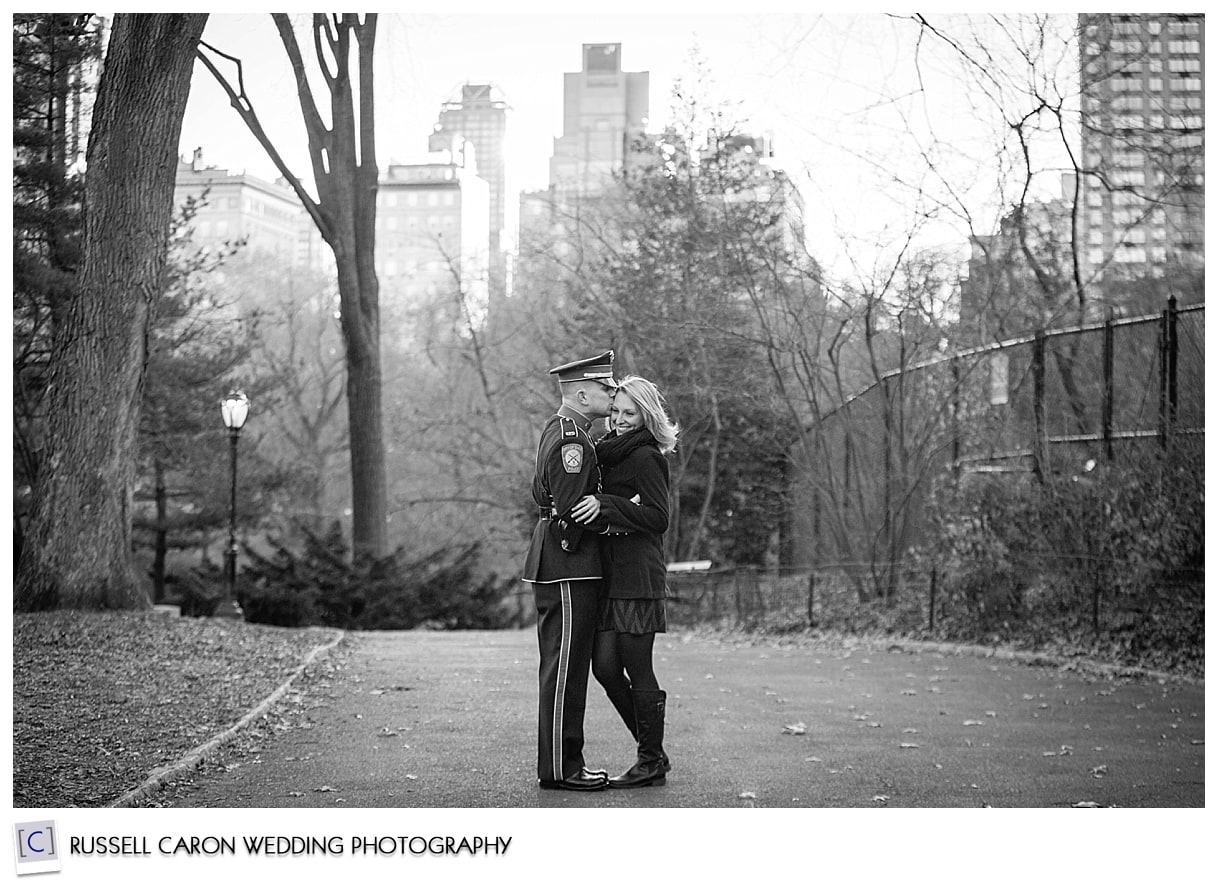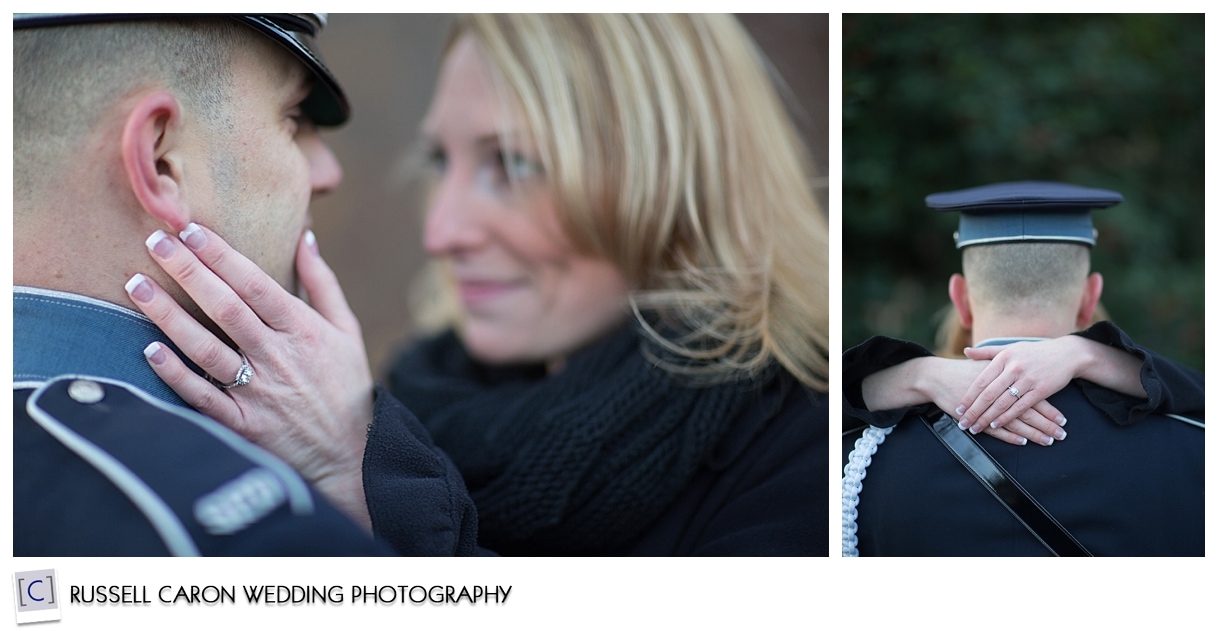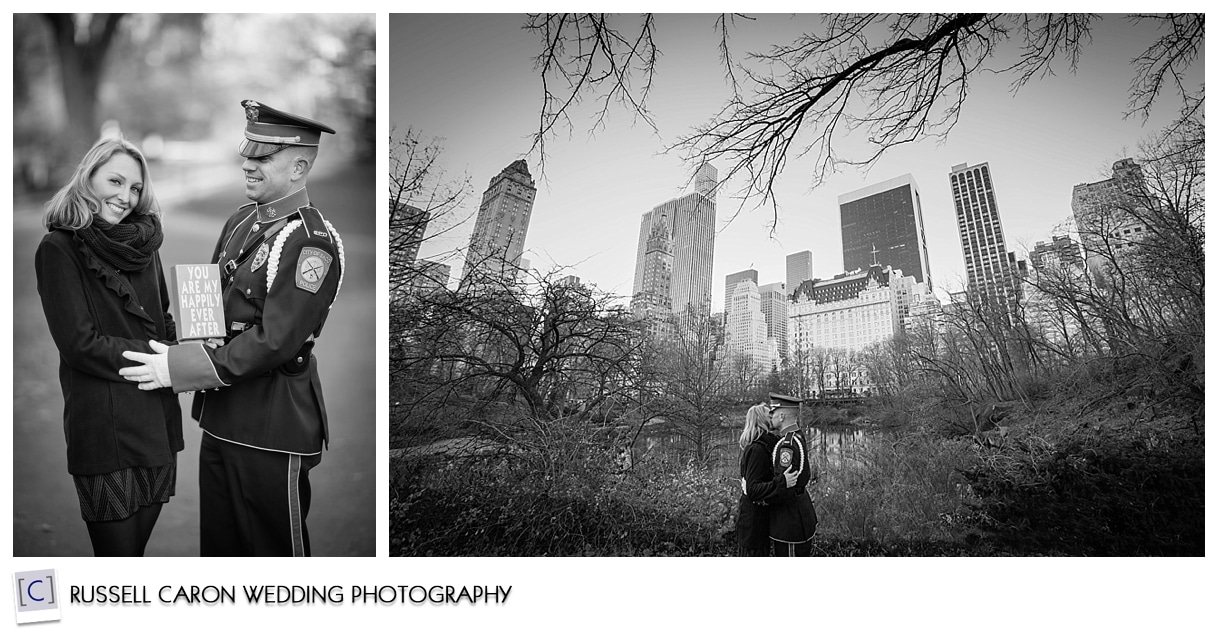 A quick little dance foreshadows what fun their first dance at the Westin Portland Harborview in October 2016 will be!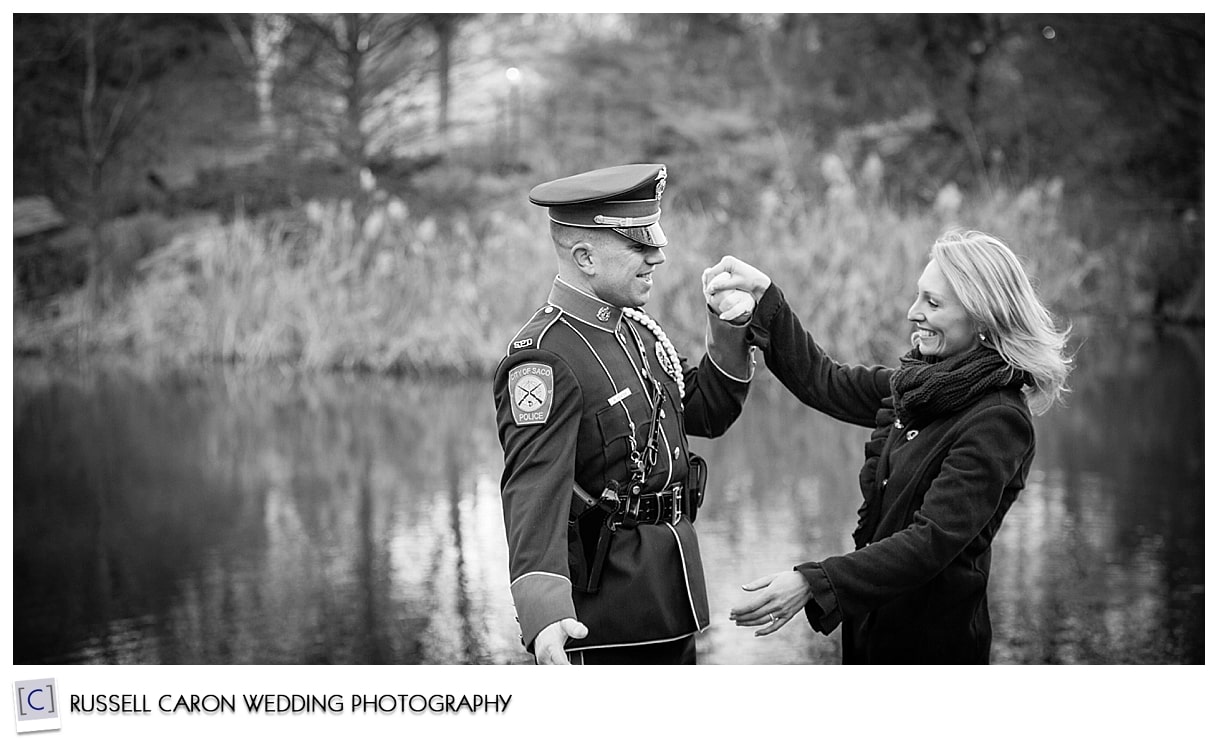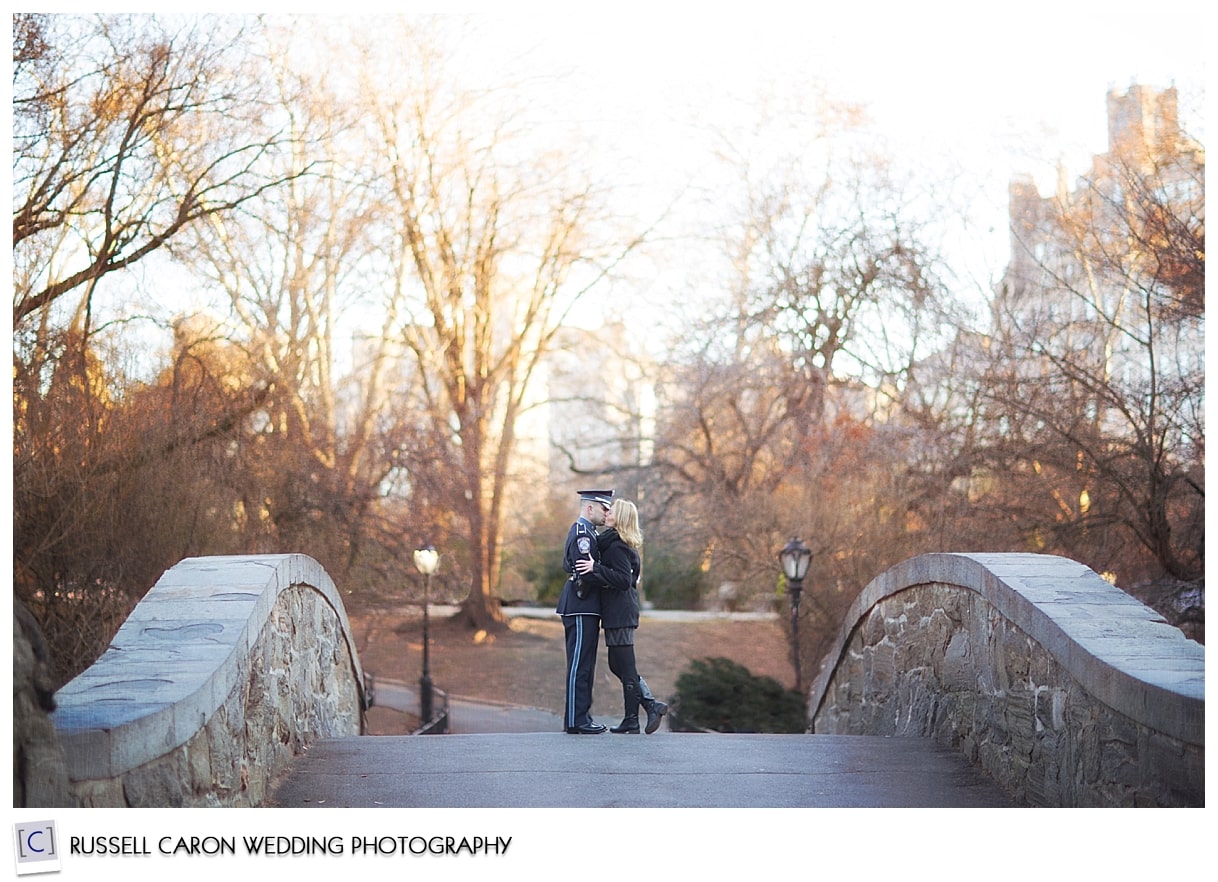 We love comments and shares. If you enjoyed our post on Jessica and Mat's NYC proposal and engagement, please let us know by commenting below, and/or sharing this post. Thank you!!
Maine wedding photographers, Russell and Liz Caron of Russell Caron Wedding Photography, put the fun into wedding photography for Maine wedding couples. Feel the love as this dynamic pair effortlessly capture each of your cherished moments, producing natural poses and unparalleled art for your wedding day. Russell Caron Wedding Photography will photograph weddings at any destination you can think of! For more information, please contact us right away!