Memorable Wedding Moments
We've finally reached the top three memorable wedding moments of 2015!
It's Monday, December 28, 2015, it's time for #3 of our memorable wedding moments of 2015!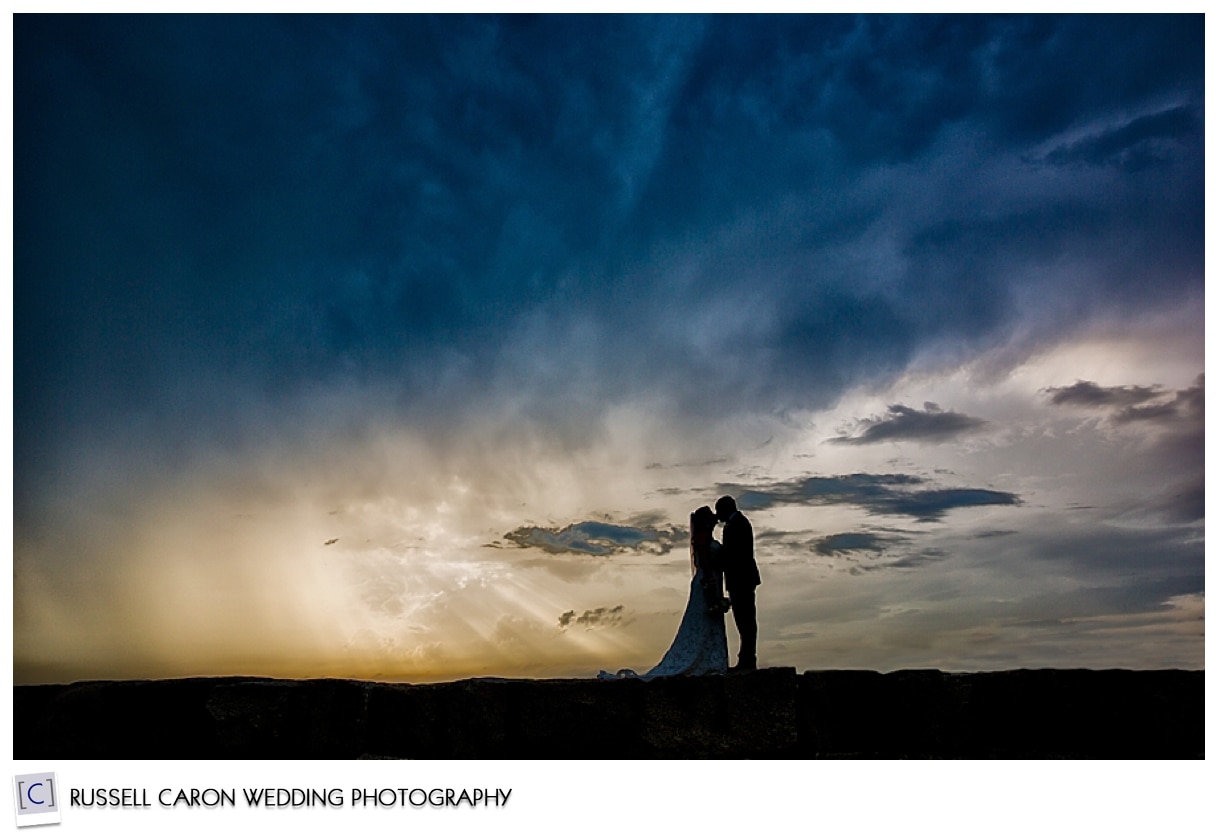 #3
Kristin and Gregory had a wonderful August wedding at the Nonantum Resort in Kennebunkport, Maine. It had been raining overnight preceding wedding day, and though it cleared a couple of hours before the wedding ceremony time, the ground was just too wet to allow their ceremony to be outdoors as originally hoped and planned. The great part is that there was no problem with Kristin and Greg when we asked to out and about for a few minutes during the cocktail hour and grab some artistic photos.  What we weren't expecting (but we were ready for!!!) was a sudden drama in the sky, as the skies were still in the process of clearing. We were in the area of the breakwater at the Colony Beach area and just knew we had to get the new husband and wife into a certain place. Which we did. And this is what we got. It is of course, beyond dramatic and symbolic, a nice example of how wedding photography goes well beyond picture-taking when true art is made from the actual, real, unscripted ingredients that present themselves to us on wedding day. Though only one of us took this shot, of course, it needs to be mentioned how important it was to have a second shooter; Liz had been with them moments before, fluffing Kristin's gown and ensuring that Kristin and Greg were not too close together as she realized that it would be a silhouette we'd end with based on the dramatic backlight. It is for sure our #3 top favorite wedding image of the year. View our favorites from Kristin and Gregory's Nonantum Resort wedding!
Photograph by: Russell Caron
#2 of our memorable wedding moments is here tomorrow! Do you have any idea what image may be our #1 choice for the year? Leave your guess in the comments, below!
Kennebunkport Maine wedding photographers, Russell Caron Wedding Photography, puts the fun into wedding photography for Maine wedding couples. Feel the love as this dynamic pair effortlessly capture each of your cherished moments, producing natural poses and unparalleled art for your special day. For more information, please contact us right away!