Maine Wedding Photography 2017 Honorable Mentions | Top 17 of 2017
We recently selected our favorite 17 wedding images of 2017, from the pool of hundreds of candidates. Accordingly, we had to leave all but those 17 on the "cutting room floor". The thinking is it would be great to sort through and show you the "honorable mention" images. Here we present, in no particular order, our Maine wedding photography 2017 honorable mentions!
(Below)
Danielle and Rob walk back toward their reception at Newagen Seaside Inn in Southport, Maine at their June wedding. This image was taken on the same dock as the image that was our #1 favorite wedding image of 2017. You can see that image at Maine drone wedding photos. We love the tranquility, sky, and composition of this shot. Photo by Liz Caron.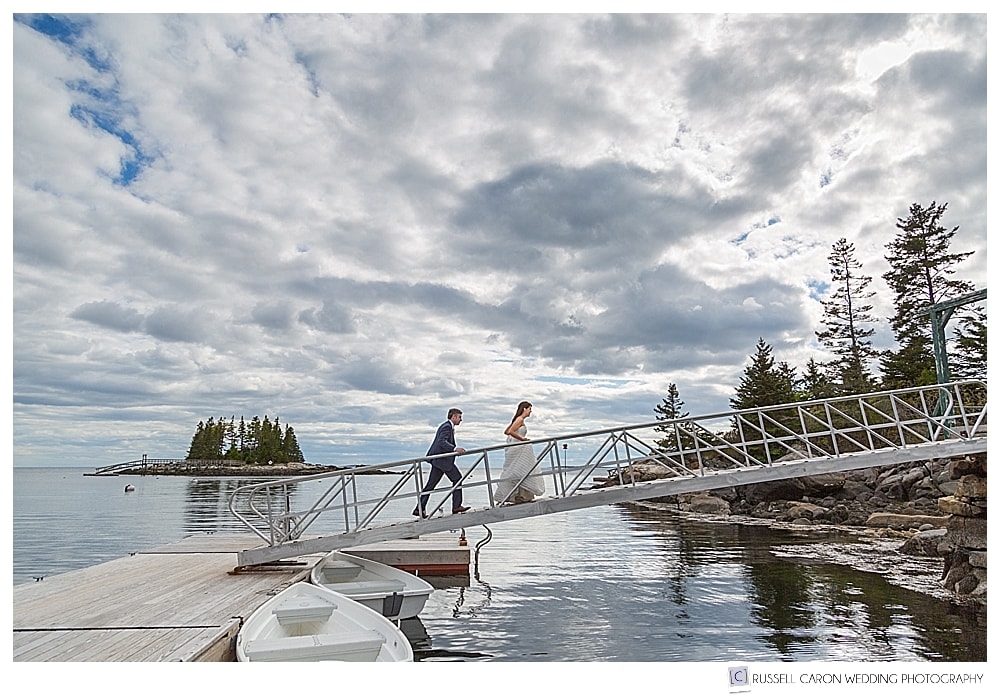 (Below)
It's a good thing we don't restrict the number of honorable mentions from any one wedding. Because, very much realistically, we ended up with four (!) from Meredith and Chris' November wedding. It was a seasonably chilly November day but that didn't stop this fun couple from doing outdoor photos with us. On the way to Camden we spied this still-October-looking pastoral setting. Certainly, we knew we had to swing in for this artistic portrait.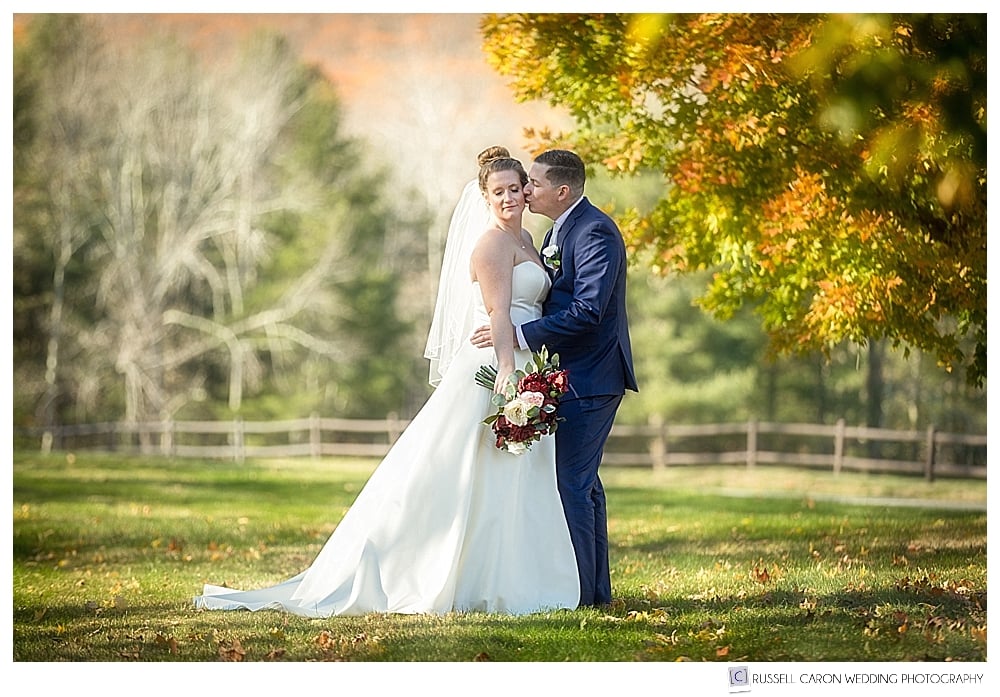 (Below)
OK, well. Emily and John's Real Maine Wedding of the Year also generated its share of multiple appearances in this collection. This is one of three in this post. Emily and John won the Real Maine Weddings Magazine $100,000 Wedding of Year contest for 2017. We were so honored to be on their photography team. Here, Emily and John ride on a golf cart as we whisked them away for sunset photos. The location was Peaks Island, Maine, part of the city of Portland. It was a fantastic wedding from all the preliminary parties right down to the sparkler exit from the Inn on Peaks Island. A perfect contender for our Maine wedding photography 2017 honorable mentions!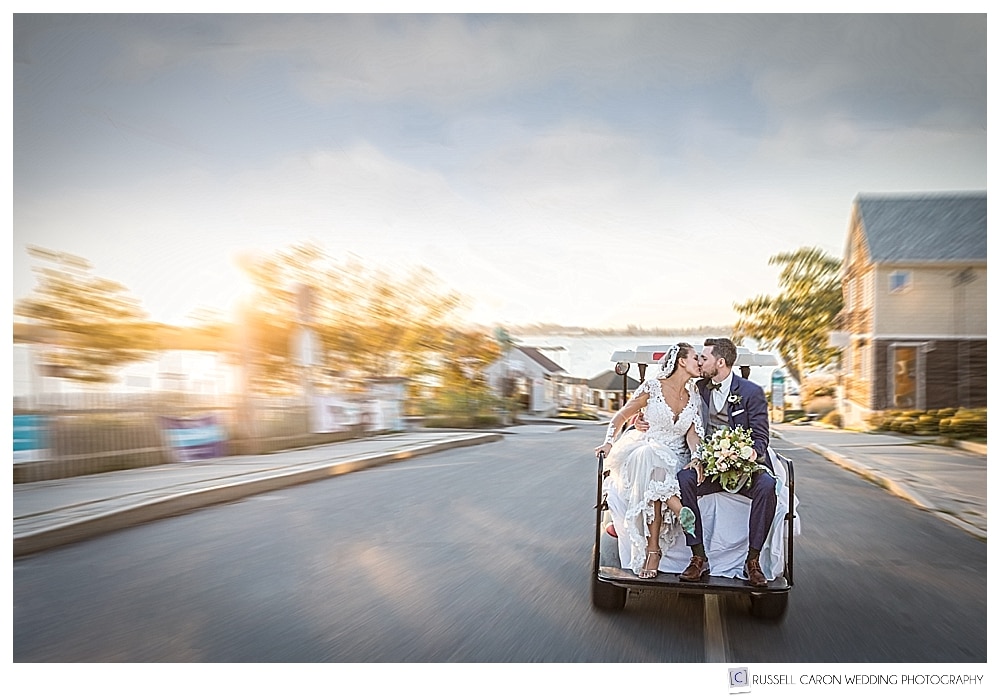 (Below)
Could Kelsie have a more precious expression upon seeing Dan turn around to first see her in her gown during their wedding day first look? We think not. It's a beautiful bride at a beautiful moment. Liz Caron photo.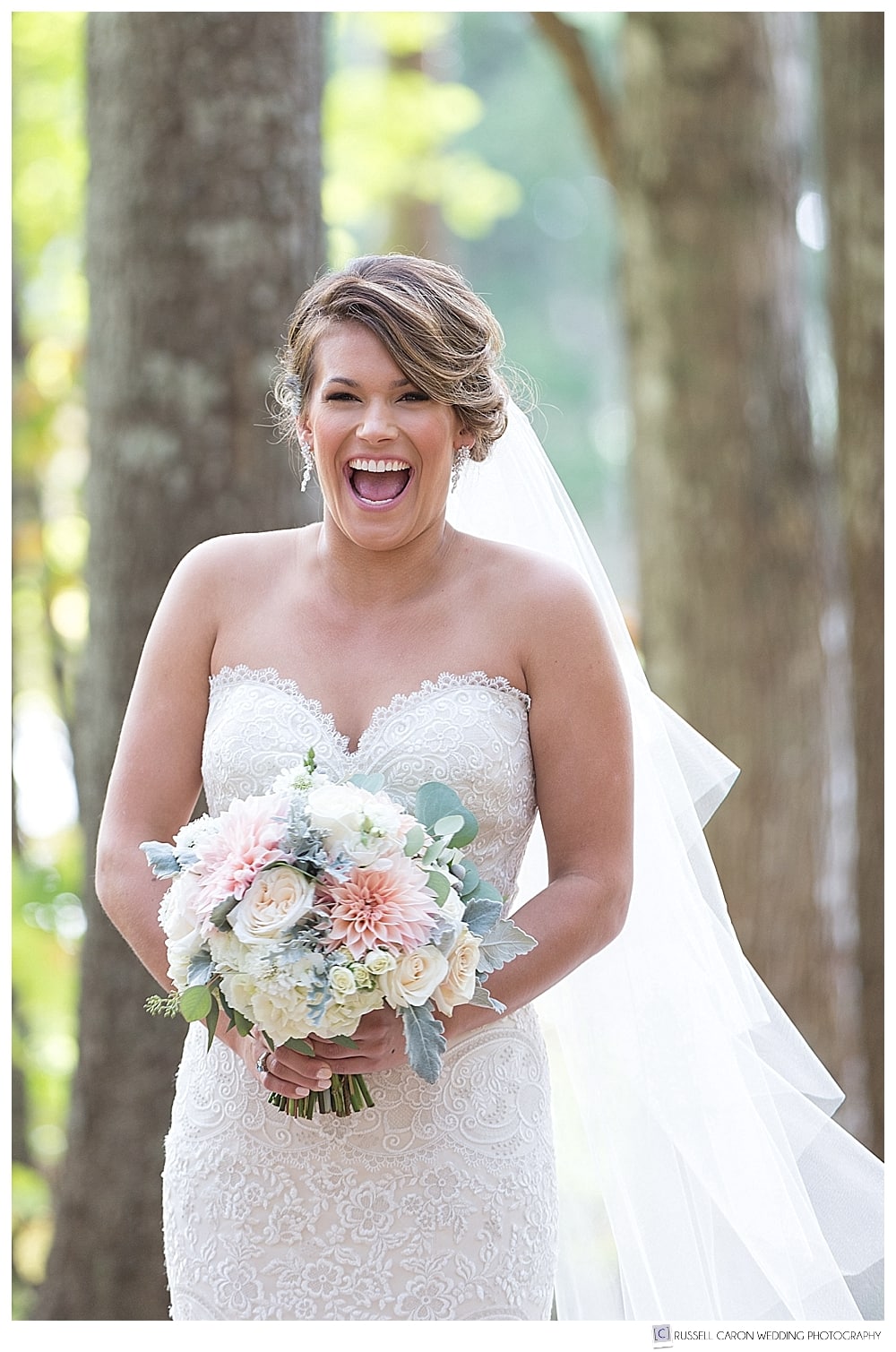 (Below)
Here again are Meredith and Chris in Rockland, Maine at another artfully painted building wall in the city's downtown art district. It was cold, in the shade, in November, but that didn't hinder the couple's willingness to have fun making some great photos with us. The colors and abstract playfulness of the wall as Chris leads Meredith up the street made this a top favorite of the year for us.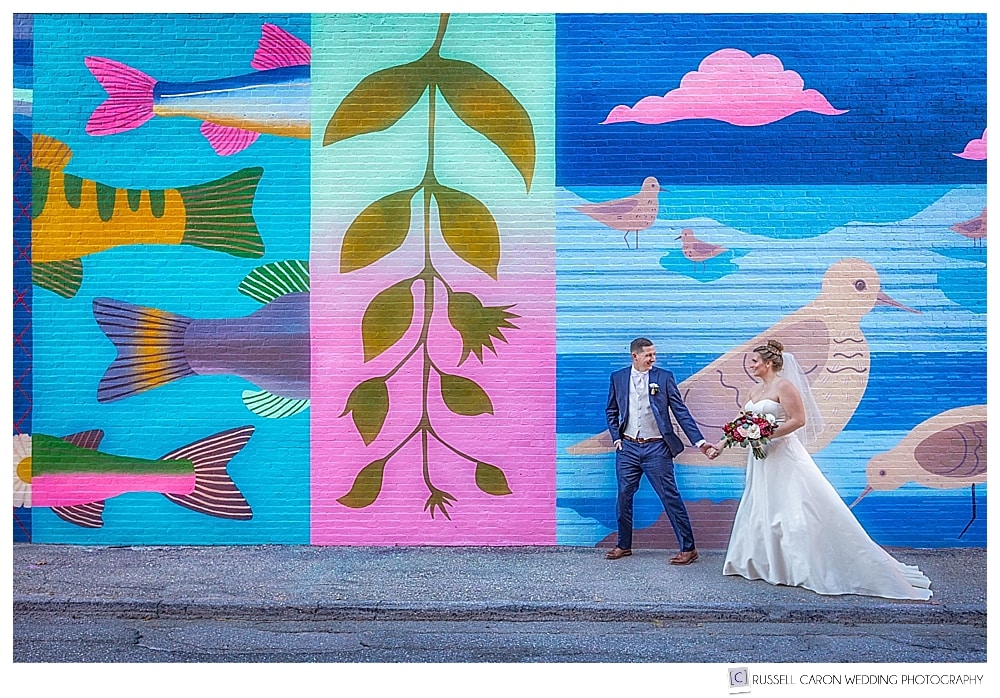 (Below)
And another from the Real Maine Wedding. When you've won a $100,000 + value wedding, what could be a more fitting way to gracefully begin to wind down the festivities than with a sparkler exit? With everyone moving outside for a few moments, Emily and John radiate their joy through an archway of sparklers to the enjoyment of their guests.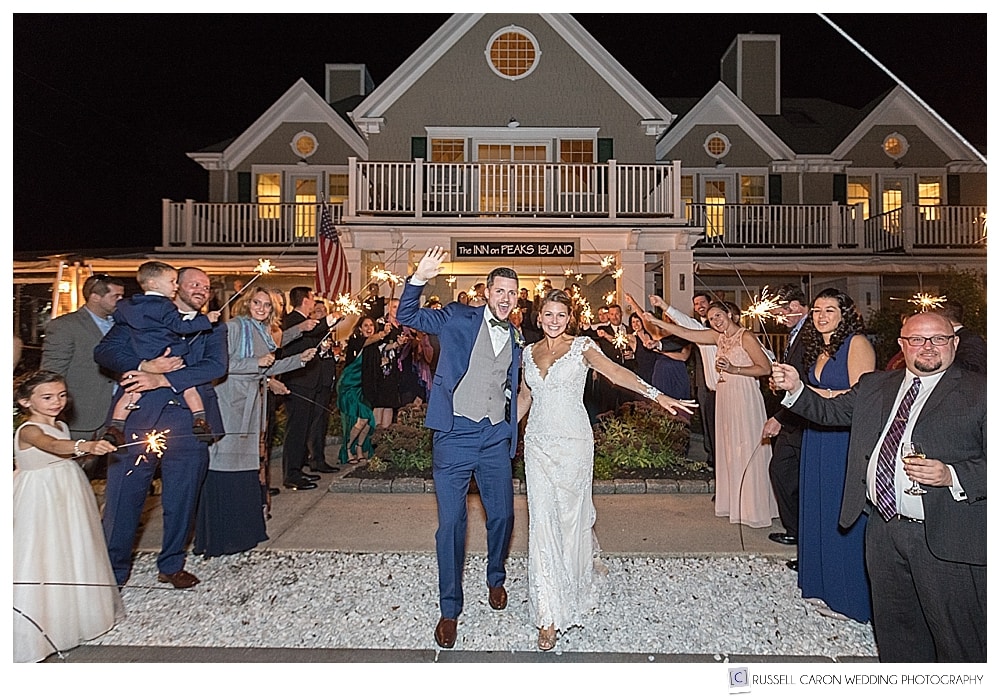 (Below)
Earlier in the day, Emily arrives at the Peaks Island church for the Real Maine Wedding of the Year in a golf cart driven by her sister. What fun in this photo, captured by Liz Caron.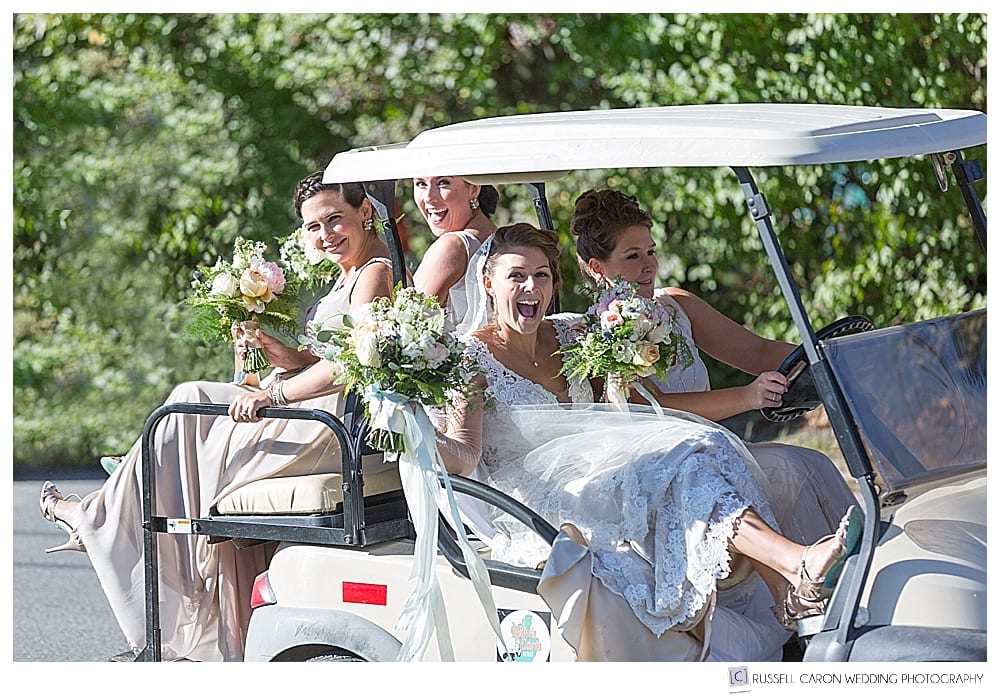 (Below)
A beautiful June wedding at Point Lookout Resort in Northport, Maine. The resort's private beach on the shores of the Atlantic Ocean was the backdrop. Accordingly, Anna and Chris's wedding party enjoys some tug-of-war fun before their May wedding ceremony. Such a fun wedding party and just about the sweetest couple we could have worked with!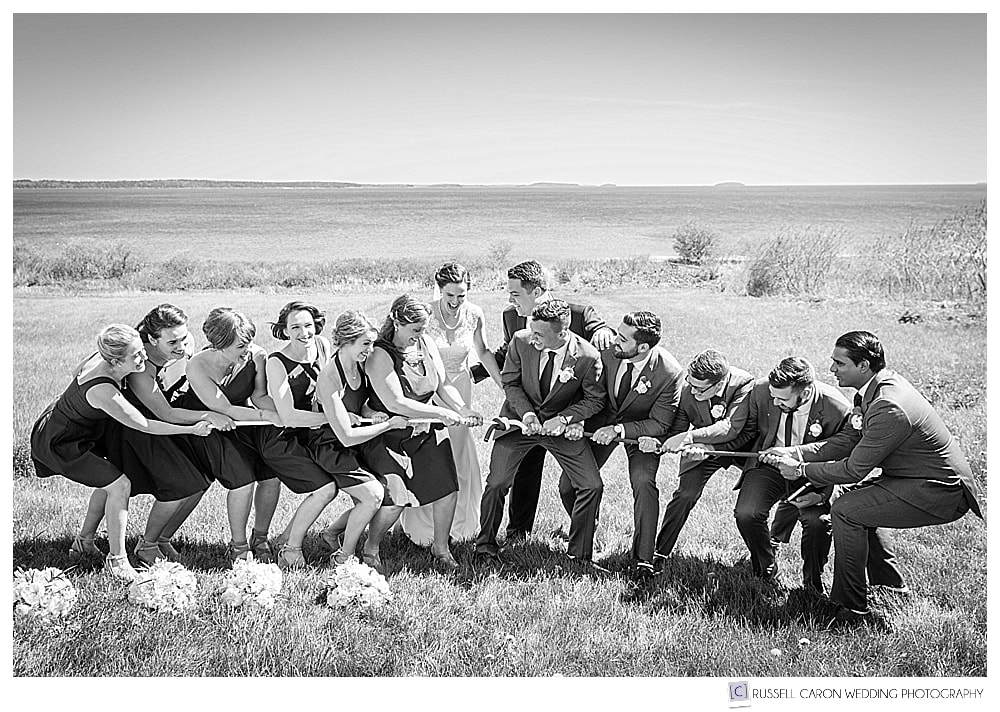 (Below)
Renee and Anthony walk into some beautiful rays of light at the summit of Point Lookout Resort in Northport, Maine, fitting for such a beautiful couple and beautiful wedding last September.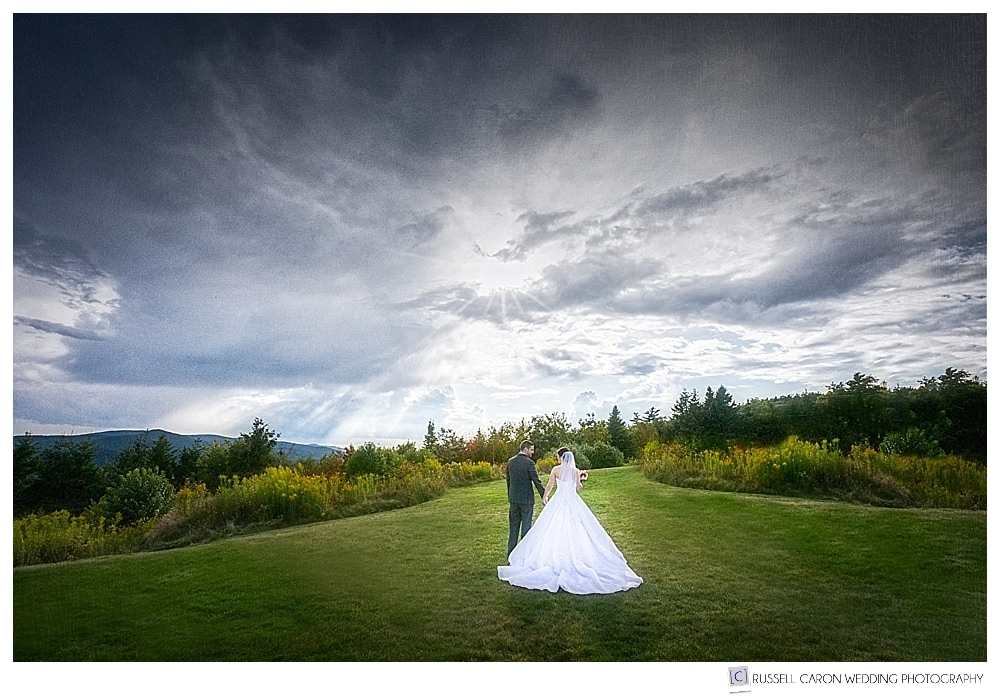 (Below)
While we're on the topic of Point Lookout Resort, here at Anna and Chris' May wedding, we flew the drone up to get a sunset shot over the Camden Hills and the sun flare, for that fleeting moment, struck the drone camera lens and gave us this ethereal effect.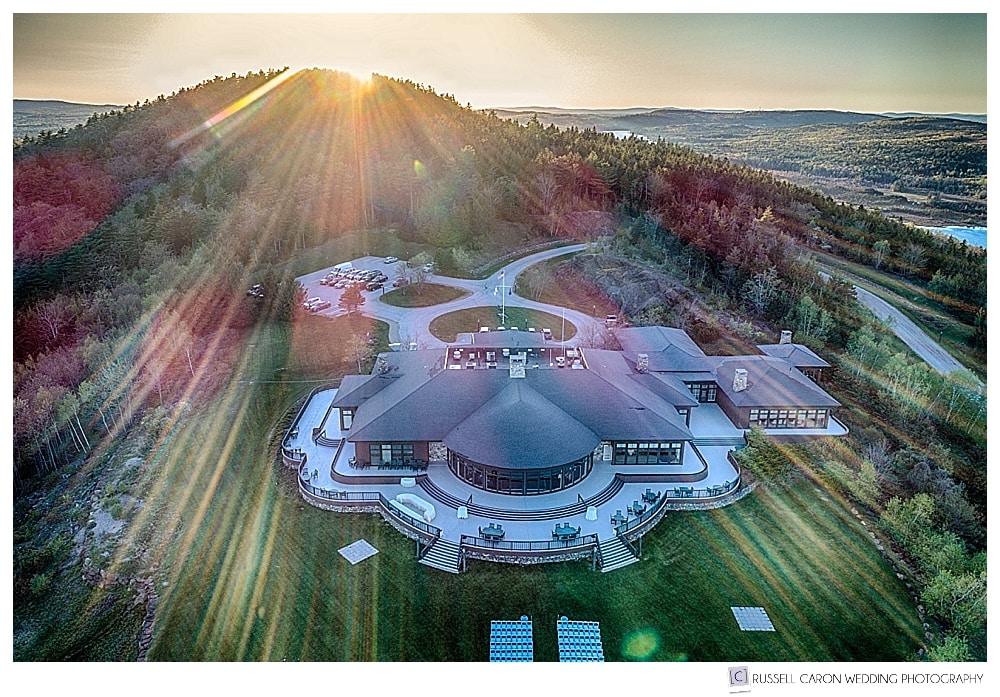 (Below)
Anne and Bryan share a quiet kiss in the vast expanses of Anne's family's Parlee Farms in Tyngsboro, MA in August. Fields of fruit, berries, and wildflowers, and an outdoor tented ceremony brought Anne's family life and childhood farm together for her wedding day with Bryan. Photo by Liz Caron.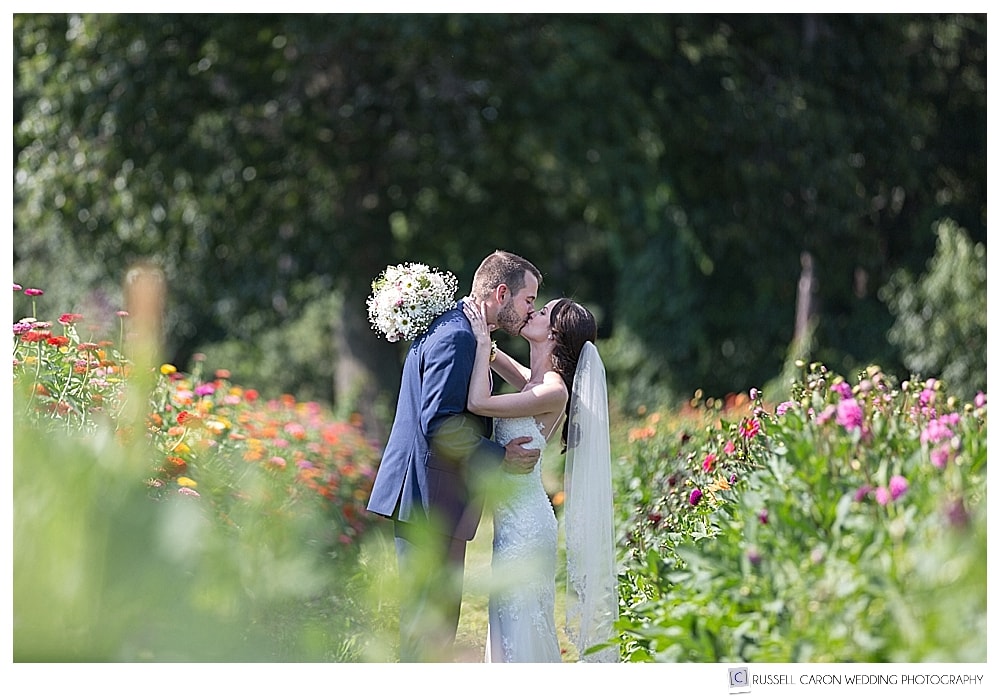 (Below)
Environmentally-friendly balloons reach skyward from Point Lookout Resort at Meredith and Chris' November wedding, in signifying wishes for Make-A-Wish. It was a beautiful and memorable, if not chilly, moment for all the guests and Meredith and Chris. Photo by Liz Caron.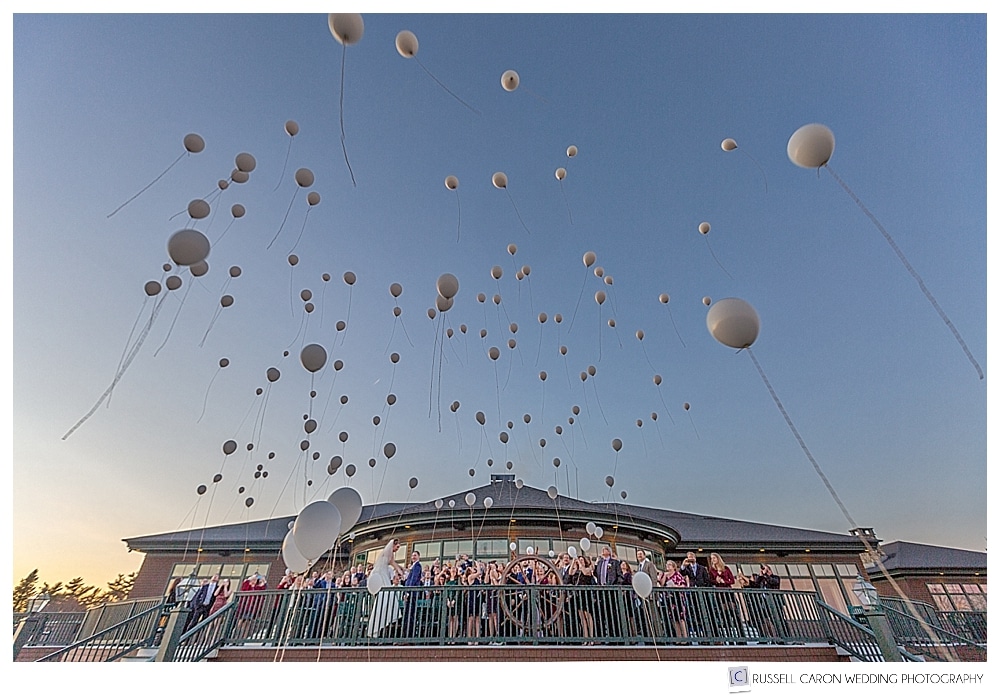 (Below)
Jacqui and her stunning looks, with an air of princess-like peacefulness and quiet was one of our top favorite bridal portraits of the year, for sure.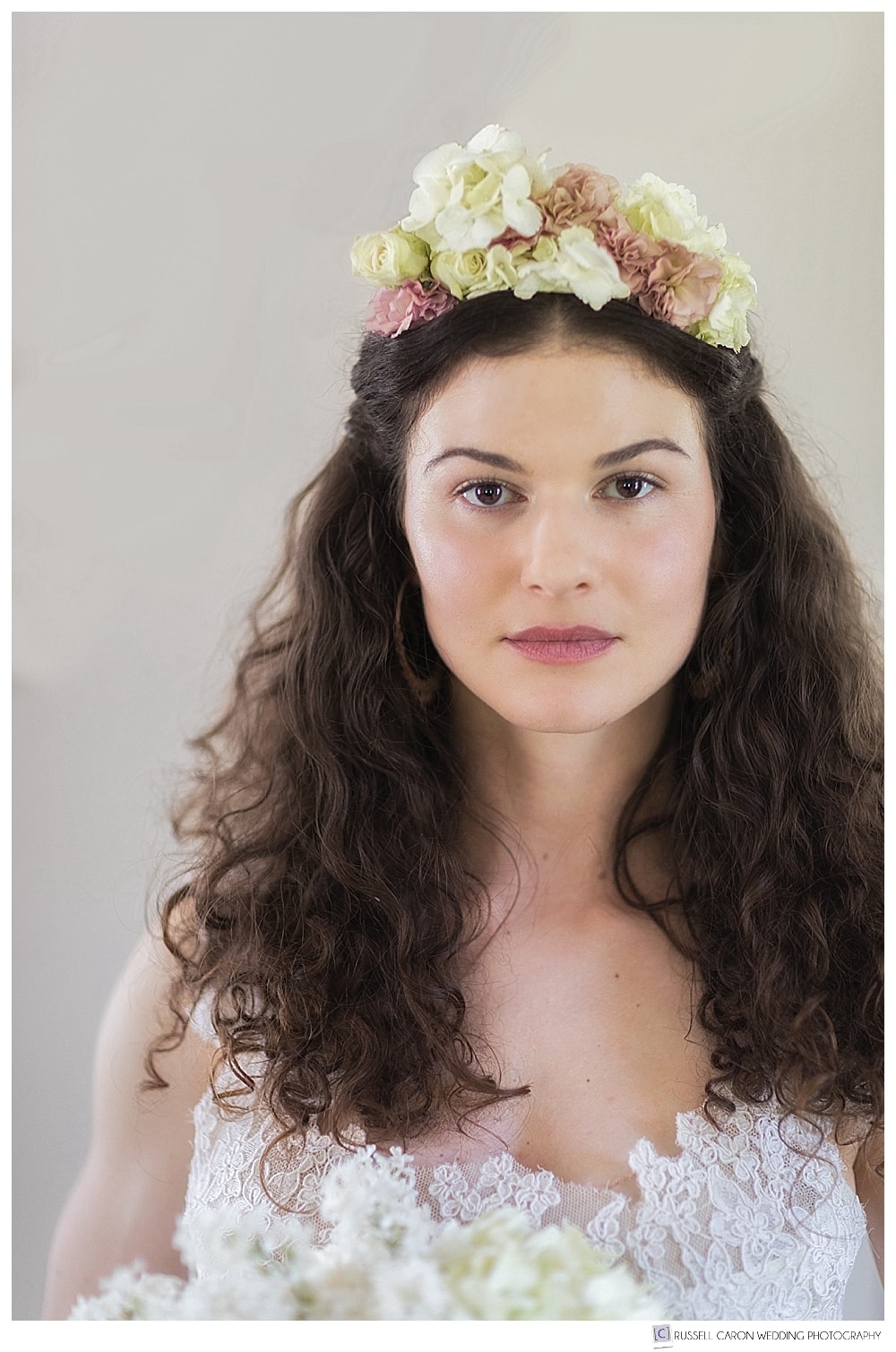 (Below)
There isn't much that excites us more than fog (as long as it's not too much fog, that is!) along the coast of Maine. Mike and Kristina had a dreamy walk along the shores near Point Lookout Resort at their mid-September wedding, That dreamy walk made for, appropriately, a dreamy photo that made our honorable mention list hands-down.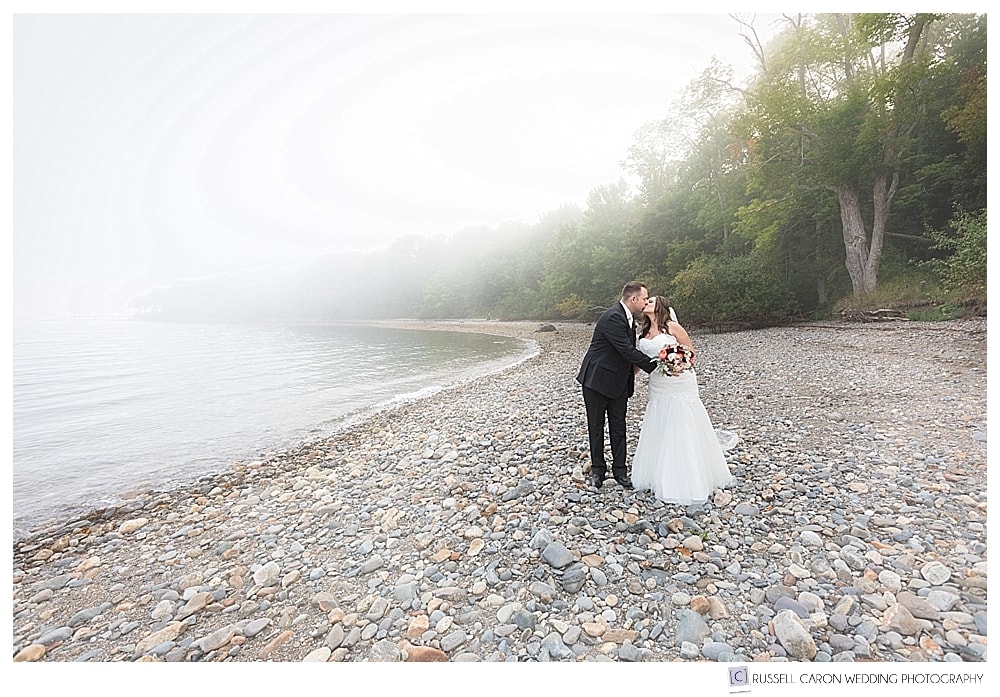 (Below)
Speaking of dreamy, how about a bright sunny day at Acadia National Park with some fog and mist in the near distance? Kristen and Sean's day in July brought it all together for us. As we were driving in the park and we came to this spot, it didn't take us long to stop, grab the right lenses, and direct them to that just-right spot. We have another, very different, photo in this collection of honorable mentions a little further below. Kristen and Sean also made two appearances in our Top 17 images of the year countdown. You can check that out at best Maine wedding photos 2017.

(Below)
Meredith and Chris agreed to one more shot on their cold November day. This one is from our drone in Camden Harbor, at a pristine dock with a very iconic lobster fishing-type boat in the harbor. The water color looks very different from straight up, and we love the long shadows.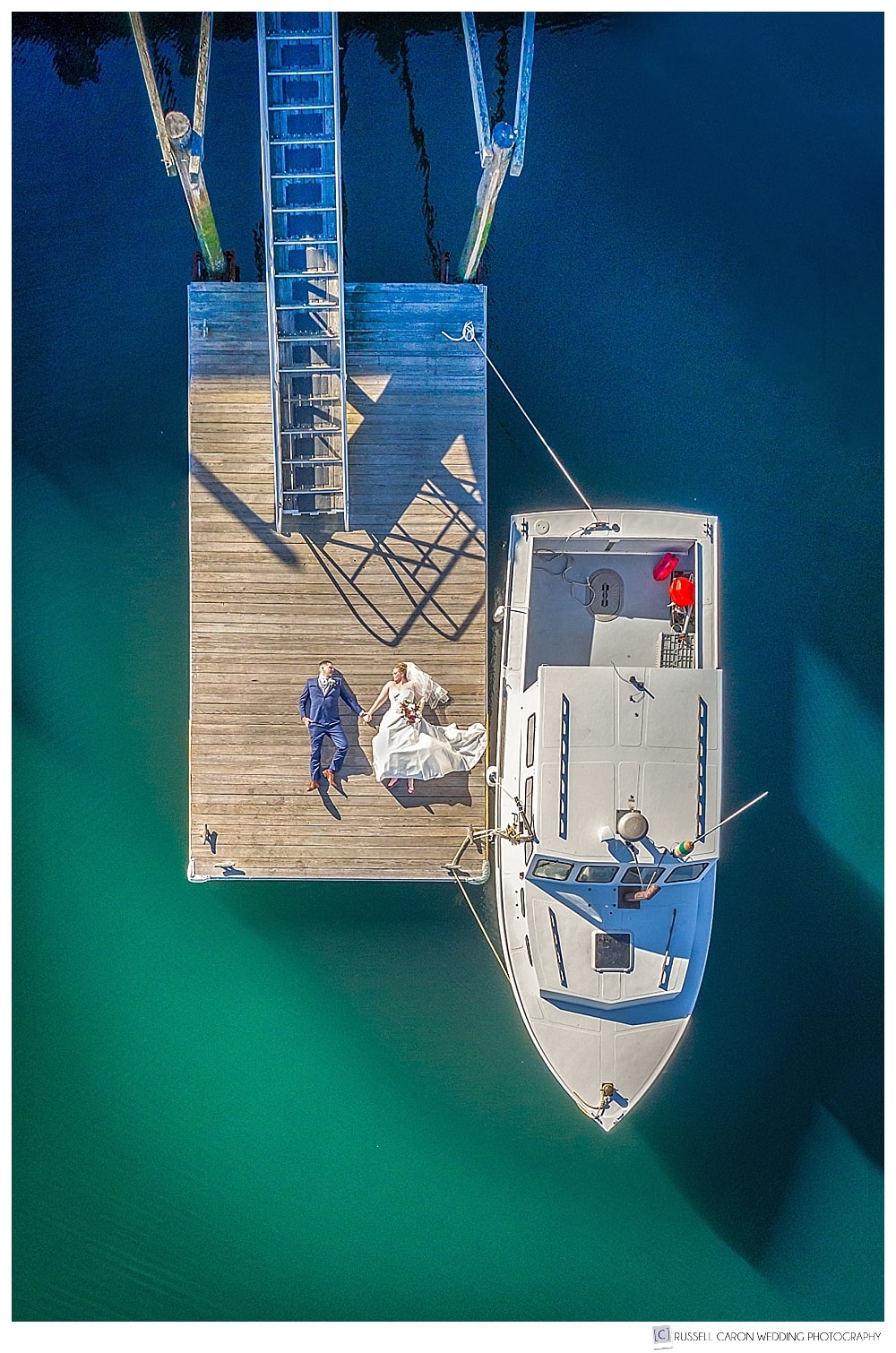 (Below)
From Acadia National Park with Kristen and Sean we headed to the Bar Harbor Club, their wedding venue. Being tennis fans, we thought it most fitting to get this clay-court shot, again using our drone. How's this for a new perspective on things?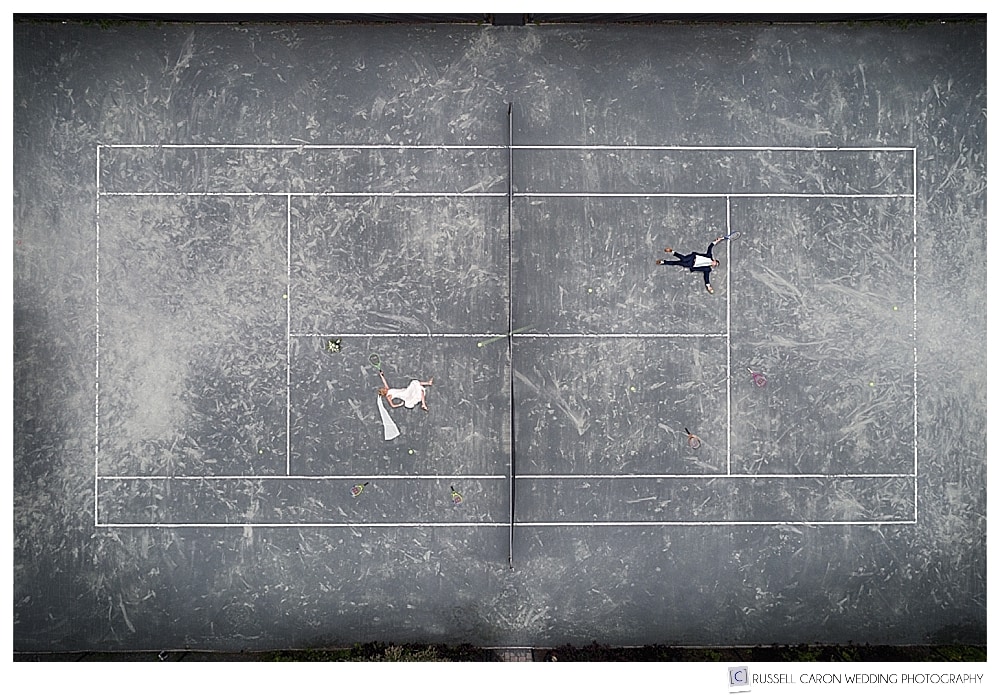 (Below)
Eliza and Nick married at Nonantum Resort in Kennebunkport, Main. But not until after we had time for some fun at nearby Goose Rocks Beach in the sand among kayaks and with our drone. A warm mid-July Saturday gave us everything we needed, along with great family and friends, for this, one of our favorites of 2017.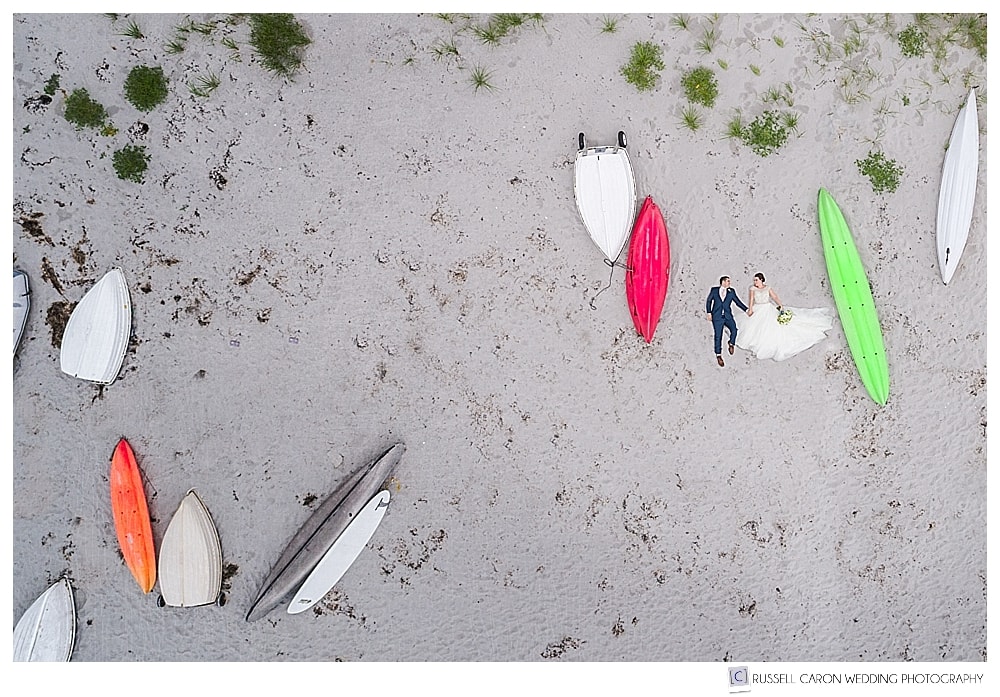 (Below)
A short while before Alex and Joey's wedding vows at Point Lookout in October, and as a bridesmaid continues to prep in the background, tears of joyous emotion begin to catch up with Alex and her mom. We love catching real moments like this as they will be looked back upon time and again for generations.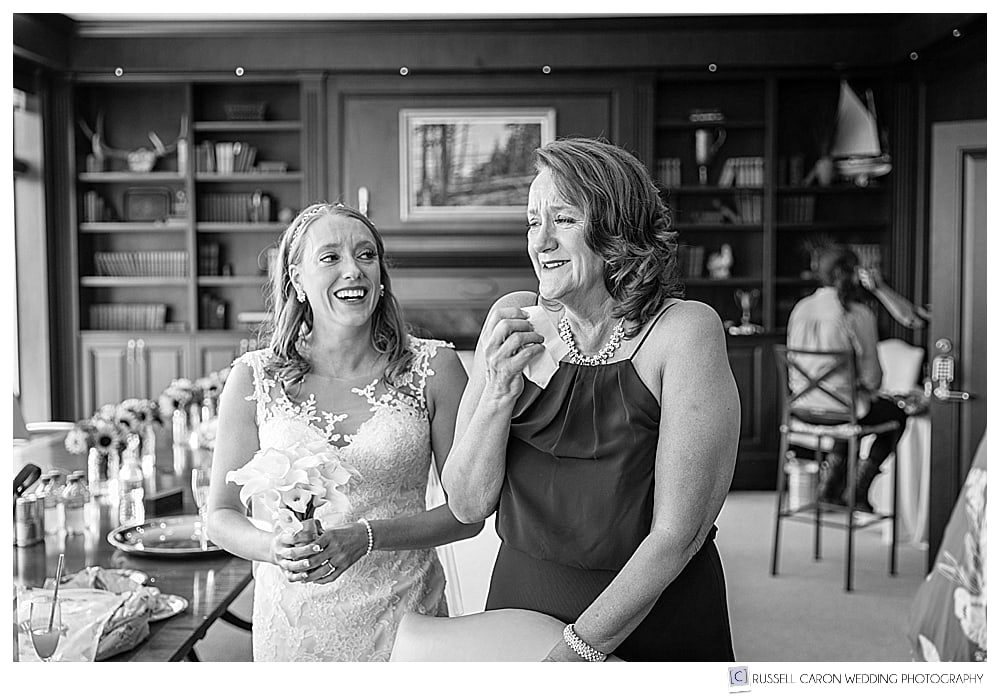 We hope you enjoyed our Maine Wedding Photography 2017 Honorable Mentions! Please comment on the blog post, and share!! Thank you 🙂
Maine Wedding Photographer of the Year 2016 and 2017 Russell Caron and his wife, partner, and co-shooter Liz Caron photograph weddings, and weddings only, from Boston to Bar Harbor and destinations worldwide. Let us tell you more about why choosing us as your wedding photographers could be one of the very smartest choices you'll make among your wedding day choices. Contact us today for more information and our availability for your wedding!