2017 Favorite Maine Engagement Images
In no particular order, we present to you, our 2017 favorite Maine engagement images! We started with about 125 candidates. From there we narrowed the group down to the most memorable, the most fun, the most artistic… or the most love we felt from, with, and by the image. Whatever that all means. Here they are, with a brief sentence or two on why we loved the images as we did: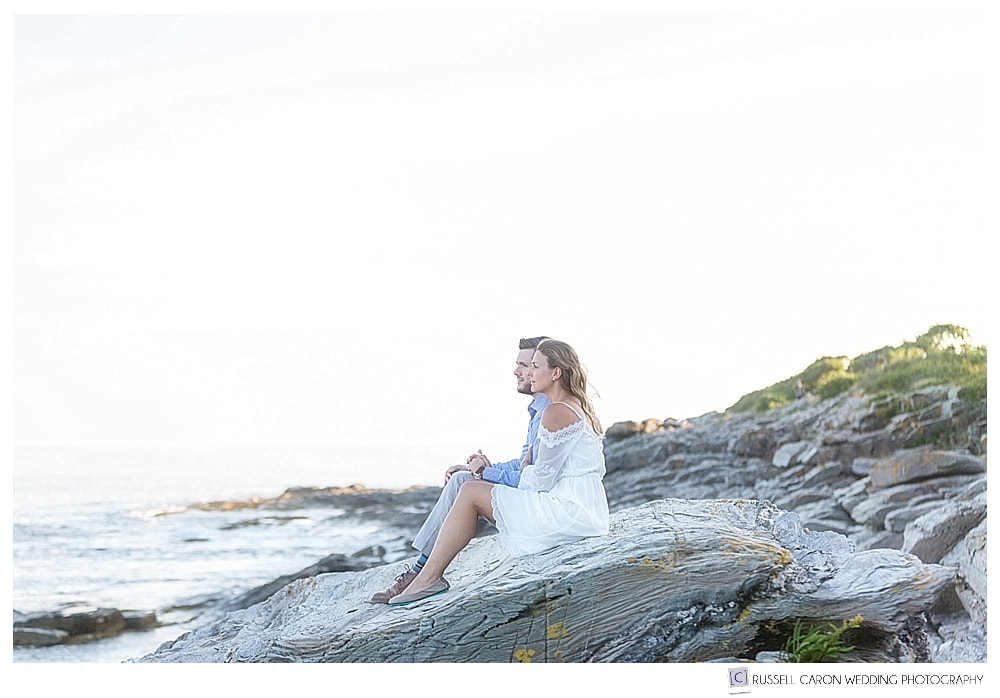 (Above)
We love the tranquility, softness, and the fitting look of anticipation into the future with Emily and John during their late August engagement session at Two Lights State Park in Cape Elizabeth, Maine. Emily and John were the winners of the Real Maine Weddings magazine Real Maine Wedding of the Year for 2017, which occurred just about 7 weeks after this engagement session and spanned downtown Portland and Peaks Island, Maine locations. Photo by Liz Caron.
(Above)
On a very warm late August afternoon at Bowdoin College in Brunswick, Maine Elizabeth and her fiancé Scott came down from their suburban Boston home for their engagement session. Elizabeth is Liz' daughter, and since it is me, Russ, writing this I can say that I well know where Elizabeth's very fun-loving attitude come's from, if you know what I mean! Scott and Elizabeth will be married in September at Lynch Park in Beverly, MA, and we could not be more proud as her stepdad and mom. And also as her wedding photographers! Liz Caron photo.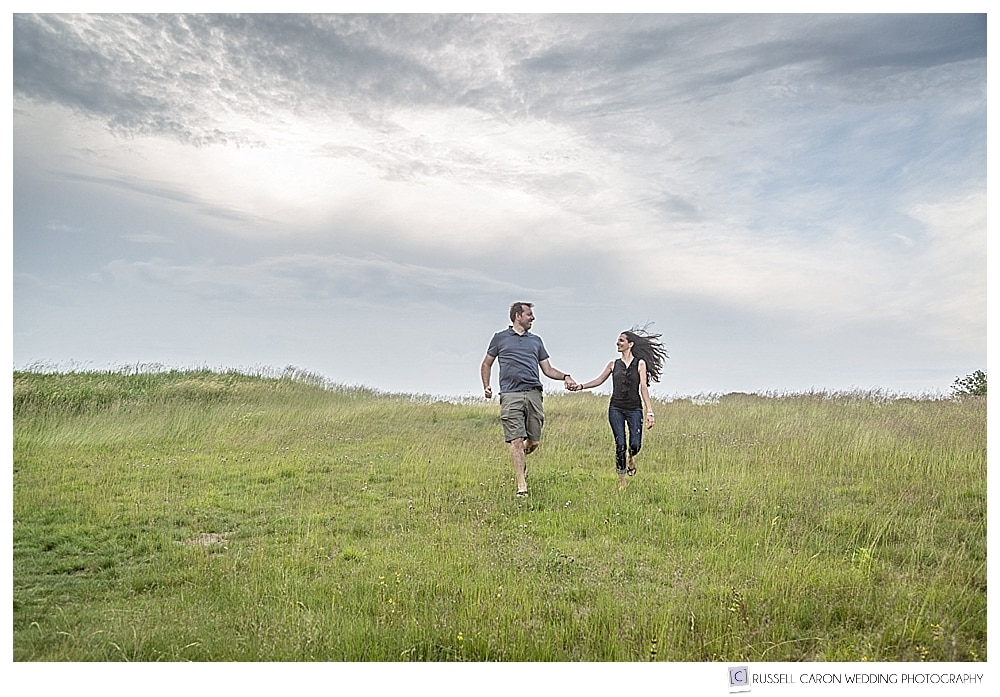 (Above)
Shila and Dan came to Maine from Boston on a cool June evening for their engagement session in Biddeford Pool. It was so fun to get to know them (and their cutest-dog-ever Rocky) before their September wedding at the Nonantum Resort. See their elegant Nonantum Resort wedding. Rocky has several cameo appearances! This very fluid image from their engagement session demonstrates the fun and love this scientists-by-day couple share with each other when they have some precious time off together. Another photo by Liz Caron.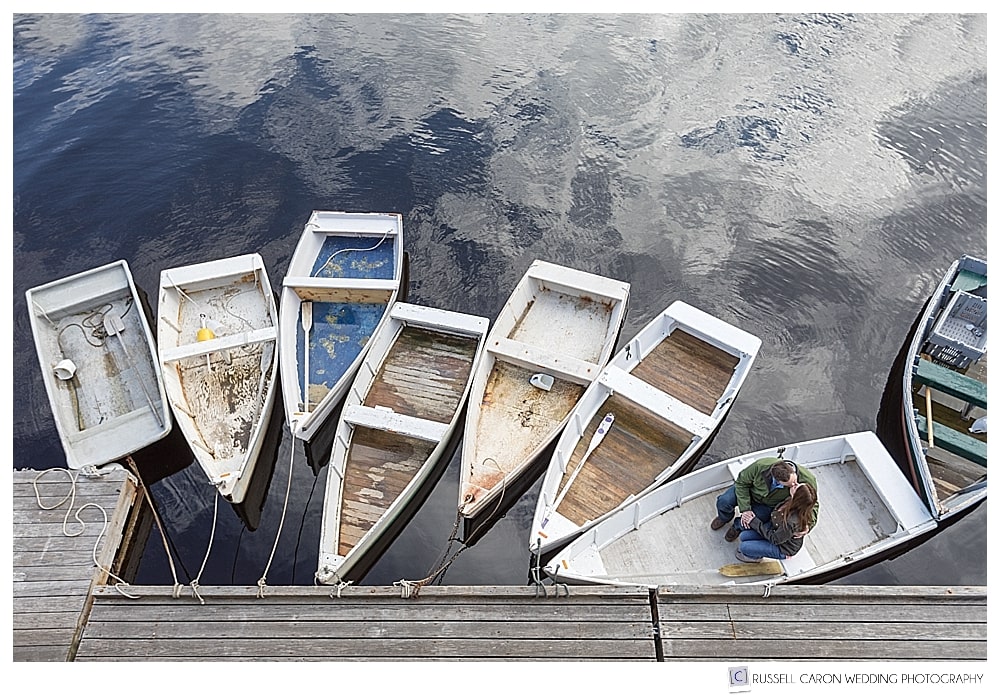 (Above)
We love our new drone, and 2017 engagement sessions were actually the first times we used it with our couples. That said, there will be a couple of drone images to show you, including the next one. But, though it may look like it was, this image was NOT taken from our drone. This is Laura and Ben at Perkins Cove in Ogunquit, taken from a dock looking down on the couple sitting for a moment in a skiff tied up at the dock. We like its geometry, simplicity, the fact that at first the and the view down on the couple this angle gave us.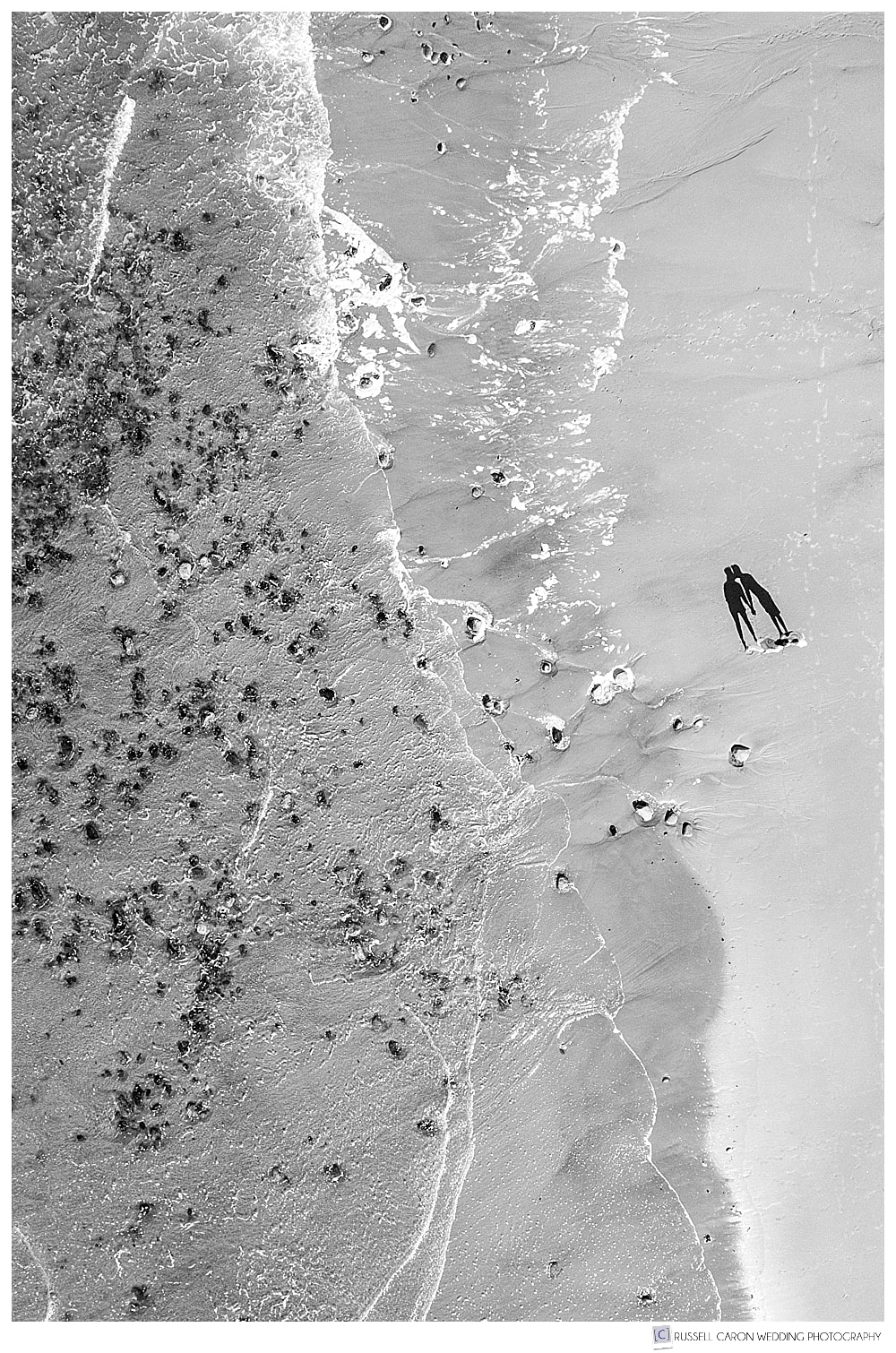 (Above)
Another drone image. Here are Kelsie and Dan, Parsons Beach, June. What we love about this image is that what you mostly see is actually Kelsie and Dan's shadow. This was taken from our drone a couple of hundred feet up, looking straight down on them. When it's time for the photo shoot and conditions give us harsh light, this is one of the tricks up our sleeve to help save the day.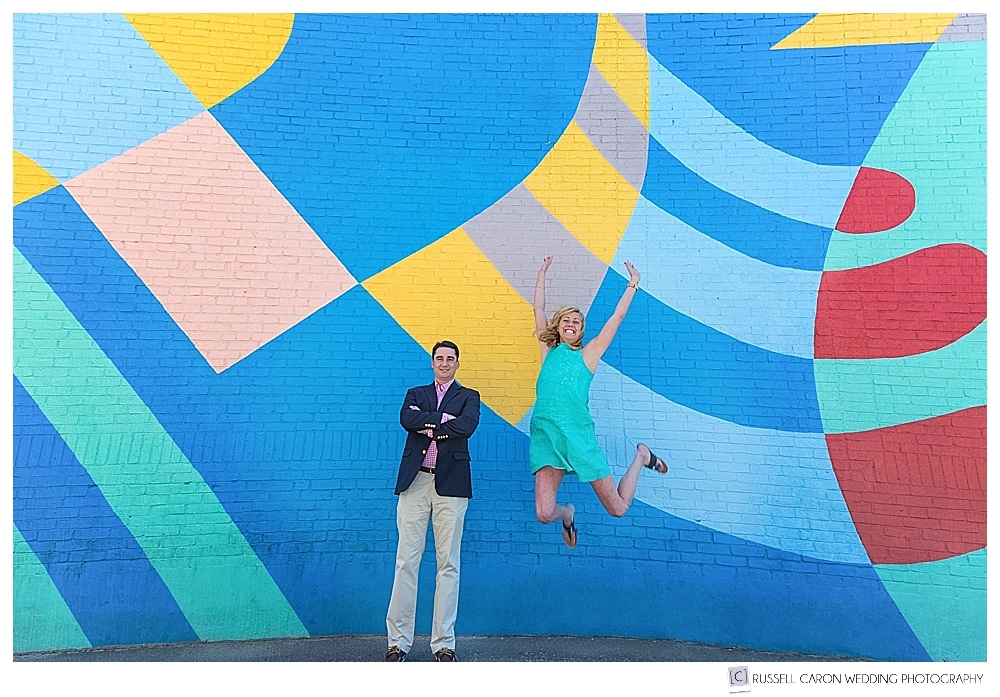 (Above)
Kristen and Sean didn't take much directing to result in shots like this. Actually they didn't need ANY directing. We just let them be. The results speak for themselves! Rockland, Maine, June 2017, photo by Liz Caron.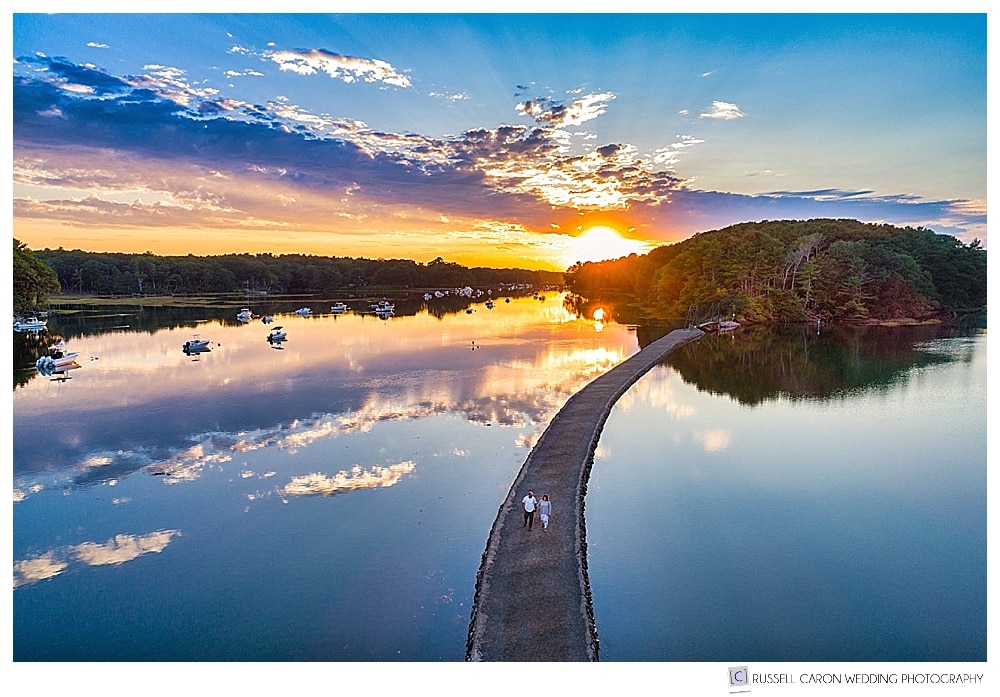 (Above)
While we started by saying that there was no particular order to our favorite images. But we'll admit that this one "may" have won its place at #1 if we had done that. It's Heather and Zack in York Harbor, Maine on the "Wiggly Bridge" walkway in September, about a month before their October wedding at the Union Bluff Hotel also in York. Time was of the essence during this beautiful sunset. We directed Heather and Zack to walk a way out, then turn around. I launched the drone amidst perfectly-still water and an explosive sunset sky. As a result, a definite 2017 favorite Maine engagement image!
(Below)
Finally, this last image is another of our top 2017 favorite Maine engagement images of the past year. Erica and Juan joined us in early July for an Old Orchard Beach engagement session. While we were not available to photograph their wedding, we had a wonderful time with them at this sunrise session. This photo speaks thousands of words and conveys the true love and emotion these two share. Photo by Liz Caron.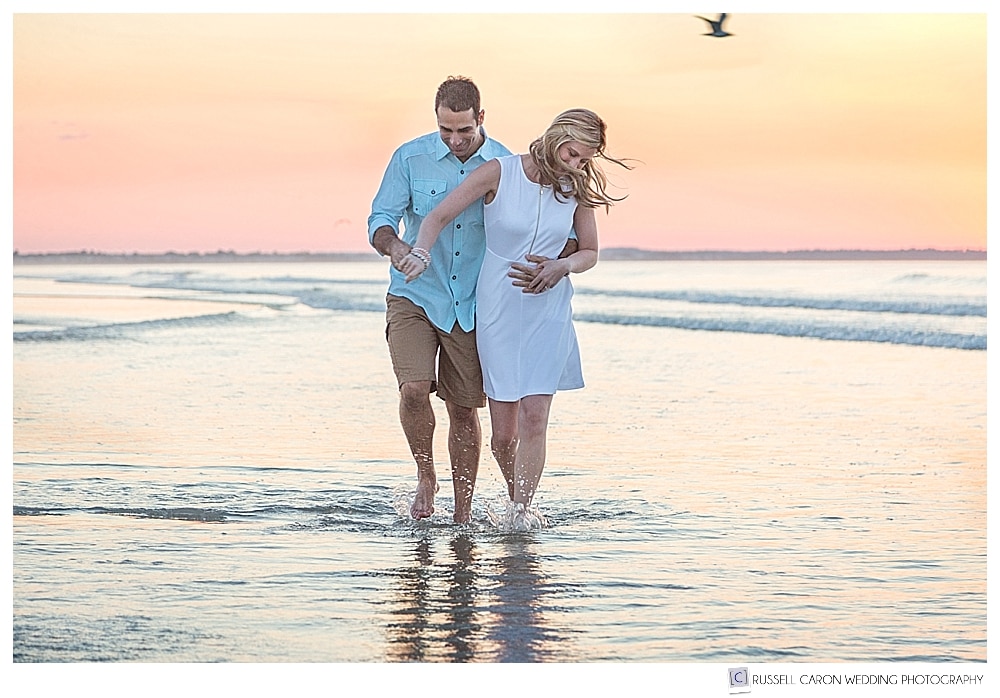 Thank you for reading our 2017 favorite Maine engagement images post. Please comment on the blog post, and share on social media!! Thank you 🙂
Maine Wedding Photographer of the Year 2016 and 2017 Russell Caron and his wife, partner, and co-shooter Liz Caron photograph weddings, and weddings only, from Boston to Bar Harbor and destinations worldwide. Let us tell you more about why choosing us as your wedding photographers could be one of the very smartest choices you'll make among your wedding day choices. Contact us today for more information and our availability for your wedding!