Maine Engagement Session | Maine Wedding Photographers
Alex and Joey had a beautiful fall Maine engagement session, at Colby College in Waterville. We were looking for a location in between Bangor and Biddeford, so Waterville and Colby College worked out perfectly for this Maine engagement session!
Alex and her mother came to visit us in May, to talk about Alex and Joey's wedding. We knew right away that they would be a perfect fit for us. First of all, Alex and Joey are both nurses at EMMC. Which means that they are care takers, and you can definitely sense that upon meeting them. They both have an easy caring quality that shines through. Secondly, their wedding is a Point Lookout Resort, one of our very favorite wedding venues on the coast of Maine. And lastly, their wedding is in October, such a gorgeous month in Maine, with the crisp air and the gorgeous fall foliage.
So when we met with Alex and Joey, we felt a connection with them. They were not only super nice, but they were so comfortable to be around. As with most all engagement sessions, we felt a great connection with Alex and Joey, and we can't wait for their wedding next year!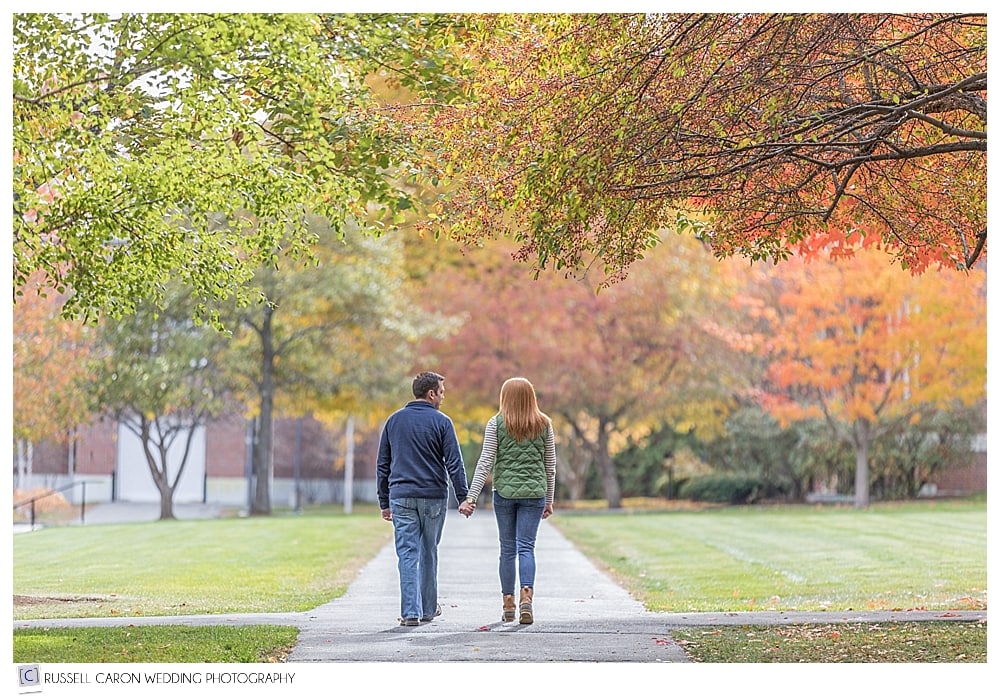 We love Maine engagement sessions! If you enjoyed Alex and Joey's Maine engagement session, please comment and/or share! Thank you!!
Maine wedding photographers, Russell and Liz Caron of Russell Caron Wedding Photography, would love to be part of your wedding day. While an engagement session isn't mandatory with our wedding photography packages, it gives us an opportunity to work together before your special day. The connection we build during an engagement session is invaluable, and a whole lot of fun! Imagine your own Maine engagement session with us, we always have a fun time! For more information, please contact us right away!