Maine Drone Wedding Images | Point Lookout Wedding Photographers
The first of our Maine drone wedding images, has a tropical look to it.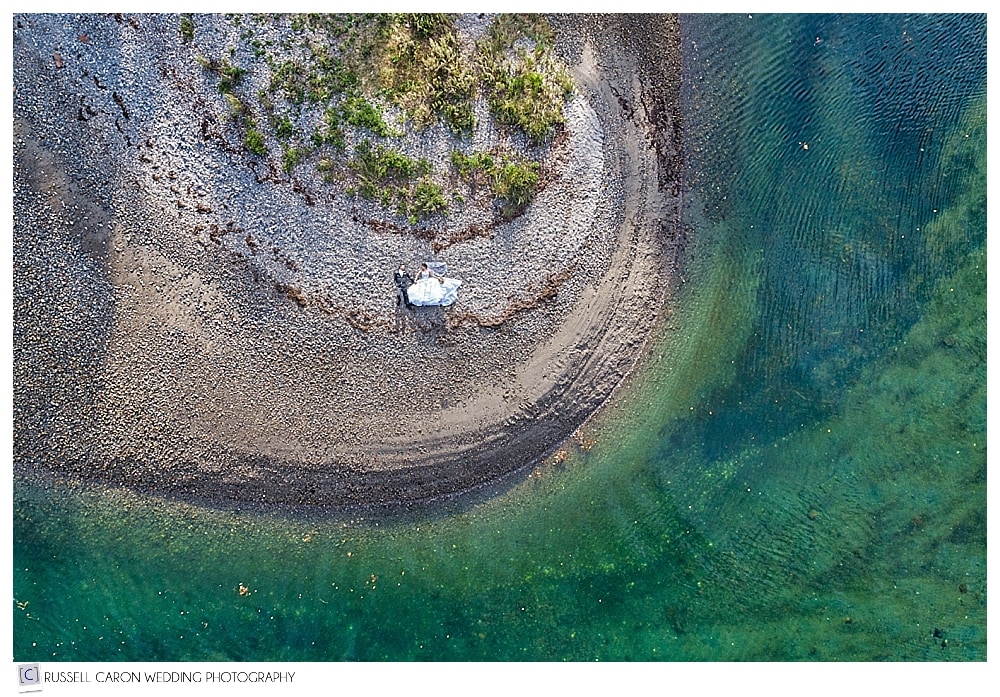 Oh, the drone!
2017 marked the first season of a new twist to our wedding photography. Art from the sky, we call it. Taken with one of our high resolution camera drones.
Over the winter leading into the 2017 season, Russ studied and became licensed by the FAA. This enabled the use of the "flying camera" for commercial use, including at weddings. Carefully adjusted camera angles and post-processing tweaking allow us to see things truly differently from the air. And yet never actually fly directly over our subjects.
Brides and groom make especially awesome subjects for this unique new aspect of wedding photography. We're proud to be the first in Maine to be licensed and to use still image drone photography in the mainstream. We already know this is a key addition to our arsenal. We also know it'll be done by others sooner than later. Russ has gone on to also obtain Certified Drone Photographer (CDP) status from the Professional Photographers of America (PPA), and is only the 9th person in the United States to hold both the required FAA certification and this additional CDP title. Taking it a step further, Russ is one of only two people in the United States with these certificates who's also a PPA Certified Professional Photographer. Just so you know you're in good, safe hands when we fly our drones!
This image was taken of Renee and Anthony near Ducktrap along US1 in Lincolnville, Maine. Their beautiful late summer September wedding at the breathtaking Point Lookout Resort in Northport, Maine was picture-perfect and this image was part of it. We love the shape of the point of land, and how seeing water from a 90 degree upward angle gives it, even here in Maine, a Caribbean-color look!
What will #6 be tomorrow?
Did you enjoy the first of our Maine drone wedding images in the top 17 of 2017?? We'd love it if you would comment on the blog post, and please share!! Thank you 🙂 Stay tuned for our #6 photo tomorrow. Follow along as we reach #1 on December 31!
Maine Wedding Photographer of the Year 2016 and 2017 Russell Caron and his wife, partner, and co-shooter Liz Caron photograph weddings, and weddings only, from Boston to Bar Harbor and destinations worldwide. Let us tell you more about why choosing us as your wedding photographers could be one of the very smartest choices you'll make among your wedding day choices. Contact us today for more information and our availability for your wedding!