Maine Drone Wedding Image | Southern Maine Wedding Photographers
Sam and Jon, we were so, so lucky that we took your artistic photos on the day before your actual wedding ceremony! Otherwise, we wouldn't have been able to capture this Maine drone wedding image..because of, well, a mid-fall wet and windy Nor'easter.
A late afternoon setting sun led the way for some really nice, long shadows. We placed Sam and Jon on Sam's dad's front lawn, the site of their wedding happening the next day. We saw what those long shadows were doing. This rang out to us as the perfect chance to grab our drone and make several images from above. With focus on the shadows being the subject and the real subject being the key but secondary element. Reaching in for a kiss in slow motion gave us the few moments we needed to grab this, our #4 top drone wedding image of 2018!
See the rest of their southern Maine wedding!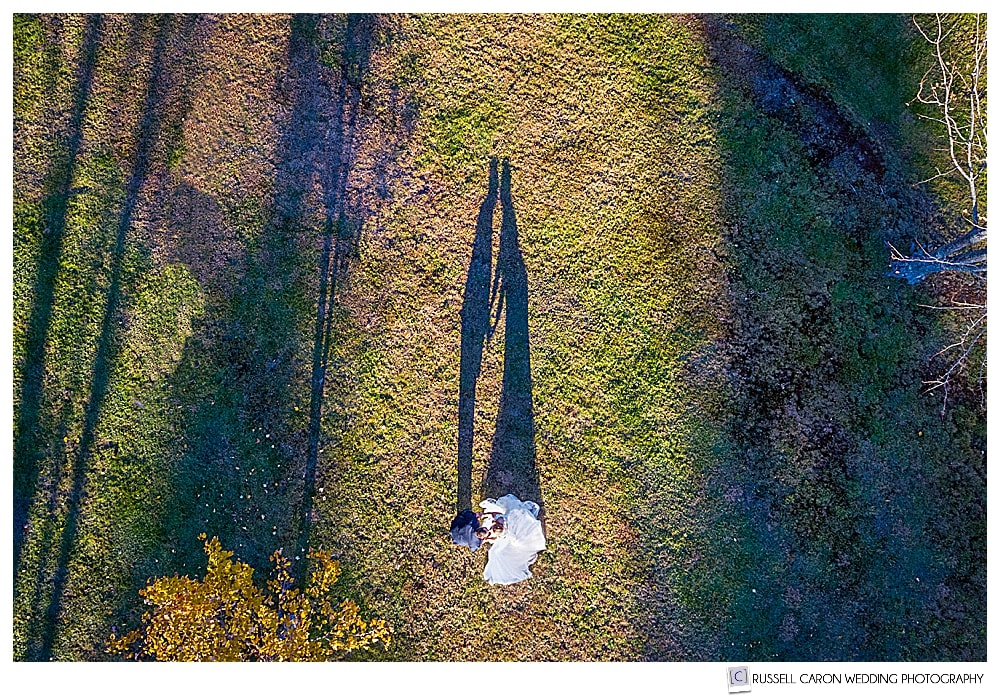 Vendors
Venue: Private Residence
Photographers: Russell Caron Wedding Photography, photographs by Russell Caron and Liz Caron
Officiant: Heather Rose
Florist: Bounty O'Blooms
Paper Suite: Minted
DJ: A & B Music
Hair and Makeup: Kaylin Harris
Wedding dress boutique: Marry and Tux Bridal
Cake: Jill Hall
Catering Food Truck: Pizza by Fire
S'mores: The Marshmallow Cart
Photo Booth: Maine to Boston Photo Booth
Lighting: Maine Event Design & Decor
We love the silhouette in this Maine drone wedding image, do you?!? Please let us know in the comments, and share on social media, thank you!!! Check in tomorrow to see what our #3 Maine drone wedding photo will be!!
Southern Maine wedding photographers Russell Caron and Liz Caron photograph weddings, and weddings only, from Boston to Bar Harbor and destinations worldwide. Let us tell you more about why choosing us as your wedding photographers could be one of the very best choices you'll make among your wedding day vendors. Contact us today for more information and our availability for your wedding!