Liz Loves Lists 4 | Kennebunkport Maine Wedding Photographers
Welcome to Liz Loves Lists 4! I don't know about you, but even though it is still officially fall for a few more days, it sure seems like winter to me! And I truly don't mind. I've been loving winter in the past few years, and I was sad about the lack of snow last winter. One of my favorite things about living in Maine is the four seasons. And I especially love when it's snowy around Christmas time, it's so much more festive.
Speaking of Christmas and winter, in this week's Liz Loves Lists 4, we'll talk about Christmas baking; embracing winter; finding the perfect matching ties for your wedding; and wedding officiants. Read on for some great tips, ideas, and suggestions!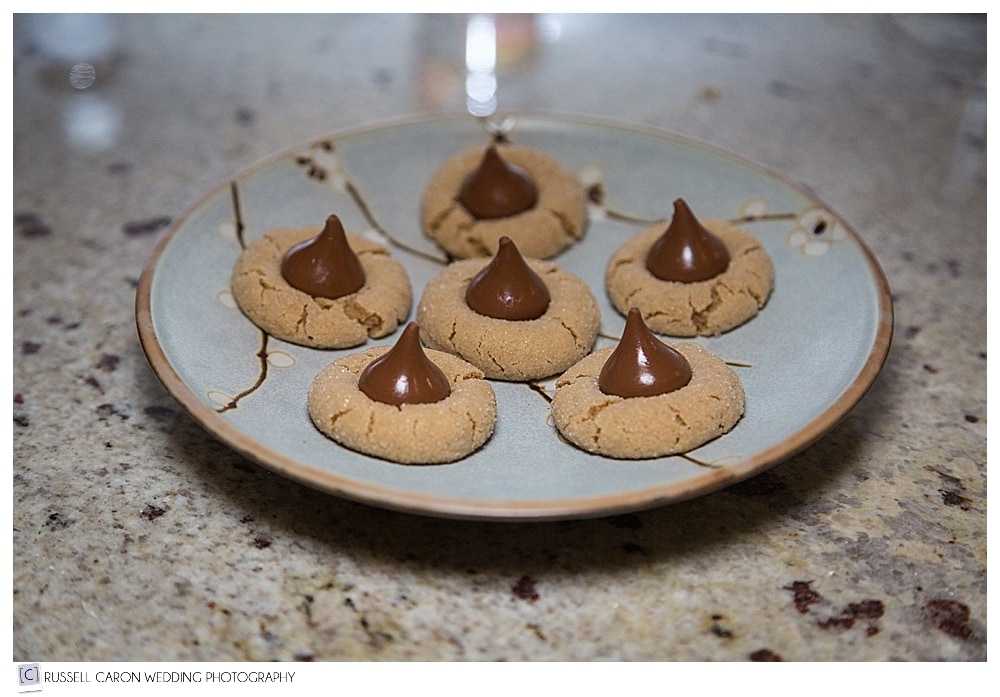 Liz Loves Lists 4:
1. Christmas Cookies
Nothing says Christmas in my house like festive cookies. When my children were small, I would bake over 100 dozen cookies during the holiday season. Preparation would begin the day after Thanksgiving. Ten large boxes, each holding 10 dozen or more cookies, would be mailed out to family members in Massachusetts and New Jersey during the week before Christmas. There were several varieties of cookies and bars, but the all time favorite among them was the Peanut Butter Blossom. A tender peanut butter cookie, festooned with a Hershey's chocolate kiss. Even today, over 20 years later my daughters still request this cookie at Christmas. Do you have a holiday cookie tradition? We'd love to hear about it in the comments! Photo above.
2. Hiring a Wedding Officiant
The wedding officiant is the most important person at your wedding! During the course of the year, we see many officiants, both religious and civil. Hiring a person to perform your marriage ceremony should be something you consider very early on in the wedding planning process. Officiants tend to book up quickly, so try to secure yours as soon as possible.
Here are some words of advice on 10 things to consider when choosing a wedding officiant, and when to hire the wedding officiant. Both of these articles are written by Maria Northcott of A Sweet Start, a wonderful Maine wedding officiant, and ray of sunshine. If you have any questions regarding officiants, or wedding ceremonies, Maria is a fantastic resource. I highly recommend contacting her for your Maine wedding! Photo of Maria performing a ceremony, below is by Henry + Mac Photography.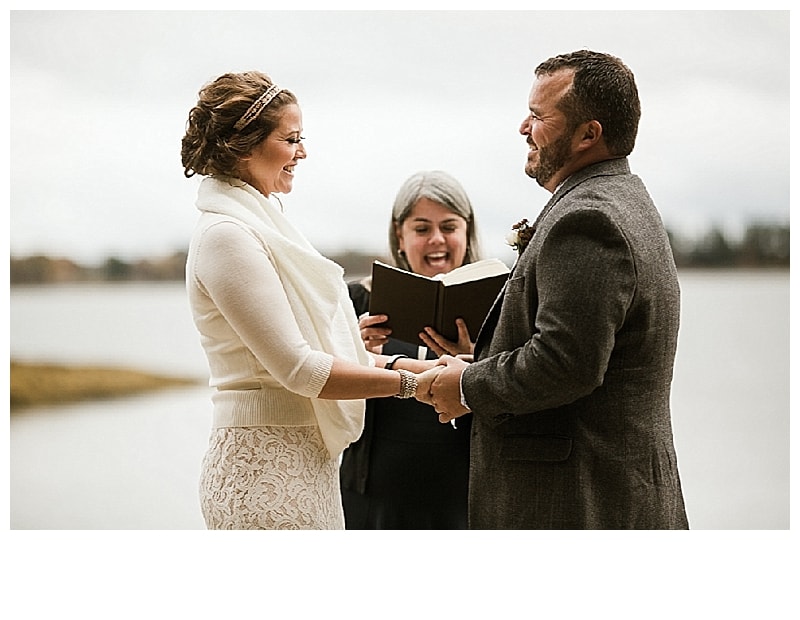 3. Embracing Winter
Do you dread the thought of winter? Does 4 months of cold, dark days tend to leave you sad and depressed? Take a chapter from the Danish, and learn how to make the winter months more bearable. How to embrace winter is the Danes' way of recharging, slowing down, cozying up, connecting with your senses and with others, so that before you realize it, the dark days are over and spring has arrived. We're going to give this a try! Thoughts of playing Scrabble, turning on the slow cooker, catching up on our reading lists, and having friends over for intimate gatherings. Do you have any tried-and-true ways to help make the cold, dark days of winter easier? If so, please share in the comments!
4. Bows-N-Ties
The folks at Bows-N-Ties can offer advice in coordinating the groom/groomsmen's ties to your wedding colors. Have a bridesmaid's dress color that you love and want the guys ties to match? Bows-N-Ties are waiting to assist you. They have a great website that is very user-friendly. There are diagrams on how to tie a tie, bowtie, ascot, and also folding a pocket square. Check them out and find the perfect groomsmen's accompaniment for your wedding. The below photo is NOT from Bows-N-Ties, but is a photo of a bow tie that I really like, from Hilary and Kris' Sebasco Harbor wedding!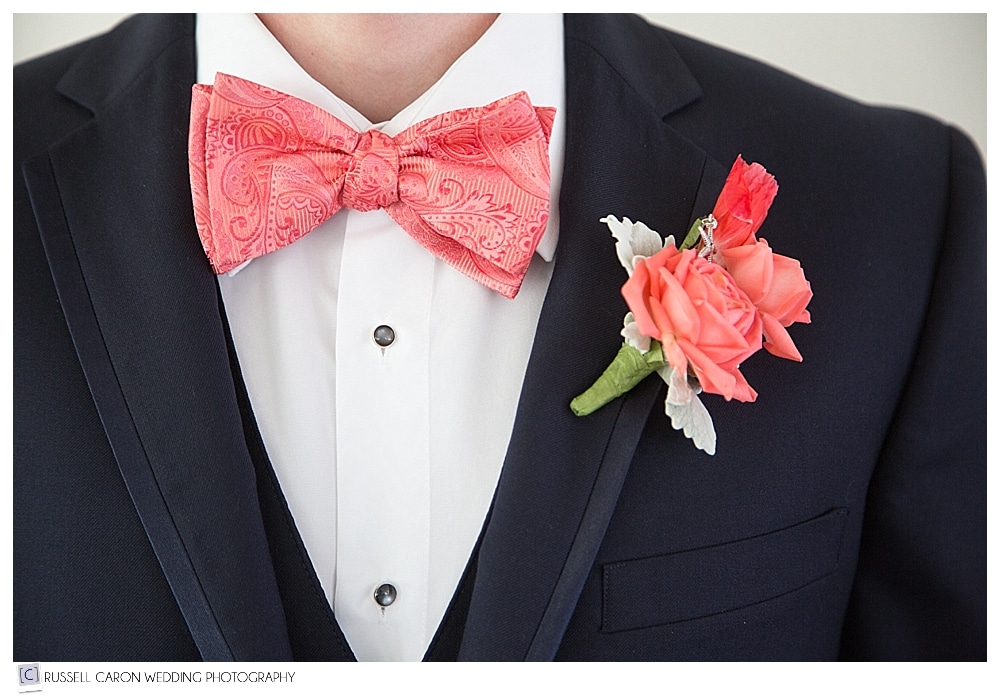 5. The Treehouse
Looking for a perfect spot on a cold wintry night for date night and some of Portland's best "gourmet-level comfort foods"? It's not in the Old Port, not on Congress Street, not on the up-and-coming Washington Avenue strip, not on Forest Avenue, and not on Cumberland Avenue, either. It's on, of all places, Stevens Avenue, upstairs over Pat's Meat Market, a venerable local institution, and in fact a source of much of the excellent meats cooked so expertly a few feet overhead. Along with the fair close-by JP's Bistro (we'll save that for another time), this could be one of Portland dining scenes best-kept secrets. Welcome to The Treehouse.
Come to think of it, though, maybe the secret is out. We arrived for our photo shoot for the Eat Maine blog of Maine Magazine with Food Editor Karen Watterson about 15 minutes ahead of the posted 5:00PM opening time, and a fairly large group of hungry patrons had built up waiting for the doors to open promptly at 5PM, which they did. Not long after, maybe around 6PM, there were very few seats left in the warm and woody (hence the treehouse name) atmosphere. Food was delectable with every bite we sampled, and we can say that few people would have a reason to leave hungry. Read more about this dining experience here at the Eat Maine blog, and be sure to plan a visit to The Treehouse very soon! The stormier and colder the day, the better! You'll feel so cozy upstairs, you won't want to go home.
We hope you're enjoying Liz Loves Lists and we can't wait for next week to provide you yet another set of fun things in our list format!
Please comment and share on Liz Loves Lists 4, 11-25-16.  Thank you!!
Kennebunkport Maine wedding photographers, Russell and Liz Caron of Russell Caron Wedding Photography, are an award winning husband and wife team. We love to share our experiences, tips, items of interest to our followers, and general conversation, photography or otherwise here on our blog. We hope you enjoy the Liz Loves Lists series! If you'd like to get in touch for any reason, please contact us!