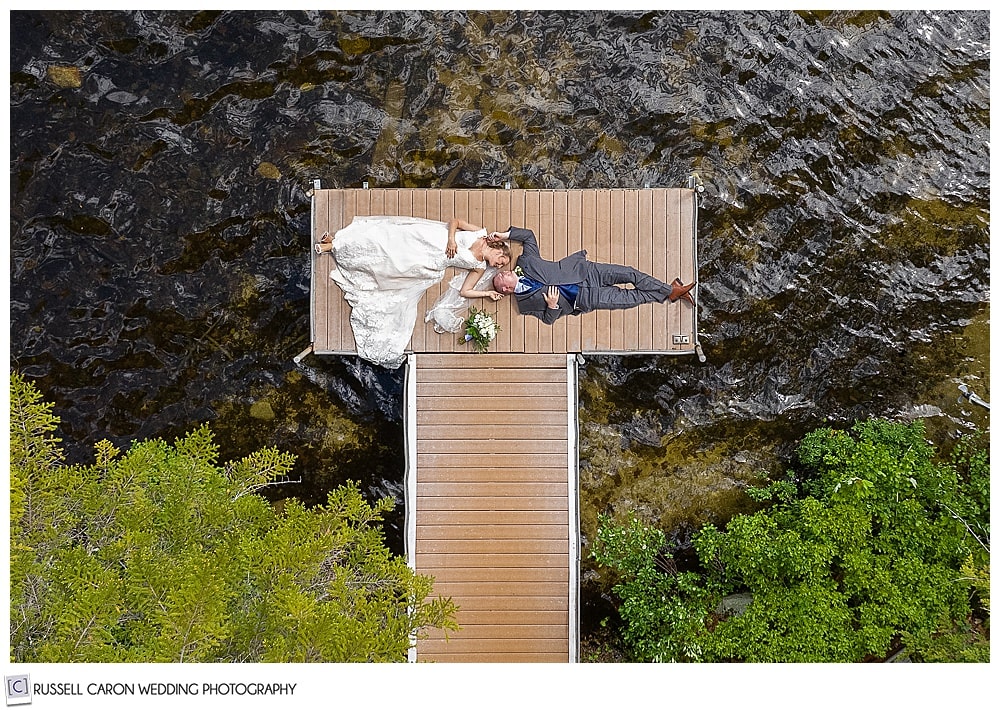 Lake Wedding Drone Photo: Meaghan and Nick's wedding at Moose Lake Ranch in Otisfield, Maine was on a beautiful, warm, but really breezy June day.

And that breeze was really whipping off the lake, especially, it seemed, right where this dock was located. Kind of like a wind tunnel. A canoe shot, which Meaghan and Nick were more than willing to give a try to doing, did happen, but they stayed really close to shore and came right back in.
We then found a lull in the wind long enough to give the drone shot on the pristine dock a try. Stable as it is, we cautiously flew, tending though to stay quite a bit lower than often is the case. We ended up loving this fairly low and close shot the best.
When a couple wants to do what they can to help us get truly memorable wedding images for them, we're right there to make it happen. A shot like this is harder to take than it may seem, and I'm always grateful for the careful staging and prep work Liz does while I am launching and flying the drone and its camera. And that all leads to amazing photos for our couples.
See Meaghan + Nick's wedding at: Moose Lake Ranch Wedding
Venue: Moose Lake Ranch
Photographers: Russell Caron Wedding Photography, photographs by Russell Caron and Liz Caron
Officiant: Sims McGrath III
Wedding Bands: Keith Field Goldsmith
Floral Designer: Studio Flora
DJ: Performance Entertainment
Hair and Makeup Artist: Jennifer from I Do Spas
Wedding dress: David's Bridal
Cake: Dorene's Creative Cakes
Catering Company: Good Food Store
Please comment on the blog post if you enjoyed Russ' lake wedding drone photo! And please share!! Thank you 🙂 Come back every day, until we reach #1 on December 31!
Moose Lake Ranch wedding photographers, Russell and Liz Caron, are romantics at heart who love photographing people in love. Are you getting married? No matter where your wedding is located, we'd love to travel there and take breathtaking wedding photos. For more information contact us right away!