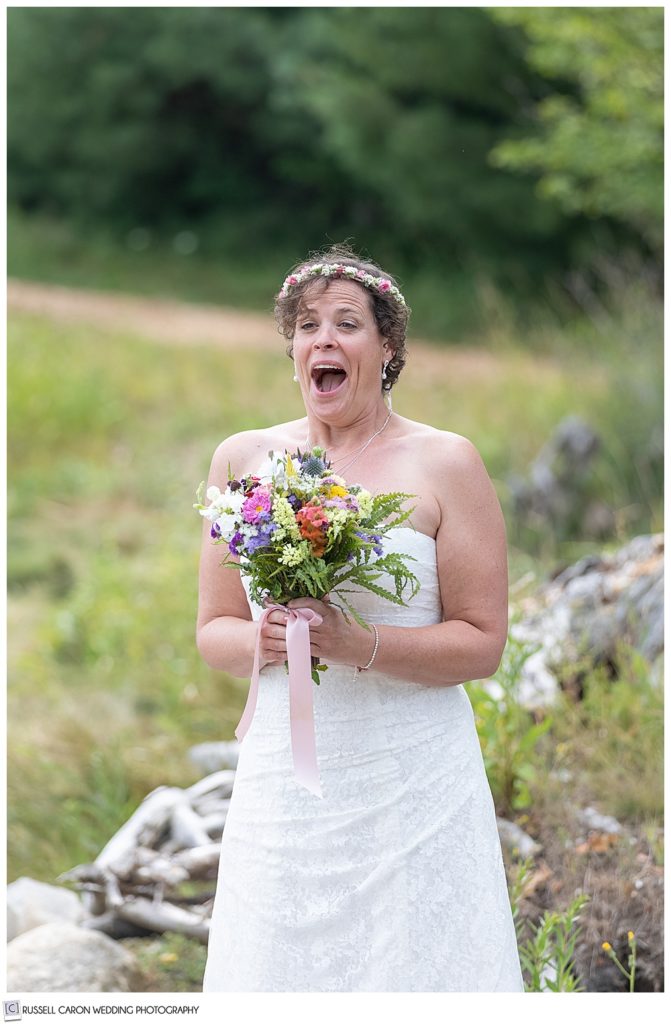 Surprised first look photo, #15 of 2019! Darcy and Jen's Somes Sound Maine wedding was one of our many favorite weddings of the 2019 season. The feel of the entire day was one of love, family, friends, and a relaxed vibe.
Darcy and Jen had their first look at Somesville Landing, a gorgeous, private area. As we're setting the ladies up for the moment, Jen confides that Darcy is likely going to be very surprised, and that we should watch her face for a reaction.
The reason being that Jen had told Darcy that she was not going to be wearing a wedding dress. She couldn't find anything she liked, so she was going in a different direction.
The reality was that Jen went "full-on bridal", so that when Darcy turned around to see Jen, you see the look of delighted surprise on her face. A priceless moment in wedding day first looks.
We love wedding day first looks, for so many reasons! One benefit is that it gets all the formal photos out of the way. Another is that the couple gets to see each other in a controlled environment, where they can share emotion that they might not otherwise show. Additionally, a wedding day first look helps to calm any wedding day jitters. AND, the best part? You get great photos, like Darcy and Jen!
See Darcy + Jen's wedding blog post here: Somes Sound Maine Wedding
Venue: John Williams Boat Company
Officiant: Joyce Long
Flowers: Triple Chick Farm
Band: Big Dee
Wedding dress boutique: David's Bridal
Cupcakes: Slice of Eden
Rentals: Grand Rental Station
Please comment on the blog post if you enjoyed our surprised first look photo! And please share!! Thank you 🙂 Come back every day, until we reach #1 on December 31!
Somes Sound Maine wedding photographers, Russell and Liz Caron, are romantics at heart who love photographing people in love. Are you recently engaged? No matter where your wedding is located, we'd love to travel there and take breathtaking wedding photos! For more information contact us right away!