Camden Maine Weddings
Kit and Clay enjoyed a beautiful early May wedding in Camden, Maine, a town both are heavily rooted in. Surrounded by lots of close friends and loving families, they enjoyed mild weather, pretty skies, and a great venue at The Camden Riverhouse Hotel and adjoining properties. Loving Camden Maine weddings as we do, we really enjoyed our day with Kit and Clay and their families.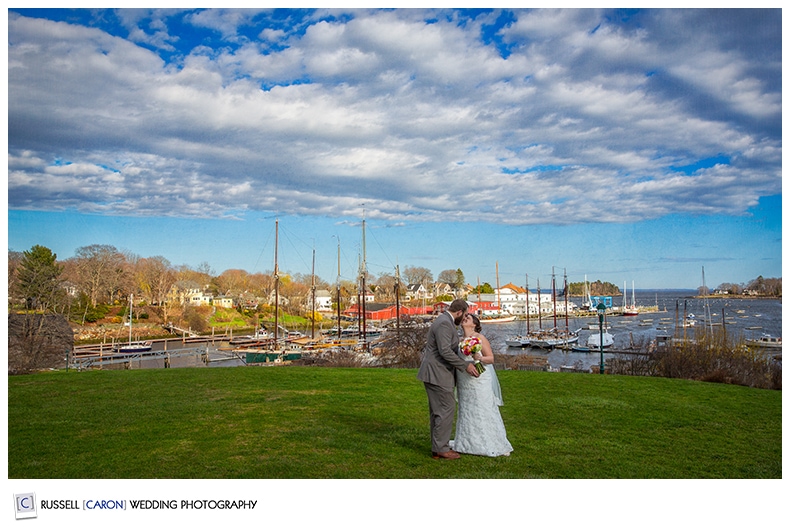 The bride prepared at the Beauty Mark Spa on Camden's nearby Washington Street. It was so close to all the action that Kit could look out the window from her seat having her makeup done and see the large tent set up at the hotel, owned by her dad.
Above, Kit and Clay enjoy their wedding day first look on the pedestrian footbridge in Camden's River District. there is so much to love about  first looks for so many reasons. One is that the bride and groom have a bit of privacy when they see each other for the first time, moments before their wedding. Another reason is that they can then relax and have fun taking photos before the ceremony begins. This is great for us as Camden Maine wedding photographers. We got the chance to walk around town taking some of our signature fun images, as seen below. One of our favorite aspects of Camden Maine weddings! We find that the tension eases and the couple is more relaxed when it comes time to walk down the aisle and recite their vows.Camden Maine wedding photographers, Russell Caron Wedding Photography, put the fun into wedding photography for Maine wedding couples. Feel the love as this dynamic pair effortlessly capture each of your cherished moments, producing natural poses and unparalleled art for your special day. Whether you love Camden Maine weddings, Caribbean beach weddings, or Italian villa weddings, we are happy to travel to you. For more information, please

contact us

right away!