Beautiful Acadia National Park Wedding | Acadia Wedding Photographers
Colleen and Michael showcase just how beautiful Acadia National Park wedding photos can be! See the rest of their stunning Atlantic Oceanside Bar Harbor wedding at this link!
After a first-look in a different area of the park, it was essential to make a stop at the granite cliffs along Ocean Drive. It was a beautiful day, fitting for a beautiful and handsome couple whose dreams were for a wedding day just like this. It's a quiet moment, for sure, one we know our couple revel in the glory of the time being. Summer visitors to Acadia National Park grow every year, amounting in the millions.
This was one of the busiest Saturdays of the whole season – yet do you see anyone else around? The park's vastness allow such solitude, even on the busiest days. We love that portraits like this end up as large art pieces on our clients' walls. And the sheer beauty of a couple in love on wedding day in such a gorgeous location made this our #17 top wedding image of the year.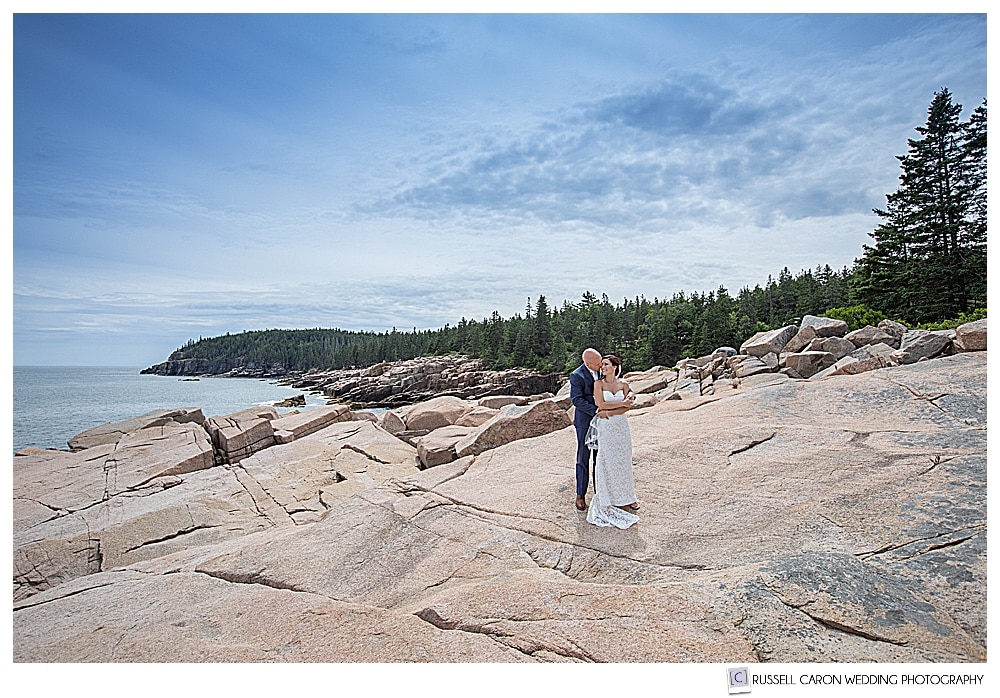 Did you enjoy this beautiful Acadia National Park wedding photo of Colleen and Michael? Please comment on the blog post, and share!! Thank you 🙂 Any ideas as to what #16 in the series will be? Come back tomorrow, and every day, until we reach #1 on December 31!
Vendor Partners
Venue: Atlantic Oceanside
Photographers: Russell Caron Wedding Photography, photographs by Russell Caron and Liz Caron
Officiant: David Picard
Florist: Cottage Flowers
Paper Suite: Alexa Nelson Prints
DJ: Music Man Jason Styarchz
Hair and Makeup: Christine Conroy
Wedding dress: Stella York from Alexandra's Bridal
Men's Wear: Men's Warehouse
Desserts: A Slice of Eden
Award winning Maine wedding photographers Russell Caron and his wife, partner, and co-shooter Liz Caron photograph weddings, and weddings only, from Boston to Bar Harbor and destinations worldwide. Let us tell you more about why choosing us as your wedding photographers could be one of the very best choices you'll make among your wedding day vendors. Contact us today for more information and our availability for your wedding!