The Godox V1 flash system: it's new for us, and it's notably the first non-Canon brand equipment we've ever had. This post will explain. 
Say hello to the Godox V1 round-head flash system. These are the V1C, for Canon, but everything shared here applies equally to the V1N (Nikon) and V1S (Sony) versions. This replaces our Canon 600EX-RT system; though ground-breaking when it was released a number of years ago.
The Godox V1 flash system is different
There's much to love about the new Godox V1 system unlike previous and typical third-party brands. This one's different! First is the solid build quality. That smooth feel of the finish; the hefty, rugged-feel. As are the he precision movement of the switches and the user-friendly, intuitive menus and operation.
(above) (l) A set of 8 Godox V1s responding right on cue to a trigger signal sent for a master flash.  Middle photo shows the (all optional) diffusion dome, and right photo the barn doors. All attach easily yet securely with a small magnet set. The wireless communication is a huge plus as it's rock-solid steady and reliable. Places that were "high interference" with the Canon 600s just don't faze the V1s.
Comparisons between Godox and Profoto are inevitable
Comparisons to the "Mercedes Benz" of flashes, Profoto, are inevitable, as there are minor similarities between these two systems. While a comparison of the two is not at all the intent of this article, I will make a couple of quick comparisons. The Godox V1 flash costs a full two-thirds less than the Profoto A1. Putting that into perspective, the cost of two Profoto A1s would buy you SIX Godox V1s, with change left over. Don't get me wrong, the Profoto A1 is certainly in a class of its own. But how close the Godox V1 system is can be described as amazingly so. 
The Godox V1 flash system that we use for wedding photography
(above) The optional X Pro-C camera-mounted trigger is perfect for when on-camera flash isn't needed; it will seamlessly control all off-camera flashes in multiple groups, E-TTL/TTL or manual.
The round head design of the V1 system promises to shape light in very flattering ways. Speaking of shaping, the $59 accessory kit is a fantastic add-on at an amazingly low price. And, everything attached with powerful but very welcomed light-weight magnets. Included in the kit are a dome, wide-angle diffuser, gels, barn doors, even a spot grid. All in a nice carry case.
An on-camera V1 acts as the primary/transmitter unit to control triggering of any off-camera flash (receiver) units in use. The on-camera unit can be set to flash as desired or be used solely as a trigger with the flash off. A dedicated X Pro-C trigger can be shoe mounted and serve to control all the V1s you may have set up in a large space.
All the radio functions offer manual settings or TTL/E-TTL functions, too.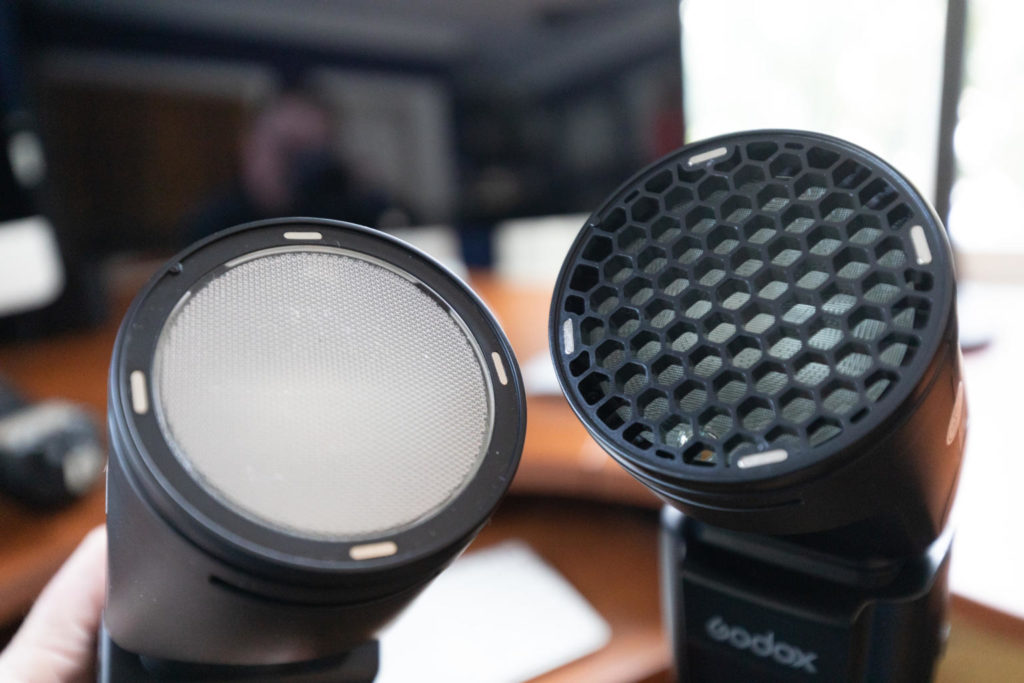 (left) The accessory kit includes many great magnetically-attached parts, including the wide-angle diffusion lens and a narrow-angle grid. And, yes, the grids can be stacked to further narrow the beam. (right) A dedicated battery pack replaces the need for more typically seen individual AA cells and features long life capability.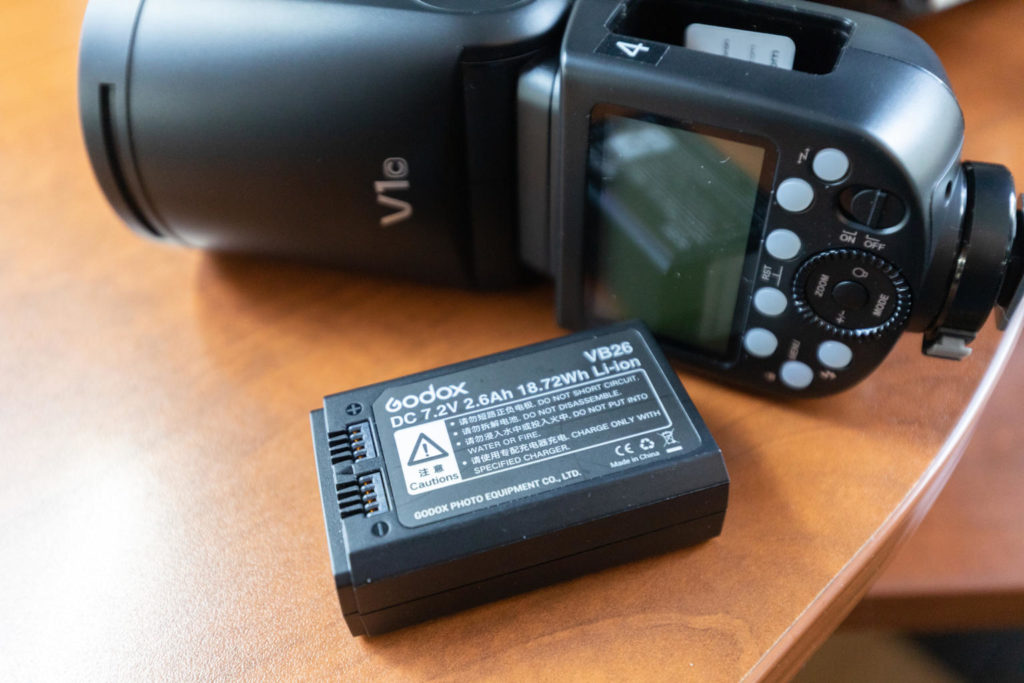 Godox V1 amazing batteries and battery life!
And, the batteries! No more fumbling around with 4 separate AA cells…the V1 uses its own high-capacity Lithium Ion battery pack. Reports are that they are good for several hundred full-power flashes. Now, most of us use well under full power shots, so it is likely that one pack will serve even wedding photographers for the duration of an entire day and evening. There is little left to be desired, and Liz and I look forward to our next Godox V1-related post that highlights real-world results with them. We have 8 of them plus the trigger, so we're ready for any situation requiring artificial lighting, from single flashes on camera to a room full of 8 used off-camera. 
Maine wedding photographers, Russell and Liz Caron, are formerly Russell Caron Wedding Photography. We're a husband and wife wedding photography team, who also happen to be tech geeks! Follow along with us as we occasionally post helpful technical posts, such as this one on the Godox V1 flash system. For more information, please

contact us

right away!