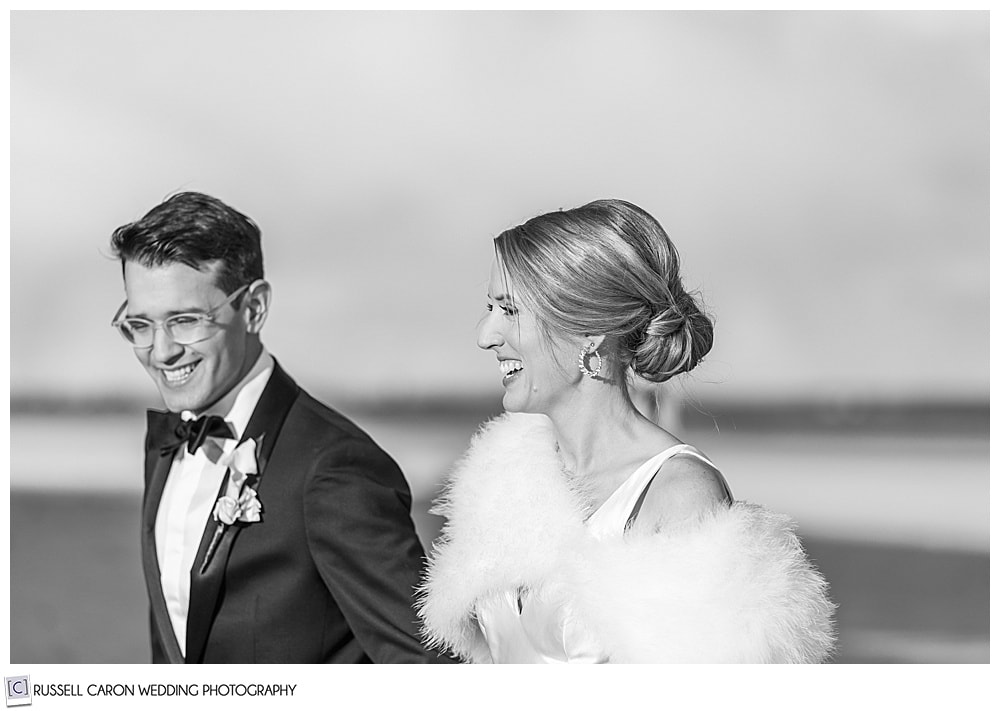 Liz's number 3 photo of her top 19 of 2019, is of Koko and Joe in this glamorous bride + groom photo!
Where do I begin with Koko and Joe? We had so many adventures with these two, beginning with an impromptu trip to the Ogunuquit Town Office for a new copy of their marriage license (thank goodness it was a Friday)! From there we experienced a gust of wind and witnessed Koko's veil fly off her head, out over (and in) the water, to become stuck in a rock on shore. Which was then saved by a kind passerby! Lastly, Koko and Joe realized, too late, that their wedding rings were not with them during the ceremony (but thankfully not too far away!). To say nothing of the fact that the temperatures were well below freezing, in fact single digits with the wind chill!
What could have become a day full of stress and tension was anything but with Koko and Joe. They took everything in stride, gracefully dealing with situations that could have had a much different outcome; turning the entire day into one of fun.
This particular photo, my #3, was taken on the beach where we were the only ones around for miles. It was glorious, and so cold that we could only stay out for a few moments. But we loved every minute!
See their full blog post here: Perkins Cove Wedding
Reception venue: Northern Union Restaurant
Photographers: Russell Caron Wedding Photography, photographs by Russell Caron and Liz Caron
Officiant: Jacqueline Barnum
Floral Designer: Ilex Floral
Hair and Makeup: Jessica Candage
Shoes: Jimmy Choo from Madison Ave of Melrose
Men's Wear: Theory
Please comment on the blog post if you enjoyed Liz's #3 glamorous bride + groom photo! And please share!! Thank you 🙂 Come back every day, until we reach #1 on December 31!
Perkins Cove wedding photographers, Russell and Liz Caron, are romantics at heart! And love photographing people in love. Are you getting married? No matter where your wedding is located, we'd love to travel there and take breathtaking wedding photos. Just like we did at this glamorous Perkins Cove wedding! For more information contact us right away!