Wedding Day First Looks | Maine Wedding Photographers | Maine Wedding Photography
Are you planning on doing a first look on your wedding day? Or, maybe you're not quite sure exactly what first looks are all about? Like anything, there are pros and cons, but we'll say it right out front, the 'pros' far outweigh any 'cons' when it comes to first looks on wedding day. So here are some of our thoughts and perspective on wedding day first looks, as Maine wedding photographers.
About 70% of our couples choose to see each other via a wedding day first look before the ceremony, for varied, and generally excellent, reasons. Maybe one of the couple is shy about showing emotion in front of family and friends. And we totally get that! Another reason may be that one is them is anxious about seeing the other, and the pressure would be too great to bear. Often, it's all about the host of benefits relative to the schedule and timing of the day. The bride and groom may want to get their photos taken care of before the ceremony. This includes their artistic set with us, their bridal party, and even their family photos.
Below, Delia and John at their first look at the Spruce Point Inn, Boothbay Harbor, Maine.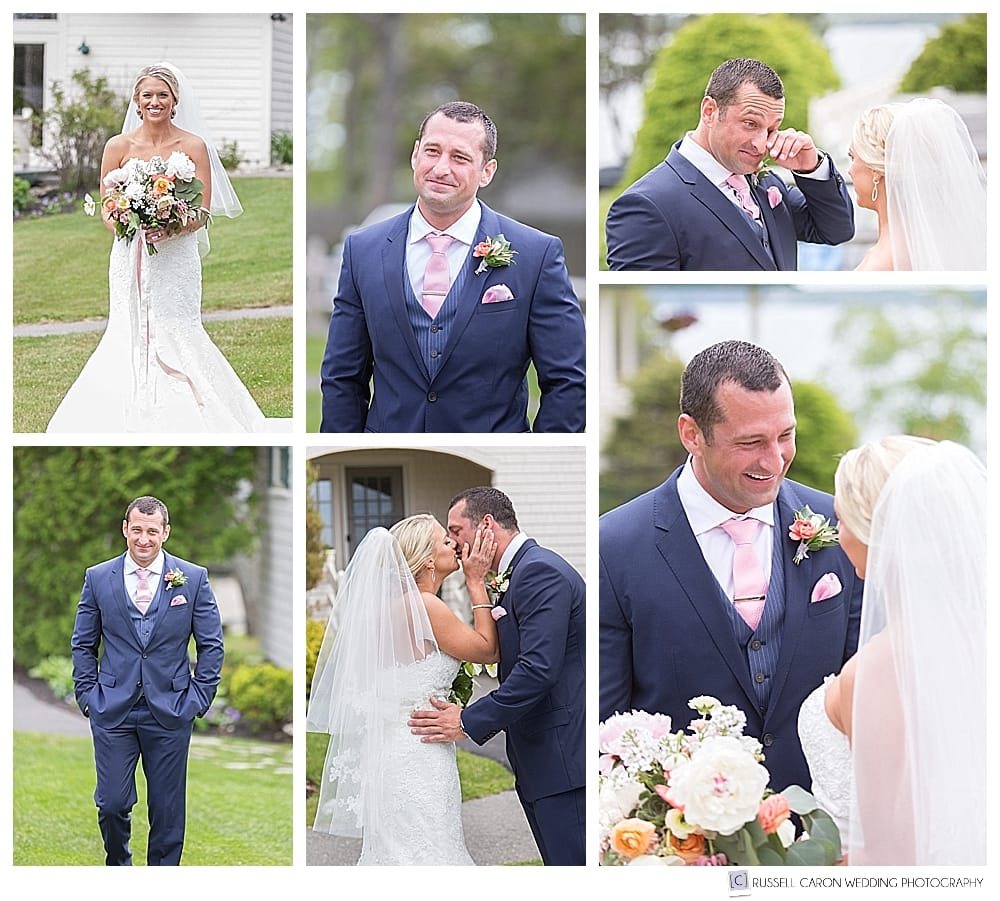 In this way, they will be able to attend the cocktail hour. This also allows more time to socialize with guests that will free up more time for partying during the reception. Sure, we have a strong favor for first looks, but the bride and groom ultimately make the decision, and we make it work either way. We're happy to make your wedding day the best possible experience for you!
We help you schedule your day
When you work with us, we create a detailed yet realistic and low-stress timeline for your day (up until the reception) so that you know exactly when things are happening, and most importantly, where you and your guests should be at any given time. It helps you to relax, knowing that we'll gently guide you throughout the day. You can be in the moment and let the day flow. Here's how a wedding day with a first look would typically go:
First look schedule
Russ and Liz arrive to photograph the girls getting ready as well as the rings, florals, dress, and shoe details. When the guys are nearby we take care of a few basic things with them at this time, too.
Bride gets dressed. Sometimes all the bridesmaids get involved with helping, other times it's just one or two helpers. If there's a veil, it will get installed at this point, and any touch ups to hair or makeup.
Russ does bridal portraits. Liz helps the bride know what to do, and relax, while Russ photographs. This creates a calmer environment for the bride to breathe and prepare for her first look.
Then, Liz takes the groom to a pre-arranged private location for the first-look. The groom stands with his eyes closed, back turned, waiting for the bride to arrive. Russ leads the bride (often with a bridesmaid, just to help get her to the first look location) near to the groom, his back still turned. Once the bride is in place, Liz helps to fluff the bride's dress, fix her veil, hair, and bouquet. We will then both position ourselves off to the side, and let the bride know that she can tell the groom to turn around. The groom turns, and walks to his bride, while we capture it all, from two distinct vantage points.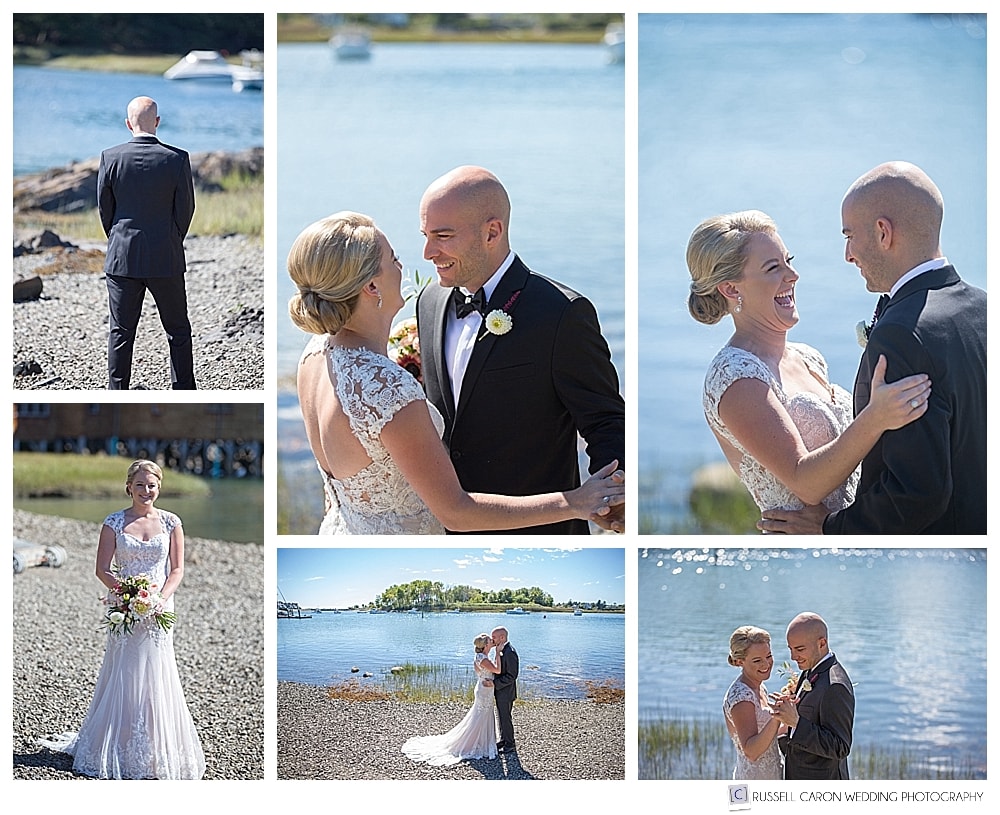 Above, Ariel and Kevin during their first look at the Nonantum Resort, Kennebunkport, Maine.
After the first look
We stand back and give you time to see each other, to embrace the moment, to cry, laugh, talk, and just revel in seeing each other. It's one of the most beautiful times of the entire day.
Artistic photo time! Most of the time this means that you ride with us to do awesome photos in the general area. We'll have scoped out locations ahead of time and have a plan at the ready. Then we return.
Family and bridal party photos. We meet at a pre-arranged location, and do all of the family formal photos, and bridal party photos.
Down time – very important! Refresh, hydrate, eat, breathe.
Ceremony. You're married!!
Cocktail party. Fun!!
Reception. Party time 🙂
Above, Meredith and Jeff, during their first look in Acadia National Park, Bar Harbor, Maine.
What are the cons of wedding day first looks?
There are not too many downsides of doing a wedding day first look. One is that the bride and groom must be dressed a bit earlier, about 3 hours before the ceremony start time. That may be too early for some couples, and we totally understand that. Also, another con might be that in order to do a first look, and take all of the photos prior to your ceremony, your family will see you before the ceremony. For the vast majority of our clients, these are a small price to pay for the far easier-going schedule the first-look affords everyone.
We love hearing our couples in the back seat, while we whisk them away for the artistic set we do after the first-look, mention how glad they were that they chose to do things this way.
Oh. There's one last thing. Not once… that's zero times that we know of….(and we keep a close ear on this…) have our couples ever regretted doing their first looks.
What do you think about wedding day first looks? Please share with us your thought, and comment below! Thank you 🙂
Maine Wedding Photographers, Russell Caron and his wife, partner, and co-shooter Liz Caron photograph weddings. And weddings only, from Boston to Bar Harbor and destinations worldwide. Let us tell you more about why choosing us as your wedding photographers could be one of the very smartest choices you'll make among your wedding day creatives. Contact us today for more information and our availability for your wedding!