Wedding Day First Looks | Maine Wedding Photographers | Maine Wedding Photography
Are you planning on doing a first look on your wedding day? Maybe you're not sure what they're all about? Here are a few thoughts and our perspective on wedding day first looks, as Maine wedding photographers.
About 75% of our couples choose a wedding day first look. This is where the couple sees each other, in a carefully pre-arranged manner, before their wedding ceremony. And there's a variety of great reasons to do this.
What are the benefits of a wedding day first look?
Often, it's the benefit of the wedding day schedule/timing. Sometimes it's wanting a private moment together before you become swept up in the whirlwind of the day.
The couple may want to get all of their wedding photos taken care of before the ceremony. This includes the artistic set with us; their wedding party, and their family photos. They'll be able to attend the cocktail hour, and spend time socializing with guests, freeing up time for celebrating during the reception.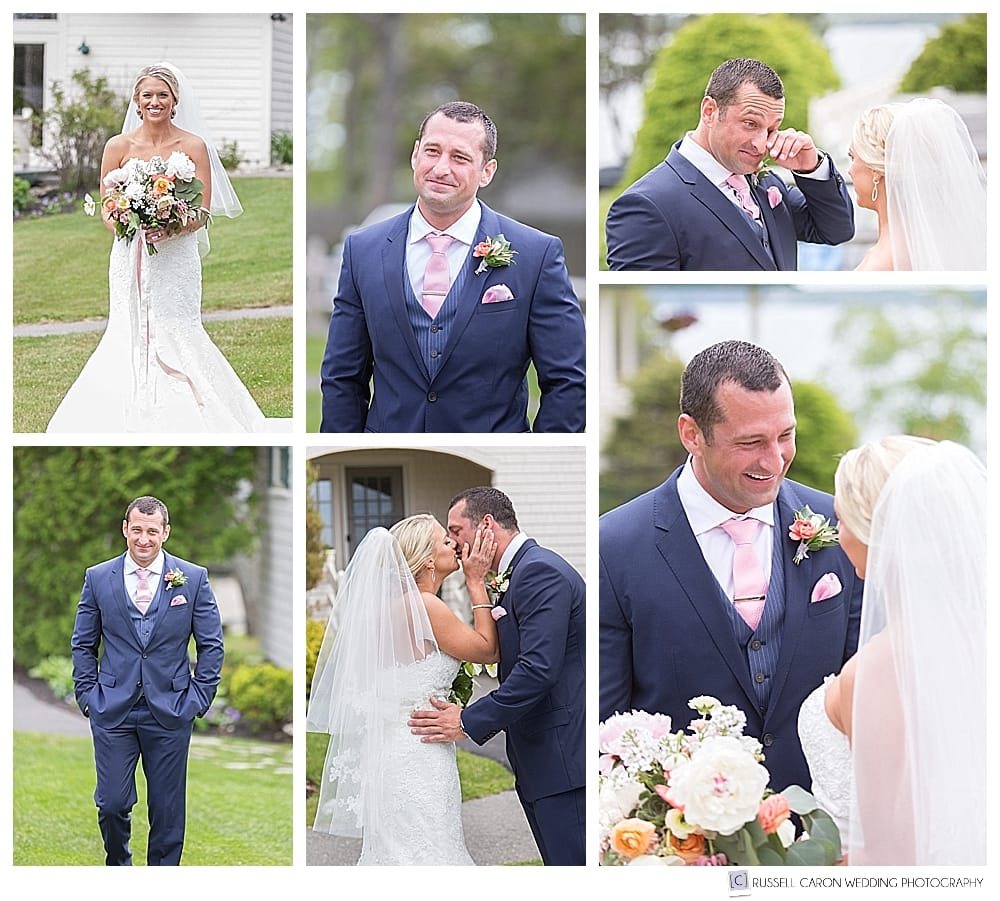 The couple always makes the decision. And we're more than happy to make your wedding day exactly what you envisioned!
Together, we schedule your wedding day (in advance & with greater detail)
A detailed, low-stress wedding day timeline is created. From our hundreds of weddings and first looks, we've seen what works best for our couples. You know exactly when things are happening, and where you and your guests should be at all times. It helps you relax, knowing you'll be guided throughout the day. You can be in the moment and let the day unfold. Here's what a wedding day timeline looks like when there's a first look:
Wedding day first look schedule
Russ and Liz arrive to photograph wedding day prep and details.

Bride/groom gets dressed.

Bridal/groom portraits.

First look time!

Wedding day schedule after the first look
You have your moment together<3

Artistic photo time!

Family and bridal party photos.

Down time to refresh and hydrate.

Ceremony: You're married!!

Cocktail party: Fun!!

Reception: Party time 🙂
Are there negatives to wedding day first looks?
There aren't many drawbacks to a wedding day first look! One may be that the wedding couple must be dressed about 3 hours before ceremony time. That's a bit early for some people. Another consideration is that family and friends may see you before the ceremony. For most of our couples, these are a small price to pay for the easy going schedule the first look gives everyone.
Note. Not once have our couples regretted doing their wedding day first looks. That said, having a traditional wedding day and seeing each other for the first time at the ceremony is a magical moment. Do what works for you as a couple.
Now that you know about wedding day first looks, what do you think? Please share with us your thought, and comment below! Thank you 🙂
Maine Wedding Photographers, Russell Caron and Liz Caron photograph coastal Maine weddings. Let us tell you more about why choosing us as your wedding photographers could be one of the very smartest choices you'll make among your wedding day creatives. Contact us today for more information and our availability for your wedding!