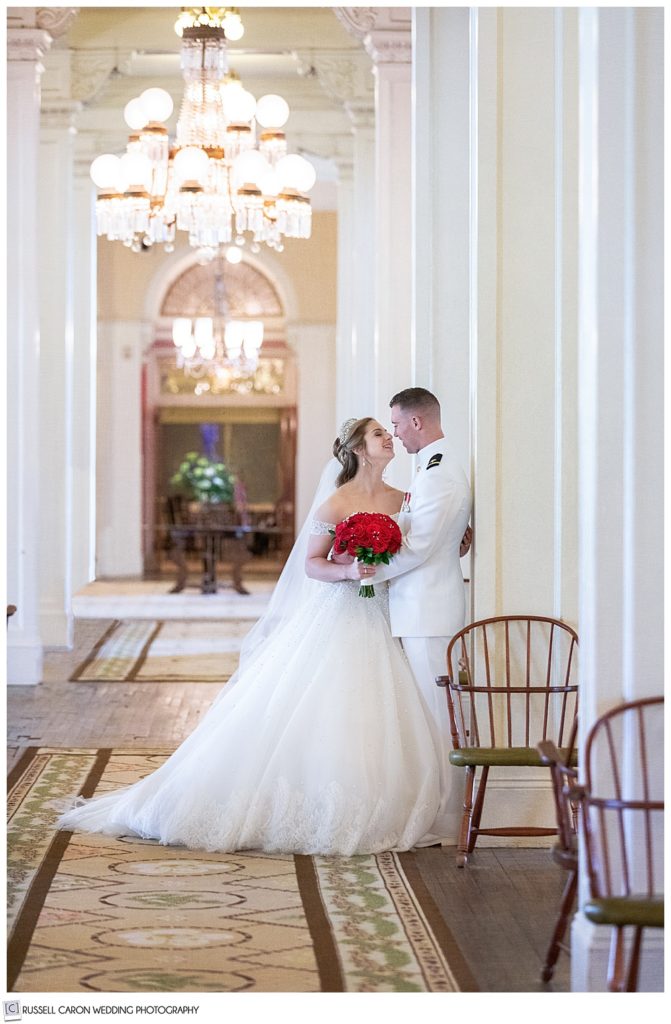 Abigail and Andrew's elegant bride + groom portrait comes in at #8 on Russ' top 19 of 2019!
Now and again, there are weddings where the couple, their families, the other people surrounding them, the location, the ambience, the weather – everything, really – all conspire to make the day storybook perfect. Such was the case this past June – it had all the makings of a fairly tale wedding in every way.
Both Abigail and Courtland are Naval Academy graduates, and the military sword arch overlooking the valley with Mount Washington so prominently in the background certainly added to the mystique. We have a drone shot with these two near the pool, great shots in the fields around the property, near horses, all accessed from golf carts we drove around during their artistic set. (See the link to the full set that follows). Ultimately, though, before being introduced in to their reception, I seized an opportunity to take their portrait in the Omni Mount Washington Hotel lobby. And I loved it to the point that it is my #8 top wedding image of 2019!
See Abigail and Courtland's Bretton Woods wedding here: Bretton Woods Wedding
Venue: Omni Mt. Washington Resort
Photographers: Russell Caron Wedding Photography, photographs by Russell Caron and Liz Caron
Officiants: Colin Gallagher and Cody Rothwell
Florist: The Fuchsia Peony
Band: Jim Ciampi Band
Bride's Makeup: The Spa at Omni Mount Washington Resort
Bride's Hair: Shelley Worthing
Bridal Dress Designer: Ines Di Santo
Bridal Dress Boutique: L'Elite Bridal
Bride's Shoes: Paradox London
Cake: Omni Mt. Washington Resort
Paper Suite: Carlson Craft
Please comment on the blog post if you enjoyed Russ' #8 elegant bride + groom portrait! And please share!! Thank you 🙂 Come back every day, until we reach #1 on December 31!

Bretton Woods wedding photographers, Russell and Liz Caron, are romantics at heart who love photographing people in love. Are you getting married? No matter where your wedding is located, we'd love to travel there and take breathtaking wedding photos. For more information contact us right away!