Environmental Wedding Photo | Environmental Wedding Photography
There are so many things we love about this environmental wedding photo of Stephanie and Tom. Their wedding was on a beautiful, mild September afternoon in quaint Jackson, New Hampshire.
Tom and Stephanie chose the Thompson House Eatery, first for their incredible food and fantastic service. And secondly, for the beauty of their entire site. It was also just the perfect size for their wedding. When we saw this corrugated metal siding, we knew we had to take a photo of Stephanie and Tom in front! The rust added color and interest amidst the trees. But mostly amidst a very happy, in-love couple.
Things totally combined to make this one of our top favorite wedding images of the year, landing at #11! See their Jackson New Hampshire wedding for more photos!
Photo by Russell Caron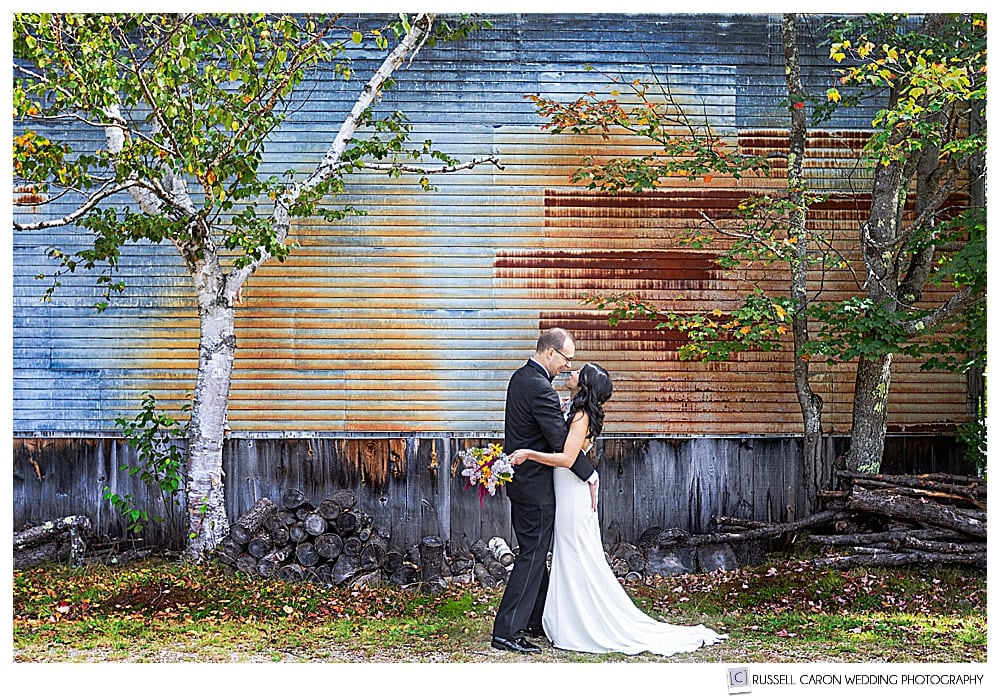 An environmental wedding photo is something we strive for during every artistic photo session with our brides and grooms. Please comment on the blog post, and share!! Thank you 🙂 We'll be into the top 10 tomorrow! Check back tomorrow, and every day, until we reach #1 on December 31!
Venue: Thompson House Eatery
Photographers: Russell Caron Wedding Photography, photographs by Russell Caron and Liz Caron
Officiant: Mike Cherim
Florist: Thompson House Eatery
Paper Suite: Minted
Ceremony/Cocktail Music: AJ Edwards
Band: Shark Martin
Hair and Makeup: Debony Salon
Wedding dress boutique: David's Bridal
Bride's Shoes: Badgley Mischka
Cake: Autumn Nomad
Award winning Maine wedding photographers Russell Caron and his wife, partner, and co-shooter Liz Caron photograph weddings, and weddings only, from Boston to Bar Harbor and destinations worldwide. Let us tell you more about why choosing us as your wedding photographers could be one of the very best choices you'll make among your wedding day vendors. Contact us today for more information and our availability for your wedding!