Celebratory Wedding Kiss | Southport Maine Wedding Photographers
What's not to love about a celebratory wedding kiss?!?
Here's what we really love about this photo. It was actually not even intended to be the way it looks, but chalk up another win for what happens when you have two awesome photographers working for you on wedding day. Read that to specifically mean Liz and Russ! <wink>.
Here's the low-down on how this shot unfolded: Erin and Brian (yes, also seen in #7 and #4 in this same countdown!) wanted us to use our drone for a photo of everyone present (all 100+ people) right after the ceremony. Which we orchestrated and which turned out really cool, no worries. You can see that shot in the link to the rest of their wedding imagers below. Anyhow, Russ flew the drone and having everyone wave while Erin and Brian kissed.
During that shot, with arms raised and lots of cheered , Liz grabbed this close up with her telephoto lens. The crowds of cheering friends and family simply end up making this an iconic wedding photo that is our #2 favorite of the year! Liz' lens did a great job compressing all the action in the background in a soft focus, too. Don't miss seeing the rest of Erin and Brian's classic Newagen Seaside Inn wedding! And come back to see our #1 image of 2018 TOMORROW!
Photo by Liz Caron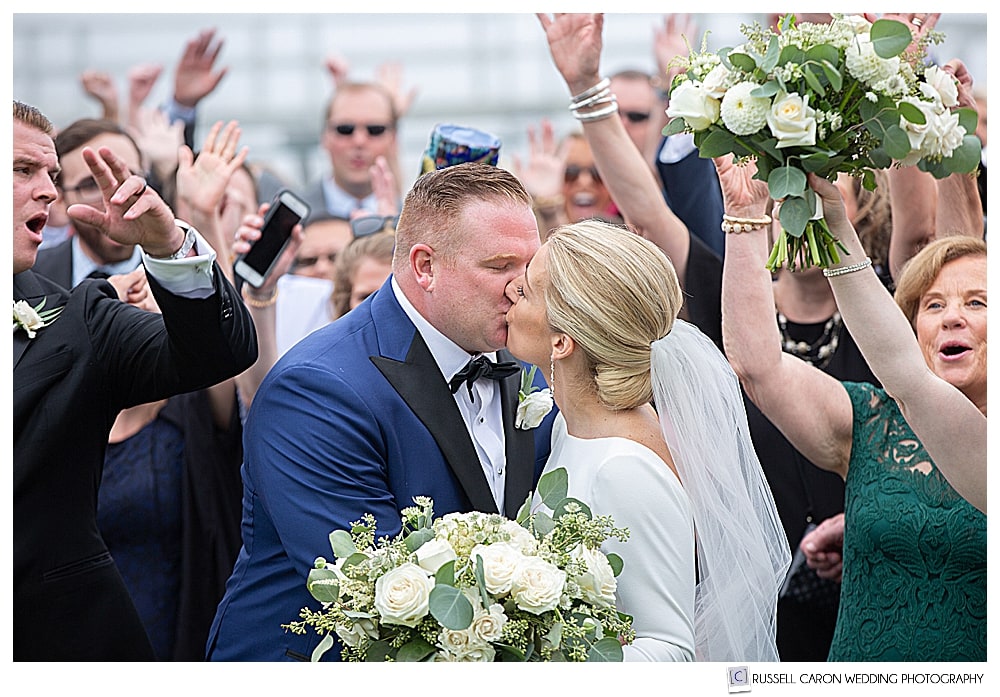 Vendors

Venue: Newagen Seaside Inn
Photographers: Russell Caron Wedding Photography, photographs by Russell Caron and Liz Caron
Officiant:Sally Bullard
Florist: Emily Carter Floral Designs
Paper Suite: Taryn Rose Design
Band: Soul Estate Band
Hair and Makeup: Akari Salon
Wedding dress: Mikaella Bridal
Wedding Dress Boutique: Kleinfeld Bridal
Cake: Nothing Bakes Like a Parrot
Boat Cruise Company: Balmy Days Cruises
Thanks for reading our post about Erin and Brian's celebratory wedding kiss! If you like it, please share!! Thank you 🙂 Tomorrow is #1!!! Let us know in the comments what photo you think it'll be!
Award winning Maine wedding photographers Russell Caron and his wife, partner, and co-shooter Liz Caron photograph weddings, and weddings only, from Boston to Bar Harbor and destinations worldwide. Let us tell you more about why choosing us as your wedding photographers could be one of the very best choices you'll make among your wedding day vendors. Contact us today for more information and our availability for your wedding!