Is the Canon EOS R for weddings: a win? or a fail? Here's an inside, real-life report. How did everything stack up?

My camera backstory
First, a little backstory. Photographers as a group do tend to be dedicated to a particular camera brand. Quite a few Canon and Nikon camera owners have been moving off their tried-and-true brand to Sony and Fuji, among others, to join the relatively new mirrorless camera revolution in which Canon and Nikon seemed / to have been (were?) sorely lagging.
I didn't join the exodus, as I am tried-and-true a Canon devotee, for a host of reasons. Don't get me wrong, I have no issues with Nikon, Sony, Fuji, or others. When something is trusted, rugged, dependable, and makes excellent images in all sorts of extreme situations, I have no reason to jump ship. We work our cameras hard during wedding season! And we can honestly say that our Canon cameras never once have let us down.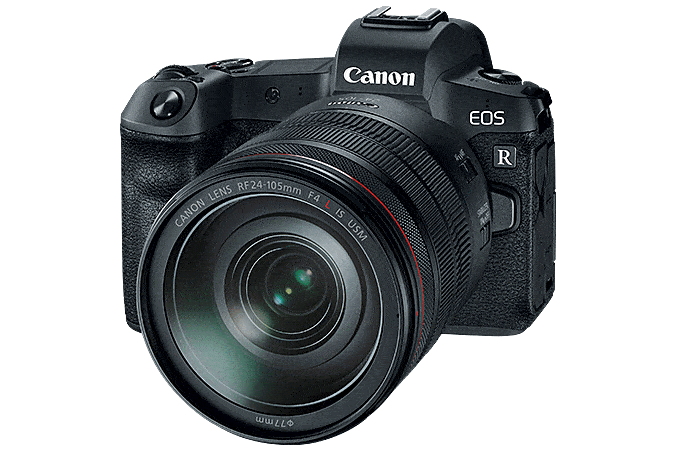 New Technology is Exciting!
So, while I'm not really being open to swapping brands (unless there's due cause). I'm very open to the latest technology and making the advantages work for me in our wedding photography business. After much anticipation, in fall 2018, Canon announced that the EOS R. (Nikon, at virtually the same time, introduced their first two mirrorless full-frame cameras, too).
This was Canon's first foray into a full-frame mirrorless camera system. It just so happened I was the market for a new camera body. The time was right to try the Canon EOS R. And perhaps contemplate, a system-wide switch to mirrorless cameras and their attendant lenses.
Before buying the EOS R around Thanksgiving, I'd held an EOS R and snapped a few shots during a pre-release industry demo event. I wanted to give this camera a real try, as I could envision swapping over our entire suite. I instantly connected with it. Accordingly, I began justifying how the lack of a second memory card slot might not be the "show-stopper" I and many others initially felt it would be. More on that later.
It's now a month later, and I have my real-world results to share.
I really wanted to love the Canon EOS R!
There's so much potential going on with it. But the initial love I found for it faded quickly. It only took a few minutes at a real wedding to tell the truth.
Don't get me wrong, it takes excellent images. I mean, really excellent. But that's not the whole story. There is so much more to a camera than just the image quality. So, then, what happened?
General Canon EOS R Overview:
Let's start with statement that a mirrorless system makes more than a ton of sense, engineering- and design-wise. The conventionally-mirrored pentaprism-equipped DSLR is essentially a digital version of the beloved film-based SLR, the first of which dates back to the Asahi Pentax of 1957 (!).
In other words, the cameras are the same technology except one received its image on film and the other the image is made onto a digital sensor. Old as that design is, it's hard to argue that it's brilliantly effective. But then again, today's mirrorless systems bypass a lot of moving and slapping parts in favor of electronics. So there must be a ton of advantages. Not to mention advanced autofocus systems that can make their measurements directly off the sensor.
Without a mirror to show the photographer what they're composing, the viewfinder in a mirrorless camera relies on a high-resolution LED screen, aka the electronic viewfinder, or EVF. Or, the image composition could be made using only the rear LCD screen, but most pros I know would not work that way for normal shooting situations.


Mirrorless camera bodies are also smaller. Quite a lot smaller than their DSLR counterparts. However, much of that size advantage dwindles notably as soon as a lens is attached. The percentage of lower weight and size of a mirrorless camera body becomes (much!) less significant as you add lenses, adapters, and especially with a battery grip.
Canon EOS R pros and cons – The PROs
Size and Feel

The EOS R felt really nice in hand. Both with and without the optional two-battery grip. Just the right heft, just the right balance and feel. In other words, excellent ergonomics, as far as hand-holding was concerned.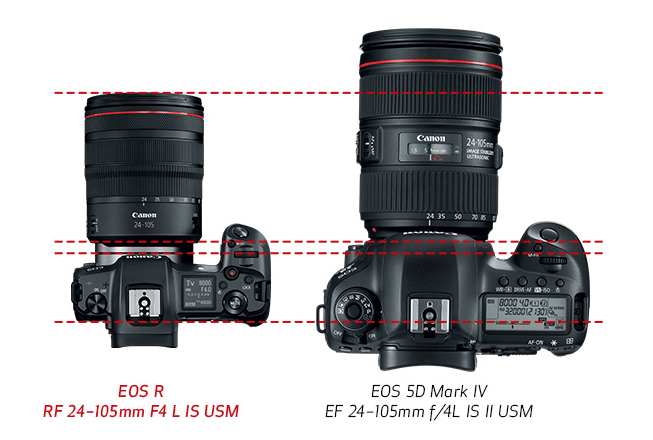 Looks
I'm truly not sure what significance this really has, but, dang, this is a really sweet looking little camera.

Image sensor

The image sensor of the EOS R is for all intents and purposes the same as the beloved Canon EOS 5D Mark IV. Which is a great thing, especially as a wedding photographer. I say that because at ~30.3 megapixels the image is plenty large for really detailed resolution without being excessively so.
The 24-105mm f/4 RF lens
This lens produced sharp, clear imagery. When asked "what lens would you have if you could only bring ONE with you?" it is really hard to find a better answer than a 24-105, even with a relatively slow f/4 maximum aperture. This one includes a new autofocus motor feature Canon calls NANO USM, though I really can't attest to any real advantage this made over the older design EF 24-105 f/4 that we routinely use with our 5D Mk IVs.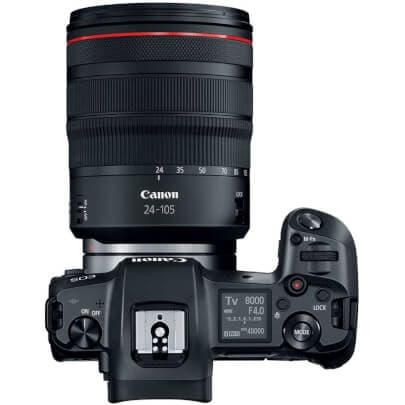 Rear articulating screen
The EOS-R's articulating "vari-angle" touchscreen LCD screen is a nice and useful addition. The EOS-R has its own RF series of lenses, but Canon shooters with an array of EF lenses can use them successfully with three different optional mount adapters. One even includes a clever drop-in behind-the-lens filter system.
Top LCD display
The camera body-top LCD screen is very clear and is positioned well.
Minor cons:

New lenses or lens adapters required!

EF lenses cannot directly be used, and RF lens selection is currently very limited.
Canon EF to RF mount lens adapters are available, for sure but that adds costs and negates some or all of the weight, size advantages of having made the different mirrorless-only RF lens mount.
Multifunction bar
There's a programmable "multifunction bar" along the top backside of the camera. I'll join the chorus of other reviewers to say this thing in nearly useless for me. It's slow and unresponsive. It went unused.
Silent Shutter Mode
Sure, there's a silent shutter mode. Nice as it is, it's only available in single shot mode, which isn't how we shoot weddings. With our 5D Mk IVs as incredibly quiet as they are, this is, for us, silent shutter mode gains us little to nothing.
The major cons for wedding photographers
You know what's coming:
Yup. The lack of two card slots.
Ultimately this makes this camera a no-go for any work where there isn't a chance for any do-overs. I knew this camera had just one slot when I bought it. As a second-string camera that would've been used while other cameras were also in use, and with a set of several high-end top-brand, fast SD cards, coupled with frequent switching-out and the very low odds of card corruption in the first place, I tried to sell myself that this wasn't a total show-stopper.
But It really is,because who wants a $3,400 camera system that can't truly be used first-string at a wedding or any event when there is no chance for a do-over? So, I changed my mind with all the hassle of frequently changing cards and not having redundancy and the lack of dual card slots IS very much a show stopper.


Touchscreen/Lack of direct buttons
Try as I may, having to use the touchscreen instead of dedicated buttons for key functions didn't set well for me. For weddings I shoot in what I call "semi-manual" mode. The camera is in Aperture Priority mode but I use manual exposure comp for virtually every shot using my thumb on the jog dial on my Mark IVs.
This function on the EOS R requires the use of an idea that sounds good on paper – but is less so in actual high-speed use – the 'control ring' way out front of all new RF series lenses. That, and no dedicated ISO button, as another example, are serious flaws for me. On this point: why the precious top plate real estate, where a direct control knob could be, is dedicated (only) to the on-off switch? I'd love to have seen a 'mode' knob in that space.


Non-lockable center focus point
I could not "lock" my chosen center focus point to stay in the center. Oh, I did find that you can "re-center" the focus point using the "trashcan/image delete" icon (intuitive, huh??) but to need this all the time in the first place was frustrating. I guess if I folded away the rear screen to its hidden position then I wouldn't inadvertently be moving it all around – but then I couldn't use the screen. It's a lose-lose situation going on here. I don't need 5,655 (yes- that is the actual number, not an exaggeration) focus points; I just one – but one I can lock!
The biggest issue of all with the Canon EOS R
In a nutshell, I simply could not efficiently adapt to the electronic viewfinder, at least not when photographing weddings. It just created too many instances, albeit most of the time brief, of a loss of view of my very critical subject. I felt "encumbered"; I felt like the camera and I were not "connected" and were not at all working at the same critical speed. It often felt like I had to wait for the viewfinder to "catch up" in its orientation and when switching from image preview to live view.

In fairness know that I didn't exhaust all the in-depth menu items that may have helped with some of these things. I know that more time could have solved some of these issues, either with more learning, more experience, firmware upgrades, and the like. But it could not help with the lack of two card slots.
The bottom line
What was I trying to fix by switching away from something that not only wasn't broken in any way, but is so well-loved…our 5D Mk IV cameras?? It sounds very cliché but the 5D Mk IV camera body, viewfinder, lens, jog dial…everything…feels like a natural extension of my eye and fingertips.
Canon will say, "hey wait a minute, the EOS R wasn't designed to be a professional's camera"; rather it is an advanced "pro-sumer" model. But, geez, it costs nearly as much what a pro body would cost. It has the same sensor as the 5D Mk IV used by pros around the world. All the infomercial ads on social media feature the praise of well known Canon ambassador top professionals. So while no one can really argue with Canon's intentions, the intended purchaser and user of the EOS R is, at best, a really mixed message.
Mirrorless may indeed the future, but for me for now, the future isn't here yet. It was a true learning experience, and I am appreciative of having, and thus my willingness to share honest dialogue with readers here in this post. Our EOS R is going back. Our next camera is going to be another rugged, dependable, top-quality-image-producing 5D Mark IV.
BUT, I've been around long enough to know that all of the above could, may, and likely will change someday. I may have simply "jumped the gun". A "false start" in NFL terms. The next (2-slot) model may strike my fancy like this one didn't. Issues with EVF may be more transparent to me the next time. Who knows.
I'm not closing off mirrorless for another try in the future. It's like going to an acclaimed restaurant and having a bad meal. Maybe something was just off with a whole host of factors that once. The prudent thing to do would be to give it another try. And I am up for that. Just not now.
If you're not a wedding photographer
Many, or maybe all, of the negatives I cited that are serious and/or "show-stoppers" could very well be complete "non-issues" for you. So, I encourage trying out the EOS R, or ANY camera you're contemplating buying for that matter, in YOUR real-world situation.

My honest suggestion about where to buy your photo gear
If you live in New England, I could not more highly recommend purchasing your cameras, lenses, and accessories from Hunt's Photo and Video. They are more than excellent and fair to work with, and will generally always meet the best of the on-line prices while giving you exemplary in-store, real-person service before, during, and after the sale. I'm not being paid a penny to say this, it's just real-world true experience.