Cape Elizabeth Engagement Photo | Maine Wedding Photographers
Dana and James met us in Cape Elizabeth for their engagement session in early November. We loved the feeling of quietude and peacefulness that late fall brings to the coast of Maine. It was really chilly and gray, which lends a whole host of beautiful elements to their Cape Elizabeth engagement photo that comes in at #4 in our countdown.
One of the things we love about this photo is that Dana and James are having lots of fun interacting with each other. They're really not paying attention to the two photographers, 4 cameras, and 6 lenses standing a dozen yards away! We also love that the boardwalk meanders on past them, drawing your attention toward the future and what waits ahead.
During an engagement session, we tell our couples that this is a more intensive photo session than on wedding day. During a wedding there are so many things going on. There are candid moments interspersed with posed moments, and more time to relax (?) in between.
We'll see Dana and James in late spring at their Point Lookout wedding. And know that it's going to be a wonderful day!
See their coastal Maine engagement to see how they rocked their photo session!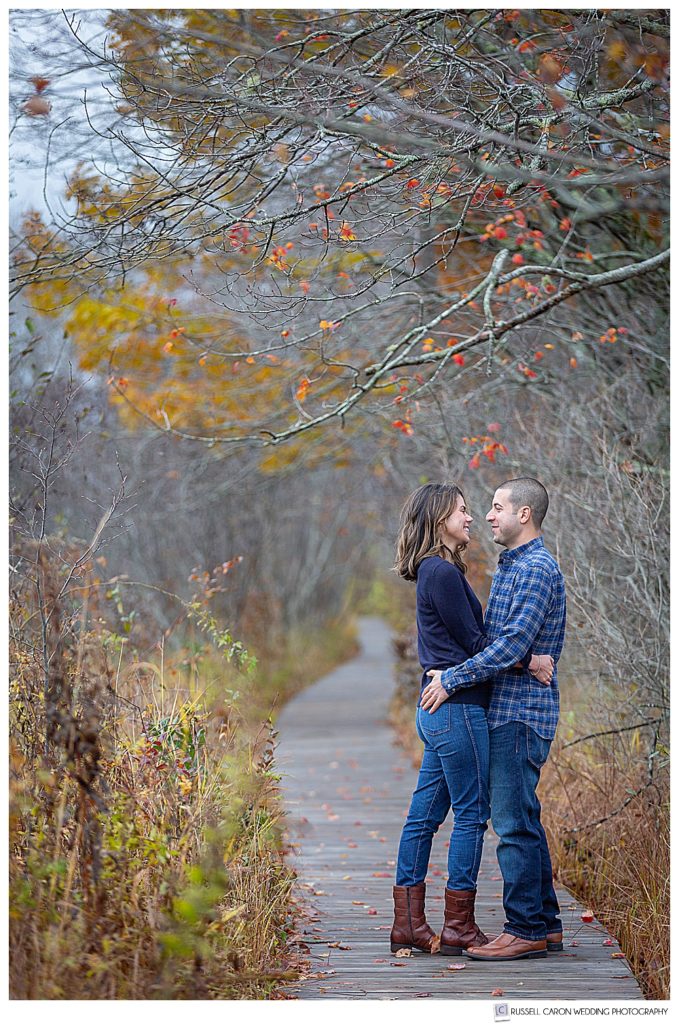 Let us know what you think about this Cape Elizabeth engagement photo! Please comment and/or share this post, thank you!! Keep your eyes open tomorrow to see what comes in as our #3 top engagement image of 2018!
Getting married? Maine wedding photographers, Russell and Liz Caron of Russell Caron Wedding Photography, would love to be part of your wedding day. Engagement sessions gives us an opportunity to work together before your special day. The connection we build during an engagement session is invaluable, and a whole lot of fun! We had such a great time during this Cape Elizabeth engagement photo session, imagine yourself doing the same! For more information, please contact us right away!