Building a Fast Mac Mini for Photography
Building a fast Mac Mini for photography! We present this post for the benefit of anyone wanting more info on how to build a customized Mac. It'll have a mix of Apple and non-Apple peripherals. Attracted to the near-limitless customization afforded by the then-new 2018 Mac Mini, quite similar in that respect to that enjoyed by PC users, we built our new system. It wasn't without a hiccup, but it was one that was easy to fix. And, now, with the new 2020 M1-chip Mac Mini Apple just announced, you'll likely avoid this hiccup, which we'll talk about in a moment. First, let's start with a look at the components. Which, by the way, makes a unit that is fast and able to do all the photo editing we throw at it.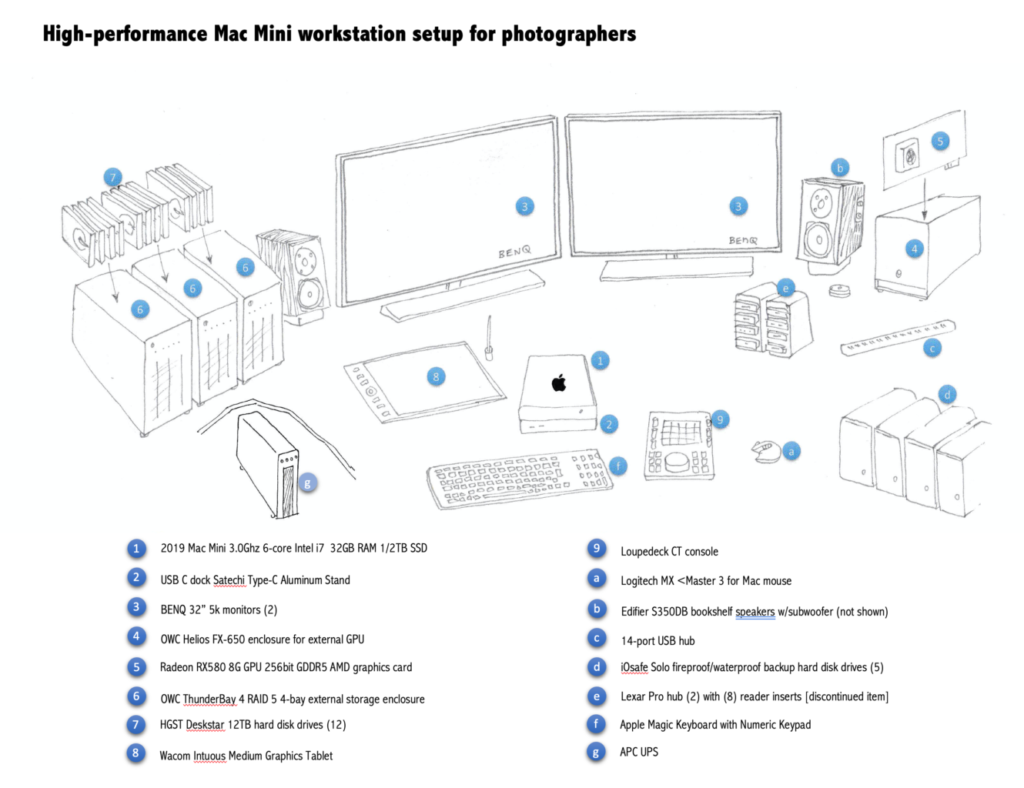 The core of this system is a (1) full-spec Mac Mini (2018). Everything that could be "souped-up" inside was. That hiccup previously mentioned? Graphics (video) performance: the one component inside the 2018 Mac Mini that isn't reconfigurable is the graphics card. This was readily addressed with items (4) and (5). The fix was an external enclosure and a fast graphics card. But, wait, there's good news! With the new Mac Mini (2020) with Apple's new M1 chipset, Apple also addressed this previously woefully under-powered internal GPU. They replaced it with a much higher performance unit. It will be interesting to see test results of the performance for this new internal GPU. I'd suggest waiting to buy until more about this performance is known. After all, your high-performance Mac Mini for photographers needs to be just that!
An attractive feature of the Mac Mini (2018) was the complement of four Thunderbolt ports on the back side. It's noted that the new Mac Mini M1 has only two Thunderbolt ports. But they're also USB4 rated. Having two ports shouldn't be an issue as an external GPU reportedly won't be necessary. If more USB ports are desired, a hub can be added. The Satechi Type C "Aluminum stand" (2) is custom made for the Mac Mini and is among the more affordable docks that add front and back panel ports.
A fundamental requirement was to have dual matching screens. With 4k or 5k resolution, too. Since Apple doesn't offer a matching second screen for iMac users, the Mac Mini was a great solution. Adding the OWC Helios graphic card, beyond being essential for the needed horsepower for photo processing, made setting up two screen very simple. The two BenQ 32" 5k resolution screens (3) attached to the graphics card via DVI cabling.
(above) Here's a photo of the actual setup depicted by the sketch. The three external hard drive enclosures are hidden behind the left monitor.  Even though this was a component setup, everything matches closely in Space Gray finishes. The Mac Mini M1 returns to Mac Mini roots and has a silver finish, for what that's worth. 
We have an extensive external hard drive system, with a theoretical capacity at the moment of 192 terabytes (using 16TB drives), That's almost 1/5th of a petabyte of storage. Back when we had just one 4-drive OWC ThunderBay enclosure, we wrote this blog post, which has lots of detailed information including why we use HGST branded hard drives. Spolier alert: it's about reliability. These drives connect via Thunderbolt/USB C cables, and can be set up in a variety of RAID configurations.
Our system also includes a Wacom Intuous Medium pen tablet (8), essential for micro-detailed photo editing. (9) a Loupedeck CT programmable 'keybaord' with that replaces app-driven soft controls with hard knobs and buttons. Thus saving time and repetitive mouse and keyboard motions. (a) a Logitech MX Master 3 for Mac mouse, again chosen for superior ergonomics. (b) an awesome set of stereo speakers from Edifier (subwoofer not shown in the sketch). (c) a 14-port powered USB hub. d) several external iOsafe Solo backup hard drives. These are truly unique inasmuch as their enclosures are both fireproof and waterproof. Be sure to check them out. Item (e) Two Lexar external card reader hubs that facilitates (with a bit of trickery – read more here) import of up to 10 memory cards into Lightroom at the same time. Sadly, this device is currently no longer available, but we hope this changes at some point.
When you buy a Mac Mini, keep in mind you must purchase your own mouse (already covered above) and keyboard. Logitech makes a good keyboard companion to the MX Master mouse. We still like the Apple Magic Keyboard with Numeric Keypad, so that's what we have.
Keeping the power alive/Summary
The Mac Mini, the displays, and the hard drives are fed their AC power through an APC Uninterruptible Power Supply (UPS). This is a vital peripheral if you live anywhere susceptible to power outages.
In summary, if you enjoy custom-selecting computer components, and want the ultimate customization in an Apple Mac system, give the Mac Mini M1 a close look. But don't buy just yet – until real-world users have tested and reported back on the performance of that all-important internal graphics processor.
Maine wedding photographers, Russell and Liz Caron, are formerly Russell Caron Wedding Photography. We're a husband and wife wedding photography team, who just happen to be tech geeks! Follow along with us as we occasionally post helpful technical posts, such as this one on building a fast Mac Mini for photography. For more information, please contact us
right away!