Wedding Photography Award | Maine Wedding Photographer | 1st Place PPA Northeast District 2018
When an unexpected package (that must've weighed about 5 pounds) arrives via FedEx, and it's from the Professional Photographers of America…Hmmm? Notably, I know I didn't order anything…?? As a result, like a kid on Christmas morning, I was beyond pleasantly surprised to open the box and find this beautiful wedge of a polished glass trophy. A wedding photography award for 1st place in the Northeast District 2018!!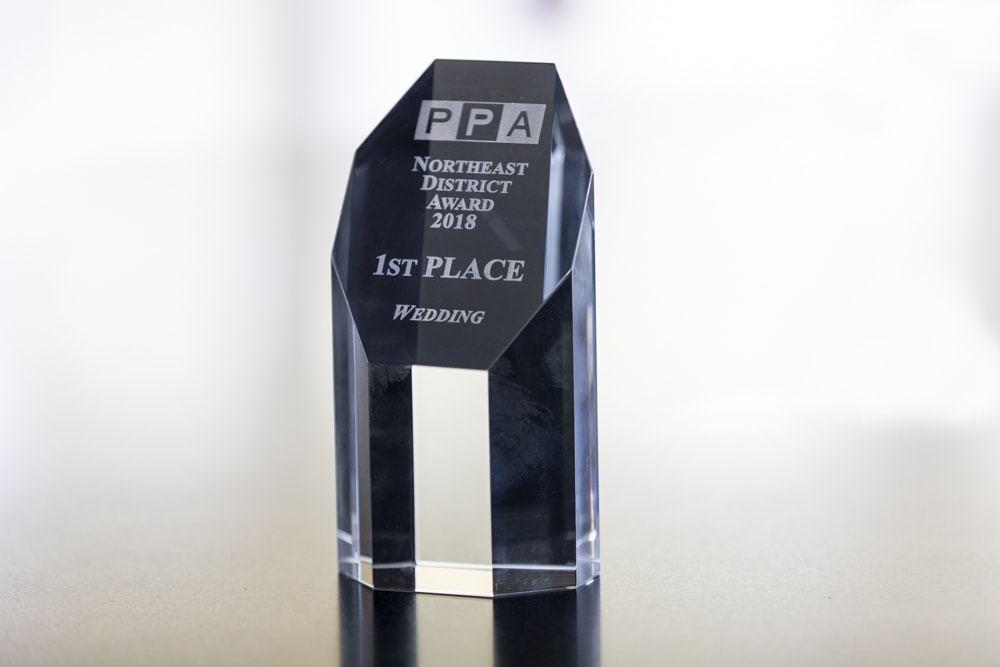 I didn't even know to expect it!
A little background: I've long been an advocate of  taking part in professional image competition, for all the challenge and growth opportunities this affords. Having won the Maine Wedding Photographer of the Year award by the Maine Professional Photographers Association in 2016 and in 2017, I decided to focus my competition efforts the following year at the national level. In March, the Professional Photographers of America (PPA) held the Northeast District Competition. I was watching intently on line, and I did see my image being judged. (We'll share the image later this year. At that time it will have run its course through the next step, the International Photographic Competition (IPC)).
I was super-pleased with the score the image received, as it assured the image will earn a "merit" in the IPC. That merit is the final one I need to have earn my Master Photographer degree from the PPA.
What wasn't apparent to me then was that the image ended up as the highest scoring wedding image in all of the Northeast District Competition, thus earning that award (!). So, it was a most-wonderful, and most-unexpected surprise.
Here's the list of award-winners that accompanied the trophy: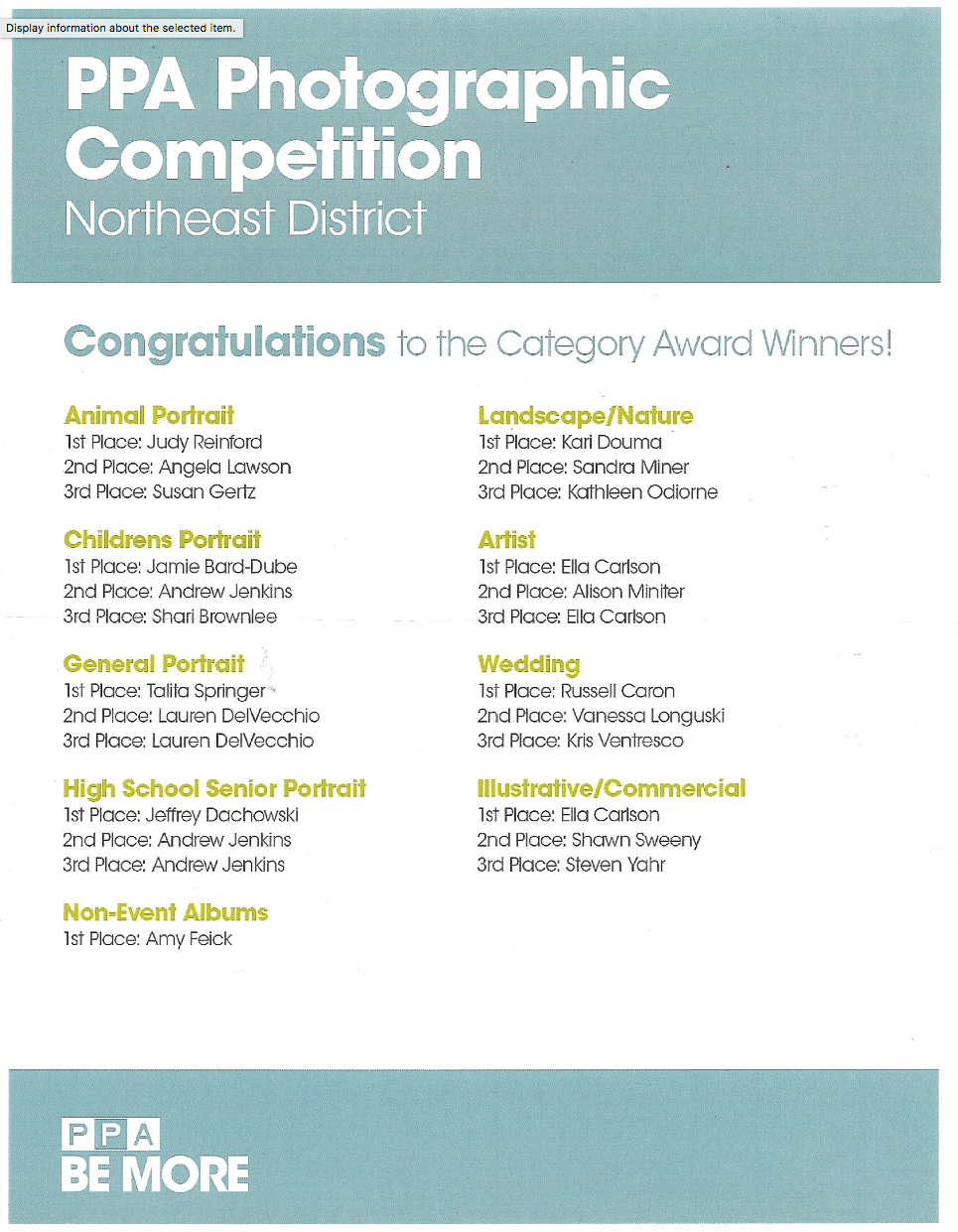 Go Maine!
Maine has some amazing photographers! First of all, congratulations to all the folks listed here, several of whom I know and that live in Maine. Consider for a moment the fact that the Northeast District includes several states. They are Maine, New Hampshire, Vermont, Massachusetts, Connecticut, Rhode Island, New York, New Jersey, Pennsylvania, Ohio, and Michigan. There are 25 winning spots above, and 4 of them are from Maine. Loving crunching numbers, that converts to 16% of the winners coming from under 2% of the population! And this isn't the first time I've seen numbers like that. Those numbers go to something like 36% of the winning slots come from under 4% of the population when you take Maine and New Hampshire together!
The Award Shelf
It's a fine time to share what our award shelf looks like now! Of note, at least one of these awards is for a top wedding image taken by Liz, too!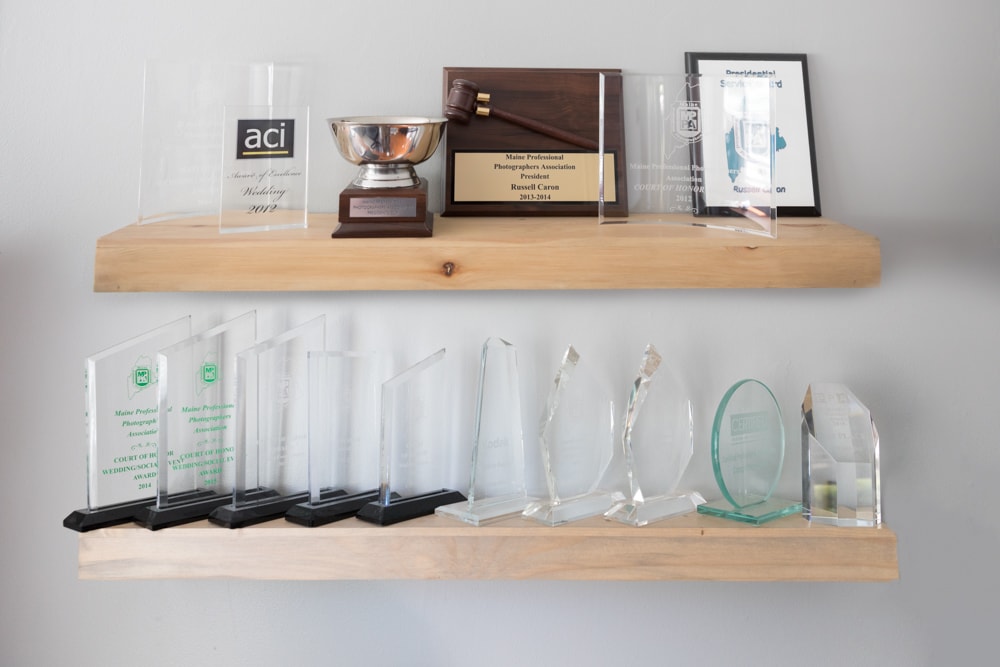 Maine Wedding Photography award winner, Russell Caron and his wife, partner, and co-shooter Liz Caron photograph weddings. Worth noting, that's weddings only, from Boston to Bar Harbor and destinations worldwide. Experience a fun, easy going, professional wedding team, who capture all the important aspects of your wedding day. Let us tell you more about why choosing us as your wedding photographers could be one of the smartest choices you'll make among your wedding day creatives. Contact us today for more information and our availability for your wedding!