Stunning Bridal Portraits | Northport Maine Wedding Photographers
A beautiful September afternoon, and a beautiful bride. A great location, in front of an antique barn. Meanwhile, there was sun shining brightly, making an appearance over the roof. This was tough lighting, looking into the sun as it was, but we love a challenge. You can see the result with one of our stunning bridal portraits of Danielle at her Point Lookout wedding.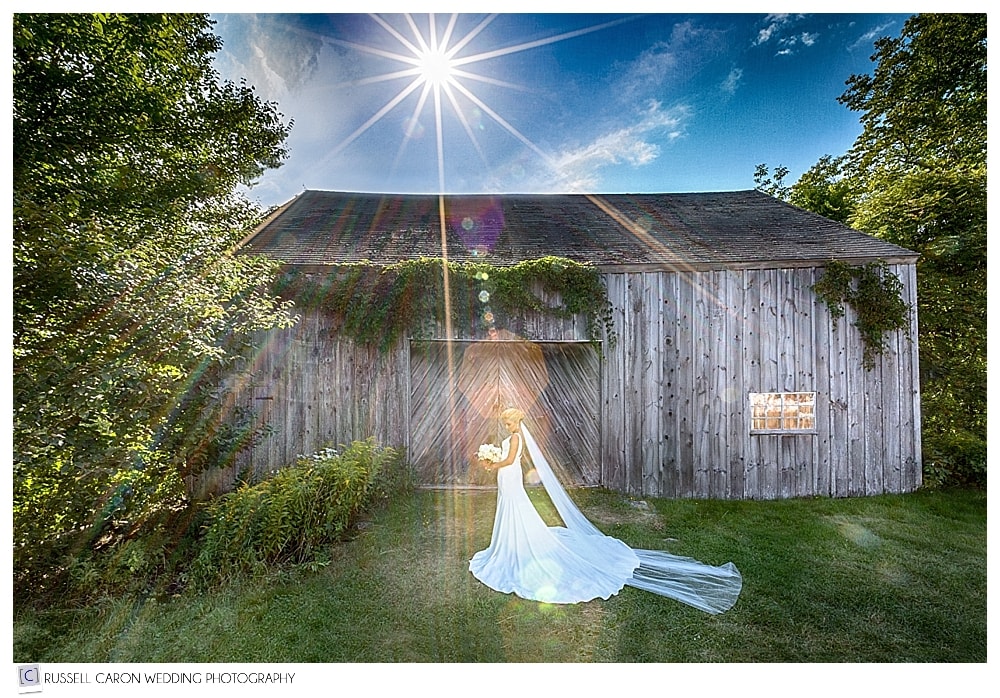 #9 of 2016 | Stunning Bridal Portraits
About the image: Danielle's wedding gown, by Essense of Australia, purchased from Andrea's Bridal in Portland, Maine could not have more perfect for her. After some photos in Camden, we stopped back at the farm at the base of the Point Lookout Resort and photographed the bridal party down at the shore of the ocean. After that, to extoll the fact we had such an opportunity, we just had to stop for a moment as the sun peeked over the roof of the old barn. This let us capture this gorgeous bridal portrait of a gorgeous bride and in a gorgeous gown.
Photographic notes: Flare, in a photograph, occurs most often when strong sunlight hits the front lens element. While it's often considered best to avoid flare, there are exceptions to every rule. Thus, as such there are times when it adds value. Like here. We took care of the contrast issues in post-production, and made this image vividly resplendent in color and saturation, giving it a certain dreamy look that's more art than anything else. This made this image become our #9 Top image
People love our stunning bridal portraits, like this one of Danielle during her Point Lookout wedding! Please stay tuned for more of our exciting wedding photographs countdown from the Top 16 of 2016.
Point Lookout wedding photographers, Russell and Liz Caron, put the fun into wedding photography for Maine wedding couples. Feel the love as this dynamic pair effortlessly capture each of your cherished moments, producing natural poses and unparalleled art for your special day. For more information, please contact us right away!