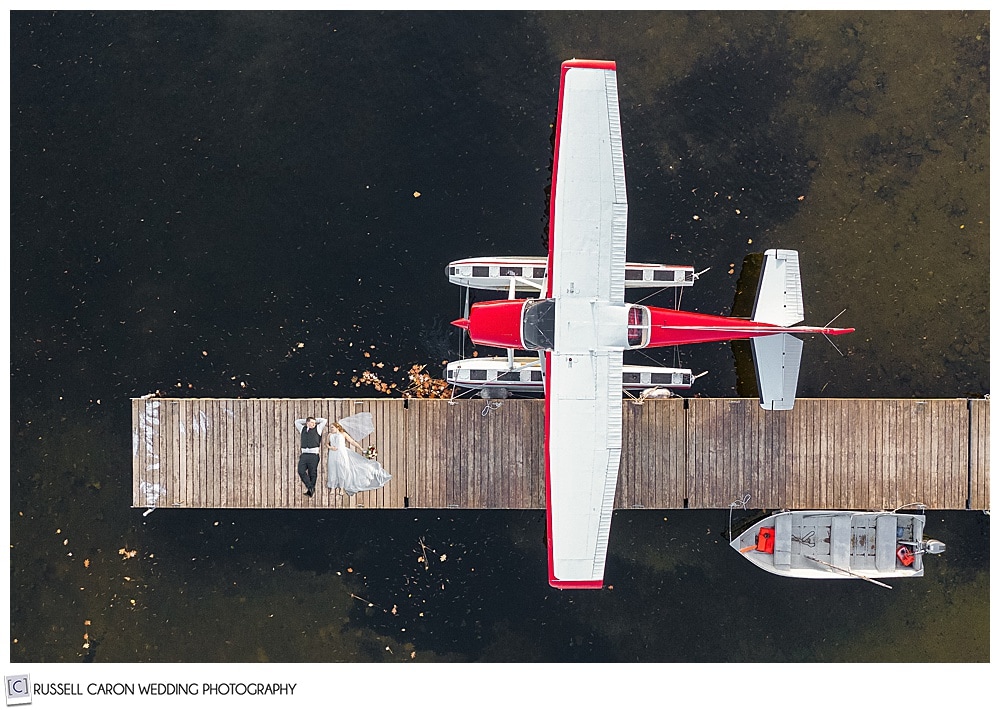 Nicole and Cole's seaplane drone wedding photo is Russ' #4 in his top 19 of 2019.
Well, we're in the top 4 of my favorite wedding photos of the entire 2019 season, and of course that means we're getting into the shots at this point that are really "something": that might mean a shot that is especially scenic, especially emotional, an exceptional moment, etc. Or it may just mean a really FUN and UNIQUE shot, one that I've never done before.
That's this shot. While we've made our top-down couples shot with the drone a signature shot at most weddings, I've never done one (and maybe won't ever again!?) do one looking down on an seaplane. Let alone one floating in the water, lakeside. Let alone one with an adorably sweet couple!
I love everything about this shot; the couple's relaxed, easy-going pose, which well-matches who they are as a couple; the beautiful and colorful plane owned by Nicole's dad (the same one she arrived to the wedding in!…check out the link below to see more!). Everything came together to make this my #4 top-favorite wedding photo of 2019.
Here's Nicole and Cole's Colonial Mast Campground wedding: Colonial Mast Campground Wedding
Venue: Colonial Mast Campground
Plane and Pilot: Mast Cove Seaplane Base
Photographers: Russell Caron Wedding Photography, photographs by Russell Caron and Liz Caron
Officiant: Reverend Donald Mayberry
Florist: Watkins Flowers
Music: Jim Fahey
Hair and Makeup Artists: Meaghan Sloat, Brittany Reed, Diane Fahey
Wedding dress boutique: Andrea's Bridal & Formal Wear
Men's wear: Andrea's Bridal & Formal Wear
Cake: Kindred Farms
Catering Company: Lake Region Caterers
Rentals: Maine Event Design & Decor, The Park Bench Event Decor Rental

Please comment on the blog post if you enjoyed Russ' #4 seaplane drone wedding photo! And please share!! Thank you 🙂 Come back every day, until we reach #1 on December 31!
Colonial Mast Campground wedding photographers, Russell and Liz Caron, are romantics at heart who love photographing people in love. Are you getting married? No matter where your wedding is located, we'd love to travel there and take breathtaking wedding photos. Just like we did for Nicole and Cole! For more information contact us right away!