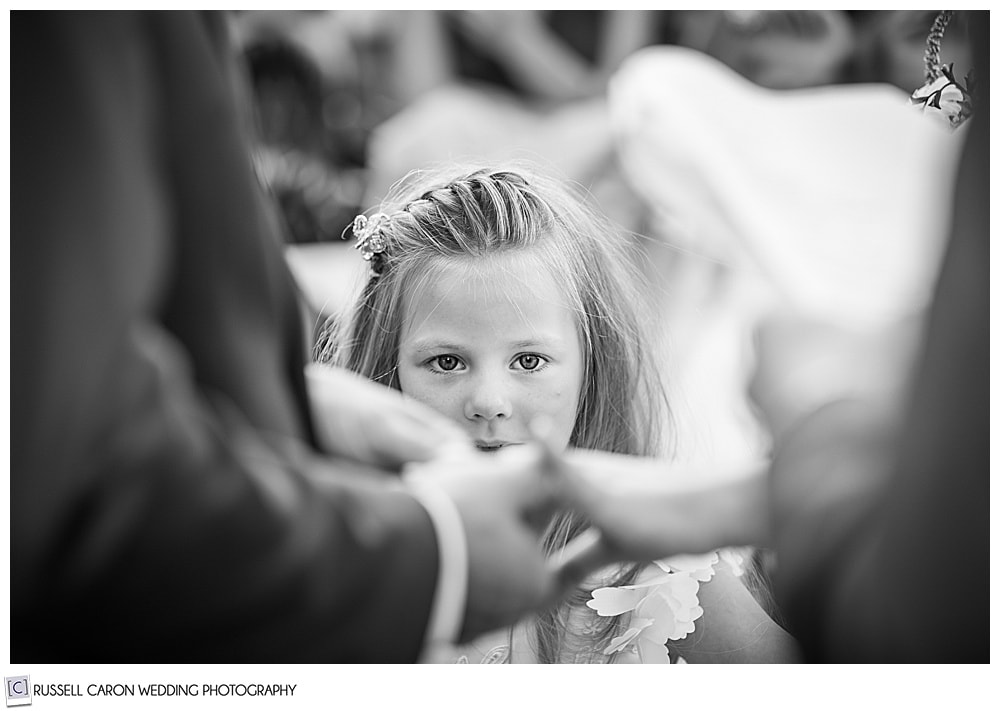 This sweet, intrigued flower girl photo is Liz's #4 photo in her top 19 of 2019!
One of my favorite things to capture at weddings are the precious moments. These can occur at any point of the day, and may or may not star the bride or groom. I'm always looking around during wedding day to see what the bridal party or guests, particularly the children may be doing, as happened here.
This adorable daughter of Haleigh and Eddie, who also happened to be the flower girl, was in a perfect spot to watch her parents get married. I noticed that she was very intent during the ring exchange, so I moved behind the couple, so that I could focus on her. Her attention is riveted on her father putting the wedding band on her mother's finger.
This image was processed in black and white, which is what we prefer when we want the subject to stand out, free from distractions that sometimes happen with color shots.
Can you see why I just love this sweet photo, and why it's my #4 photo of 2019?
Venue: The Glen at Bear Tree
Photographers: Russell Caron Wedding Photography, photographs by Russell and Liz Caron
Officiant: Shawn Brooks
DJ: Bob Wilson, Wilsons DJ Service
Makeup Artist: Amanda Orlowskyj
Wedding dress designer: Essense of Australia
Men's Wear: Men's Wearhouse
Please comment on the blog post if you enjoyed Liz's intrigued flower girl photo! And please share!! Thank you 🙂 Come back every day, until we reach #1 on December 31!
New Hampshire wedding photographers, Russell and Liz Caron, are romantics at heart who love photographing people in love. Are you getting married? No matter where your wedding is located, we'd love to travel there and take breathtaking wedding photos. Just like we did for Haleigh and Eddie at their intimate wedding at The Glen! For more information contact us right away!