Ocean Park Engagement
Emilie and Perry joined us for an Ocean Park engagement, on a beautiful but windy day in May. Emilie and Perry had come to Maine for the weekend to take care of some wedding business and to meet up with some of their vendors. This was the first time we'd met in person, and we loved that they were both really comfortable right from the start. Emilie's grandparents live in Ocean Park, an adorable section of Old Orchard Beach, Maine. Emilie has been visiting every year for her whole life. She's practically a native! After about 5 minutes of chatting together, we heard someone shout Emilie's name. It was a friend and former employer of Emilie's, the owner of the Ocean Park Ice Cream Parlor.
Having an engagement session is important!
Having an engagement session is so important, because it eases any tensions a couple may have. Also, it melts away any chance at being uncomfortable being photographed. Our couples quickly become comfortable with having two photographers and four cameras pointed in their direction, because we make it easy and fun, and pretty soon nerves fade away and there's typically lots of laughter. These two were super easy to talk to and we had a great time discussing their wedding plans. Emilie and Perry will be married in September at the Black Point Inn, an historic, grand hotel on Prouts Neck in Scarborough, Maine. After spending just an hour with Emilie and Perry, we can't wait to see them on their wedding day!
Oh yes, did we say windy? Yes, it was really blowing and Emilie's first outfit was a super cute (read: short) dress. Emilie was such a great sport, she didn't let a bit of a breeze rattle her! Plus, we went to a great wooded area which, as suspected, was nicely sheltered from the wind. And, smart girl, Emilie brought a change of clothes for the beach shots. We loved this couple!! Emilie and Perry did a fantastic job during their Ocean Park engagement, as you'll see from the photos below.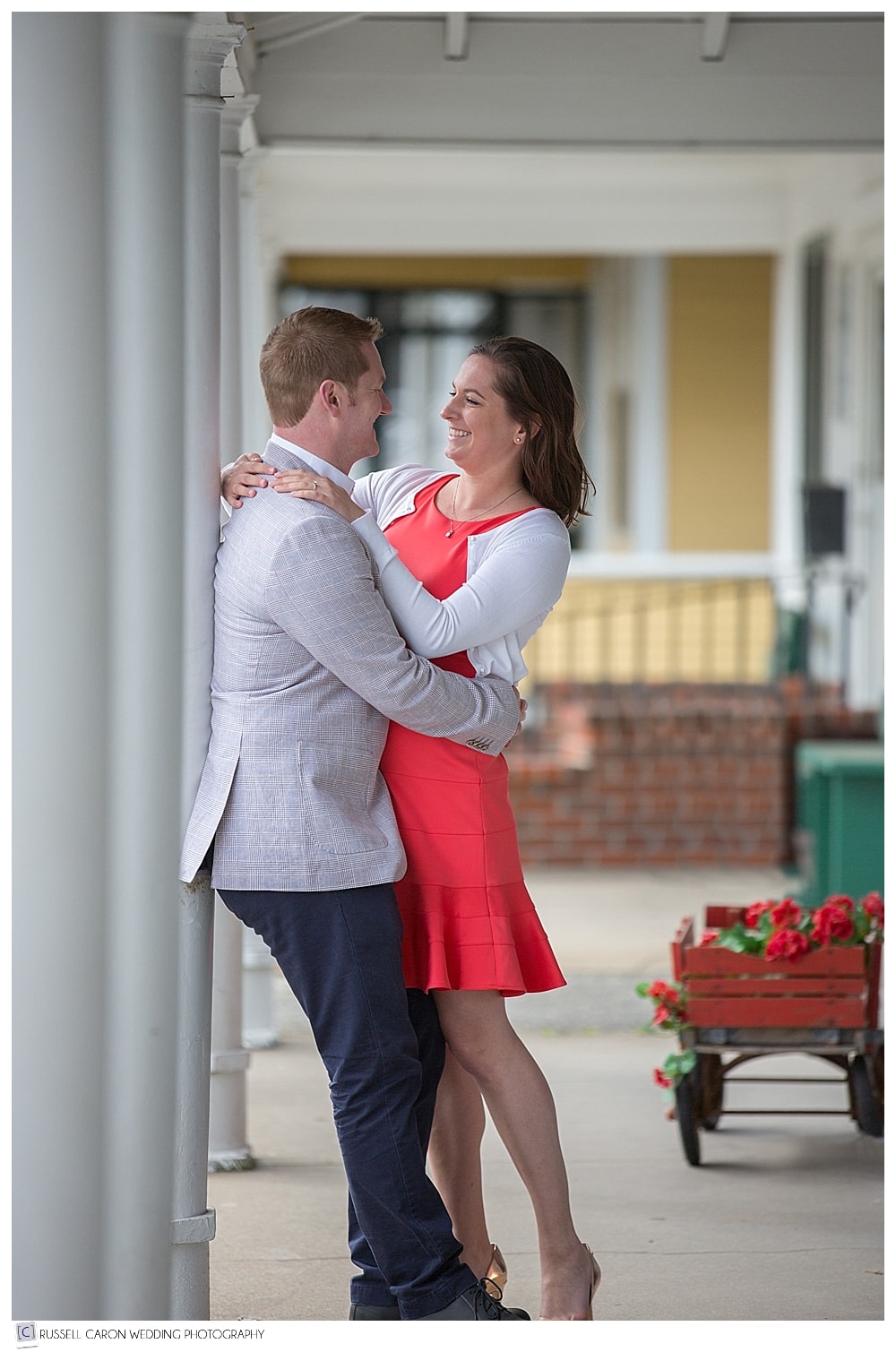 Ocean Park engagement photographers, Russell and Liz Caron of Russell Caron Wedding Photography, would love to be part of your wedding day. While an engagement session isn't mandatory with our wedding photography packages, it gives us an opportunity to work together before your special day. The connection we build during an engagement session is invaluable, and a whole lot of fun! For more information, please contact us right away!