Northport Maine Weddings | Point Lookout Wedding Photographers
Of all the Northport Maine weddings we have done in the recent years at the always-impeccably run and spectacular Point Lookout Resort, Chris and Meredith managed many unique aspects about their day. Unintentional or otherwise, these unique aspects included: having a perfect combination of indoor ceremony at the summit and and indoor reception at the huge ballroom down the mountain at the Pavilion building. A balloon sendoff at sunset in honor of Make-a-Wish, replete with a bagpiper. How about a caricature artist during the reception? Once in a while we have a generous-enough time in the day to head to our favorite artistically painted wall in Rockland. Which we did, but unique to this day was the use of a brand new, very colorful wall in the art district there. See it below!
All of this would be nothing if it hadn't been surrounded by love and friendship every moment of the day. Bridesmaids, groomsmen, parents, families, guests: everyone could not have been any nicer. This wedding closed our 2017 season, as it also closed Point Lookout's. We can only hope for more weddings as perfect and loving as this one was. Here are some of our favorite moments in photos, below. Congratulations, Meredith and Chris, we send you all the best wishes for a lifetime of joy and success!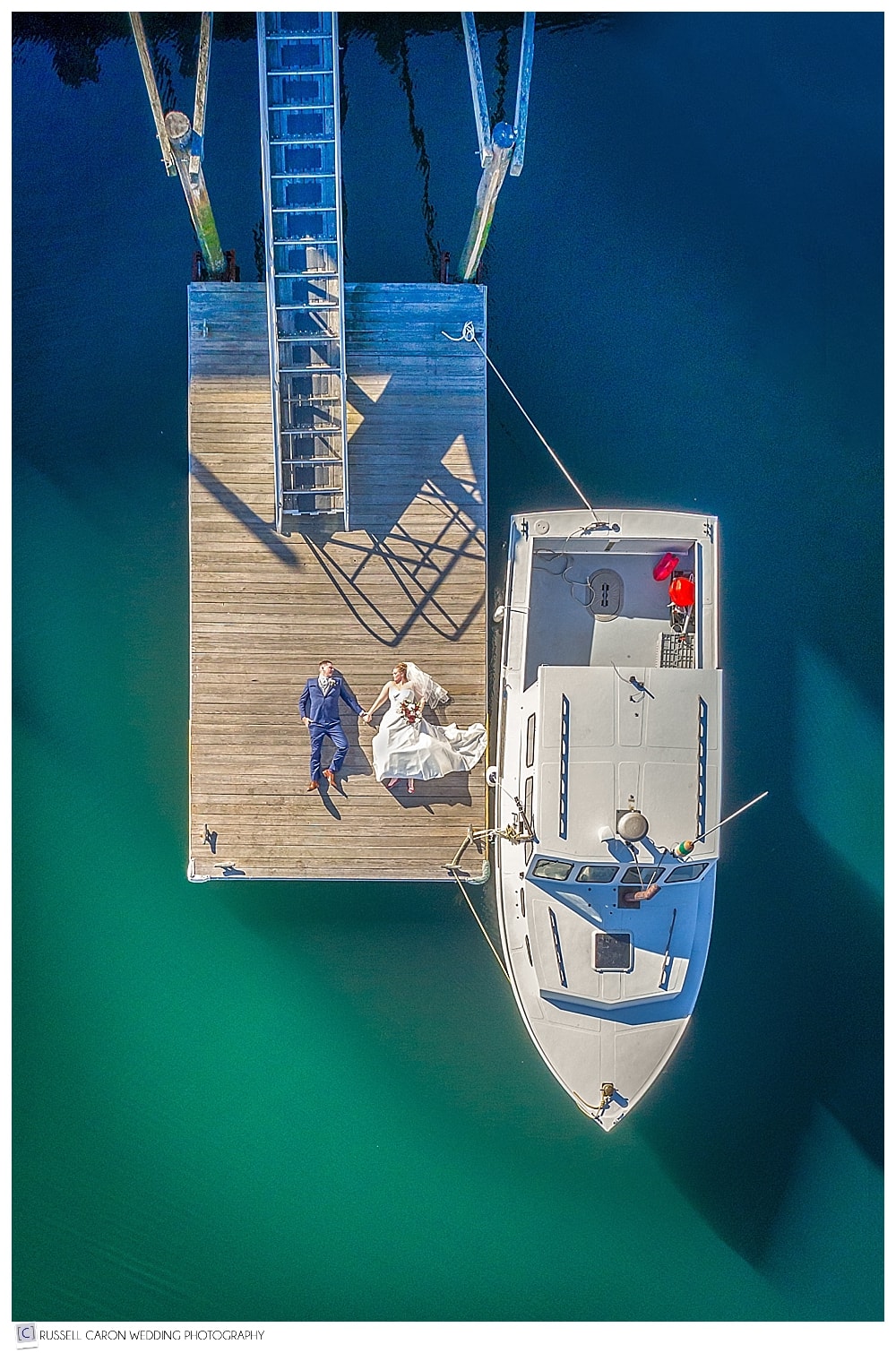 Thank you for leaving comments and shares, we love them!! Please leave a comment and share (!!) to let us know you love Northport Maine weddings, and that you enjoyed Meredith and Chris's wedding. Thank you!
Maine wedding photographers Russell and Liz Caron put the fun into wedding photography for Maine wedding couples. Feel the love as this dynamic pair effortlessly capture each of your cherished moments, producing natural poses and unparalleled art for your wedding day. Russell Caron Wedding Photography will photograph weddings at any destination you can think of, whether you're planning a lovely Point Lookout  wedding, a Caribbean beach wedding, or an Italian villa wedding! For more information, please contact us right away!
Thanks so much to the following fabulous vendor partners:
Venue: Point Lookout Resort
Photographers: Russell Caron Wedding Photography, photographs by Russell Caron and Liz Caron
Officiant: Bill Milford
DJ: Dave Dionne of Dionne Entertainment
Bridal gown:  from David's Bridal
Hair and Makeup: I Do Spas
Cake: Sweets By Sue
Bride's Shoes: Tieks
Paper Suite: Wedding Paper Divas
Photo Booth: New England Photo Booth
Artist: Chuck Caricatures