Maine Wedding Weather Forecast | Maine Weddings
There are so many things to think about with your Maine wedding…including your Maine wedding weather forecast! While none of us have control of the weather, we are in control of the options that weather can cause to happen. And knowing what is most likely going to happen can be a real game-changer.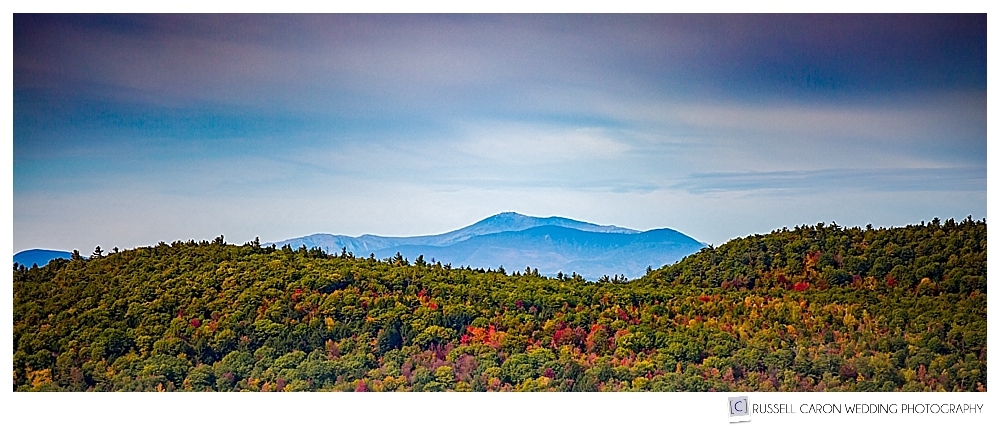 Enter Mallory Brooke, Chief Meteorologist with Nor'easter Weather Consulting and WhiteGold(TM) Wedding Forecasts! Mallory has been on television and radio where she worked for one of the major TV stations in Portland, Maine, until recently before starting her own businesses. Now Mallory is available to help with your Maine wedding weather forecast!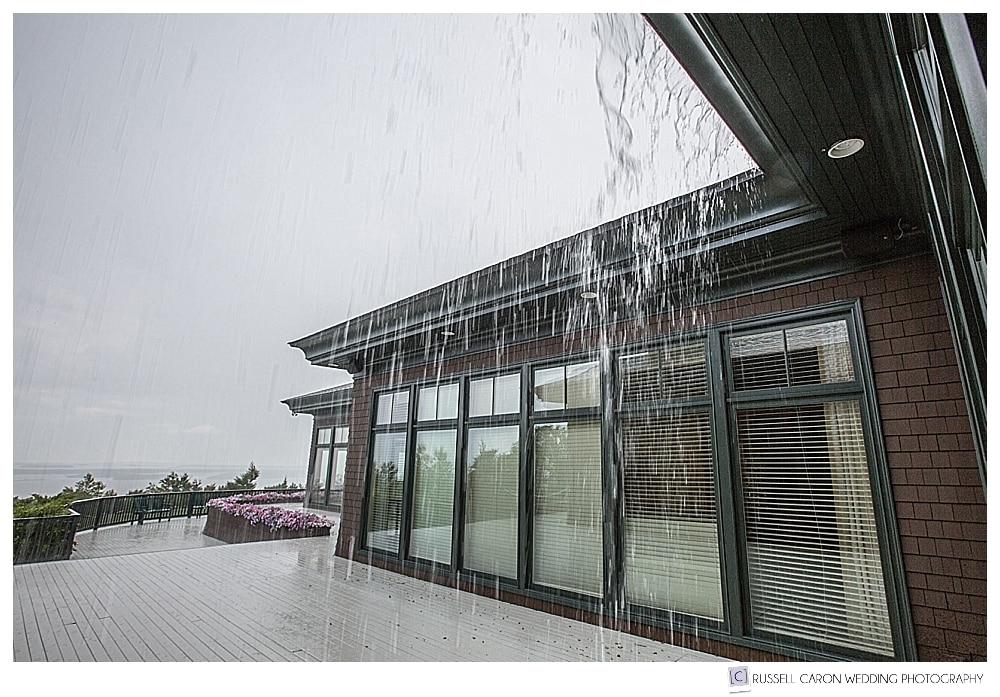 Do you have a plan if it were to pour on wedding day, like above?
Before instilling too much panic or concern, this is the perfect time to put into perspective that, in our many years of experience, an extremely low percentage of wedding days have ever been totally rained out. In fact, even the rainiest single wedding we can think of still had some breaks and we were able to get outside for photos…for at least a little while. For the vast majority of times, as we like to say, "it always works out".
Yet, relying on the confidence that "it always works out" isn't a safe bet. You always need a back up plan.
Keeping the wedding day running smoothly means avoiding last-moment decision-making. Here's where your customized wedding day weather forecast from Mallory enters. If that storm system is forecasted to move in from the mountains right about at the same time as your outdoor ceremony, knowing this ahead can save a lot of last-minute scrambling by the venue staff. And save needless worry by the bride and groom!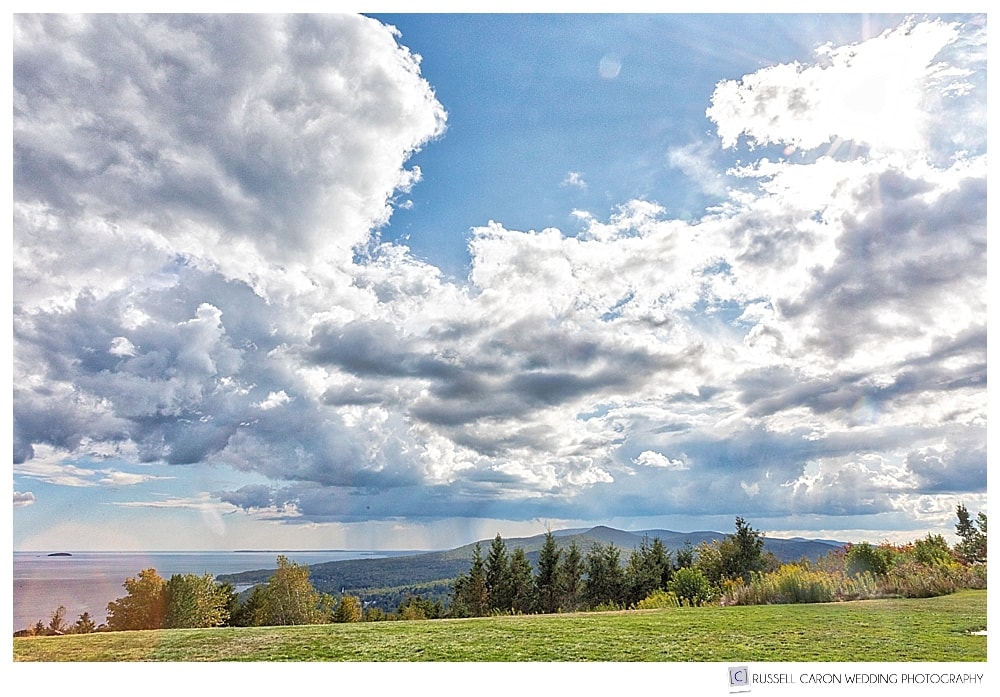 Take the stress out of your wedding day with a Maine wedding weather forecast.
In the photo above, taken at an actual wedding, everyone was blessed that the showers you can plainly see surrounding the wedding location stayed out at a distance. A customized weather forecast on a day like this can help you assess the likelihood that you'll get to be outside or maybe will be safer moving things inside. Of course, there can never be any promises or guarantees, but making decisions based on solid scientific data, as Mallory provides, could be priceless.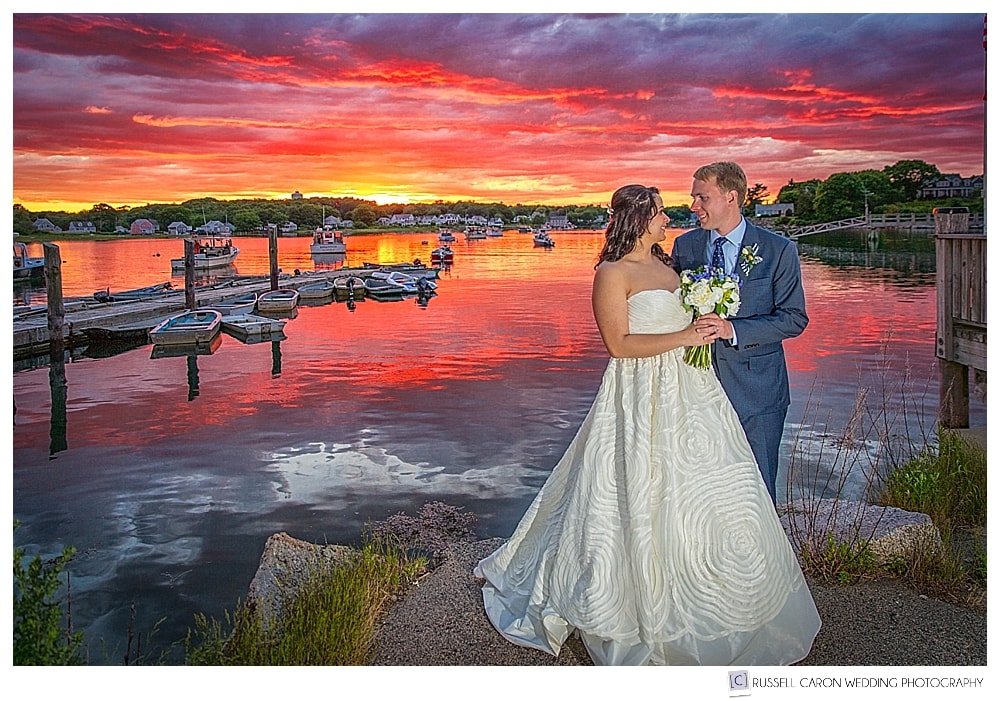 As the time of your wedding gets close, say within a day, who knows…perhaps your customized weather forecast could even include information that could lead you and your photographer to being ready to capture intense and brilliant sunsets!
Maine isn't immune to severe weather, and your personalized forecast can provide warnings about thunderstorms, high wind, even tornadoes. At a recent summer wedding, Mallory consulted with a venue owner high in Maine's western mountains to prepare for a potential tornado warning in effect in some nearby areas. Having your Maine wedding weather forecast delivered to you in times like this, instead of scrambling for it yourself, cannot be underestimated in its importance.
Get scientific help in choosing a date, with your own Maine wedding weather forecast!
Hmmm…? "Is the second week of June likely to be dry and sunny? Or are we better off aiming for the third week of August?"  We hear things like this all the time. Now there's help:
Give WhiteGold Wedding Forecasts a call, and let Mallory help steer you in the likely better direction. She'll remind you that there can never be any promises! However, with her track record, and the decades of data that she has access to for making these detailed predications put the odds in your court.
Intrigued? The modest cost of these custom services by Mallory Brooke could be one of the wisest investments you'll make for your wedding day (right along with your photography, of course!!). Why not give her a call today?
Contact Mallory at
207.650.9755
noreasterweather.com
contact@noreasterweather.com
Disclaimer: we have no connection to Mallory's weather services other than we were Mallory's wedding photographers a few years ago. Here she is on her wedding day, with her husband Jared.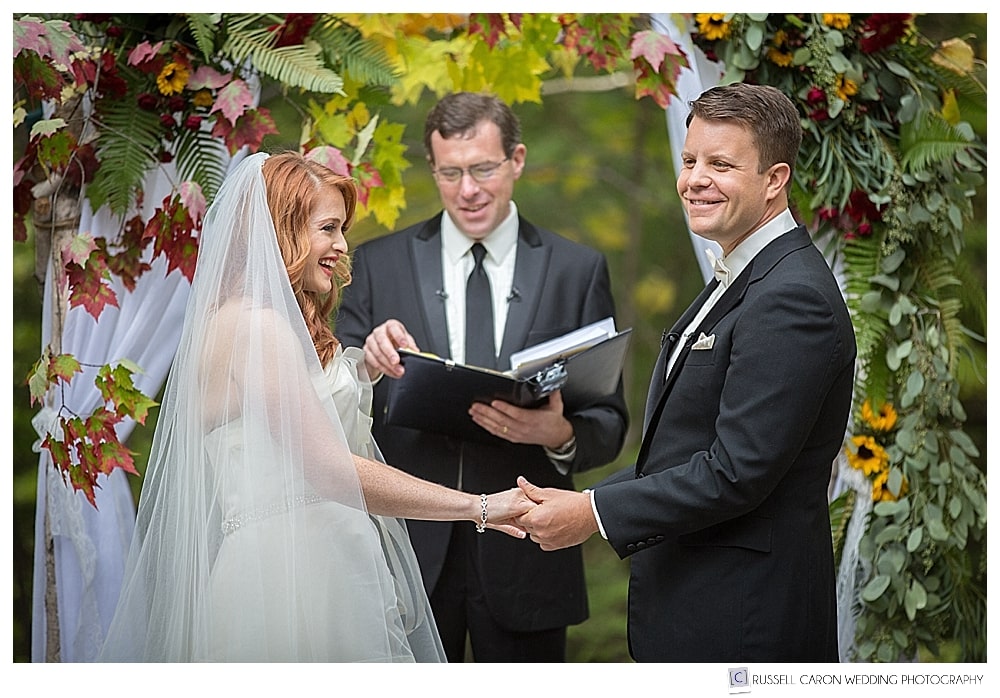 What do you think about Maine Wedding Weather Forecast? Is this a valuable service for your outdoor Maine wedding? Please tell us in the comments!! Thank you 🙂
Maine Wedding Photographer, Russell Caron and his wife, partner, and co-shooter Liz Caron photograph weddings. And that's weddings only, from Boston to Bar Harbor and destinations worldwide. Let us tell you more about why choosing us as your wedding photographers could be one of the very smartest choices you'll make among your wedding day choices. Contact us today for more information and our availability for your wedding!