Maine Wedding Photography Gear | 
What's in Our Camera Bags? 
We're Maine wedding photographers with a side of lifestyle portraits. And even high school seniors now and again. Since we're photographing once-in-a-lifetime events, we need to have super reliable gear. Do you ever wonder about our Maine wedding photography gear? Or what's in our camera bags? Or, maybe how often we upgrade? Here's a post to tell you all about the wedding photography gear that we use. Now you'll know exactly what's in our camera bags!
Maine Wedding Photography Gear Overview
These camera bodies and lenses are all brand-new, and are state-of-the-art. They're the new "mirrorless" camera bodies from Canon. In our opinion, the makers of the best lenses and camera bodies out there. And with the best pro support.
We tested a switch to mirrorless technology a few years back, and our assessment then was that the then-new Canon R wasn't ready for pro use in prime time. Fast forward to 2021 and the Canon R6 and R5, and which we now have 5 in combined total. These are game-changing cameras for the kind of photography we do. Why? They are smaller, lighter, faster, quieter, and use the new Canon RF series of lenses. More on that in a moment. 
The true game-changer with these camera bodies is the eye-detect autofocus. Everything about wedding photography needs these mentioned features. Nothing has come along ever that has made such an advancement on the moments we capture. The RF lenses are ridiculously sharp, AND fast! And at least some of them are lighter and smaller, like the camera bodies. These zoom lenses are as sharp or sharper than their prime counterparts of not long ago. 
The one lens (well, we have two) that isn't smaller or lighter (pictured on the R5 second from the left and on the R6 fourth from left), is a beast, and for good reason. It's been called the most advanced zoom lens ever made. It's the RF 28-70 f/2.0. The most advanced because, well, can you name another zoom (non-prime) lens with a stunning f/2 maximum aperture? This collection of lenses and camera bodies mean we never have to do a time-robbing lens swap during a wedding. Another huge advantage.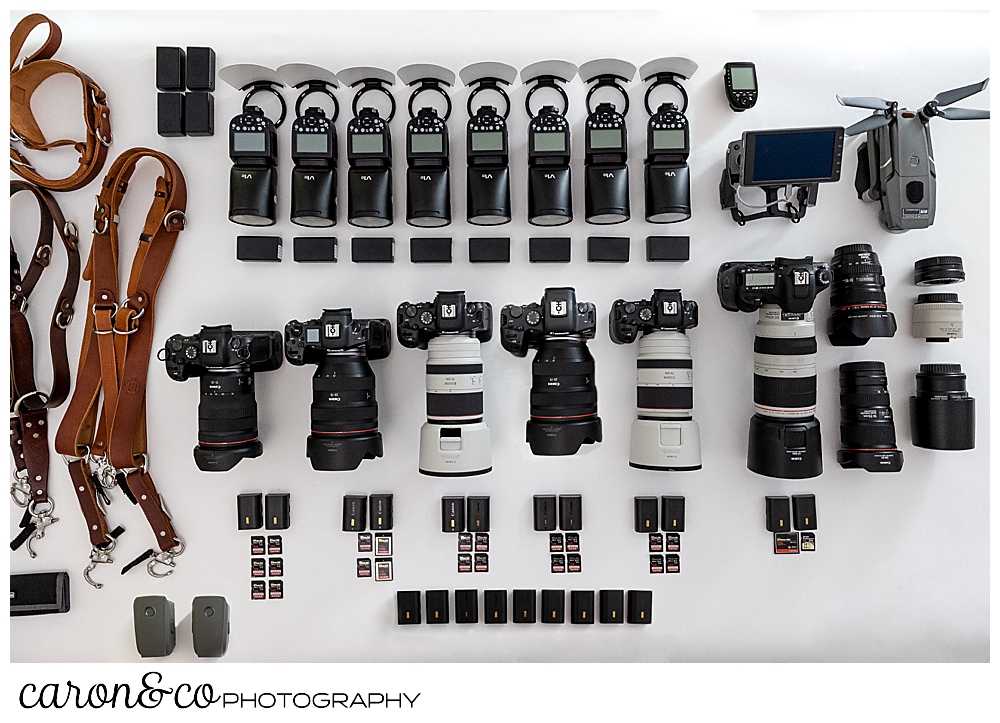 Wedding Photography Cameras and Lenses - Technical Notes
Starting with the cameras, (l) to (r): First, Canon R6/battery grip with Canon RF 15-35 f/2.8. Second, Canon R5/battery grip with RF 28-70 f/2. Next, a Canon R6 with RF 70-200 f/2.8. Then there's another Canon R6/battery grip with the RF 28-70 f/2. Then there's a Canon R6 with RF 70-200 f/2.8. 
Finally we get into backup gear (that's actually never needed in that capacity!) It's a Canon 7D MkII, attached to the mighty Canon L 100-400 f/4.5-5.6. And a variety of EF lenses that fit it. Which includes a Canon 100mm L series macro lens, and a Canon 16-35 f/4. Either of which we use with an RF lens adapter for the R cameras when desired. 
Along the front are 21 Canon batteries, enough for 2+ day's worth of heavy shooting without recharging. And enough 126GB SD and CFExpress memory cards (and backups) to last many days of intense use. All these cameras write the full-size raw files to two cards at a time, for instant backup. 
The 8 flashes along the top are Godox V1C, a dedicated radio controlled arsenal of strobe lighting, for when it's needed. These versatile flashes are used both on- and off-camera – depending on circumstances. One battery lasts through every shoot we've ever done with these lights, but we have 4 more batteries, just in case. To the right is a camera-mounted remote control for the lights, though any one light can be set up as the transmitter and any of the others as receivers.
We carry a wide variety of light modifiers for the V1Cs, too. The radio transmission system that networks these flashes together has proven to be extraordinarily dependable and less susceptible to interference issues sometimes seen at wedding venues when there are other systems running wirelessly.
The straps at left are from Holdfast, and hold two (or, yes, even three) cameras at a time. At the upper right is our DJI Mavic 2 Pro drone with CrystalSky monitor-equipped remote control. Not pictured but also there (!) is the requisite FAA Part 107 certification required to use this flying camera in commercial operations! Besides the ThinkTank memory card wallet, ThinkTank also makes the three rolling cases we use to bring all this equipment with us. 
Does the Wedding Photography Gear Really Matter?
To us, it totally does. It's got to be both tank-tough yet have all the finesse of a fine watch. It has to be dependable and be that natural extension of not only our hands and fingers, but with the way we think, too. Sure, a good photographer can take and make a great photo now and again with minimal equipment, but you can't do that for ten hours at a time non-stop as is a requisite during a wedding. You've got to have gear that suits the job, and we fell we have built the best of the best that works for us with our new arsenal.
The new autofocus system means we come in from a wedding with an astoundingly high percentage of "keepers". As good as our entire suite of Canon pro bodies and lenses were that this system replaced, there is a marked improvement. The ability to shoot 100% silently in houses of worship is another game-changer. Plus the speed at which the cameras keep up with moving subjects and keeping a focus on their eye! It's all really good stuff.
So, having the best gear does matter! Much like how you wouldn't get a haircut from someone using less-than-the-best scissors, you want precision and professionalism from both your photographers and their gear. You're buying professional service, and you're rightfully expecting to get professional gear. And you do. It's a win-win.
Maine wedding photographers Russell and Liz Caron, we're formerly of Russell Caron Wedding Photography. We're a husband and wife Maine wedding photography duo, photographing weddings around Maine and New England. (We also like to write technical posts, like the one here about our Maine wedding photography gear). We'd love to be part of your special day! Whether you're having a huge party, or are having an intimate gathering, we'd love to capture every moment of your wedding day! For more information, please

contact us

right away!