Maine Photographers Welcome Couples Back as Families
As Maine photographers, we really love it when we get a call a couple of years after a wedding we photographed from the bride or groom, asking if we can do another photo session with them…this time with their newest family addition. While we don't do family portraits on the open market, this is something we absolutely love to do when asked. Such was the case with Holly and Ryan, who live in Texas. Holly and Ryan were married here in Maine, Holly's home state, in a very lovely (and still the record-setter for windy!) wedding in September of 2012. (See their beautiful Portland Maine wedding!) Fast-forward to April, 2015, and it's now Holly, Ryan, and Camden, a precious and adorable 5-month old baby boy.

While we loved the in-studio shots we captured, I had in mind a re-creation of sorts of the shot where Holly and Ryan were recessing back up the 'aisle' on wedding day at water's edge in South Portland. So, chilly as it was, we headed to the Atlantic Ocean near Ferry Beach to grab the shot we love shown above. While there are, of course, differences from the wedding day to the family day shot, there are enough similarities to make this a fun comparison. The day's rains from just a few hours earlier had subsided just long enough to let us all get outside, and it turns out that this, not too surprisingly, was Camden's first ever trip to the beach. At 40-something degrees with, again, lots of wind, we Maine photographers didn't mind, but we didn't keep this Texas family out for too long. But bundled as he was, Camden did just fine.
Did we mention how cute Camden is? Take a look for yourself, below, in a studio shot of this handsome guy: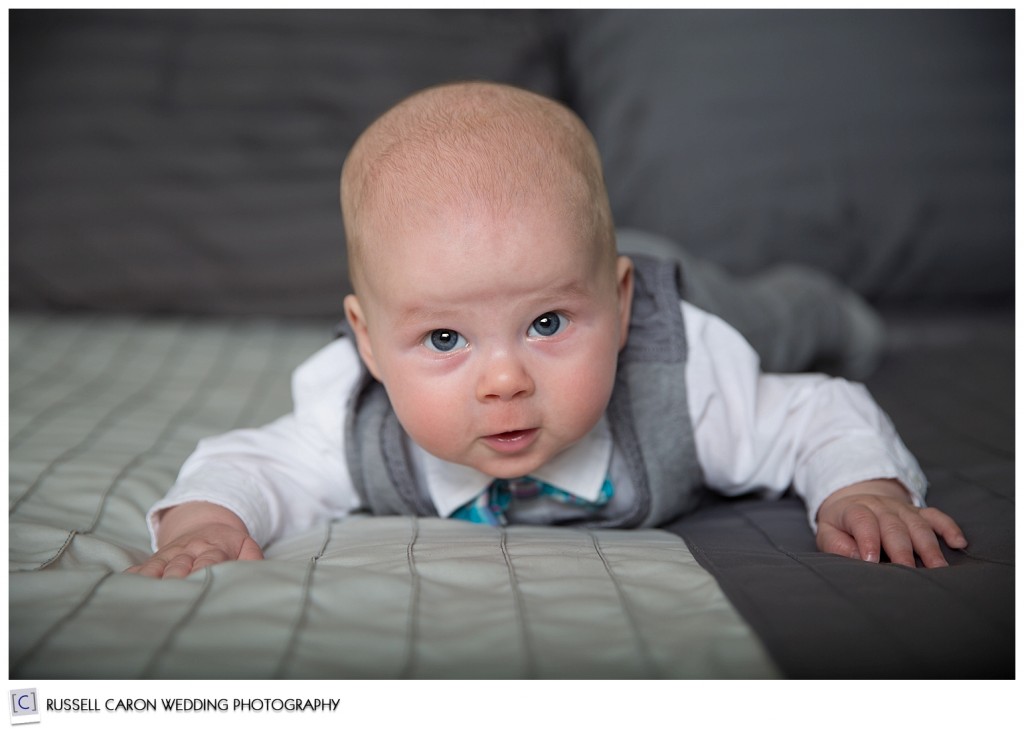 So, if you're a wedding couple of ours from the past, and your family grows, call us when you're planning a trip back to Maine (or better yet ,if you live here year round!) and let's make some more precious memories for you and your new family.
Maine photographers, Russell and Liz Caron, of Russell Caron Wedding Photography, specialize in photographing weddings, but are happy to photograph their past clients when their family begins to grow. Whether for a wedding or a family session, let this dynamic pair effortlessly capture each of your cherished moment! For more information, please contact us right away!