Maine Wedding Floral Designers and Florists | Maine Wedding Photographers
In the Maine wedding vendor world, we're surrounded by so many diverse and talented artists. We're all artists because we all create something beautiful. Whether that's hair, makeup, florals, music, planning, venues, cakes, bridal attire, food, or photographs! Maine wedding vendor artists have an enormous wealth of talent, and today we're talking specifically about Maine wedding floral designers and florists.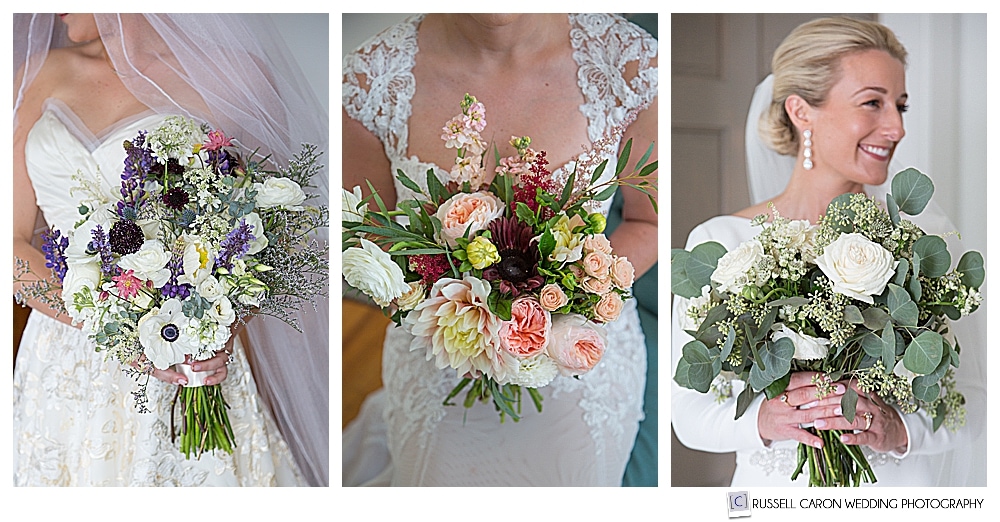 The artistry of Maine wedding floral designers and florists is literally second to none. They perform incredible feats of floral mystery and magic, and can take a wedding and help turn it into a fairy wonderland! We photograph dozens of weddings each year, and we've seen many of the finest Maine floral designers and florists. Lucky us!

Our List of Maine Wedding Floral Designers and Florists

Here's a list of Maine wedding floral designers and florists whose work we've photographed. In no particular order. We know most of them personally and, more importantly, we've worked with all of them. When we photograph a wedding, we get to see the florals when they've just been delivered to the bride, as well as at the end of the evening.

You'll find many options on this Maine wedding floral designers and florists list, with a little bit of something for every taste and budget. (There may be – or more likely are – more than those we list here. But, to make this list meaningful we're only starting it with those with whom we have had personal experience.)
Sweetest Thing Weddings
Yellow Twist Floral Design
Laurie Andrews Design
Pretty Flowers
E Grace Design
Seasons Downeast Designs
Watershed Floral
York Flower Shop
Field Floral + Event Design
Stem & Vine Floral
Cottage Flowers
Mimi + Mum
Campbell's Floral Design
Flour!
Coco Design Company
Fiddleheads
Harmon's and Barton's
Calluna Fine Flowers
Fleurant Design
Flora Fauna
Bounty O'Blooms
Flowers by Hoboken
Prestige House of Flowers
Shelly's Flowers & Gifts
Boothbay Region Greenhouses
Skillins Greenhouses
Downeast Flowers
Sweet Pea Designs
Studio Flora
Wildflower Floral Design
Hawkes Flowers and Gifts
Thank you for reading our blog post about Maine wedding floral designers and florists. Keep an eye out for more Maine wedding vendor posts in the future! We'd love to have you comment here, or to share on social media!! Thanks!
Maine wedding photographers, Russell and Liz Caron, are romantics at heart who love photographing people in love. Are you getting married? No matter where your wedding is located, we'd love to travel there and take breathtaking wedding photos for you. For more information contact us right away!