Liz Loves Lists
My name is Liz and I'm a Virgo. Yes, it's true. And so is Russ. What does that mean? Well, if you can believe it, it means that we're loyal, analytical, kind, hardworking, practical, and we like to be organized! All good things, especially when it comes to wedding photography. We also love lists. I mean, we really love lists. So, we're going to share our love for lists with you every week. These lists will include wedding items, of course, but also everyday things that we enjoy, our neighborhood of Biddeford/Saco (Maine) and the surrounding areas, and things we think (hope!) that you might also find interesting or valuable. I'd like to think of it as a conversation starter, and hope that you'll join me and comment and share. We're calling it Liz Loves Lists, because we also love alliteration 😉
November 18, 2017
1. Brides-to-be
If you're still looking for the perfect wedding dress, head to Andrea's Bridal at 510 Congress Street, Portland, Maine, Saturday, November 19, 2016, for their Annual Bridal Gown Sample Sale. The sale is from 11am-3pm, no appointment necessary, and dresses begin at $99! Many of our brides have gowns from Andrea's, because not only do they have a fantastic selection, we happen to know that the ladies at Andrea's are fantastic to work with. See Danielle's gorgeous Essence of Australia gown from Andrea's, below.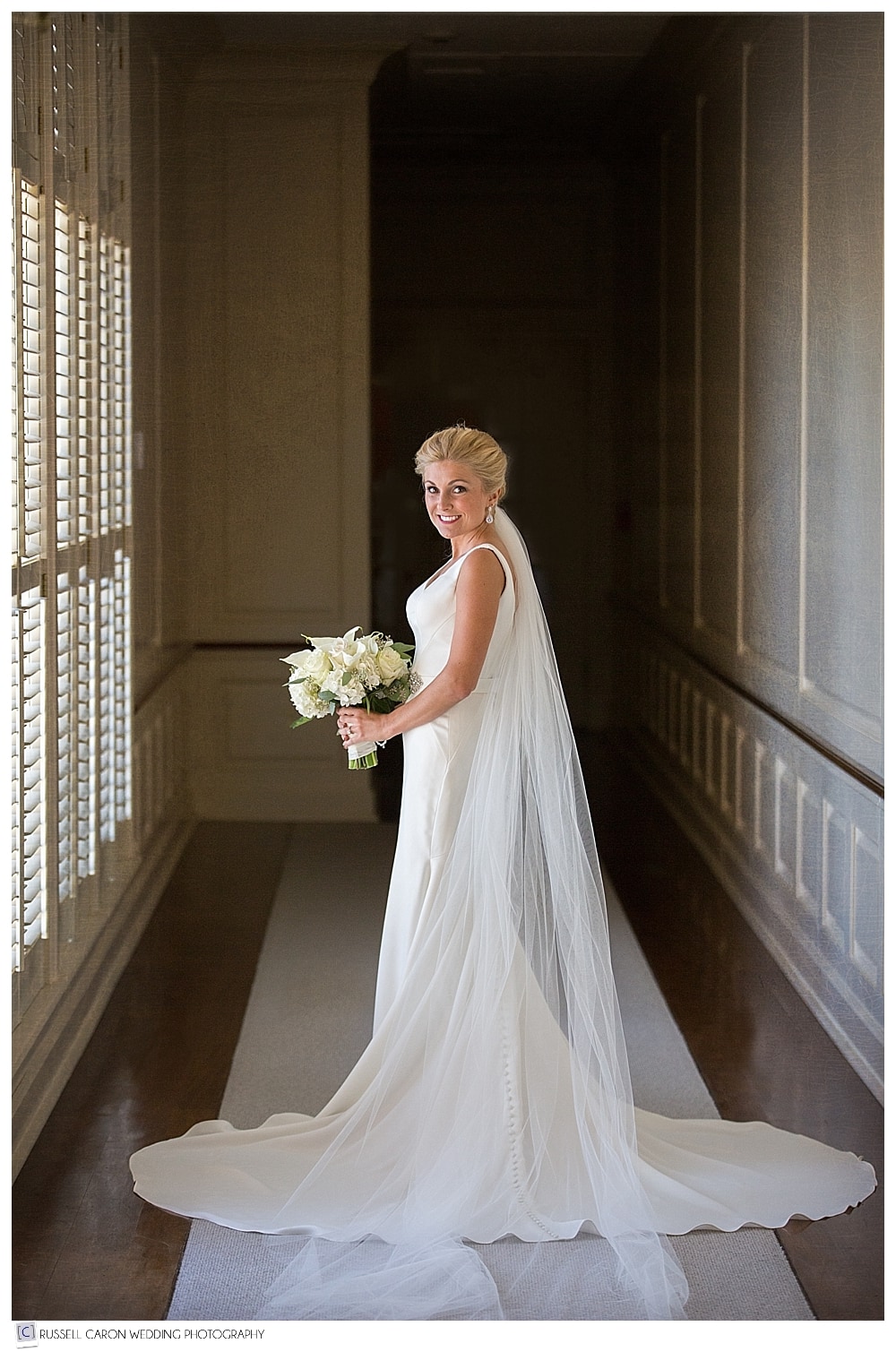 2. Thanksgiving…
is next week, (how did that happen??) which begs the question: what's your favorite part of your Thanksgiving Day meal? Turkey? Mashed potatoes and gravy? Stuffing? Pie?? Leave your answer in the comments!! Pie is my go to, and one of my favorites has always been Black Bottom Pie. First because there's a chocolaty base; then a rum chiffon layer; and finally, it's slathered with whipped cream. This is best savored long after the turkey and fixings have been cleared away, so you can relax and let the flavors meld on your tongue. It's that good!
3. Charlie,
our foster cat, was out and about on the streets of Portland, when he was bitten by another animal and taken to a local veterinary hospital. Because the wound was of unknown origin, Charlie had to be in quarantine for 6 months. A friend posted about Charlie on Facebook (thank you, Jessica :), saying he was at the Animal Refuge League of Greater Portland (ARLGP), that he was a sweet cat and could be fostered in a family without other pets. So, I took the Foster Orientation Class, and brought Charlie home. And so far, he's the sweetest cat ever! Maybe you're looking for a wonderful pet for you and your family? If so, please consider adopting at the ARLGP!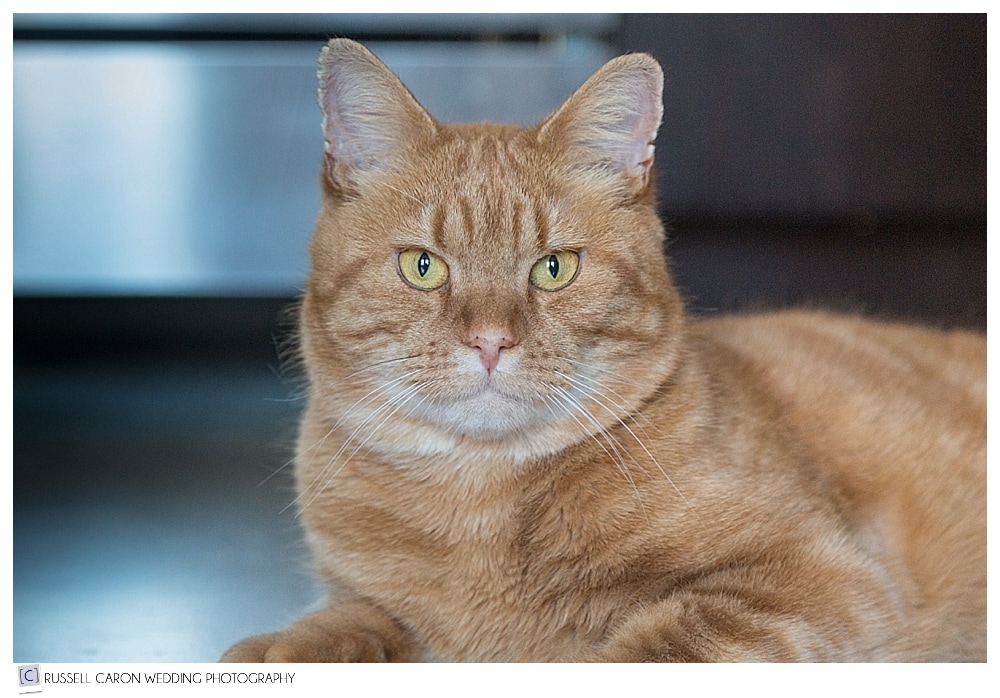 4. Holiday
season is here, which means lots of festive outdoor activities. Here's one that caught our eye. The Coastal Maine Botanical Gardens is hosting Gardens Aglow, the largest light display in Maine, November 18-December 31. See thousands of lights, strung all through the upper gardens in a gorgeous display. Also enjoy food and beverage options from the Kitchen Garden Café, and get some of your holiday shopping done in the Gardens Gift Shop. Don't miss it!
5. Looking
for a great Sunday brunch spot in Southern Maine? So were we! Recently we discovered Sunday brunch at Ports of Italy in Kennebunk. They have a brunch buffet with all your Italian favorites. On the day we were there, some of the featured items included smoked salmon, meatballs, salads, lasagna, mac and cheese, eggs cooked to order, a carving station, dessert bar, and some of the best "tater tots" we've ever had! Plus, a Bloody Mary bar, with some of the best Cajun Bloody mix we've had. Don't say we didn't warn you. Take a look at the photo below.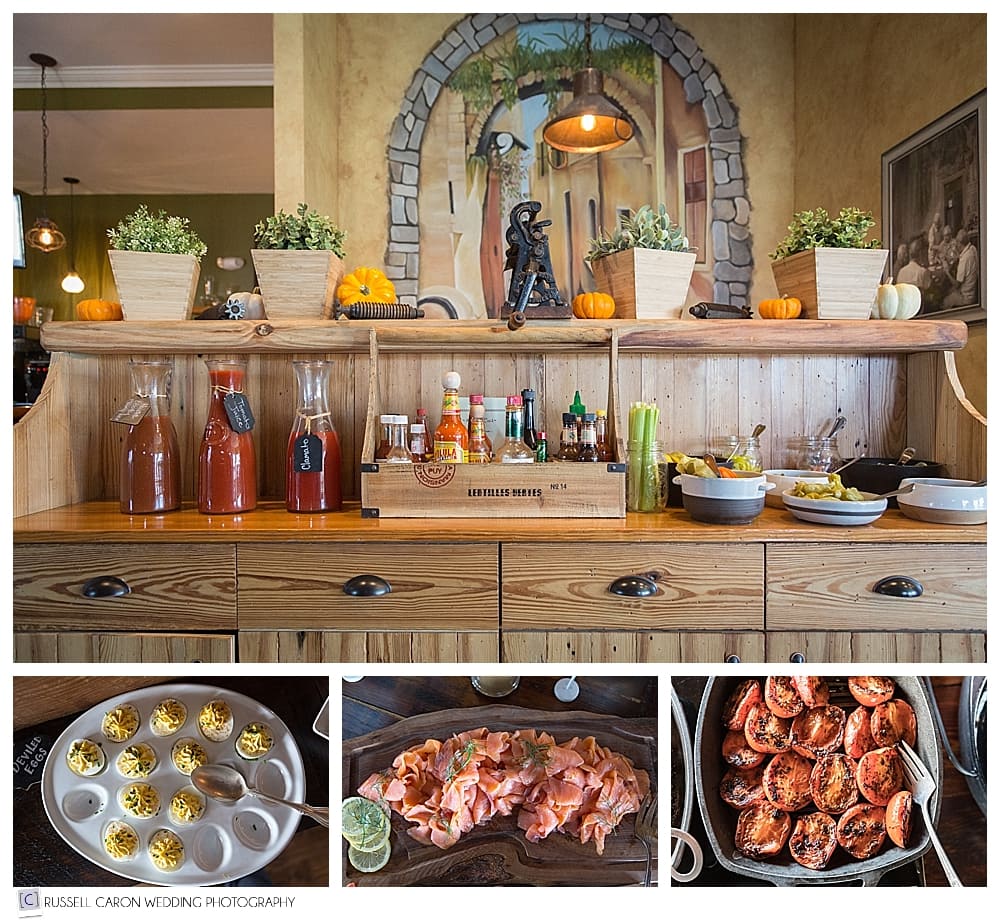 6. Living
in the North Dam Mill in Biddeford, there are over 100 businesses, which creates a rich and diverse culture. Whenever possible we shop locally, and it doesn't get more local than right in our own building! If you need a photo or piece of artwork framed, maybe you'd like to consider Four Corners Frame Shop & Gallery. We had a Fitz Henry Lane print framed for our living room, and couldn't be more pleased with the result. Especially relevant, surround yourselves with loved ones, get your photos framed, and put them out where you can see them!
Thanks so much for reading and joining us here!
Please comment and share on Liz Loves Lists, 11-18-16.  Thank you!!
Maine wedding photographers, Russell and Liz Caron of Russell Caron Wedding Photography, are an award winning husband and wife team. We love to share our experiences, tips, items of interest to our followers, and general conversation, photography or otherwise here on our blog. We hope you enjoy the Liz Loves Lists series! If you'd like to get in touch for any reason, please contact us!