Innovative Wedding Financing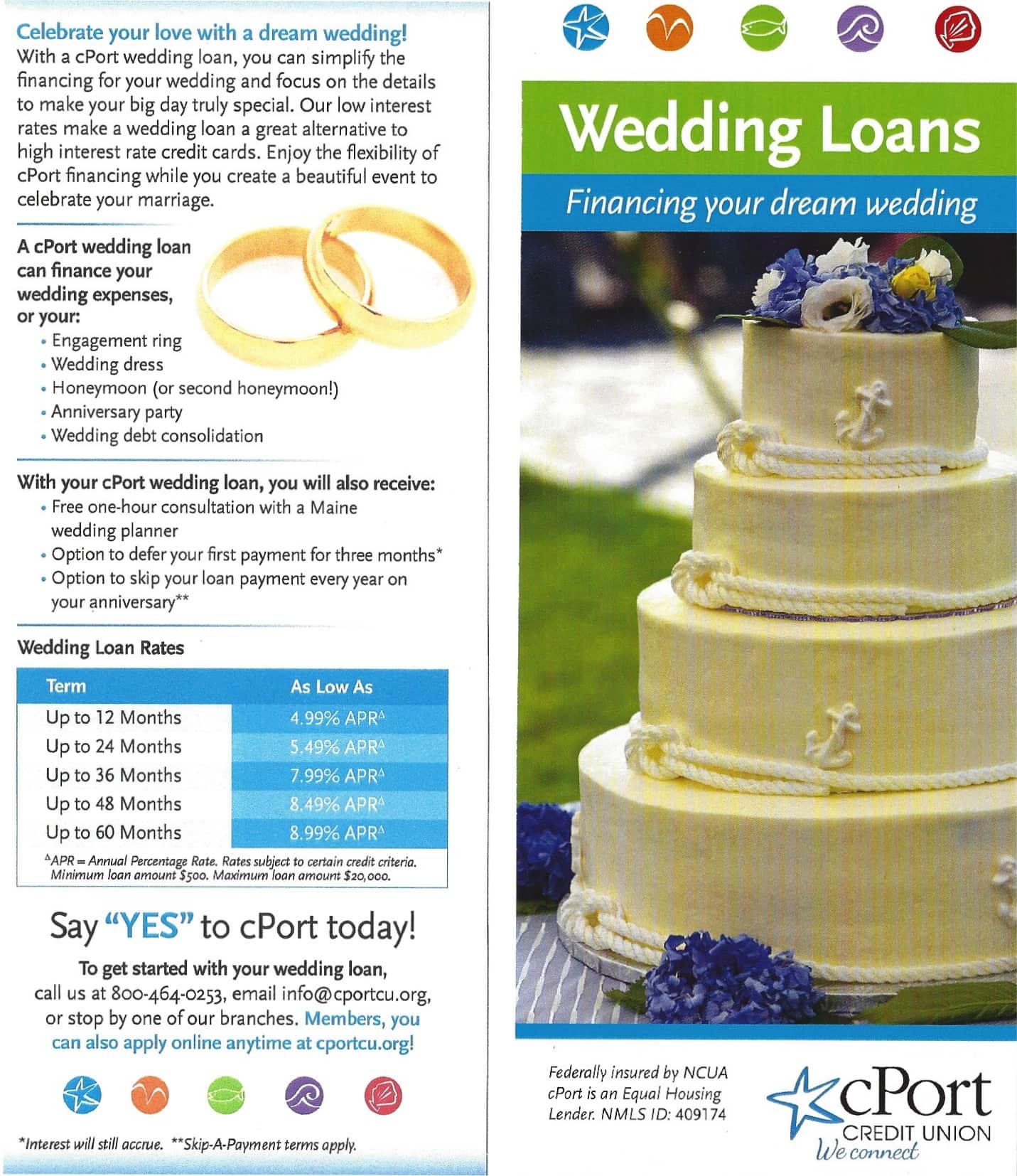 Looking for Maine wedding photography, but maybe your wedding budget is strained?  Read on!
We were running errands in downtown Portland today and passed by the cPort Credit Union branch on Forest Avenue.  On their lighted sign, right at the base of the Forest Avenue exit ramp off of I-295S were the words "innovative financing/wedding loans".  Intrigued, I stopped in and asked for some information, and the helpful staff provided us with this brochure.  Qualified applicants may take loans for their weddings for up to 60 months, with interest rates ranging from about 5 – 9% APR.   As the brochure suggests, this is a reasonable alternative to a high interest rate credit card.  We're excited to think about the number of couples that could now obtain the Maine wedding photography that their wedding deserves, using but a small amount of a loan like this to make the difference, and a huge difference it is, between sub-par mediocrity and truly professional and amazing wedding images. Perhaps other banks are doing this too, but hats off to cPort for making it into a high-visibility product that has an innovative flair and could truly make a wonderful difference in the things that matter the most with your dream wedding.
Talk to a Customer Service Rep at any of the 4 branches of cPort Credit Union, to learn how you can help finance your wedding expenses. Perhaps you'd like to help with purchasing an engagement ring, wedding dress, or honeymoon. There's even an option to defray the first payment for three months! Truly innovative wedding financing.
Russell Caron Wedding Photography puts the fun into wedding photography for Maine wedding couples. Feel the love as this dynamic pair effortlessly capture each of your cherished moments, producing natural poses and unparalleled art for your special day. For more information, please

contact us

right away!