Idyllic Wedding Photos | Mountain Top Inn Wedding Photographers
Some wedding photographs happen with a lot of detail planning. Others happen within the scope of having a general idea of what will happen when. And then, there are idyllic wedding photos like Kendra and her father arriving to the wedding via horse drawn carriage.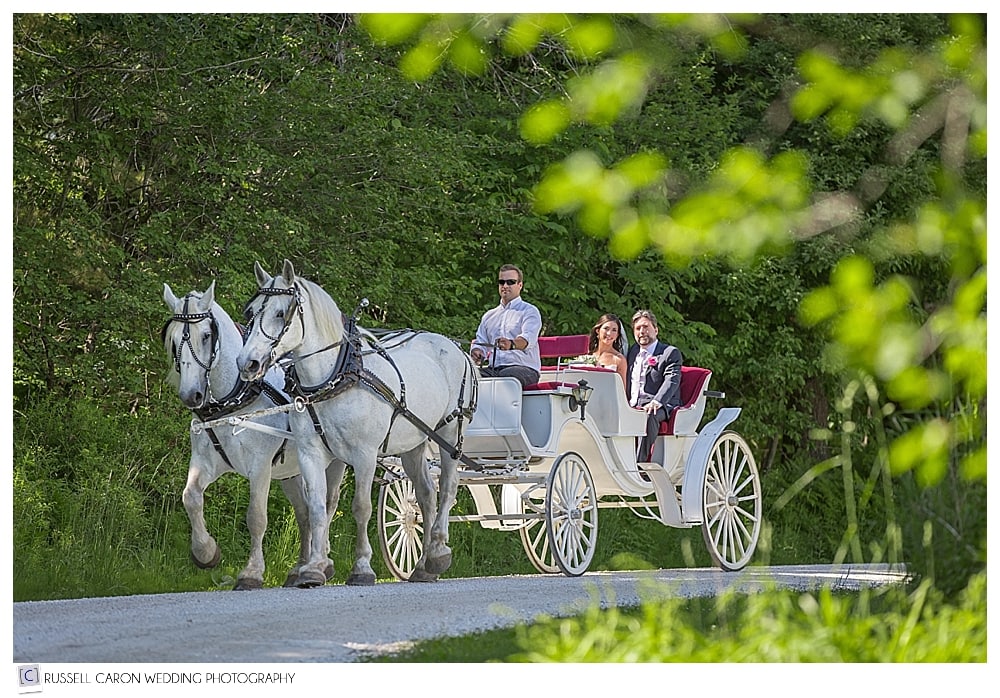 #11 of 2016 | Idyllic Wedding Photos
About the image: Kendra and Demetri had such a gorgeous Mountain Top Inn wedding! We didn't have a whole lot of advance notice on their being an awesome horse and carriage ride that Kendra hired to transport her and her dad to the ceremony site, a surprise for Demetri. Which was fine, we knew we could make a great shot happen one way or another. It turned out we needed to go with the "or another" route. See, I (Russ) had planned to zoom ahead and get some looking-back shots. Which I did….but, nothing was working out.
The road heretofore had been straight and every shot of Kendra and her dad was necessarily blocked by the carriage driver. Then, one final idea before there would be no more chances at all. I recalled a slight bend in the road, just before the end of the run. There was but one chance to make this work. I got back in the car and zoomed ahead to that bend, and not even closing the car door, dove into the ditch, grabbed the camera with the long lens, spun around, and framed using the tree branches, with the above photo is the result. I click at the right moment, and this moment between a bride and her dad will surely never be forgotten.
Do you agree that Kendra and her father in the horse drawn carriage are one of the most idyllic wedding photos of the year? Stay tuned for more of our gorgeous wedding photographs countdown from the Top 16 of 2016.
Mountain Top Inn wedding photographers, Russell and Liz Caron, put the fun into wedding photography for Maine wedding couples. Feel the love as this dynamic pair effortlessly capture each of your cherished moments, producing natural poses and unparalleled art for your special day. For more information, please contact us right away!