Wedding at Stage Neck Inn
Holly and Tyler had a fun-filled wedding at Stage Neck Inn, Friday, July 26, 2013, York Harbor, Maine. Here, on a quick side trip to York Beach, Holly and Tyler pause in front of the iconic arcade bowling alley (and below at the famous Fun O Rama).  While weather forecasts had painted a strong threat of heavy rains, reality was we were able to easily be outdoors under interesting clouds and no precipitation until the time for the actual outdoor ceremony – which was moved under a patio cover. It was a truly fun day, accented by the couple's willingness to take some time for memorable moments for Stage Neck Inn, York Harbor Maine wedding photography.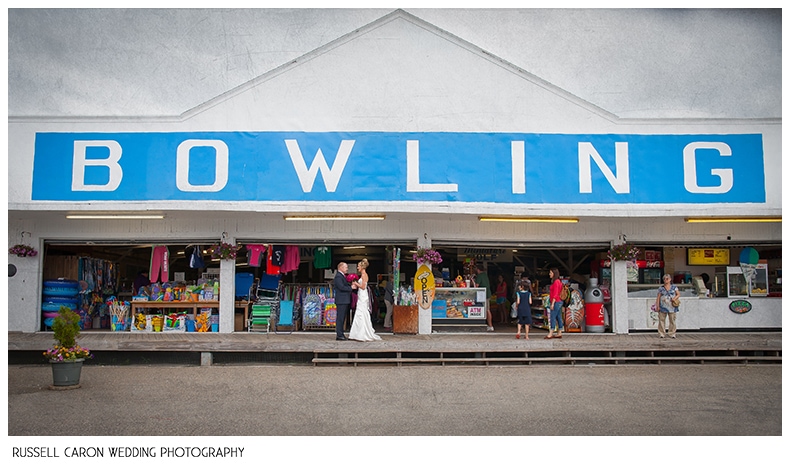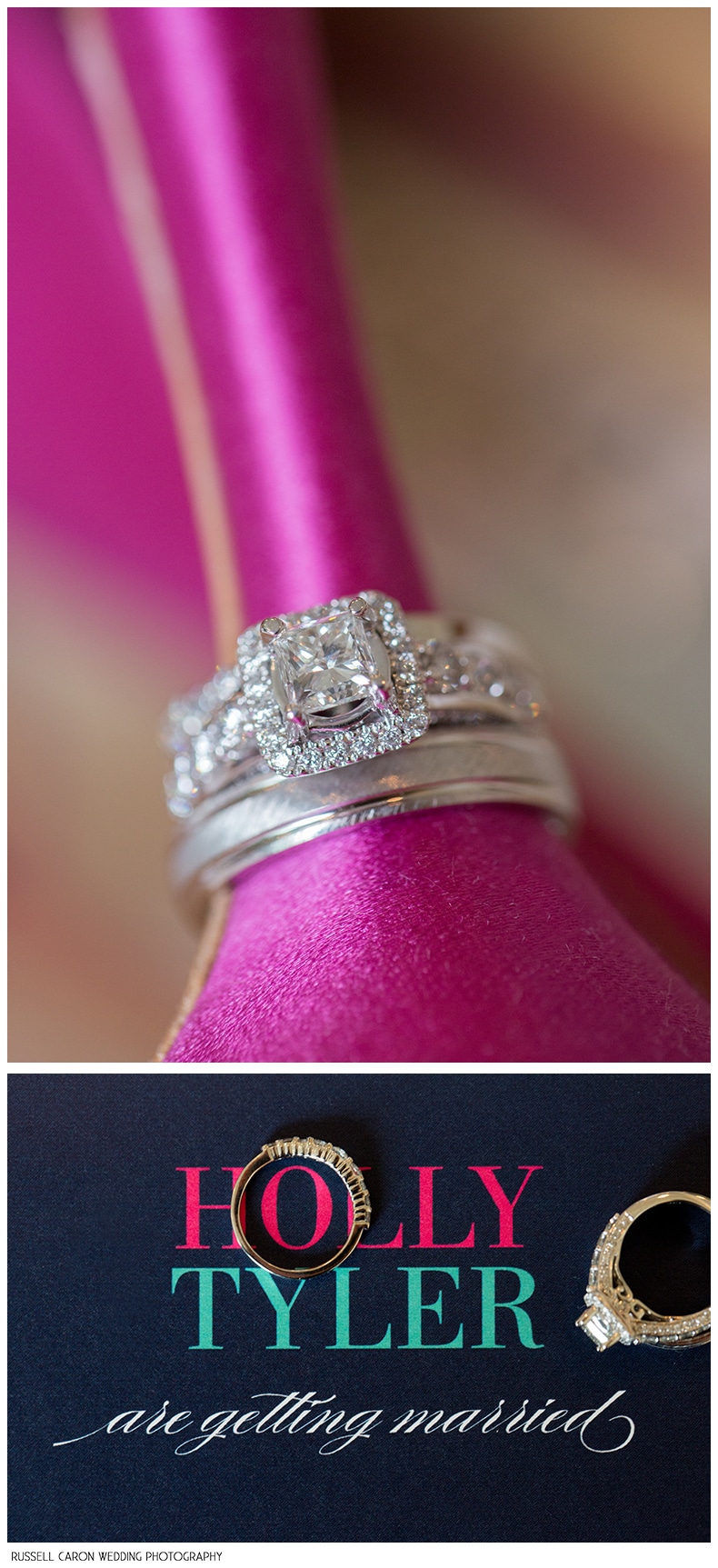 Holly and Tyler had planned an outdoor ceremony for their wedding on Friday, July 26, at the Stage Neck Inn, York Harbor, Maine. The forecast had been for torrential rain, and as we drove south toward York Harbor, the rain was holding off. We were feeling optimistic.
We found Holly waiting in one of the Stage Neck Inn's lovely ocean side rooms. Hair beautifully coiffed and makeup done, she looked totally relaxed in a white robe with "Bride" in gold sparkly letters on the back. Holly is one of those people that puts you right at ease; she is warm, energetic, friendly and super nice! Her daughter, 3 year old Olivia, was just awakening from a nap.
We went outside (still no rain!) to scope out a private location for the couple's first look. There is a small pond behind the inn, complete with water lilies and a fountain and we decided that it would be a perfect spot.  We gathered the couple, positioning the bride first, then leading Tyler out, making sure he kept his eyes closed. It was time for Tyler to turn around and behold his lovely wife-to-be. We love this part! "You look beautiful!" Tyler exclaimed as he walked toward Holly.
The bridal party joined in and we were able to wrap up our photo session…but we had a couple of hours before the ceremony. Maybe the bride and groom would be willing to go into town for some fun and interesting shots? They were! We piled into the car and went to down town York Harbor. As Holly and Tyler walked around town, we photographed them in front of the Fun-O-Rama, the bowling alley, the ice cream shop, the board walk and a take out stand.  It was a fun and spontaneous moment!
Back at the Stage Neck Inn, Olivia was waking up from another quick nap and came out to play on the lawn  Our cameras went into overdrive as she danced around and played with her parents; twirling and singing and playing peek-a-boo. Who doesn't love an adorable little girl in a beautiful dress?
We noticed that chairs were being set up on the side lawn for the ceremony.  We kept our fingers crossed and Dawn, the event coordinator for the Stage Neck, informed us that they would wait until the last moment to decide on the venue. They could very quickly move the seating into the adjoining patio, with zippered awning if necessary. We kept our fingers crossed for an outdoor wedding at Stage Neck Inn! But…the rain came down as Olivia stood with her parents, looking up at them as they said their vows.  It was a sweet and intimate ceremony.  A perfectly wonderful beginning to their marriage.
York Maine wedding photographers, Russell Caron Wedding Photography, would love to be involved in your wedding day, just as we were for Holly and Tyler. We will travel to whatever location you can think of whether it be a wedding at Stage Neck Inn, York, Maine, or a Caribbean resort wedding. For more information, please contact us right away!