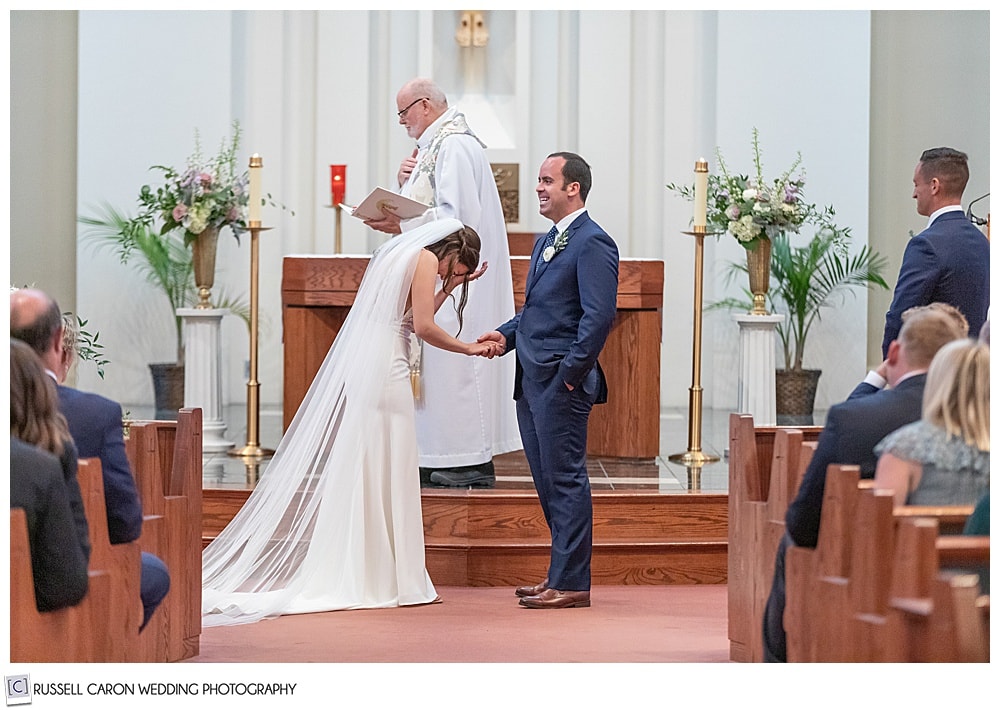 Russ' #13 of the top 19 of 2019, features Erin + Sean, in what we call "a funny church wedding photo".
There are some photos that are among the top favorites all because of the the memories of the moment that flow so readily when seeing it. This is one of those photos.
Let me set the stage for you.
Without getting into superfluous detail, during the vows, something very funny was accidentally said. It's something any of us could have done. (When it's your turn to say your vows it can indeed be a nerve-wracking moment.) Anyhow: The reactions from everyone seen in the photo speak volumes. We love how Erin is literally busting up, Sean is grinning widely because, well, he knows he may not live this moment down for some time. And we really love how Reverend Fred Morse is literally walking away with eyes rolling – it's the best.

If we had a chance to go a re-live a wedding over again, I think it would be this one. So fun, so funny. And these two, along with their families, are the sweetest people imaginable.
Oh, the fun didn't end here, either. What a dance party! Incredible.
See that dance party and more from Erin and Sean's wedding here: Colony Hotel Kennebunkport Wedding
Venue: The Colony Hotel
Photographers: Russell Caron Wedding Photography, photographs by Russell Caron and Liz Caron
Planner: Kim Charland at Destination Maine Weddings
Officiant: Rev. Fred Morse, St. Martha Church, Kennebunk ME
Floral Designer: Flour Events
Band: Brick Park
Hair and Makeup: Big Day Beauty
Wedding dress designer: Sarah Seven
Wedding dress boutique: Ceremony Bridal Shop
Paper suite: Shine Wedding Invitations
Videographer: Levi Hanusch Wedding Videography
Cake: Flour Events

Please comment on the blog post if you enjoyed Russ' funny church wedding photo! And please share!! Thank you 🙂 Come back every day, until we reach #1 on December 31!
Colony Hotel Kennebunkport wedding photographers, Russell and Liz Caron, are romantics at heart who love photographing people in love. Are you getting married? No matter where your wedding is located, we'd love to travel there and take breathtaking wedding photos. For more information contact us right away!