French's Point Weddings | Stockton Springs, Maine | Venues We Love
French's Point weddings are near and dear to our hearts, and with good reason. When you enter French's Point, you feel as though you've entered another world. Private, tranquil, with stunning 260º sweeping views of the ocean, the estate is spectacular. As a wedding venue in the state of Maine, French's Point is virtually unrivaled. The property, the view, and the staff are among the best of the best. Because French's Point is committed to making your wedding the best day of your life, they only host one wedding at a time. In this way you are assured to have the estate to yourself with the attentiveness and privacy that such a meaningful day deserves.
Jessika Brooks Brewer, the owner of the private estate, is easily one of the most hospitable people we've ever met. She is warm and welcoming and puts you at ease as soon as you meet her. Her goal to ensure that her clients are beyond satisfied in every regard is no small part of the success enjoyed by this spectacular venue overlooking Penobscot Bay. A recent addition to French's Point Weddings is a fantastic tented option, on a gorgeous flat, smooth and dry permanent deck surface. You can truly have the best of every world at this resort. The mansion serves as base on wedding day for the bride and her party, in a most elegantly restored setting. Options abound for the services on site with thorough recommendations by the French's Point staff to point their clients to all the right vendors for all their needs.
If you are looking to have your wedding hosted in a private, ocean front setting, with beautiful water vistas, and a fantastic staff, perhaps a French's Point wedding is for you!
Below, Carrie and Dan's summer 2015, French's Point wedding.
Below, Charissa and Joedy at their 2012 French's Point wedding.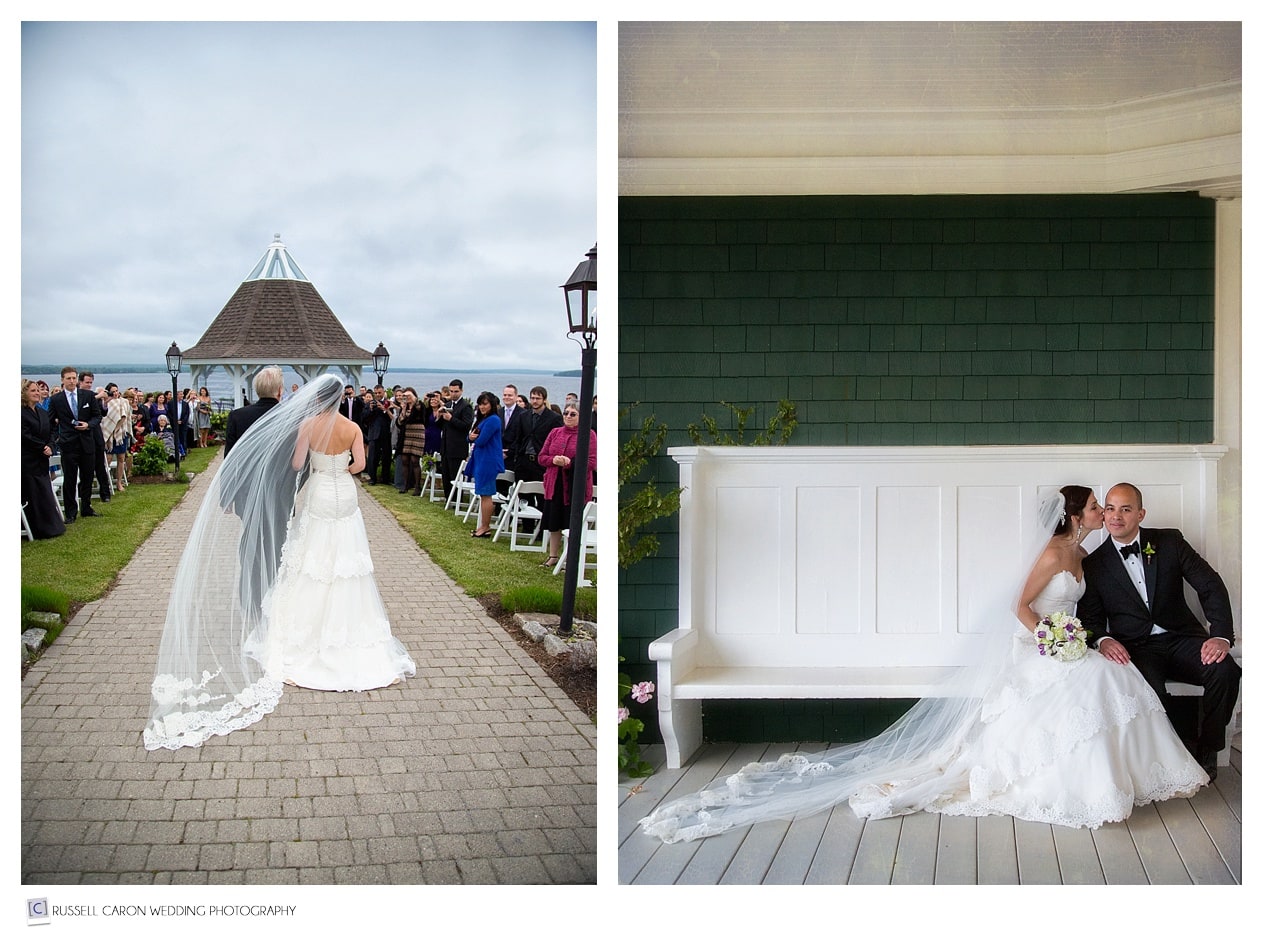 We love comments!! If you love French's Point weddings as much as we do, let us know in the comments below. Thank you!!
French's Point weddings are the weddings of dreams! Let Maine wedding photographers Russell and Liz Caron join your wedding day dream team. We can create gorgeous memories of your wedding day that will last a lifetime. Russell Caron Wedding Photography will photograph weddings at any destination you can think of, whether it's a French's Point wedding, or a Caribbean Island Resort wedding. For more information, please contact us right away!