Freeport Maine Wedding Photographers
Mallory and Trevor were married in a very beautiful, intimate and loving ceremony attended by over 125 friends and family on Saturday, September 6, 2014 at Wolfe's Neck Farm in Freeport, Maine. Mallory and Trevor are one of those couples whom friends and family alike describe to be "made-for-each-other". We knew this from their engagement session that we did with them nearly a year ago; they're simple a cute, fun couple. The weather on wedding day didn't bring typical crisp, dry fall Maine air, but rather one of the most humid (and hot) days of the entire summer season. Mallory didn't let the threat of impending bad weather ruffle her (as a cold front approached quickly from the west, ready to collide with the tropical air). Even when sprinkles came about 30 minutes before the ceremony, she stayed cool and relaxed. Thankfully, the rain didn't last too long, and the plan remained for the outdoor ceremony in the wedding field at the farm. Thunder rumbled during the ~20 minute ceremony, and it looked for all the world like a line of showers just offshore was going to barrel down on us. As it turned out, it stayed dry until much later in the evening. For us Freeport Maine wedding photographers, there was a huge sigh of relief!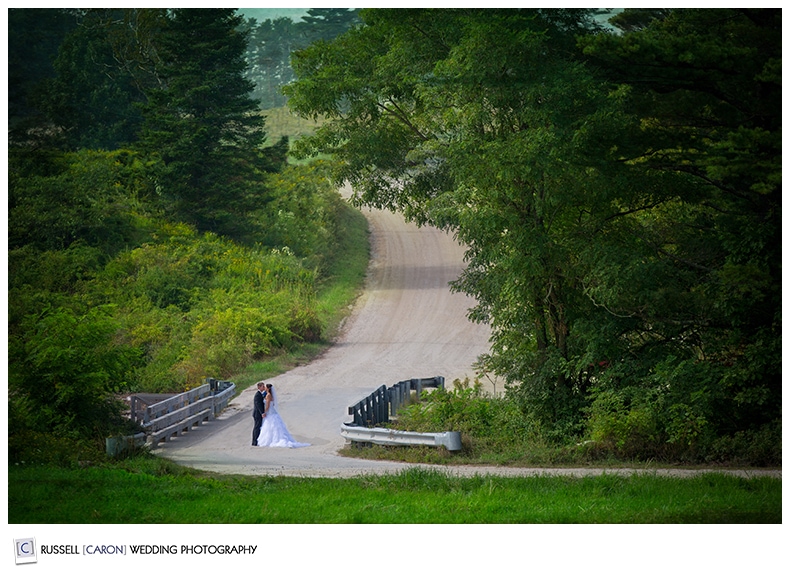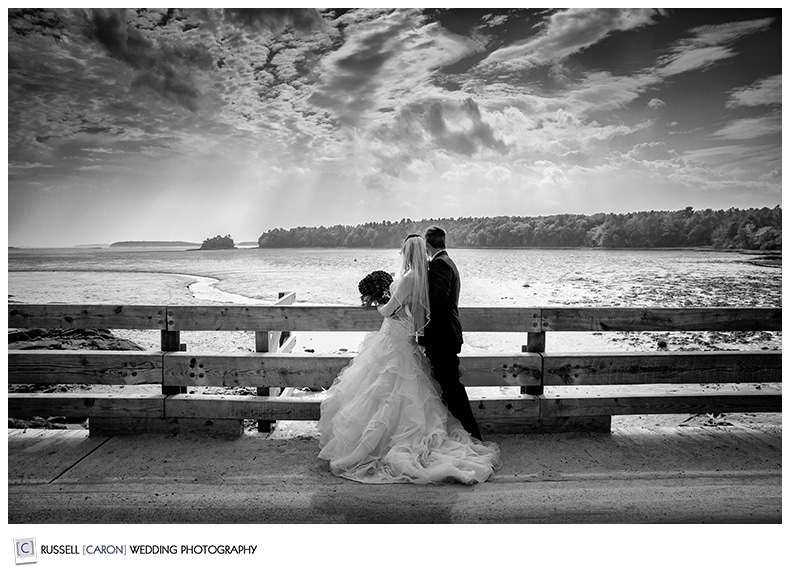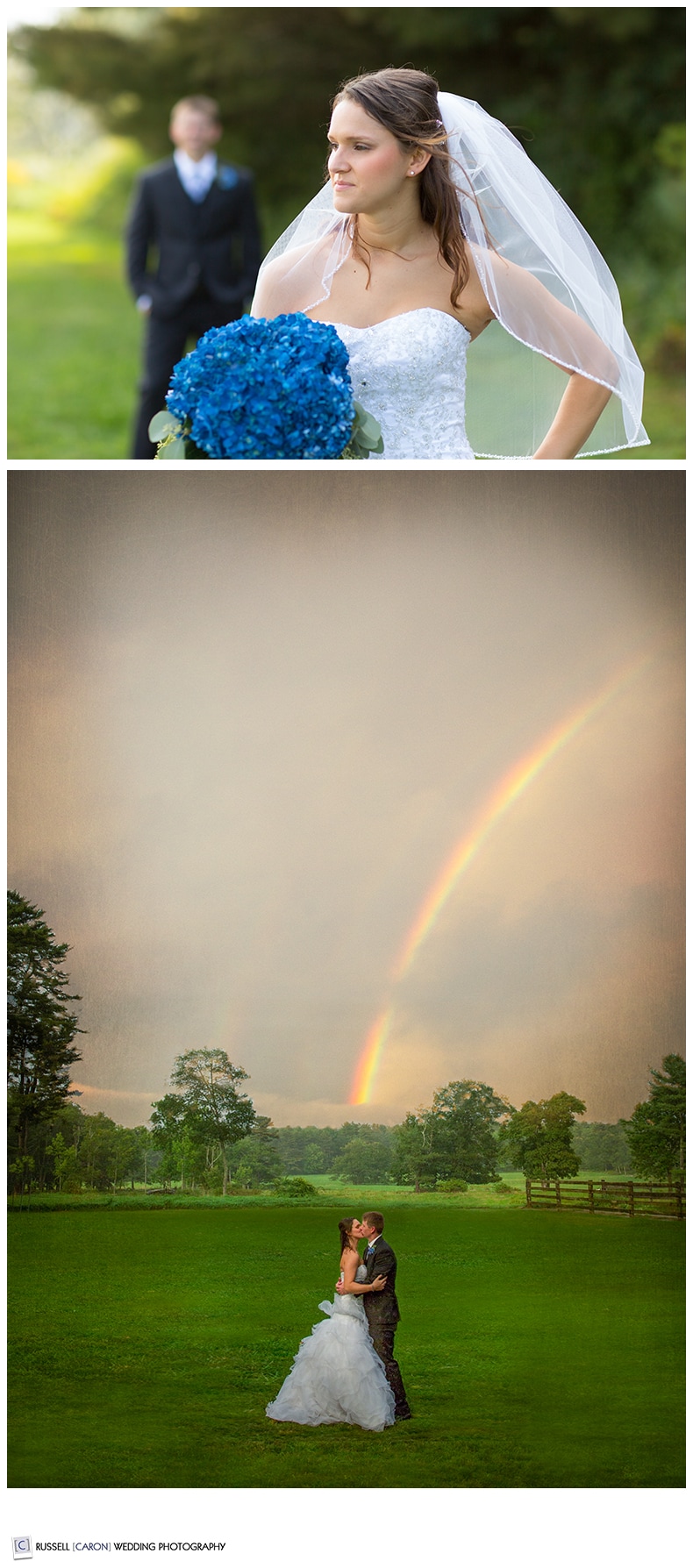 Rain did wait until everyone was under cover at the reception site.  However, Mallory and Trevor braved the downpour, above, as a rainbow streaked across the sky. Seems like that's a sign of good luck for this happy couple!  We love it when a couple realizes the once-in-a-lifetime opportunity a moment like this makes in terms of photographic possibilities.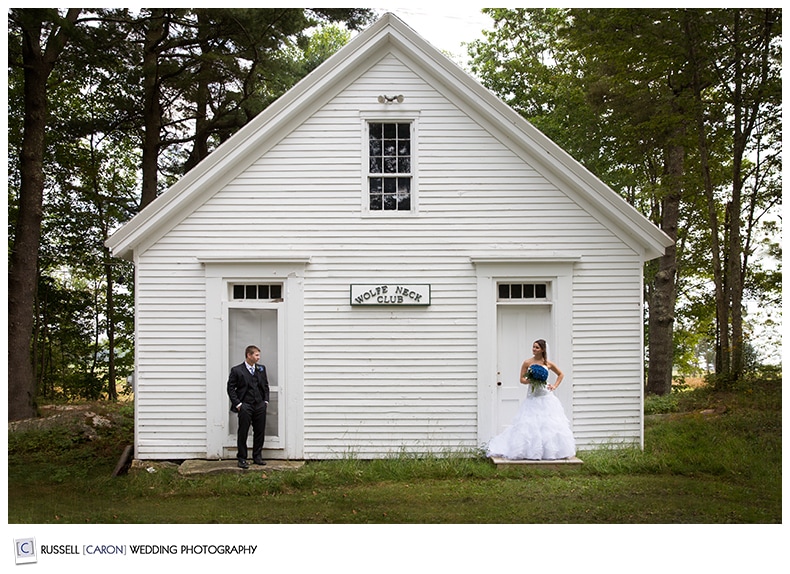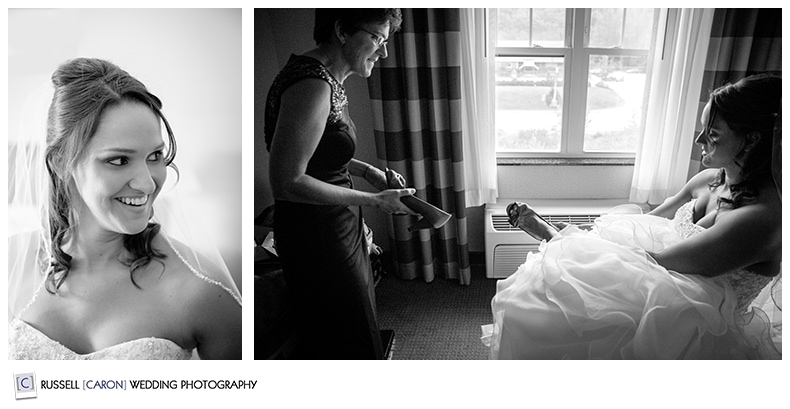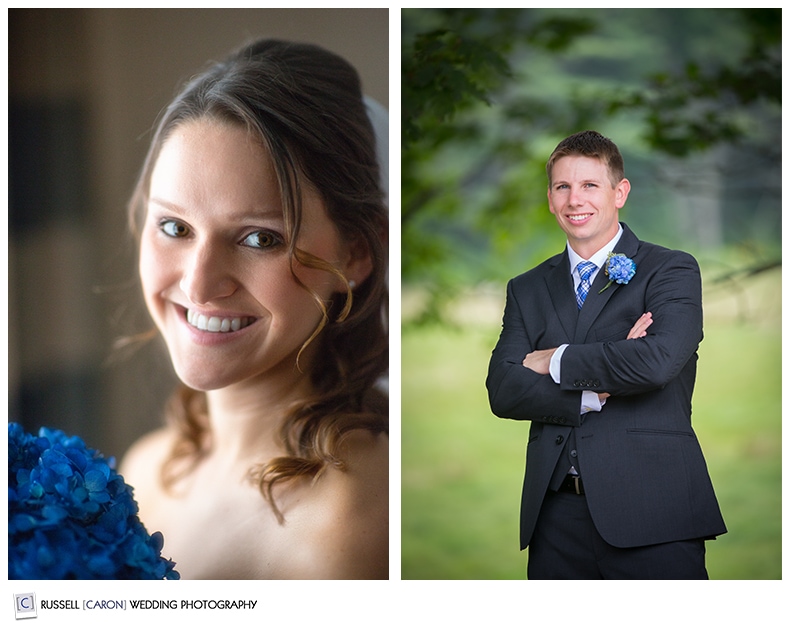 Mallory and Trevor did a first look, which we love, as it allowed for more time for couples photos and creative photos. We especially love Trevor's reaction to seeing his gorgeous bride-to-be for the first time.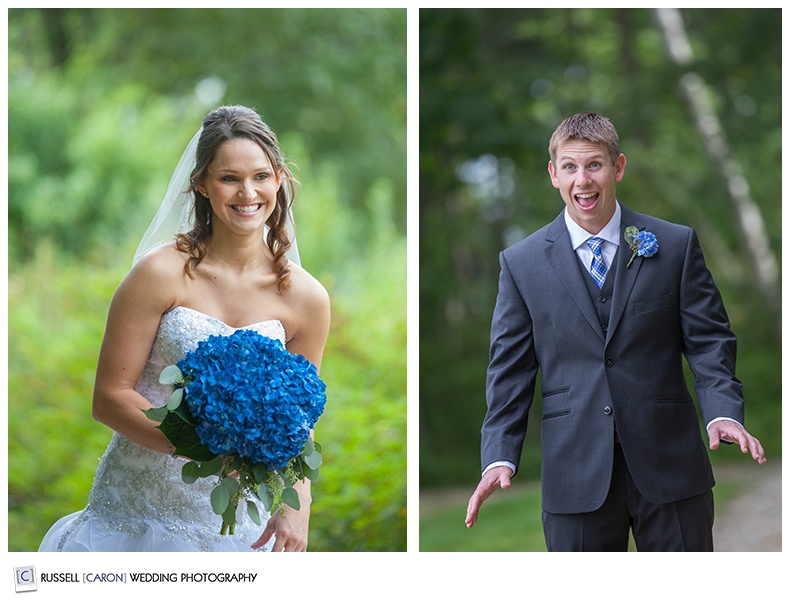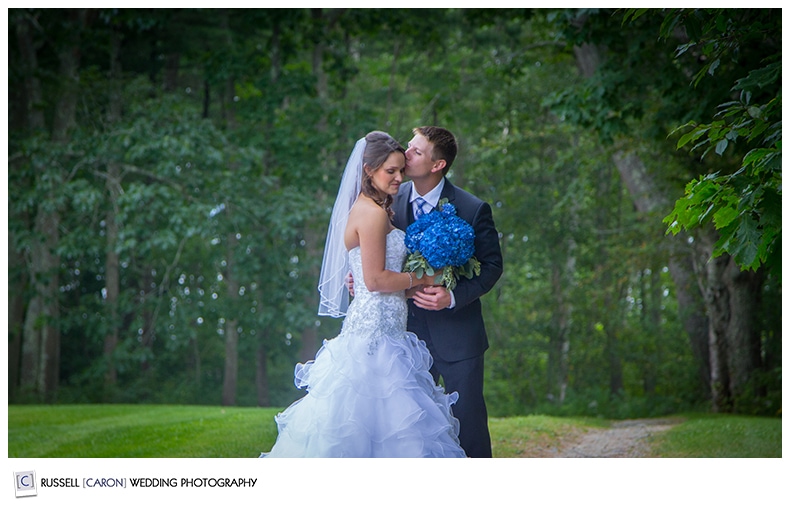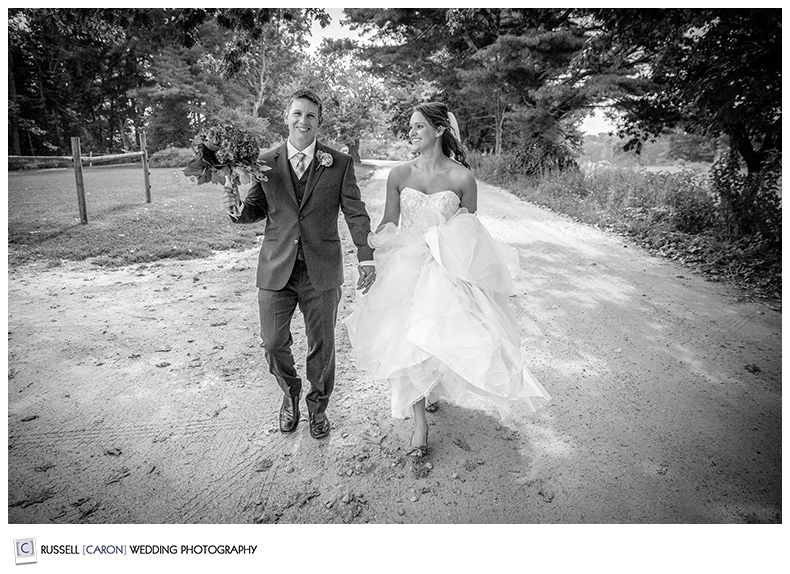 The barn at Wolfe's Neck Farm makes for a great photographic backdrop.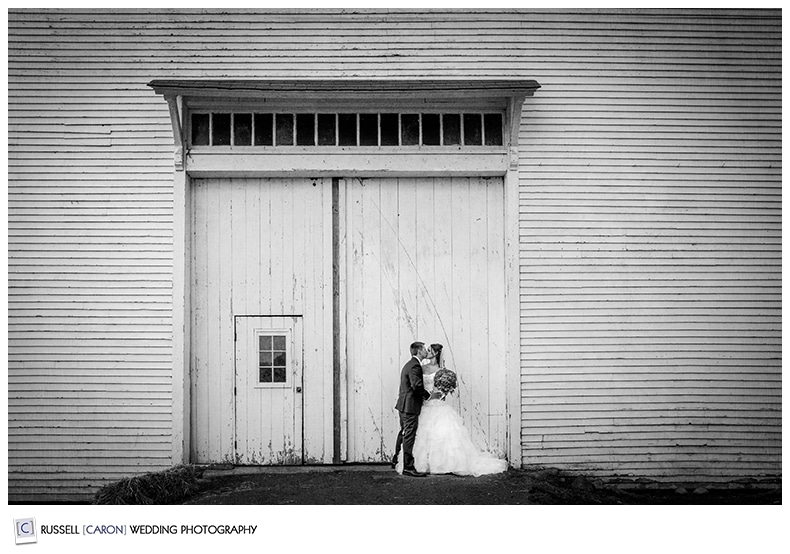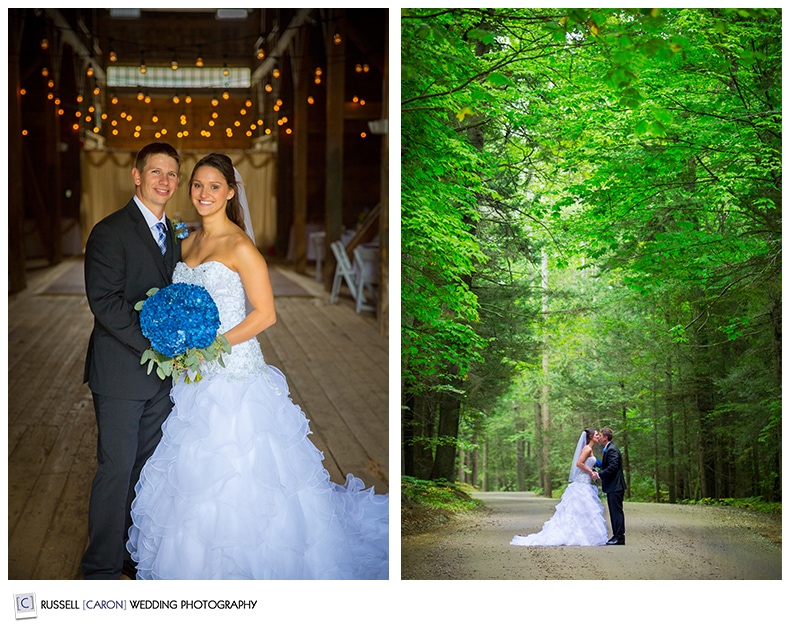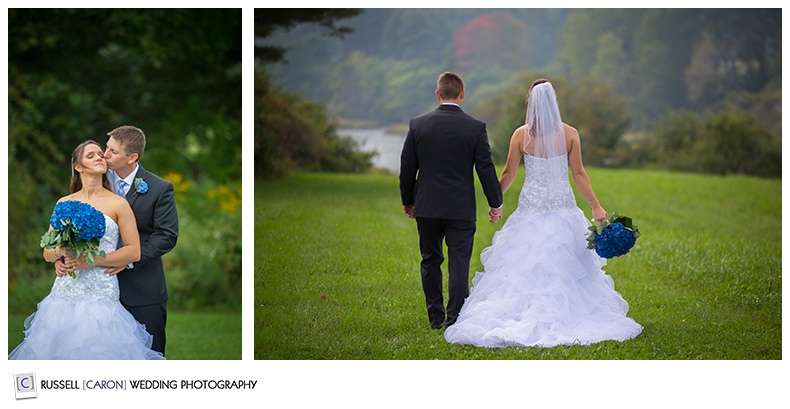 Mallory, below, takes a quiet break at the bridge on the Wolfe's Neck Farm road before guests arrive at the wedding field just up from here.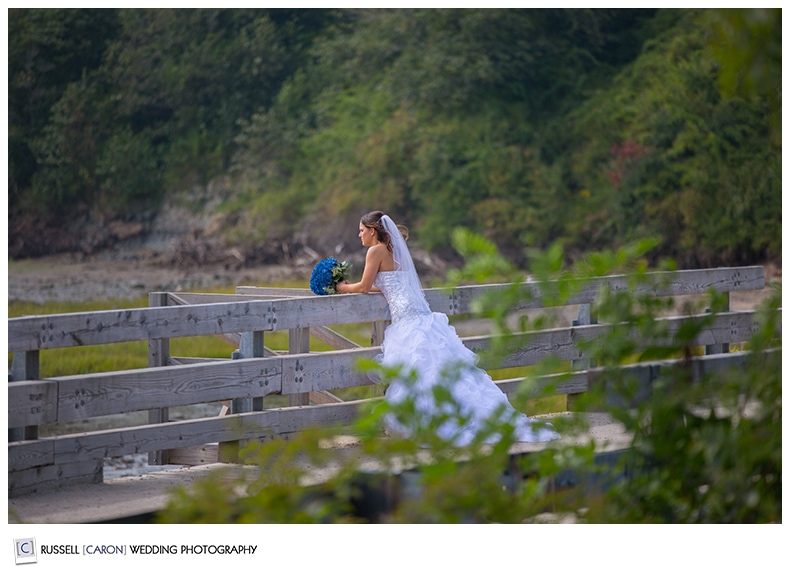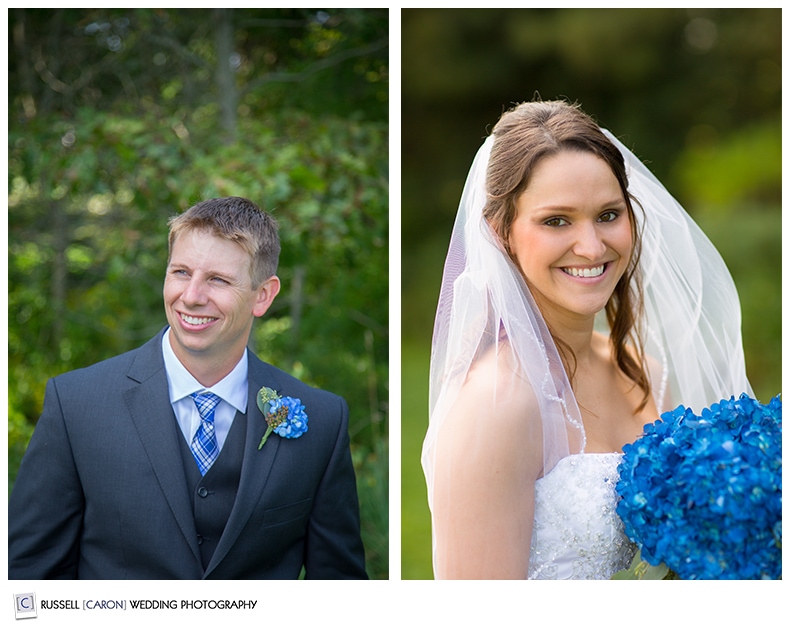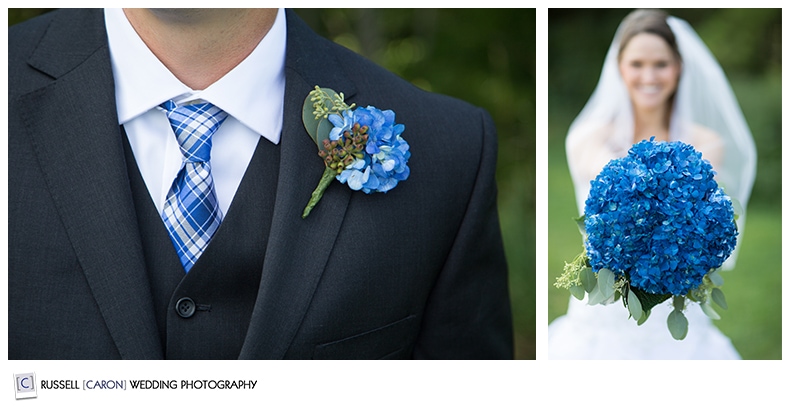 A quiet walk to their ceremony site before guests arrived via carriage rides and buses.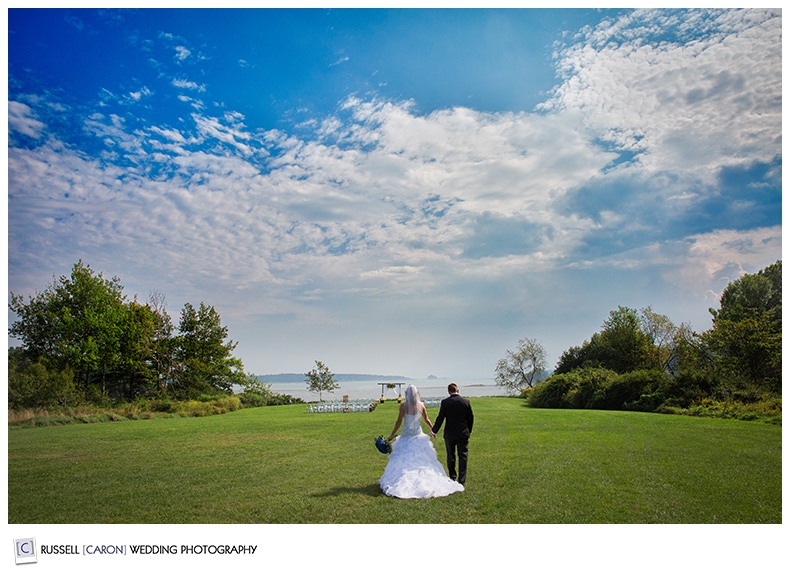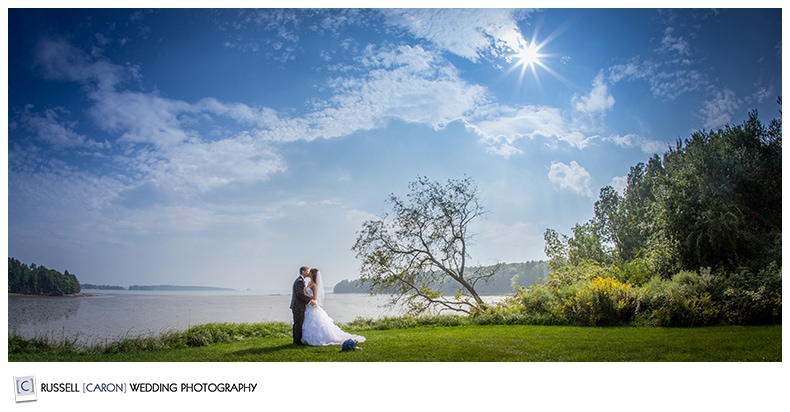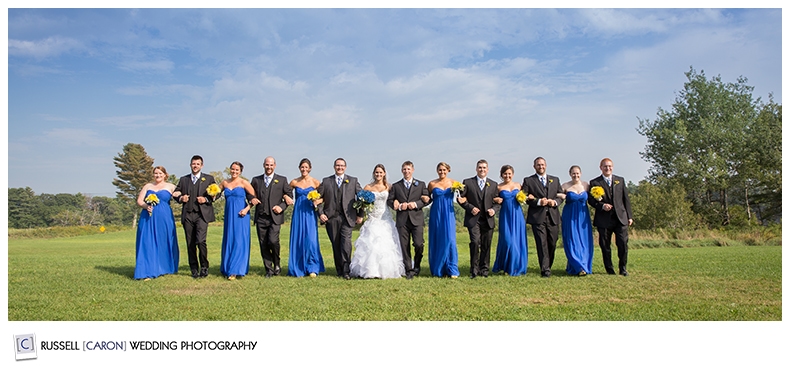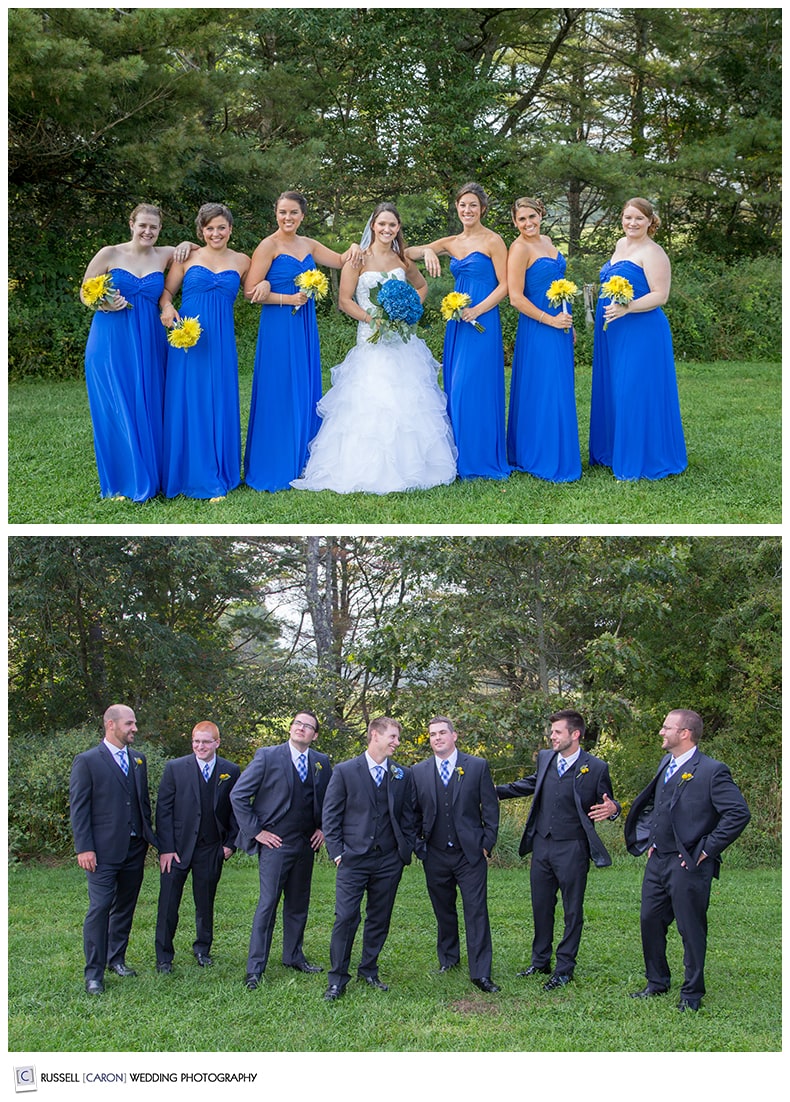 One of the best-behavedf and cutest little ring bearers we've seen in a long time!  Here he is dutifully awaiting the cue to walk down the aisle with the antique bible containing the wedding bands.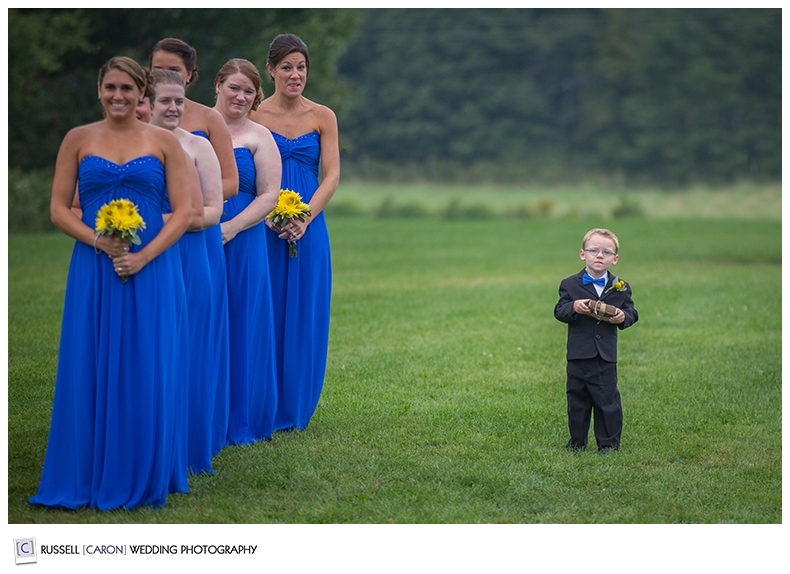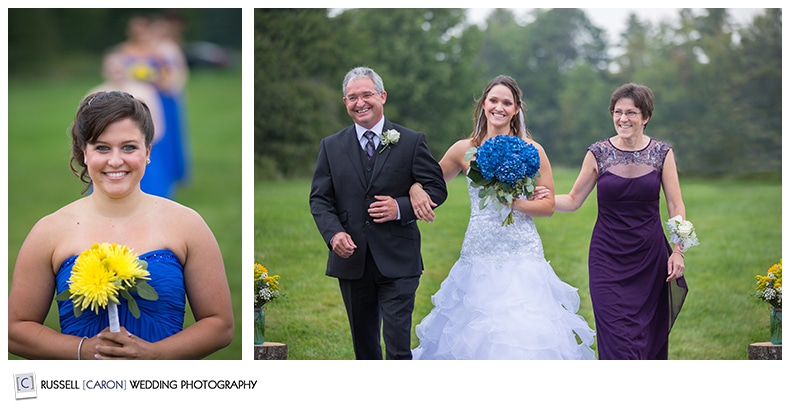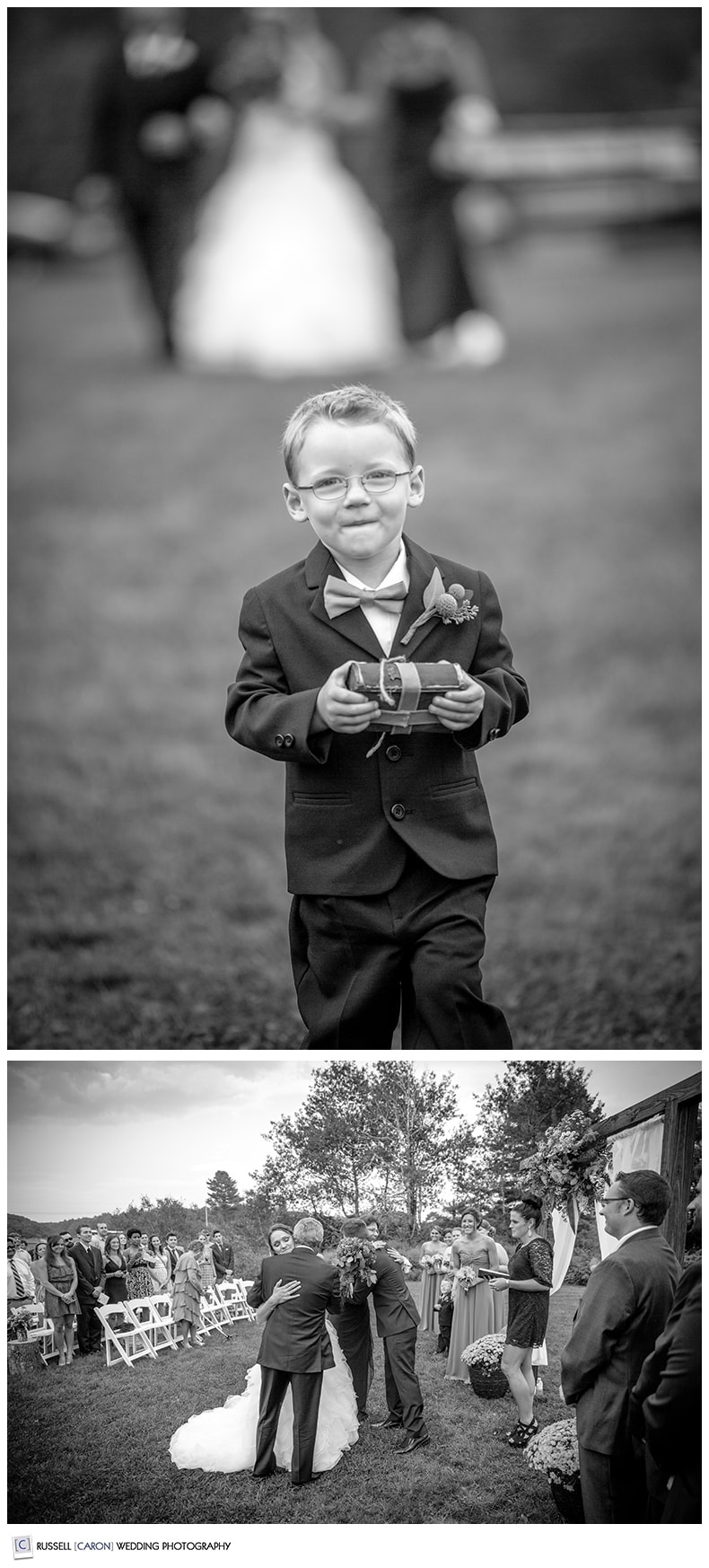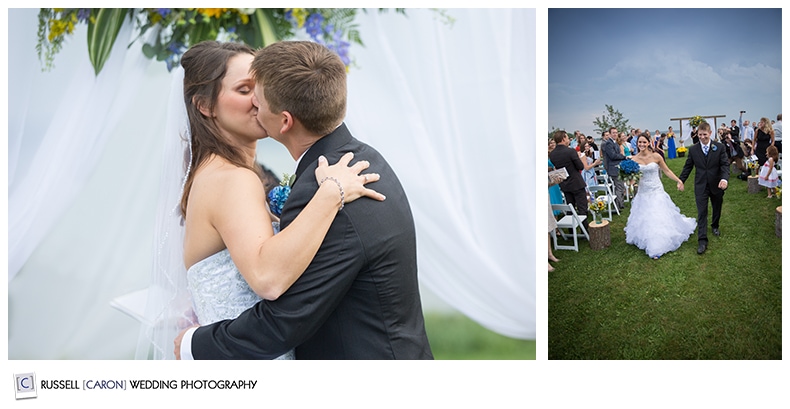 First dance!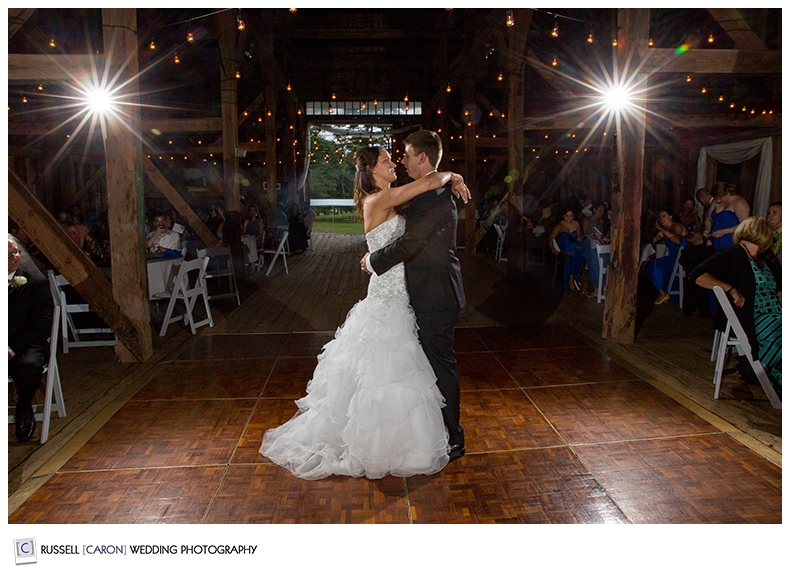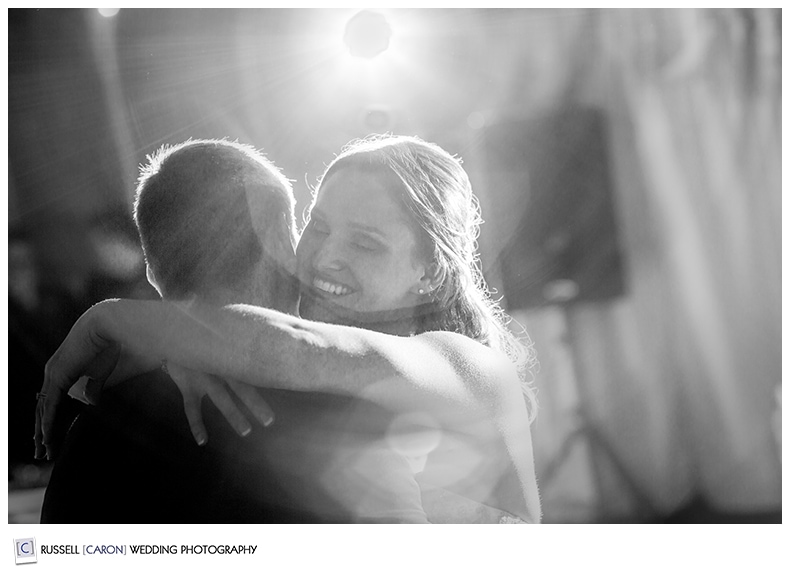 The toast!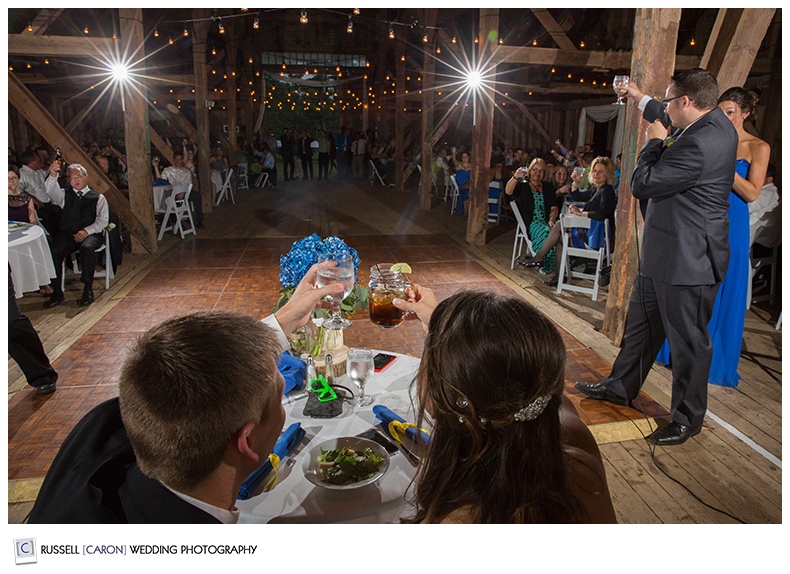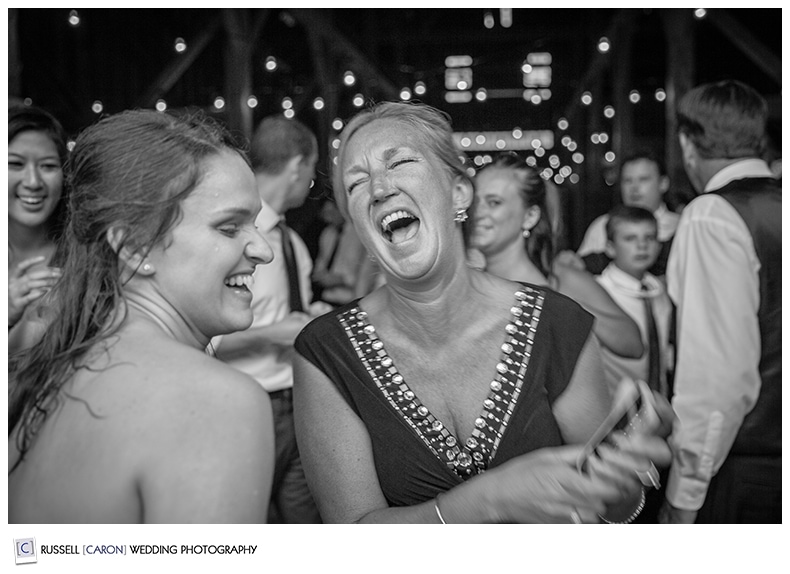 Freeport Maine wedding photographers, Russell Caron Wedding Photography, are a dynamic Maine wedding photography team. Feel the love as they effortlessly capture each of your treasured moments, producing natural poses and unparalleled art for your special day.  For more information, please contact us right away!