Expressive Wedding Moment | Boothbay Harbor Maine Wedding Photographers
What a wonderfully expressive wedding moment!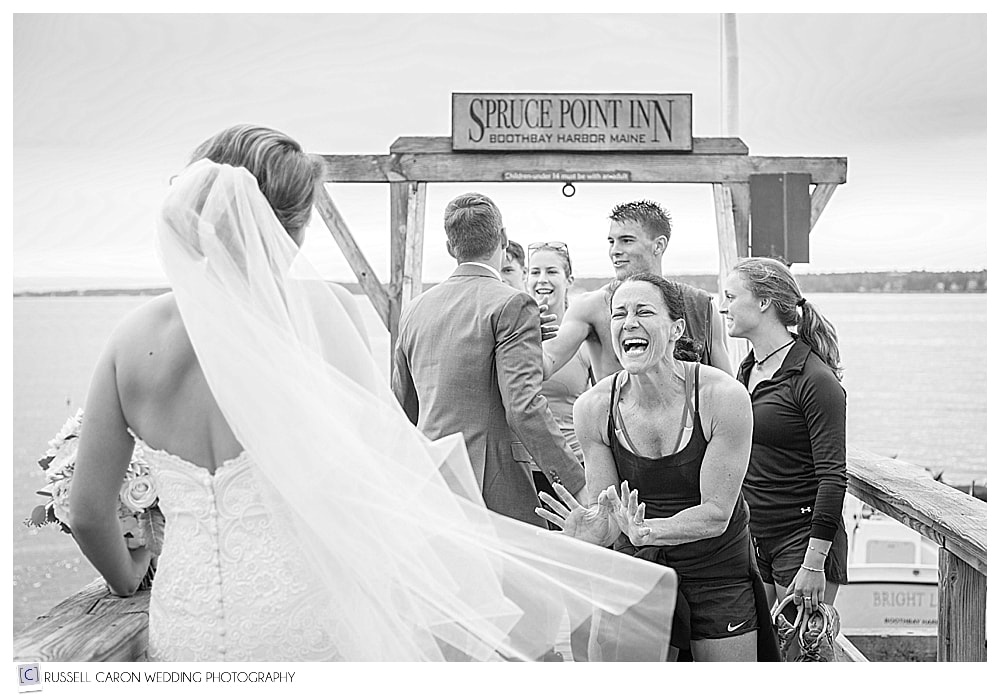 Photo by Liz Caron
At Kelsie and Dan's beautiful fall wedding at the Spruce Point Inn in oh-so-picturesque Boothbay Harbor, Maine, another moment of emotion, fun, excitement, and joy makes it to our Top 17 of 2017 list, at #9.
We had taken our couple to the scenic dock at the resort during our artistic set with them on site. Being a couple of hours before the ceremony (Kelsie and Dan had just done their first-look), many of Kelsie and Dan's guests were out and about busily taking in the many outdoor activities the venue offers. Here, a group of friends had just tied up their kayaks after an enjoyable paddle in the bay. Their path back to the inn to prepare for the wedding, meant they had to walk right alongside the couple. Which was nothing but fortuitous! This friend's reaction to seeing how gorgeous Kelsie looked (Dan looked mighty sharp, too!!) is priceless. And is yet again another image that, despite the lead in we've included here, really needs no explanation at all.
So, versatility in what we do is paramount. This moment was in the portion of our photographing the wedding where moments are not expected as we direct the couple. Yet, we always know that moments can come and go in an instant. And as such we always do our best to never let once such fleeting moment pass by. Together, all of this means this is our #9 top favorite wedding image of 2017!
See more of Kelsie and Dan's wedding day here!
Did you enjoy this charming wedding photo? Please comment on the blog post, and share!! Thank you 🙂 #8 is tomorrow, what do you think it'll be? Stay tuned tomorrow and every day until we reach #1 on December 31!
Maine Wedding Photographer of the Year 2016 and 2017 Russell Caron and his wife, partner, and co-shooter Liz Caron photograph weddings, and weddings only, from Boston to Bar Harbor and destinations worldwide. Let us tell you more about why choosing us as your wedding photographers could be one of the very smartest choices you'll make among your wedding day choices. Contact us today for more information and our availability for your wedding!