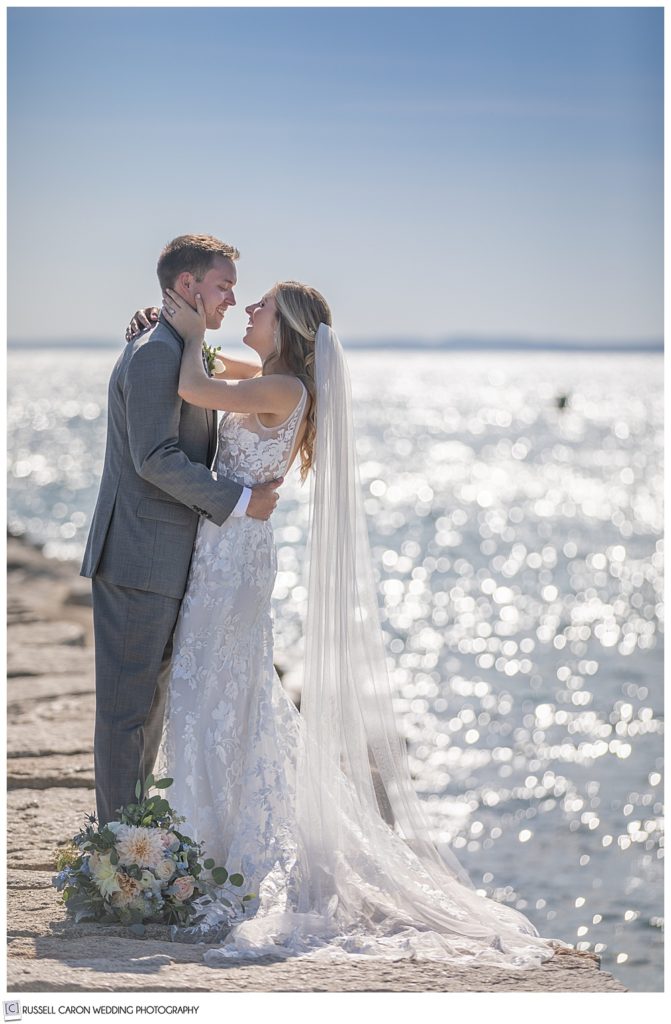 Elated bride and groom image is Liz's #12 in her top 19 of 2019! Katie and Marty are so happy as they stand on the Kennebunkport Breakwater, the sun sparkling on the water behind them.
Just moments earlier, Katie and Marty were reading letters they wrote to one another, as they stood back-to-back, prior to their first look. This is often an emotionally-charged moment, and it was exactly that for Katie and Marty.
During a first look with us, a couple has the opportunity to get the emotion out in a secluded location, with no one (but their trusty photographers!) around. At this point just about all our brides and grooms report feeling relieved at having been able to see their beloved before the ceremony.
Any feelings of anxiety fall away, as they have 30 or so minutes with us to chauffeur them around on our way to doing some artistic photos. They can chat with one another in the back of our car, talking about their rehearsal party the night before, or how excited they are for their reception party this coming night!
You can see the rest of Katie + Marty's wedding here: Nonantum Resort Kennebunkport Wedding
Venue: Nonantum Resort
Photographers: Russell Caron Wedding Photography, photographs by Russell Caron and Liz Caron
Floral Designer: Flour!
Hair and Makeup Artists: Jessica Candage
Wedding dress designer: Made With Love Bridal
Wedding dress boutique: Vows Bridal
Bride's Shoes: Badgley Mischka
Band: The Smokin Jackets
Doughnuts: Congdon's Doughnuts
Groom's Cake: Cherry Blossoms Cakes
Please comment on the blog post if you enjoyed Liz's elated bride and groom image! And please share!! Thank you 🙂 Come back every day, until we reach #1 on December 31!
Kennebunkport Maine wedding photographers, Russell and Liz Caron, are romantics at heart who love photographing people in love. Are you getting married? No matter where your wedding is located, we'd love to travel there and take breathtaking wedding photos. Just like we did at this Nonantum Resort Kennebunkport wedding! For more information contact us right away!