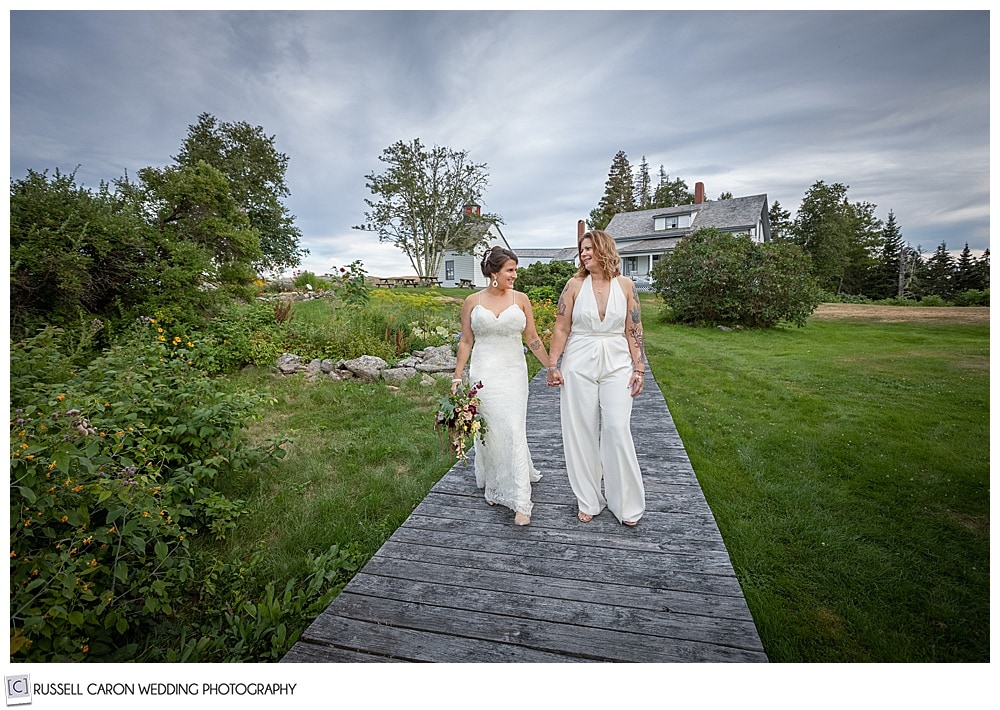 Burnt Island Brides, is Russ' #11 in his top 19 of 2019!
When you're from away and you've got a Maine island wedding venue planned out – months in advance – and you get a call a few weeks before your date telling you that the venue is closing before your date: what do you do?
This happened to Ashley and Tina. At first it seemed highly unlikely that any kind of plan could be pulled together. Especially one that involved the quaintness of a wedding on a tiny Maine island.
Using ideas and suggestions from a variety of sources, Ashley and Tina were able to come to Maine on their original date. They found a quaint inn in Boothbay Harbor; an officiant to perform their ceremony right at water's edge; and a boat to take them and their two boys, along with Liz and I as their photographers, to Burnt Island, as sunset and dusk approached.
The 6 of us debarked and walked toward the lighthouse. As we walked the island, taking in the breathtaking scenery, the quality of the light just kept getting more amazing!

As Ashley and Tina walked this trail back toward the dock, I ran ahead of them and just told them to interact as if we weren't there.

This shot, for a host of feel-good reasons, is my personal #11 photo of The Top 19 of 2019.
Tomorrow we're in the final stretch – as the Top 10 begins!
Ashley and Tina's full blog post is here: What To Do When Your Elopement Venue Closes?
Please comment on the blog post if you enjoyed Russ' #11 Burnt Island brides! And please share!! Thank you 🙂 Come back every day, until we reach #1 on December 31!
Boothbay Harbor Maine wedding photographers, Russell and Liz Caron, are romantics at heart who love photographing people in love. Are you getting married? No matter where your wedding is located, we'd love to travel there and take breathtaking wedding photos. For more information contact us right away!