Colorful Wedding Images | Lincolnville Maine Wedding Photographers
When we think of colorful wedding images, this photo of Molly and David immediately comes to mind. Their day was filled with many things in addition to this colorful and fun pose. More below.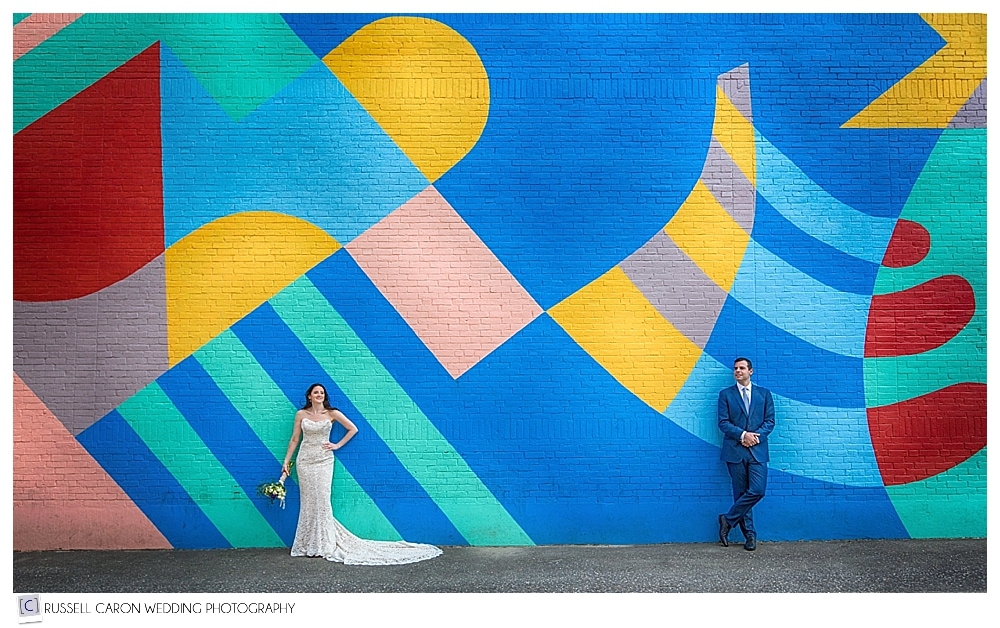 #7 of 2016 | Colorful Wedding Images
About the image: Molly and David's wedding in June was loving, full of family joy, moving, sentimental, and very much FUN. While out and about after a dreamy first look along the edge of Penobscot Bay our plan was to head to Rockland for some artistic shots. Which we did. We had this wall in mind all along.
Molly and David were happy to pose here and it took little to make it work as intended. Actually, they rocked the look we were seeking, for sure. Elaborating a bit more, we are all about wedding day photos of direct interaction and closeness between the bride and groom, but this one is different and has its real merits and charms in its own right. By that, we mean we like to add some uniqueness, too. We don't forego the classic images when we make different images.
Some photographers avoid photos where the bride and groom are not interacting and/or are not close. We're not those photographers; so shots like this, to us, add memorable and FUN moments to the wedding photography game. Especially when the blue of David's very sharp suit harmonize with the blue hues on the wall. And Molly's stunning gown resplendent in its beautiful white contract with the colors and patterns on the wall. Bold primary and pastel secondary colors of the wall pull it all together for us. In conclusion, making this our #7 Top Wedding Image of 2016!
Molly and David's wedding was at the exquisite Inn at Ocean's Edge in Lincolnville, Maine.
We just love colorful wedding images! Stay tuned for more of our best wedding photographs countdown from the Top 16 of 2016.
Lincolnville Maine Wedding Photographers, Russell and Liz Caron, put the fun into wedding photography for Maine wedding couples. Feel the love as this dynamic pair effortlessly capture each of your cherished moments, producing natural poses and unparalleled art for your special day. For more information, please contact us right away!